Introduction
In 2017, these 15 self-driving car startups  have cumulatively raised funding of more than $3 billion till date and the funding raised in 2017 was 100% more than 2016. The total funding of all self-driving scar start-ups from both private and corporate investors has gone past $5.5 billion as of March 2018. Growing digitization is also fueling the prospects of autonomous on-demand ride-hailing taxis. It is worth mentioning that only a few of the start-ups are generating revenue and some are yet to showcase a clear path to scale up and ultimately become profitable.
US is considered to be leading the way in terms of legislation for driverless vehicles.  Nevada, Florida, California, and Michigan have already passed laws concerning driver less cars. However, 15 states had bills on automated driving which have failed. In China, the State Council announced its latest ten-year plan, called "Made in China 2025", with the aim of renewing the country and transforming it into a center of innovation in a variety of sectors, including the automotive industry. In Europe, the auto industry stakeholders are considering new business models and ownership, digitization and the weight of decarbonisation. Almost all major European automotive OEMs are actively developing and adopting new technologies now.
In US, where accident rates are high and chauffeur services among the costliest in the world, Self-driving vehicles offer an opportunity to improve safety, transportation access for underserved communities. It could also transform how people, goods, and services move from one place to another. The automotive and tech firms in US have invested ~$40 billion in self-driving technology in recent years mostly through acquisitions and partnerships. The top 5 start-ups which are developing self-driving car technology in US based on funding raised are Zoox, Drive.ai, clear motion, Nauto and Argo ai.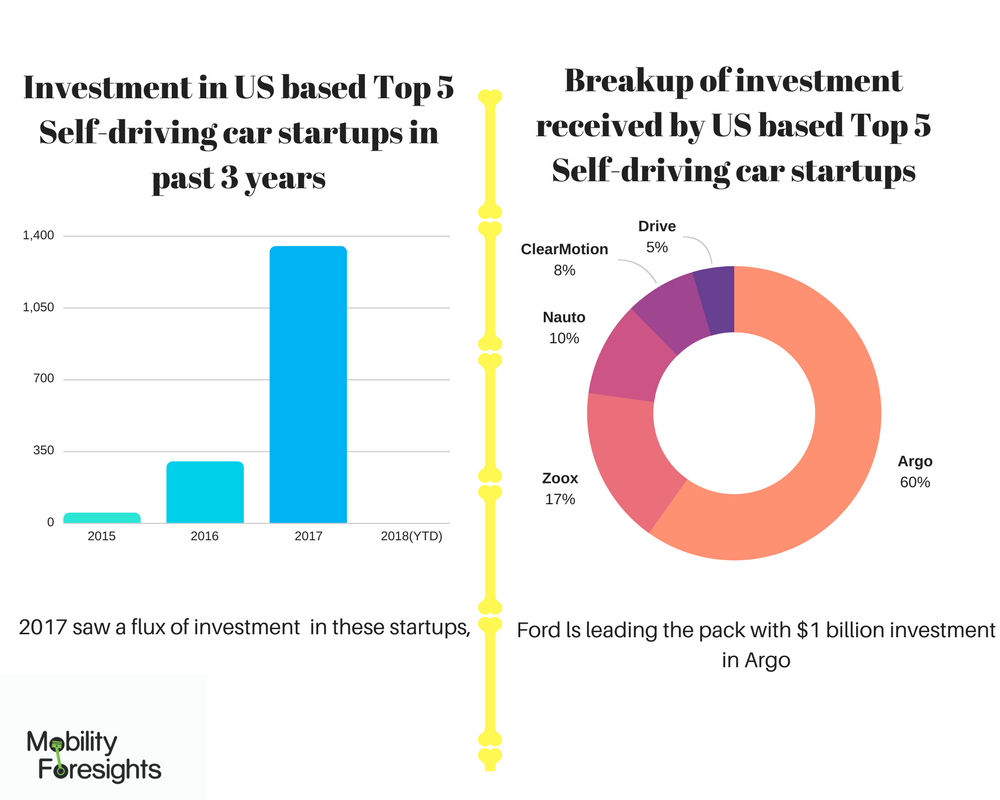 Zoox: Launched-2014, headquartered in California has raised a total funding of $290 million. It is developing fully automated, electric vehicle fleet and supporting ecosystem, required to bring volumes to this market. It is looking to venture into on-demand mobility space similar to Uber and Lyft minus drivers. Lux Capital, AID Partners Capital, Blackbird Ventures and Draper Fisher Jurvetson are the lead investors in this company. The company raised $50 million in Nov 2016 from Hong Kong-based hedge fund Composite Capital,only months after raising $200 million in June 2016, at > $1 billion valuation.
Drive.ai: Launched-2014 in California with a total funding of $77 million, the Company develops AI software for autonomous vehicles with a focus on deep earning. It wants to build aftermarket self-driving kits to retrofit an existing vehicle. Northern Light Venture Capital and New Enterprise Associates are the lead investors of the company. It recently announced its partnership with Lyft, which will bring autonomous ride-hailing and share to the San Francisco Bay Area in 2018. It raised $12 million in series A, $50 million in series B and $15 million in an undisclosed funding round.
ClearMotion: Launched-2009 in Massachusetts earlier known as Levant Power has a total funding of $130 million. The company designs develop and builds road sensing software and hardware systems for the automotive industry and build a software-centric, electro-hydraulic core called the Activalve. This device is placed at each corner of the car wherein the power electronics, electro-hydraulics, and controls software are present. JP Morgan is the lead investor of the company. Bridgestone will work with Company to develop new anti-vibration technologies through its Firestone Industrial Products business. It raised $100 million in series C funding round in Feb 2017.
Nauto: Launched-2015 in California with a total funding of $174 million, develops an artificial intelligence-powered connected camera network that helps to detect driver attention and actions. It uses deep learning and computer vision to cloud computing data and provide insights to mitigate driver fatigue and distraction. Greylock Partners, SoftBank, and Playground Global are the lead investors of the company. The company is piloting its data platform and aftermarket dual-camera device technology with various European commercial fleets, and logistics companies. It raised $12 million in series A and $159 million in series B funding round in April 2016 July 2017 respectively.
Argo.ai: Launched-2017 in Pittsburgh with a total funding of $1 billion, develops a virtual driver system for the self-driving vehicles which acts as a brain for the autonomous vehicle. Ford Motor Company is the lead investor of the company. Ford's current virtual driver system team will apparently be combined with the robotics talent and expertise of Argo AI and The collaboration is in line with Ford's new strategy to have a fully autonomous, SAE level 4-capable vehicle for the passenger as well as commercial application in mobility services by 2021. It raised $1 billion in series A funding round, all from Ford.
Top 5 China-based self-driving  car startups: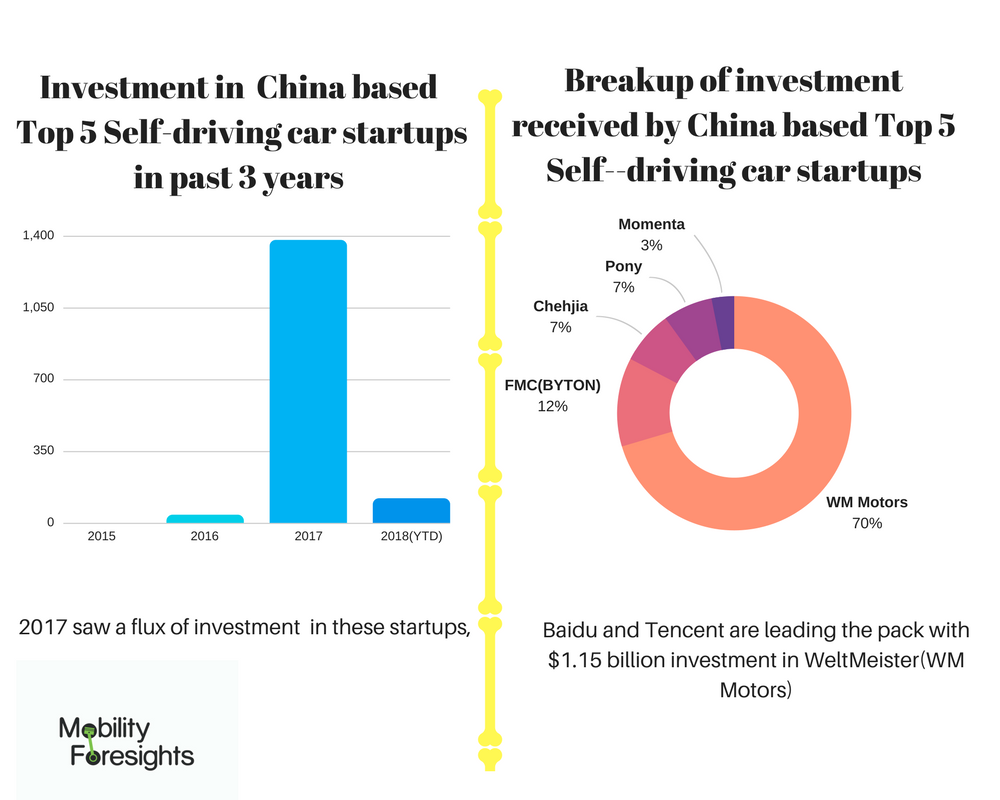 China is preparing to create smart urban communities to tailor to an autonomous driving revolution and generate a collective $1 trillion in revenue by 2040 in autonomous driving, ride-sharing, and ride-hailing services. The top 5 start-ups have raised $1.6 billion. China alone is home to six mega-cities and about 300 Chinese regions have presented ventures for "smart cities" powered by artificial intelligence that can accommodate self-driving vehicles.
The top 5 self-driving car startups based on funding raised which are into manufacturing of self-driving cars and related technology are Momenta, Pony.ai, future mobility products, Chechejia, and WM motors.
Momenta: Launched-2016 in Beijing with a total funding of $51 million, develops an autonomous driving technology that enables vehicles to detect traffic signs, recognize pedestrians and track other cars. NIO Capital is the lead investor of the company. In Jul 2015 it won ImageNet 2015, Ms coco Challenge 2015, in Jul 2017 it won an award in ImageNet 2017. Mercedes-Benz takes a partnership of the company to build self-driving cars. It raised $5 million in series A and $46 million in series B funding round.
Pony.ai: Launched-2016 with a total funding of $112 million, develops an AI-based robot designed for autonomous driving and Self-driving car's sensors, software, cameras, and other technologies to create a system capable of Level 4 autonomy. Morningside Venture Capital and Legend Capital are the lead investors of the company. Pony.ai launched public tests amid Baidu litigation threat. It rolled out first generation testing vehicles which use LiDAR-based sensors and can drive up to 50km/h. It raised $112 million in series A funding round.
Future Mobility Corporation(BYTON):  Launched in 2016 and headquartered in Nanjing, Another autonomous EV automaker, Future Mobility raised $200 million in August 2017. It partnered with Aurora to develop an all-electric autonomous SUV with a 300-mile range will be launched in China by 2019 and US, Europe by 2020. The company plans to launch three such vehicles by 2022. Its first Chinese self-driving mid-size EV SUV could be launched in the Chinese market by 2019. It is backed majorly by Tencent, Suning and Fullshare holdings.
Chehejia: Launched-2015 in Beijing, raised about $120 million last year in a Series A funding. Chehejia plans to pursue a two-pronged product strategy. On one hand, it will develop a city car focussed on urban consumers and the other will be a bigger high margin EV SUV.Its manufacturing plans to have highly automated manufacturing facilities. The company wants to raise another $200 million to become a full-fledged car manufacturer by 2022.
WM Motors:  Launched -2015 in Shanghai, it has picked up ~ $1.15 billion in disclosed investments from the Chinese bigwigs like Baidu and Tencent. WM Motor hopes to begin selling a SUV EV by 2018 end, with an eventual capacity to manufacture 100,000 vehicles per year. At the outset, the name Weltmeister implies German roots which the brand will fulfill by utilizing German technology, from Bosch and Siemens.
Top 5 Europe based self-driving car startups: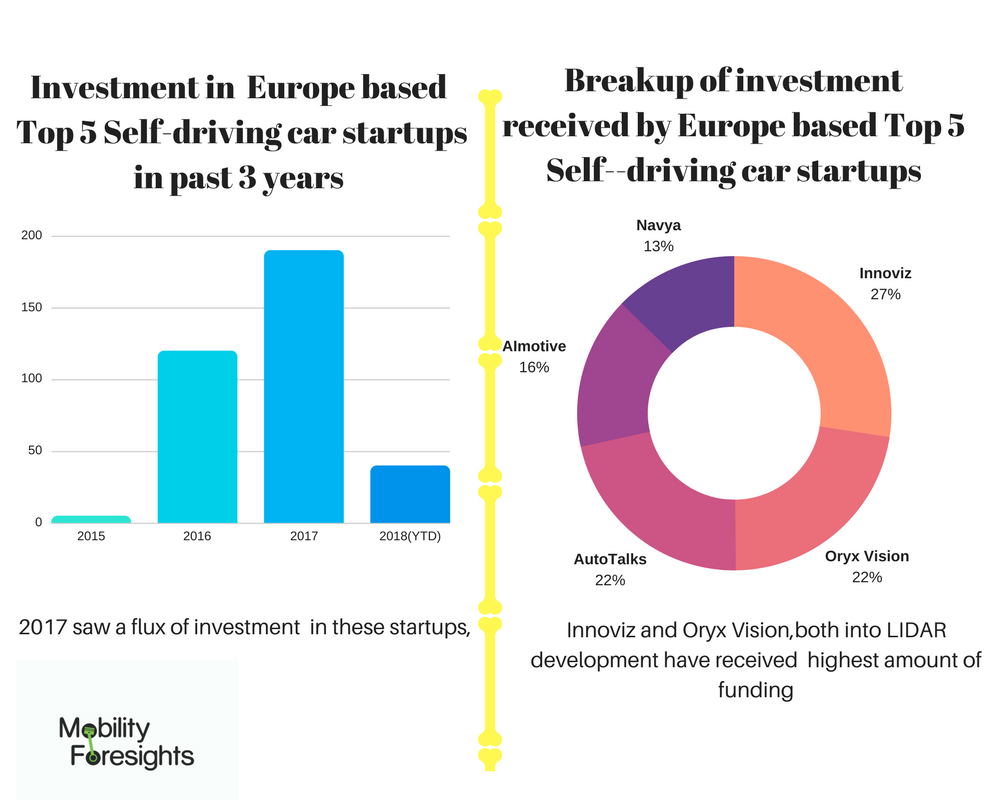 Over 500 start-ups from more than 25 countries have applied for funding and training opportunities in the field of connected and automated driving in Europe. Spain, Poland, Italy and France feature among the most prominent country list. The top 5 Self-driving car start-ups have cumulatively raised ~$310 million till date.
The top 5 start-ups which are into manufacturing of self-driving car technology are Auto Talks, Navvy, Innoviz, Oryx Vision and Almotive.
Innoviz: Launched-2012 in Israel with a total funding of $82 million, develops technologies for autonomous driving that includes LIDAR, smart 3D sensing, sensor fusion, and accurate mapping. Softbank Ventures Korea, Samsung Catalyst, Magna and Vertex Ventures are the lead investors of the company. It showcased its new compact LIDAR solution and also made available for testing to automotive manufacturers. It raised $9 million and $73 million respectively in series A and B funding rounds. In Nov 2017, it Won CES 2018 Innovation award in vehicle intelligence and Self-Driving technology category.
Oryx vision: Launched-2009 in Israel with a total funding of $67 million, develops LIDAR solution for autonomous vehicles. Based on a radically innovative depth-sensing technology, Oryx's LiDAR has no moving parts and uses photodetectors instead of antennas to retrieve both range and velocity information for the points of light to get high-resolution scans of its surroundings. Bessemer Venture Partners, Walden River wood Ventures, and Third Point Ventures are the lead investors of the company. It raised $17 million in series A and $50 million in undisclosed funding round.
Autotalks: Launched-2008 in Israel with a total funding of ~$65 million, develops chipsets for V2X communication: a fundamental technology for autonomous driving. Israel venture fund and Magma ventures are the lead investors in this company. It raised $40 million respectively in series D funding round in 2017.  It collaborated with Anritsu on V2X DSRC (Dedicated short-range communication) test solution which offers reduced test time and cost.
Almotive: Launched-2014 in Hungary with a total funding of $47.3 million, is a full stack autonomous vehicle technology company. It is primarily developing a camera sensor integrated artificial intelligence-based vision processing technology that delivers autonomous car driving solutions. Prime Ventures, B Capital Group, and Inventure Oy are the lead investors of the company. It raised $2.5 million in series A, $6 million in series B and $38 million in series C funding round. It is working closely with auto manufacturers like PSA, SAIC, and Volvo.
Navya: Launched-2014 in France with a total funding of $38 million, develops driverless vehicles for the specific site transportation of goods and people. Tier 1- auto supplier Valeo and 360 capital partners are the lead investors in this company. The company offer its customers easily and secure booking and also control the autonomous shuttle which has a top speed of ~45 km/hr and can seat up to 15 people. It showcased it autonomous shuttle at CES 2018 earlier this year in LasVegas. It has created its own mapping tool which continuously generates and updates maps for its shuttle.
The total funds raised by the top 15 self-driving car startups from US, China, and Europe is ~$3.3 billion
Global investment in the space took a huge leap last year, with more than ~$3.5 billion invested across 69 deals. The deals that occurred in 2017 speak to the greater part of the aggregate number of exchanges since the start of 2012. From that point, ~300 funding financial specialists around the globe have taken an interest in no less than one of 130 deals in the autonomous vehicle space. Of the 15 most dynamic VC investors in the area, only a modest bunch is committed to sponsorship companies in the transportation space. The gathering is rounded by powerhouses like NEA and Andreessen Horowitz, which has put resources into rounds for five organizations in the business, including mapping start-up DeepMap
The top 15 VCs in autonomous vehicle tech since 2012, including investment count:
Motus Ventures (6)
Andreessen Horowitz (5)
Draper Associates (4)
Trucks Venture Capital (8)
Cottonwood Technology Fund (4)
Alrai Capital (4)
Intel Capital (5)
Shunwei Capital (4)
Sinovation Ventures (5)
Qualcomm Ventures (5)
NVIDIA GPU Ventures (4)
NEA (4)
Airbus Ventures (4)
Maniv Mobility (5)
Samsung Venture Investment (4)
Investors have been pouring money on anything and everything related to an autonomous vehicle but the important questions still remain unanswered:-
By when can we expect to let go of steering wheels and pedals
Do we actually want a computer to drive us?