Passenger car Lighting Market in China
The Chinese automotive lighting market is extremely price-oriented. Although halogen lights dominate the Chinese passenger vehicle scene, HIDs have gained prominence in domestic brand SUVs. The LED penetration rate in complete automotive lighting is high and at par with international level. China has seen rapid adoption of daytime running lamps (DRL) as it is closely linked with the signature styling of vehicles. The growth for LED DRLs in China comes at a time when domestic Chinese OEMs are striving for futuristic and compelling designs in order to fulfill their ambition of being successful in developed regions. As a result of this, the market penetration of DRL in China was 47% in 2016.
Also read: MPV trends in China
The penetration rate of LED projector headlamp modules in the Chinese headlamp market is on the rise due to declining prices and improvement in their efficiency. The market presence of LED projector headlamps has increased following an increase in fitment from exclusively available on the premium vehicles to optionally available in the mid-range vehicles. Due to the complexity involved in designing high-power LED product segments, (high / low beam and fog light) and regulations regarding their compliance, they are mostly sourced from international manufacturers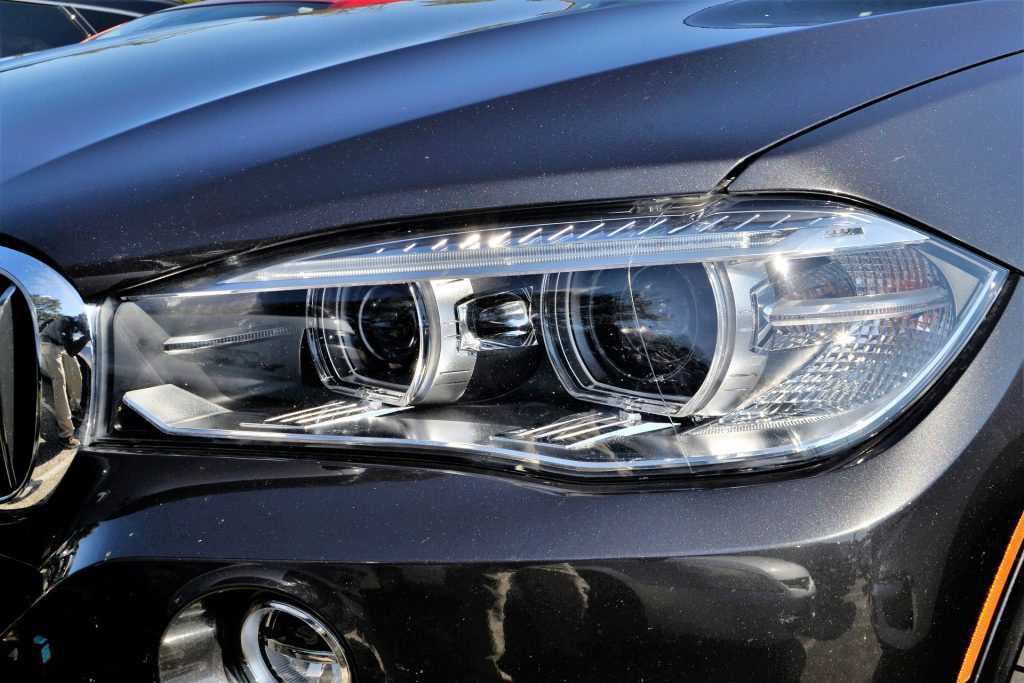 Lighting technology on Best-selling SUVs in China
Sl no
Vehicle
Price range

 USD

(CNY)

Projector Headlamps available
Market share(%)
1
Haval H6
13,500-21,300

(96,000-142,000)

Yes
6
2
Trumpchi GS4
14,000-20,800

(100,000-147,000)

Yes
4
3
Baojun 560
10,500-12,600

(75,000-90,000)

Yes
4
4
Buick Envision
36,800-49,000

(270,000-350,000)

Yes
3
5
Volkswagen Tiguan
28,000-42,000

(200,000-360,000)

Yes(LED on most of the L version)
3
6
Changan CS75
15,200-20,300

(109,000-145,000)

Yes
2
7
JAC Refine S3
9,100-11,900

(66,000-85,000)

Yes
2
8
Haval H2
13,800-17,000

(99,000-121,000)

Yes
2
9
Honda CRV
27,500-33,000

(194,000-265,000)

Yes
2
10
Nissan X-Trail
25,200-37,800

(180,000-270,000)

Yes(LED on top variant)
2
Also read: Hella and BAIC extend their collaboration in China
The projector headlamp market in China is extremely concentrated. The global automotive lighting companies rely on their technical capability and established a relation with the OEMs to secure new orders. Whereas, the local Chinese automotive lighting suppliers have positioned themselves in the low to mid segment of passenger vehicles and aftermarket business. However, over the past few years, some Chinese suppliers have shown aggressive intent in acquiring clients on the back of low pricing. On the other hand, the Japanese automotive lighting suppliers like Koito, Stanley Electric and European lighting manufacturers including Hella and Valeo have monopolized the automotive lighting in a mid to high-end segment.
Given the growth of Chinese OEMs in recent past,by virtue of their premium products and global aspirations. We foresee a huge demand for projector headlamps in coming years in Chinese market. Purchase the report  here to study the market in detail.