Growing Role of On board Charger in Electric Vehicles
Government regulations regarding the use of electric vehicles to curb environmental pollution have been driving the demand for electric vehicles. Further, rise in demand for electric vehicles due to the prohibition on internal combustion engine (ICE) powered cars is also expected to fuel the market growth. China's push to promote electric cars accompanies a lot of advantages for a nation that experiences repulsive air pollution from its dependence on petroleum derivatives like oil and diesel.
The growth of EV market
There are about 650,000 electric vehicles on road in China and about ~370,000 electric vehicles (EVs) were manufactured by Chinese OEMs only in 2016 an impressive 41% of EV production worldwide. The Chinese government has set a goal of 3 million domestic EV sales by 2022. China's largest automakers along with global auto manufacturers like Volkswagen and Ford, have planned to invest more than ~$15 billion in new electric cars in the period until 2025, and are targeting annual sales volume of more than 500,000 units every year. The Electric vehicle start-ups, on the other hand, are generating funding to the tune we have never seen before.Singulato, WM Motor, and Xiaopeng Motors are only some of the ever-growing list of EV start-ups who have billions of dollars to make a dent in the auto industry.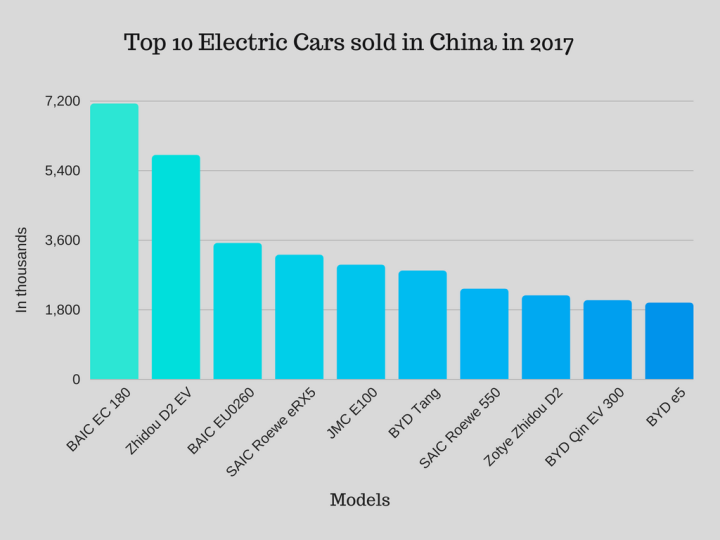 Why the spurt in demand for On-board charger?
Many EVs have an inbuilt navigation system which usually gives directions to the owner if there are any charging station available nearby. But, that system isn't nearly good enough; it doesn't tell whether the station is occupied. Now, that's a real problem: Unlike a gas station, it doesn't take three minutes for each car to fill up and move on. It takes at least 20 minutes for the charger to provide 2 -3 miles of charge, and if the plug needed is already taken, then there comes a situation of a very long wait added with a lot of frustration. Time to charge an electric car can take as little as 20 minutes or up to 12 hours.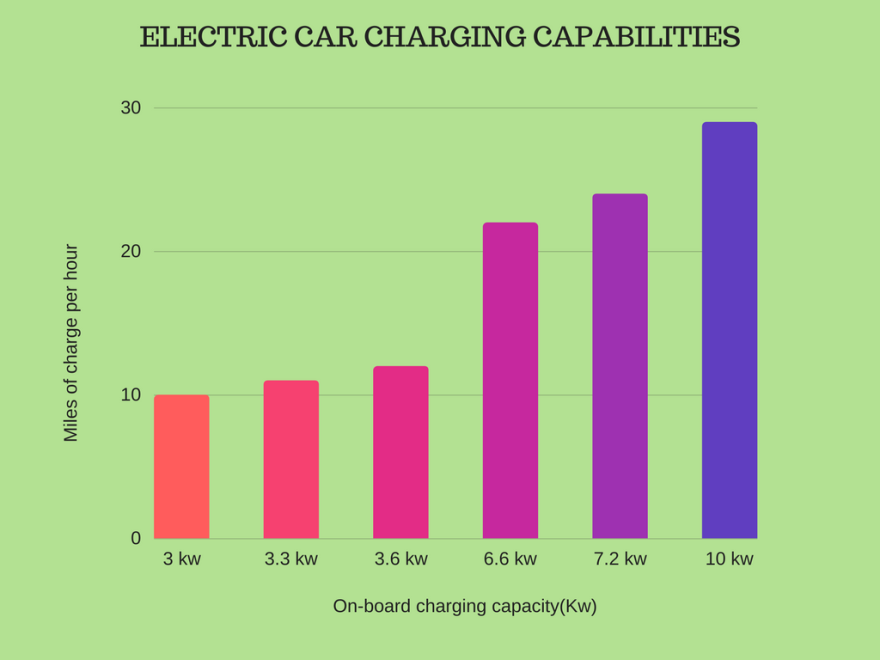 The charging time of an EV depends on the size of the battery and the speed of the charging point. An electric car with a ~25KWH battery takes about 4 hours to charge from zero with a 7kW home charging point. A 3.7kW home charger provides about 15 miles per hour of charge.
A 7kW home charger provides ~30-32 miles per hour of charge. A rapid charger at motorway service stations can charge car to full in about 30 minutes and is ideal for long distance journeys. Excluding a few high-end sports and luxury BEVs like Tesla Model X, most electric cars can only be recharged in 8-to-10 hours on any 230 V power outlets through a cable with an adapter provided by the vehicle manufacturer. The ideal time to charge electric cars is at night unless they can benefit from electricity produced by solar panels.
Lack of standardized charging stations
The governments across the globe should encourage the production of a standardized variant of charging infrastructure if they are serious about making an ecosystem conducive to green mobility. In many countries the plan is neutral in terms of standardization; the standardization decisions will have an impact on the implementation timelines. Although EV charging equipment is available in the market, investments are difficult when clarity on standards is missing. There is an urgent need to standardize the plugs, just the way gasoline dispensing nozzles are standardized across the world.
Because of the lack of an industry standard, Ford and GM have decided to put their EVs on US roads without quick-charging capabilities. Currently, the EVs like Ford Focus and Chevrolet Bolt only have a standard Level 2 port, a port that accepts 120 and 240-volt charges. EVs need special plug-in ports in order to accept quick charge cables, so the American-made vehicles are not capable of charging quickly.
The Indian Government made a big splash in Nov 2017, when it announced plans of going all electric by 2030. The target is not just too ambitious but also without a concrete EV action plan. For promoting electric vehicles, the Indian government has been offering subsidies on electric vehicles from April 2015, but it is yet to introduce a standard for charging infrastructure. Work to define these standards, or Bharat charging Standards as they have come to be known, is still on, with the government actively asking for the participation of the industry in defining them. The lack of standards is holding back companies from making large investments in the space. They fear the infrastructure they set up right now might become redundant once the standards are introduced.
All of this leaves a void that has to be fulfilled by a bridge gap solution called "Electric On-board charger". Now, make no mistake, a power bank can never be a permanent charging solution, but it can help you when you are running out of juice and it can be of great help till the infrastructure becomes reliant enough to solve the charging issue.
The information has been sourced from our report titled "Global Electric Vehicle On-Board Charger Market 2018-2023".  Download free sample to know more