3PL Market in Europe 2020-2025
October 27, 2020

Request Sample
Coming Soon
Multi User License - $1,800
3PL MARKET IN EUROPE
INTRODUCTION
Third-party logistics provides various services related to logistics or supply chain like transportation, warehousing to a business by outside firms.
Increasing trading activities globally there is continuous pressure on reliability and efficiency of transportation and managing complexities of in-house logistics without increasing overhead and inventory cost, company realizes there is an economic advantage of outsourcing their logistics service from an external party.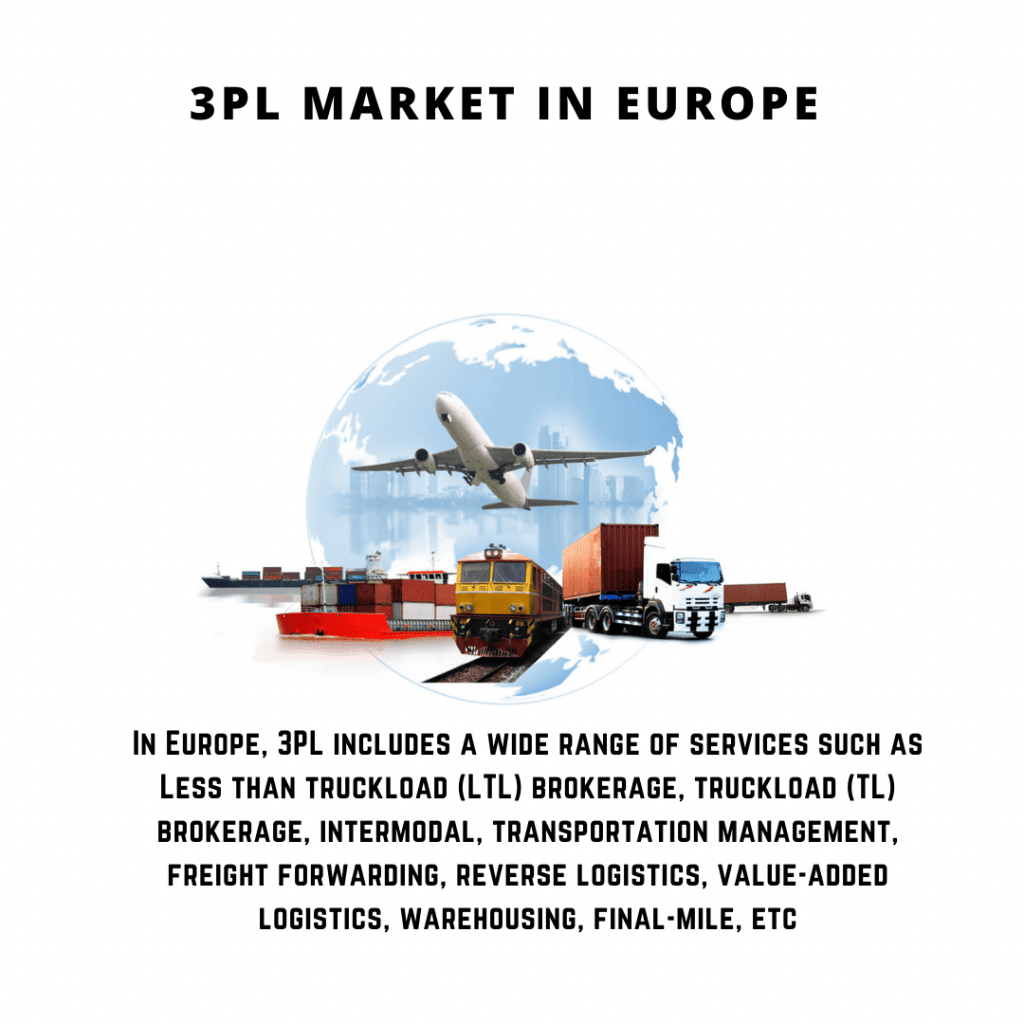 Outsourcing logistics activities along with cost reduction provides flexibility in logistics as well a company can focus on their core competencies as they save more time and resources.
3PL service providers are extremely focused on their value-added services to main customer loyalty as well as better management using this service helps to expand the customer base globally. Third-party logistics can be integrated, contracting as well as consulting services provider.
EUROPE 3PL MARKET DYNAMICS
In Europe, 3PL includes a wide range of services such as Less than truckload (LTL) brokerage, truckload (TL) brokerage, intermodal, transportation management, freight forwarding, reverse logistics, value-added logistics, warehousing, final-mile, etc.
Germany is considered to be a preferred location for manufacturers as it is a regional hub and therefore support can be available from the ecosystem of prominent sellers and 3PL service providers in the country.
Growth in E-commerce and regional trading boosted the demand for warehouse space. Germany comes under one of the top five revenue-generating countries through E-commerce. The country not only has world-class logistic infrastructure but also its companies considered to be global logistic leaders like Deutsche Post(DHL), the largest logistic service provider company in the world.
Among global air freight companies, Lufthansa cargo is leading in the world. Europe's largest rail network is operated by Deutsche Bahn. 
CHALLENGES FACED BY EUROPEAN 3PL COMPANIES
Rising customer Expectations: The Amazon effect has led to higher customer expectations. Customer delight such as 2-day delivery or for some cities, single-day delivery has added to that. Due to higher and frequent changing customer demands fulfillment of customer expectation is challenging.
Regulations and customs: Post Brexit, there has been increasing delays at ports. New documentation required for trade deals and logistics between the EU and the UK. There is also a risk of a trade war between The US and the European countries which could be the result of a trade deal between the US and Europe concerning European Ports.
Finding/Retaining Customers: With so many 3PL companies coming into the picture, it is becoming increasingly difficult to retain customers. Customers in this case are also reducing their dependency on one single carrier.
Finding/Retaining/Training qualified labor: It is becoming increasingly hard to train and retain qualified labor. The labor situation is also affected by Covid-19. Around 2,86000 seasonal labor mostly comes from Poland and Romania to Germany. They are unable to enter through it in normal ways due to border closure to stop the spread of coronavirus. Germany is very much dependent on this labor.
MARKET SIZE AND FORECAST
Europe 3PL market size is estimated at $XX Billion growing at –% CAGR till 2025
RISE OF E-COMMERCE AND OMNICHANNEL RETAIL IN THE EUROPEAN MARKET
In logistics, E-Commerce has been one of the major growth markets and this will create tremendous opportunities for European third-party logistics companies
From an inventory point of view, demand for more warehouse space increases due to a rise in online spending.
In Europe, many E-commerce companies started selling products and services online as well as via offline and therefore offline retailer also started selling products and services online and this starts omnichannel retailing gripping the market This transition creates new challenges to the retailers and those 3PLs that could bring a solution to omnichannel retailing will find their way to gain advantages over rivals.
The 3PL market is broad in nature which includes freight forwarding services in addition to contract logistics.
As the demand for more flexible solutions, supply chain management, data management, and integrated comprehensive services rises, contract logistics is expected to witness higher growth as well as becoming a favorable solution for companies.
By taking more than three-fourth of the market, Western Europe dominates the market, with major share accounts for Germany. However, high growth in the future is expected for countries in the Eastern and Central Europe region.  
COVID EFFECT ON 3PL MARKET AND CONTINGENCY PLANNING
Lockdown during this pandemic becomes a hurdle especially in the logistics sector as they have to adopt new ways to deal with unusual demand with no or less lead time followed by social distancing.
Consumers become more dependent on E-commerce, and it becomes new "normal" in today's situation.
In April this year, global air freight capacity had significantly come down, and charter rates were running 4-6 times higher than normal. A lot of facilities were closed, and some of them are still closed. Although these facilities are being opened and most of them are already up and running, better contingency planning is something that the 3PL companies have to focus on. 
This pandemic challenge prompts many companies to revisit their global supply chain management and should be more focused on visibility towards global supply chain risk and adoption. Robotic Process Automation (RPA) and autonomous vehicles for moving and storing products could be a significant move in this direction.
CONCLUSION
Digitalization, software, and machine-driven forces change as well as international trading is shifting, and all these forces are transforming logistics and transportation. Third-party logistics shows a promising future in business as to overcome all the above challenges, 3PL should move forward and adopt new strategies in the supply chain and thereby satisfying the customer. 
| | |
| --- | --- |
| Sl no | Topic |
| 1 | Market Segmentation |
| 2 | Scope of the report |
| 3 | Abbreviations |
| 4 | Research Methodology |
| 5 | Executive Summary |
| 6 | Introduction |
| 7 | Insights from Industry stakeholders |
| 8 | Cost breakdown of Product by sub-components and average profit margin |
| 9 | Disruptive innovation in the Industry |
| 10 | Technology trends in the Industry |
| 11 | Consumer trends in the industry |
| 12 | Recent Production Milestones |
| 13 | Component Manufacturing in US, EU and China |
| 14 | COVID-19 impact on overall market |
| 15 | COVID-19 impact on Production of components |
| 16 | COVID-19 impact on Point of sale |
| 17 | Market Segmentation, Dynamics and Forecast by Geography, 2020-2025 |
| 18 | Market Segmentation, Dynamics and Forecast by Product Type, 2020-2025 |
| 19 | Market Segmentation, Dynamics and Forecast by Application, 2020-2025 |
| 20 | Market Segmentation, Dynamics and Forecast by End use, 2020-2025 |
| 21 | Product installation rate by OEM, 2020 |
| 22 | Incline/Decline in Average B-2-B selling price in past 5 years |
| 23 | Competition from substitute products |
| 24 | Gross margin and average profitability of suppliers |
| 25 | New product development in past 12 months |
| 26 | M&A in past 12 months |
| 27 | Growth strategy of leading players |
| 28 | Market share of vendors, 2020 |
| 29 | Company Profiles |
| 30 | Unmet needs and opportunity for new suppliers |
| 31 | Conclusion |
| 32 | Appendix |