Global ADAS Market 2020-2025
July 1, 2020

Request Sample
Coming Soon
Multi User License - $2,500
GLOBAL ADAS MARKET 
KEY FINDINGS
As of July 2020, there are 21 ADAS technologies on offer across the globe. ABS, ESC and Rear-view camera have almost reached saturation and the ADAS market growth in coming years will be driven by vision based technologies.
In U.S  a rear view camera is offered on all on road vehicles mandatorily as an ADAS feature. Blind Spot Warning and Forward collision warning were the other most common features offered across OEMs
OEMs offer multiple ADAS features using same hardware depending on the position of the hardware i.e. camera and radar
Premium OEMs will try to implement self driving capabilities as soon as they develop them to increase brand and market value.Due to the marketability of ADAS features , existing features are being improved along both hardware and software to gain the upper hand
Lower light vehicle production levels, globally has started to weigh on ADAS suppliers` balance sheets faster than  expected.  Continued weakness in Europe and China auto production,particularly in the first half of 2020, due to Corona Virus concerns is a new threat to ADAS market.
Upcoming new product launches with inclusion of ADAS are an important growth driver in this declining auto production environment. Adoption of many new ADAS technologies is driven by the sharpening of the present EU NCAP requirements and much stricter 2025 legislation. It is significantly driving the list of comfort features and ADAS content per vehicle.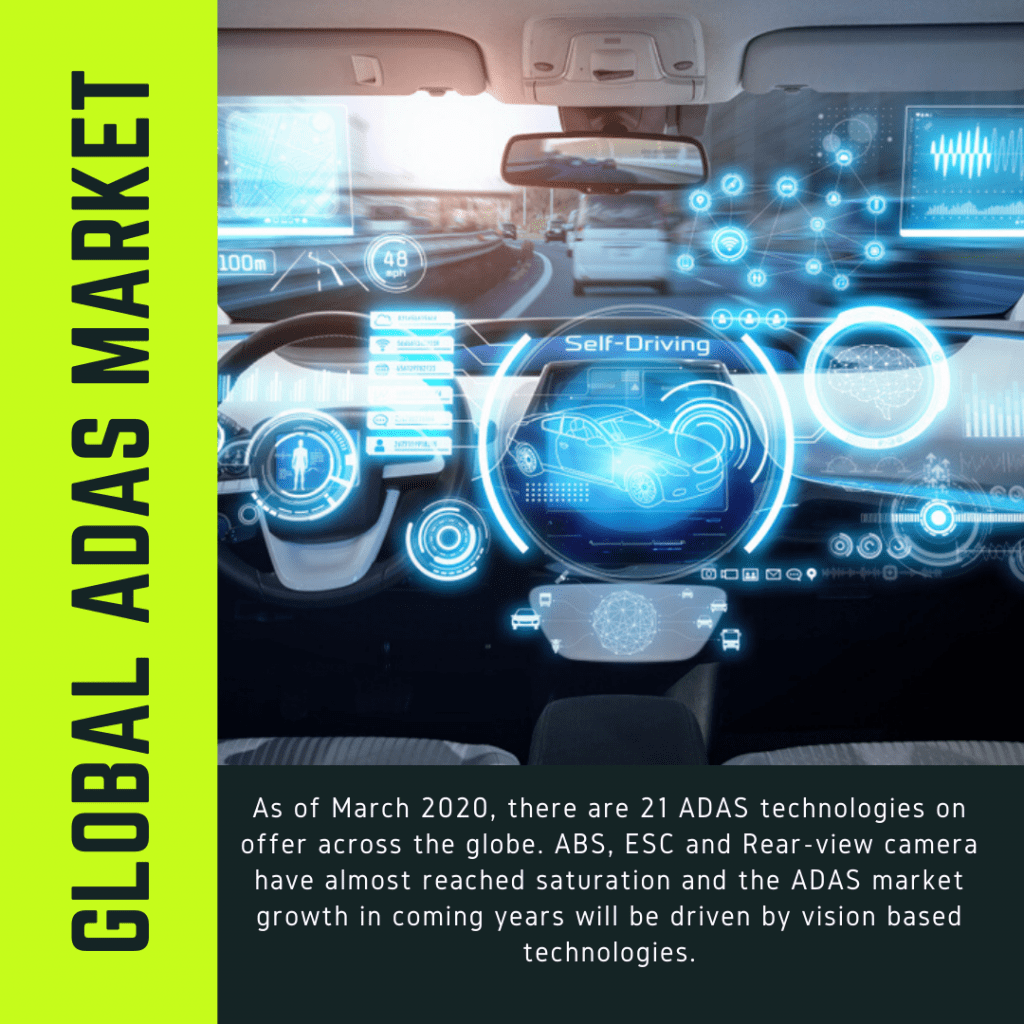 MARKET SEGMENTATION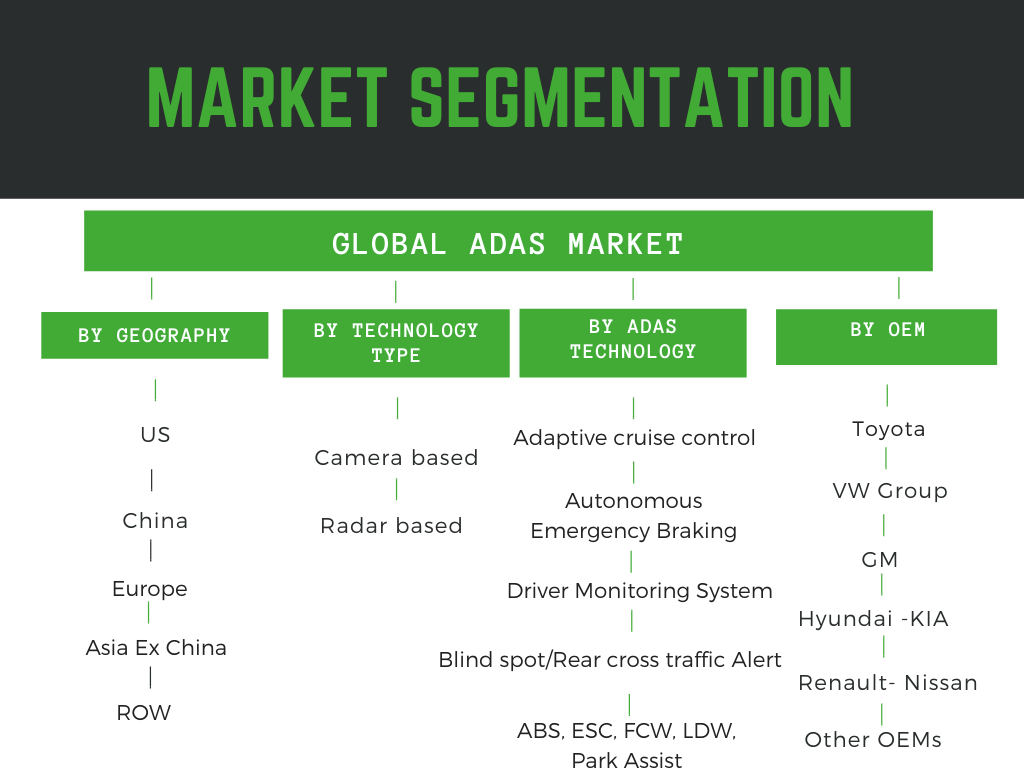 COMMERCIAL VEHICLE ADAS MARKET
In collaboration Bosch, TomTom and Daimler announced a smart cruise control for commercial vehicles.
Ford has recently announced that it will offer Pre-collision assist with automatic emergency braking and pedestrian detection,forward collision warning, post-collision braking, and a lane-keeping system as standard on upcoming Transit EV.
US ADAS MARKET
Hill start assist is now available as a standard fitment on  20 out of top 30 best-selling vehicles
Among Japanese OEMs, Toyota has been offering Pre-collision Assist with Emergency braking as standard on all its vehicles for past 2 years. Subaru now also offers the same as standard on its best-sellers, Outback and Forester
Adaptive Cruise control is offered as standard by Honda, Subaru and Mazda on all top -selling vehicles
Rear-cross path detection is now standard on 7 out of top-30 best selling vehicles
Front pedestrian detection is expected to grow at double digits for next 5 years in the US market. At present, only 9 out of top 30 best-selling vehicles get it and most as an optional extra
Tesla incorporates 4 cameras, 1 forward facing radar and 12 ultrasonic sensors in its vehicles to offer the Auto Pilot feature. Among ADAS features offered in the market the Auto Pilot leads the way in terms of combination of features available in safety and driving comfort
OPTIONAL ADAS PACKAGES OFFERED BY OEMS IN US
The packages offer various features which work with a lot of shared hardware. 3 radars at the rear of the vehicle offer up to 4 features while 1 radar or a radar and camera in the front of the vehicle can offer up to 5 features
Ford offers "Active Park Assist 2.0 with Parallel Parking, Park Out Assist, Reverse Perpendicular Parking, and Forward and Side Sensing Systems "as a package " Active Park Assist, and 360-Degree Camera with Split-View Display" in Ford F 150
Chevrolet offers 2 packages in ADAS most commonly. The first package contains Front and Rear Park Assist, Lane Change Alert with Side Blind Zone Alert and Rear Cross Traffic Alert. The second package contains Forward Collision Alert, Lane Keep Assist with Lane Departure Warning, Low Speed Forward Automatic Braking, Front Pedestrian Braking, IntelliBeam headlamps, Following Distance Indicator and Safety Alert Seat for driver in addition to the first package
In Nissan a premium package is offered in Rogue . The ADAS feature of the package is Intelligent Cruise Control, ProPILOT Assist, and Intelligent Around View Monitor
In Jeep there are mainly 2 packages offered in terms of ADAS among most of its models . They are 1. Blind Spot Monitoring and Rear Cross-Path Detection Systems, ParkSense Rear Park Assist System 2.Full-Speed Forward Collision Warning with Active Braking, Adaptive Cruise Control with Stop & Go, LaneSense Lane Departure Warning Plus and Auto High-Beam Headlamp Control
EUROPE ADAS MARKET 
As of July 2020, Hill start assist is now standard on 21 out of top 30 best-selling vehicles
Radar based, Forward collision alert is now available only on 2 out of top 30 best-selling vehicles
Among the top 10 best-sellers, Blind spot monitoring system is only available on Ford Fiesta (as optional)
Pre- collision assist/Automatic emergency braking is now standard on 13 out of top 30 best-selling vehicles. VW Golf, Renault Captur and Toyota Corolla also get the added feature of Pedestrian and cyclist detection
Mercedes Benz's GLC and GLE are the top selling models offers various ADAS features such as active brake assist, blind spot information and parking assist. Except for Active braek assist on all the trims of GLC and GLE and blind spot assist on 2 trims of GLC, the rest of the features are optional
CHINA ADAS MARKET
China`s auto sales in April, May and June 2020( grew by 2-3% YOY ) are among the very few encouraging moments for the global auto industry so far this year.
Cruise control is among the most sought after ADAS features in China and is offered by OEMs on all vehicles except base trim. Radar based adaptive cruise control installation is still in growth phase but domestic OEMs like Geely, Haval, SAIC`s Roewe have now started offering it on new vehicles.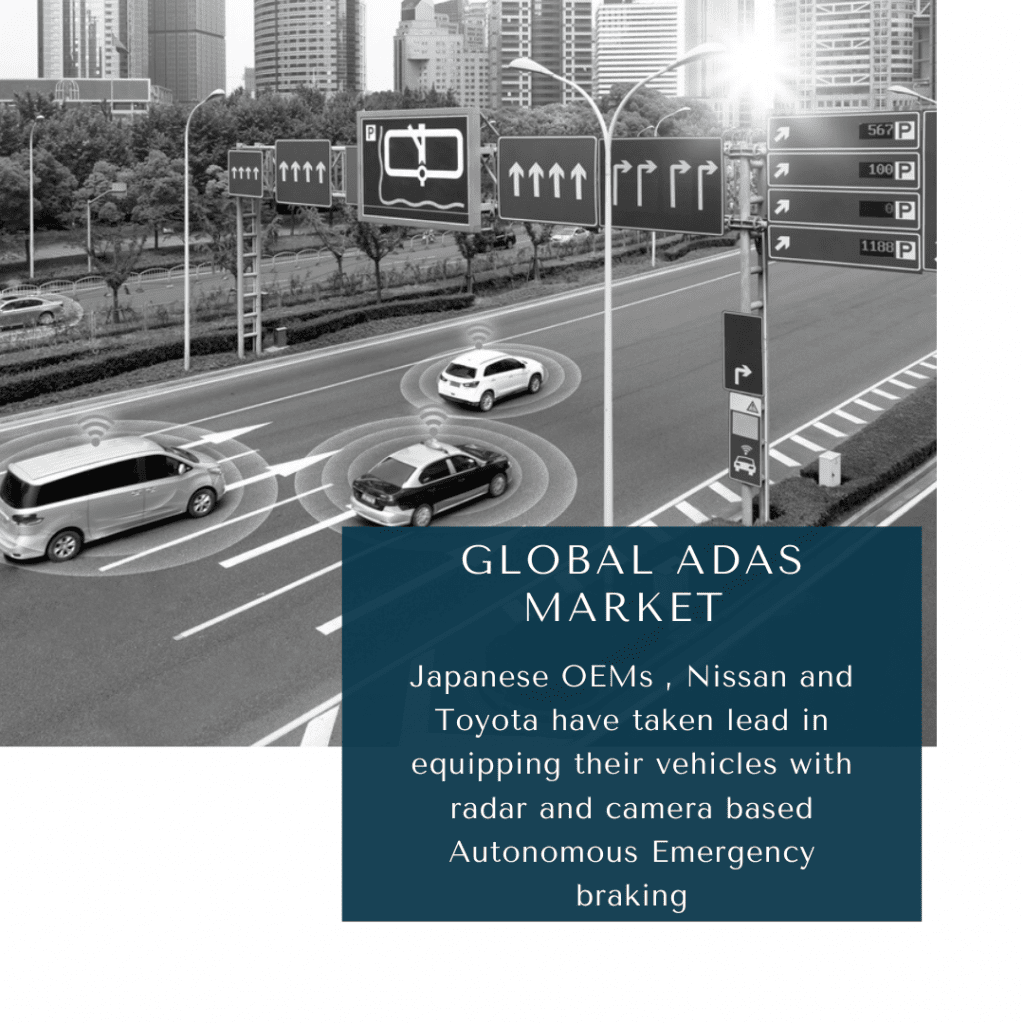 Japanese OEMs , Nissan and Toyota have taken lead in equipping their vehicles with radar and camera based Autonomous Emergency braking.
Lane Departure warning is still not offered on best-selling sedans like Nissan Sylphy and Volkswagen Lavida. 
ADAS STRATEGY FOLLOWED BY OEMs
As of July 2020, Ford is offering Adaptive cruise control on very few vehicles across the globe as a standard offering and as an optional fitment on more than 75% vehicles. It offers Lane keep assist as standard on more than 60% vehicles sold.
Toyota is among the leading OEMs which provides various ADAS features like Pre-collision assist, Adaptive cruise control, Lane departure warning as Standard on best-sellers like Camry, Corolla,CHR and Highlander 
Hyundai-KIA offer adaptive cruise control, Lane departure warning on higher trims of best-selling vehicles only
Among Premium European OEMs, Audi, Mercedes, and BMW provide radar based ADAS feature on more than 74% of their lineup
RECENT DEVELOPMENTS IN ADAS MARKET
Bosch and Daimler are uniting to propel the improvement of completely robotized and driverless driving. The two organizations have gone into an advancement consent to bring completely computerized and driverless  heading to urban streets by the start of the following decade.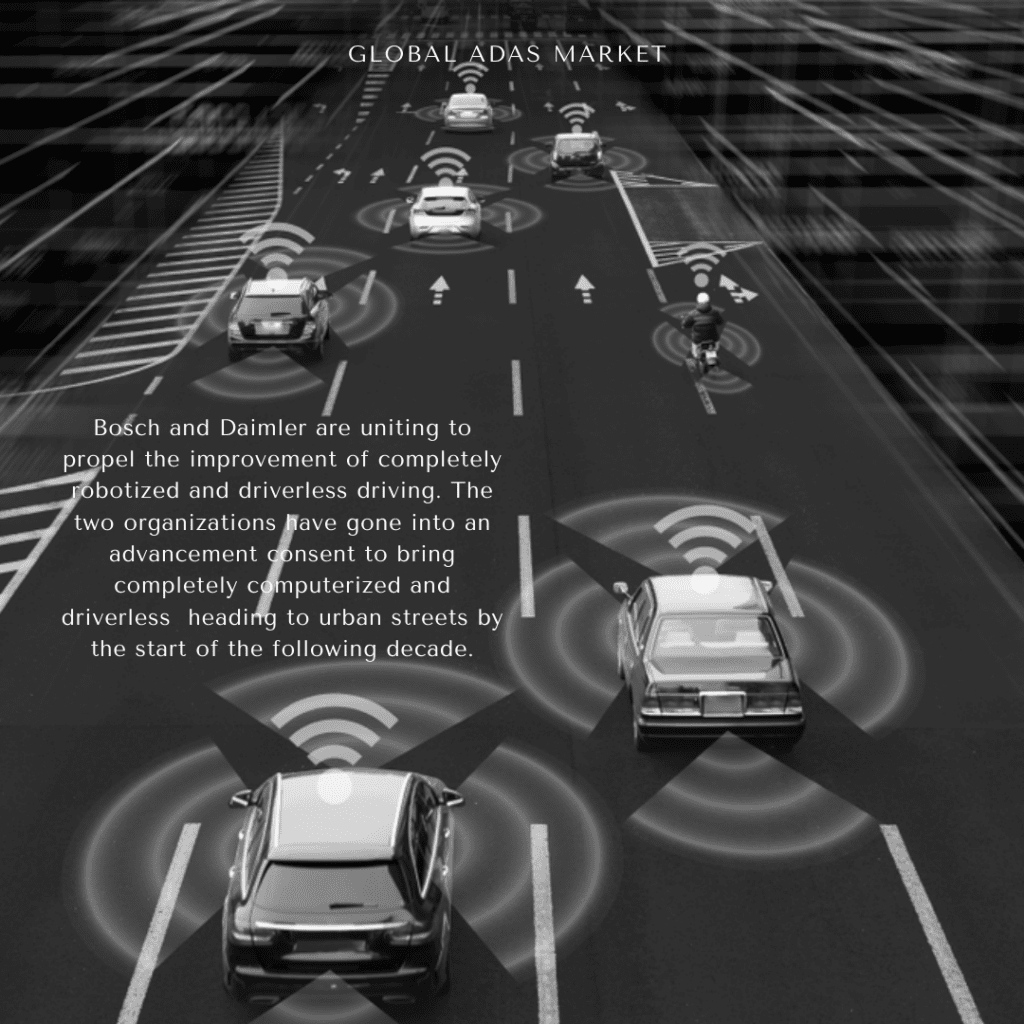 Veoneer will launch it`s first L2 Plus ADAS(Driver Assist features like highway assist, Lane centering control,  adaptive cruise control, Automatic emergency braking, traffic sign and light recognition and automated high beam control) in the market in H1- 2020.
COMPETITIVE LANDSCAPE
Auto suppliers have a much bigger role to play in coming years, related to ADAS and overall safety of cars as well as pedestrians on road by implementing modules, cameras and radars to various segments of safety.
ZF introduced a  ZF coPILOT, intelligent advanced driver assistance system (ADAS) to enhance safety and driving comfort.
Valeo and WABCO have memorandum of understanding  (MoU) to carry the most recent dynamic safety technologies to the commercial vehicles  showcase so as to ensure in traffic and empower self-sufficient driving features. The two organizations state this MoU will empower Valeo and WABCO to assume a main lead in the Advanced Driver Assistance Systems (ADAS) and Automated Driving (AD)  for commercial vehicles.
There is an increasing attempt to develop and combine cameras for easier usage. The attempt to combine control modules is also very prevalen
Bosch developed a camera with Artificial Intelligence for improving the technology and increasing range for application. The improved ability to read signs, recognize pedestrians and obstacles, make faster decisions in terms of braking and increased visual perception are some of the features that come with the integrated AI and camera launched.
Hitachi developed a stereo camera that enables Automatic Emergency Braking at intersections. The stereo camera is able to enable breaking and this set up doesn't require a radar.
The main focus is increasing the speed among Radar suppliers and various methods are used to achieve the same. Auto software vendors have a much bigger role to play in coming years, related to ADAS and overall safety of cars as well as pedestrians on road.Radars to detect different types of inputs and to respond accordingly are being developed across the industry to improve the driver's comfort.
Bosch developed new radars which will work in an increased variety of surroundings including poor lights and bad weather. There is increased detection range, wide aperture, and high angular separability which improves the performance.
Texas Instruments released a single chip CMOS radar sensor. It has an inbuilt micro controller, a radio-frequency front end, a hardware accelerator and a programmable digital signal processor. The sensors can calculate an object's range, velocity and angle faster due to lower pathways needed for decision implementation
CONTINENTAL AG
Continental  recently announced its collaboration with Germany-based startup  company Automotive Artificial Intelligence (AAI) to create Advanced Driver Assistance Systems (ADAS) capacities for the automotive.The new technologies will be created by simulating virtual environment.AAI has the competence to create virtual environments based on HD-maps and AI-driven road-users
Continental launched satellite cameras to increase the safety and comfort level of the driver. Continental showcased a product which bundled various different technologies into one single unit . The various technologies include rear camera and imaging, front camera and imaging and side cameras and imaging. By launching a consolidated unit, Continental has made it easier to process imaging and also to implement new features as the control unit is a single one. This drives technology closer to self driving cars
COMPANY PROFILES
Denso 
Veoneer
Autoliv
NXP
Hyundai Mobis
Magna
NVIDIA
Hella
Infineon AG
THIS REPORT WILL ANSWER FOLLOWING QUESTIONS
ADAS Penetration by OEM, by region, by technology-2020
ADAS Installation trend in past 5 years
Market Size and Forecast, by geography($M),2020-2025
Opportunities and risks in Global ADAS Market 
Important technology trends and regulatory changes
5 key predictions for next 5 years in Global ADAS Market 
Competitive landscape and market share of leading vendors
| | |
| --- | --- |
| Sl no | Topic |
| 1 | Market Segmentation |
| 2 | Scope of the report |
| 3 | Abbreviations |
| 4 | Research Methodology |
| 5 | Executive Summary |
| 6 | Introduction |
| 7 | Insights from Industry stakeholders |
| 8 | Cost breakdown of Product by sub-components and average profit margin |
| 9 | Disruptive innovation in the Industry |
| 10 | Technology trends in the Industry |
| 11 | Consumer trends in the industry |
| 12 | Recent Production Milestones |
| 13 | Component Manufacturing in US, EU and China |
| 14 | COVID-19 impact on overall market |
| 15 | COVID-19 impact on Production of components |
| 16 | COVID-19 impact on Point of sale |
| 17 | Market Segmentation, Dynamics and Forecast by Geography, 2020-2025 |
| 18 | Market Segmentation, Dynamics and Forecast by Product Type, 2020-2025 |
| 19 | Market Segmentation, Dynamics and Forecast by Application, 2020-2025 |
| 20 | Market Segmentation, Dynamics and Forecast by End use, 2020-2025 |
| 21 | Product installation rate by OEM, 2020 |
| 22 | Incline/Decline in Average B-2-B selling price in past 5 years |
| 23 | Competition from substitute products |
| 24 | Gross margin and average profitability of suppliers |
| 25 | New product development in past 12 months |
| 26 | M&A in past 12 months |
| 27 | Growth strategy of leading players |
| 28 | Market share of vendors, 2020 |
| 29 | Company Profiles |
| 30 | Unmet needs and opportunity for new suppliers |
| 31 | Conclusion |
| 32 | Appendix |