Global Asset Management Market 2020-2025
August 3, 2020

Request Sample
Coming Soon
Multi User License - $2,500
GLOBAL ASSET MANAGEMENT MARKET
Retail investors are ought to blindly follow market trends and usually ignore the rational approach to investing which includes analyzing future projections and past performances. For this very reason, asset management companies are entrusted to carry out sensible investments on behalf of the individual investors and provide returns in multifold. Asset management companies serve the financial needs of the economy and industries by providing them with the cash influx which comes from pools of investors.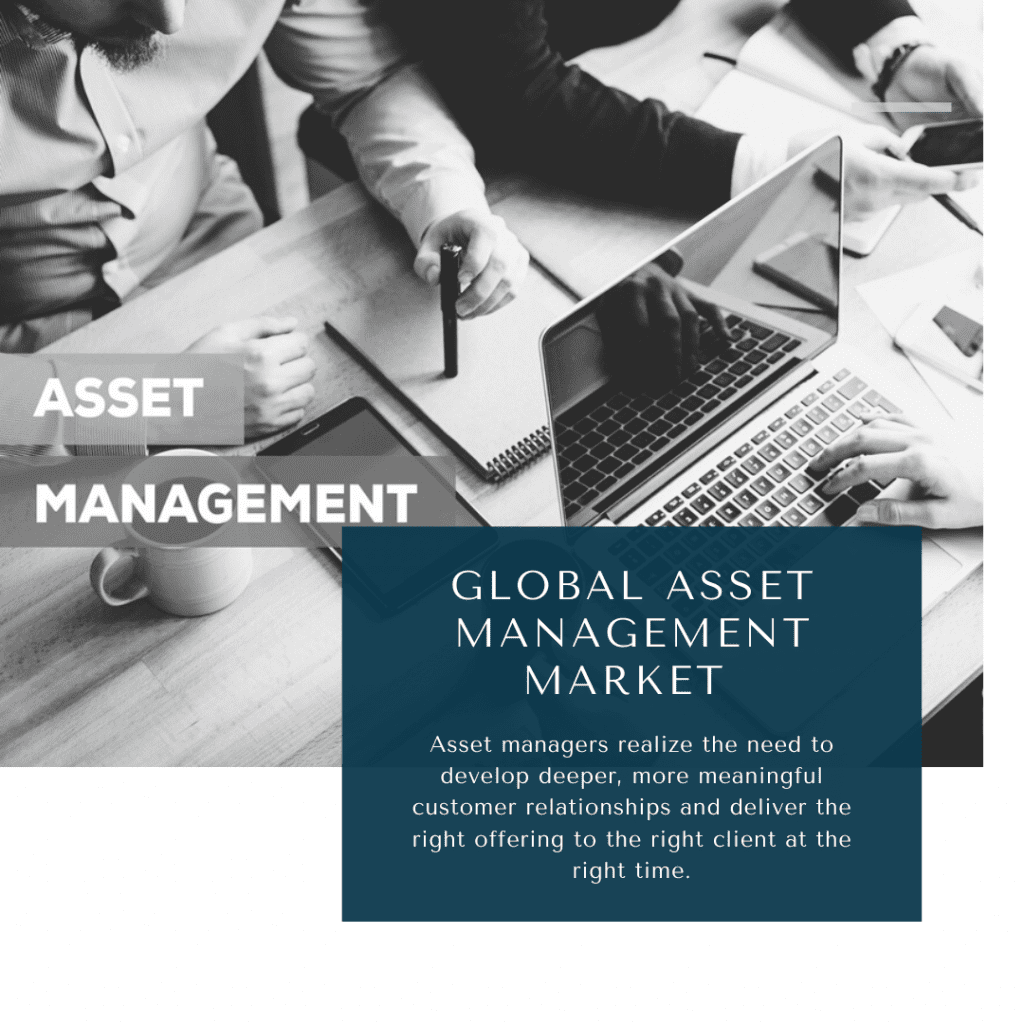 The year 2019 showed an immense increment in the global asset management market with almost all the regions showing a double-digit percentage growth. After the market crash of 2008, the asset managers were able to produce satisfactory returns for their client base as the market rebounded and manifested a bullish phase for quite a period of time thereafter.
The coming '20s are unprecedented and kicked off with a global pandemic which has called for a lot of investors to become prudent and reassess whether they have trusted the right people to manage their assets. These untraveled roads will also coerce the asset managers to rebuild their products fundamentally and innovate with the times.
This article will throw light upon the challenges impending in this new decade for the global asset management market. It'll also highlight the measures which the industry must undertake to remain relevant and profitable during the uproar which passive and alternative investments keep on continuously creating.
COVID IMPACT ON GLOBAL ASSET MANAGEMENT MARKET
The long bullish period of the markets finally came to an end with the coronavirus closing in on the entire world in the onset of 2020. The market started getting volatile with economies shutting down and various governments imposing lockdowns which extended for months.
This unique pandemic tossed most contingency plans out of the window as none were competent enough to deal with the unknown variables of a global pandemic. Generally, these plans don't take into consideration the widespread quarantines, hampered businesses, and travel bans across the globe. The challenges which these problems might and are posing are as follows:
No physical meetings or contact:
Many asset management firms may find it difficult to bring new clients on-board or even increase the investments made by current clients because of face-to-face meetings being quashed. With the ever so competitive market and the looming fear of clients shifting to passive and/or alternative investments, firms with weak digitized platforms and lagging customer relations face a serious issue. 
However, such situations might call for pivotal modifications to existing modus operandi. Asset managers realize the need to develop deeper, more meaningful customer relationships and deliver the right offering to the right client at the right time. After all, augmented competitive positioning is driven by solidified client relationships.
2. Market Volatility and Valuation Impediments:
Forecast models and assumptions for the year are rendered useless as the economy has diverted far away from its normal trajectory for any given year. Valuations and NAV calculations prove to be difficult because of volatility, illiquidity, and unreliability. Moreover, calculations of the fair value of a company have become challenging, counterparty risks are more likely and insolvency looms over plenty of companies, thus making investing seem riskier than usual. 
To overcome the same, asset managers must adjust cash inflows, business plans, and discount rates accordingly. Market prognosis should be reviewed and restructured time and again. Managers should continuously monitor macro assumptions, sensitivity and scenario analysis, and valuation ranges. Robust documentation must be created regarding credit quality, repayment, and liquidity risk more often. 
3. Apprehensive Workforce :
During these times when the manpower is sitting away from the offices and working from homes, a lot of ambiguity is bound to arise. The managers have things like, data transparency and accuracy, increasing client demands and concerns, lack of coordination and appropriate equipment, the volatility of the market, and the possibility of catching the illness on their plate. All these factors panning out together might make it difficult for the managers to work efficiently, carry out business operations, and might make them prone to errors. 
The asset management companies which have provided hands-on training to their employees, assisted them through these uncharted waters and have aligned HR policies to suit the employees, are reaping better benefits and showing satisfactory performance as compared to those who haven't.    
4. Legal Compliance Issues:
 With various countries changing and modifying their fiscal and monetary policies, the asset management companies have to cope up with the same keeping in mind the effects it might have on the markets. With employees working remotely, the firms also have to make decisions with regards to whether to follow a normal code of conduct or readjust the surveillance and supervision rules. Additionally, they have to work in close contact with the IT department to ensure the firm faces no cyber-security threats. 
Companies with updated and secured VPN's are less likely to become victims of cyber fraud and phishing. Also, the coordination between senior and line managers are of utmost importance currently, to ensure that all the personnel is well aware of the daily compliance monitoring and supervision required to be followed. 
For asset managers, the greatest challenge is probably not how they perform during the pandemic, rather, how well-positioned are they for the "next to normal" future. With a day-by-day inclination towards alternative and passive investments and the growing awareness about the efficient market hypothesis, investors are realizing that it might be difficult for the asset managers to actually beat the market and give enormous and unexpected results regularly. The fee the investors pay to them just to obtain underperforming and nominal returns doesn't help their case either.
The only way the asset management firms can retain their customer base and keep them happy is by being more client-centric and provide them with diversified products and portfolios which can weather through any market cycles. They must cater to important needs of customers like, lower costs, data privacy, and diversified portfolios consisting of world-wide global assets, better. The firms must be willing to move out of their comfort zone and strive to acquire better talent, technology, and organizational practices.  
| | |
| --- | --- |
| Sl no | Topic |
| 1 | Market Segmentation |
| 2 | Scope of the report |
| 3 | Abbreviations |
| 4 | Research Methodology |
| 5 | Executive Summary |
| 6 | Introduction |
| 7 | Insights from Industry stakeholders |
| 8 | Cost breakdown of Product by sub-components and average profit margin |
| 9 | Disruptive innovation in the Industry |
| 10 | Technology trends in the Industry |
| 11 | Consumer trends in the industry |
| 12 | Recent Production Milestones |
| 13 | Component Manufacturing in US, EU and China |
| 14 | COVID-19 impact on overall market |
| 15 | COVID-19 impact on Production of components |
| 16 | COVID-19 impact on Point of sale |
| 17 | Market Segmentation, Dynamics and Forecast by Geography, 2020-2025 |
| 18 | Market Segmentation, Dynamics and Forecast by Product Type, 2020-2025 |
| 19 | Market Segmentation, Dynamics and Forecast by Application, 2020-2025 |
| 20 | Market Segmentation, Dynamics and Forecast by End use, 2020-2025 |
| 21 | Product installation rate by OEM, 2020 |
| 22 | Incline/Decline in Average B-2-B selling price in past 5 years |
| 23 | Competition from substitute products |
| 24 | Gross margin and average profitability of suppliers |
| 25 | New product development in past 12 months |
| 26 | M&A in past 12 months |
| 27 | Growth strategy of leading players |
| 28 | Market share of vendors, 2020 |
| 29 | Company Profiles |
| 30 | Unmet needs and opportunity for new suppliers |
| 31 | Conclusion |
| 32 | Appendix |