Global Automotive Airbag Market 2020-2025
May 10, 2020

Request Sample
Coming Soon
Multi User License - $2,500
GLOBAL AUTOMOTIVE AIRBAG MARKET
INTRODUCTION
In automobile sector the safety of the passengers and the pedestrians should be top priority. With the increase in number of vehicles on road there has been direct influence on the increasing road accidents globally. Auto manufacturers have been focussing on enhancing the overall safety of passengers and drivers. Airbags play a crucial role in bringing down the fatality rate involved in road accidents.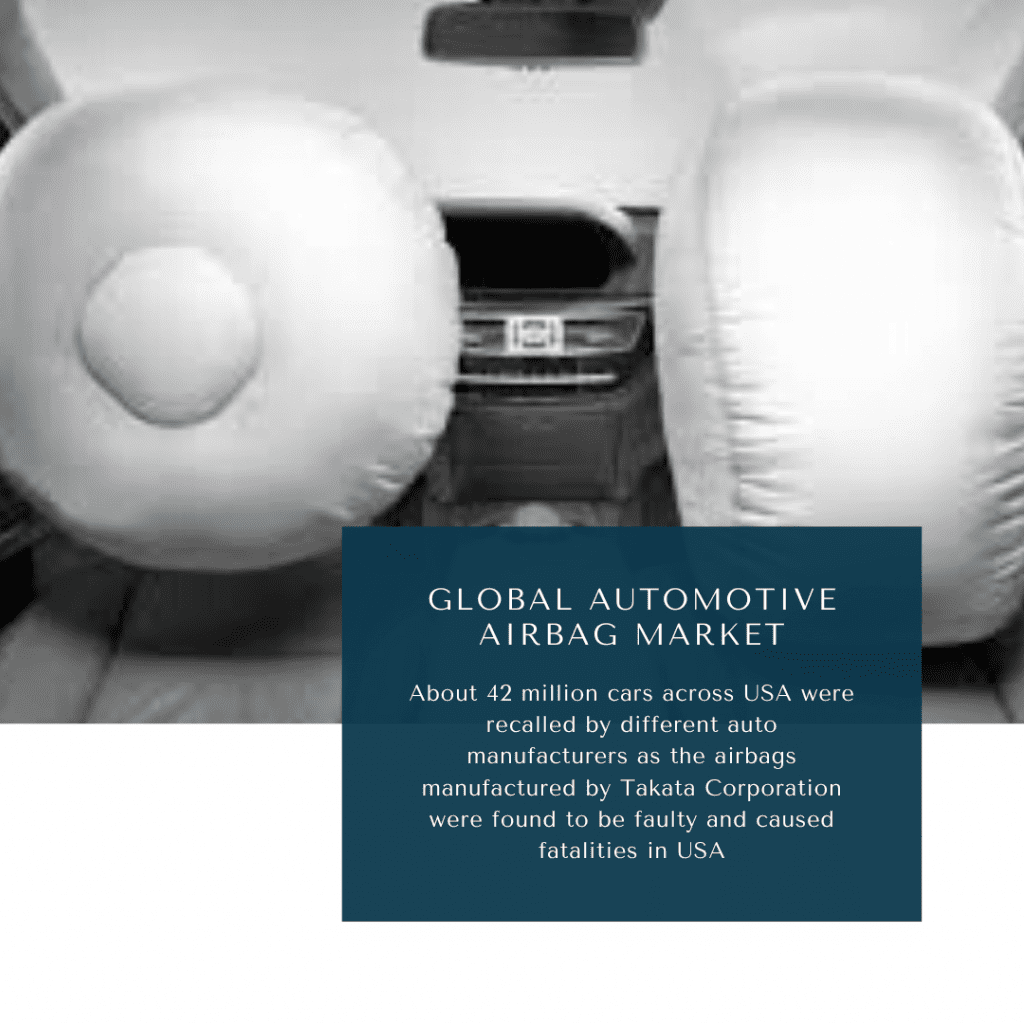 MARKET SEGMENTATION
BY POSITION
Driver Airbags
Front Passenger Airbags
Side Airbags
Side Curtain Airbags
Knee Airbags
Pedestrian Airbags
BY OEMS
Toyota
GM
Ford
Mercedes
BMW
Hyundai
BY GEOGRAPHY
US
Europe
Japan
China
ASEAN
Latin America
Middle-East and Africa
ROW
MARKET DYNAMICS
Safety key prospect in auto manufacturing has resulted in rapid growth in the airbag industry. Most of the US, Europe passenger vehicles are equipped with standard 6 airbags.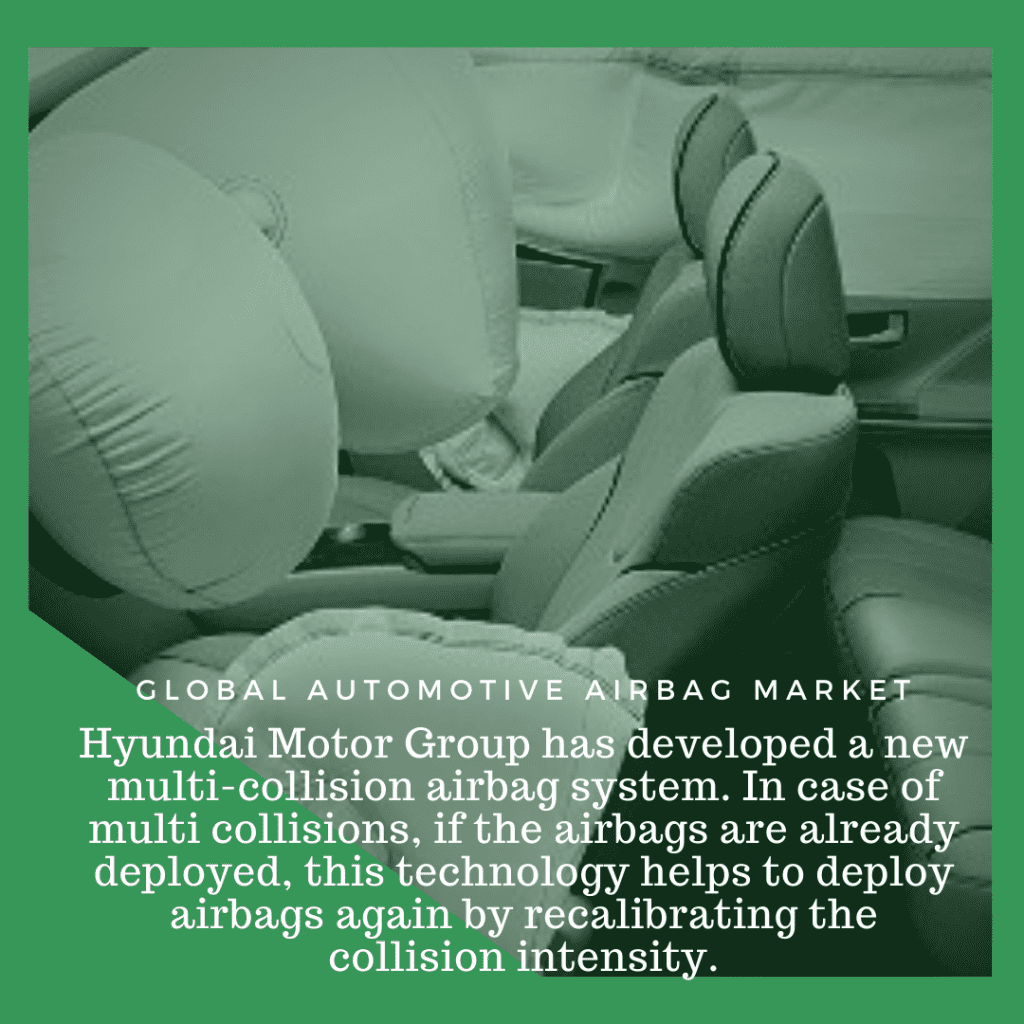 With the regulatory mandate in India where airbags are made mandatory, airbag market is expected to grow substantially.
Risks
High energy released when airbags are deployed often cause injuries to passengers. Kids in front seats are prone to airbag injury than adults in the front seat. As the front seat airbag deploy with very high energy.
About 42 million cars across USA were recalled by different auto manufacturers as the airbags manufactured by Takata Corporation were found to be faulty and caused fatalities in USA. The reason was there was explosion when these airbags deployed and inflators without drying agent caused its rupture, sending shrapnel to vehicle interior.
US AUTOMOTIVE AIRBAG MARKET
In 1970s auto makers like GM and Ford started incorporating airbags in their passenger vehicles. However due to inferior technology it was not made compulsory. With the advancement in technology and in 1998 new road safety came into effect, where it mentioned to have a mandatory airbags on both the sides of the front seats. Ever since, there has been continuous improvement in technology being used. Any passenger car nowadays comes with standard 6 airbags. The pedestrian airbag is also gaining attention, top selling cars like Chevrolet Silverado is equipped with pedestrian airbag as well.
Inflatable seat belts launched by Ford, has pioneered at protection of occupants in the rear seat. It is aimed at reducing the pressure on the chest and help control head and neck motion. Several Ford, Lincoln and Mercedes S class vehicles provide this as optional equipment.
EUROPE AUTOMOTIVE AIRBAG MARKET
Frontal airbags are voluntarily fitted by auto makers. All top selling passenger vehicles comes in with standard 6 airbags. Autoliv from Sweden and ZF group from Germany are the leading airbag designers and developers.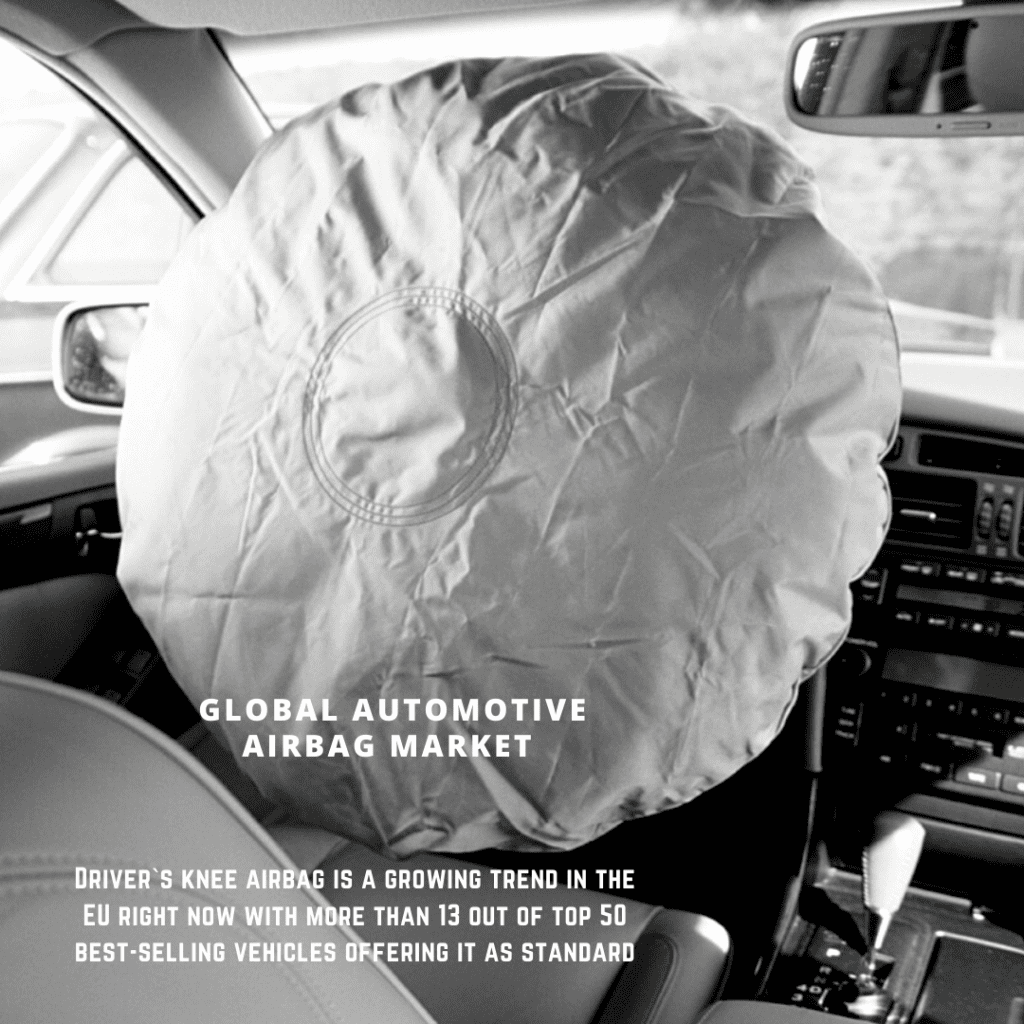 Driver`s knee airbag is a growing trend in the EU right now with more than 13 out of top 50 best-selling vehicles offering it as standard.
Budget brand like Dacia offers Passenger and seat side airbags only on its best- sellers Sandero and Duster. Curtain airbags and driver knee airbags are not even optional.
CHINA AUTOMOTIVE AIRBAGS MARKET
The Chinese market growth has hit the ceiling but the market continues to grow in terms of features and dollar content of components in the car every year.
The average number of airbags fitted in a mass segment passenger vehicle in  is now 6 as compared to just 2 , 5 years ago. 
Like US and EU, Front seat side airbag fitment has grown in past 3 years and is now offered on almost all top-selling vehicles at-least as an option. Driver`s knee airbag is still a niche feature offered by Honda, VW, Mercedes and Volvo only.
JAPAN AUTOMOTIVE AIRBAG MARKET
All of the top selling passenger vehicles Toyota Prius, Toyota Sienta and Nissan Note come with standard 6 airbags. Toyoda Gosei is one of the top SRS (Supplemental Restraint System) manufacturers in the world.
RECENT PARTNERSHIPS IN AUTOMOTIVE AIRBAG MARKET
Rane TRW Steering Systems, a JV of the Rane Group and German ZF Group has opened a new facility for occupant safety products at Trichy, Tamil Nadu.
RECENT LAUNCHES
Autoliv Inc leader in vehicle safety system has completed first unique crash test where, e-scooter airbag concept was tested. This is expected to reduce the head and chest injury to the e-scooter rider.
Autoliv and Hyundai Motor Group have developed a new centre side airbag, in between the 2 passenger seats in the front row. This is installed in order to prevent bumping of 2 passengers inside the vehicle upon side impact.
ZF has released a new external airbag technology where the vehicles would deploy the airbag detecting the incoming vehicle and avoid side-on collision. This is possible with the help of various sensors, cameras, lidar and the algorithm within the system software.
Hyundai Motor Group has developed a new multi-collision airbag system. In case of multi collisions, if the airbags are already deployed, this technology helps to deploy airbags again by recalibrating the collision intensity.
Honda and Autoliv have developed a new front airbag design for passenger vehicles where in, it protects the occupant's frontal collision scenarios including angled crashes.
Autoliv has showcased a new airbag and seating systems for passenger cars. This system is basically concerned with the self driven cars as the auto industry is shifted towards autonomous driving.
Among 2 wheeler vehicles, though Honda has developed a concept of airbag for motorcycles, it is yet to come on road. However, Dainese and Helite have launched the jackets which would inflate upon collision. These vests are used in Moto GP races.
MARKET SIZE AND FORECAST
Market leaders have been continuously working towards better quality airbags and reduce the road accidents. It is estimated that road accidents cause about 1.25 million fatalities in a year globally.
In India, the mandatory regulation was announced in July 2019. According to this all new cars must be equipped with driver side airbag. Although the mandate passed is late compared to other regions, this will boost the airbag market in India.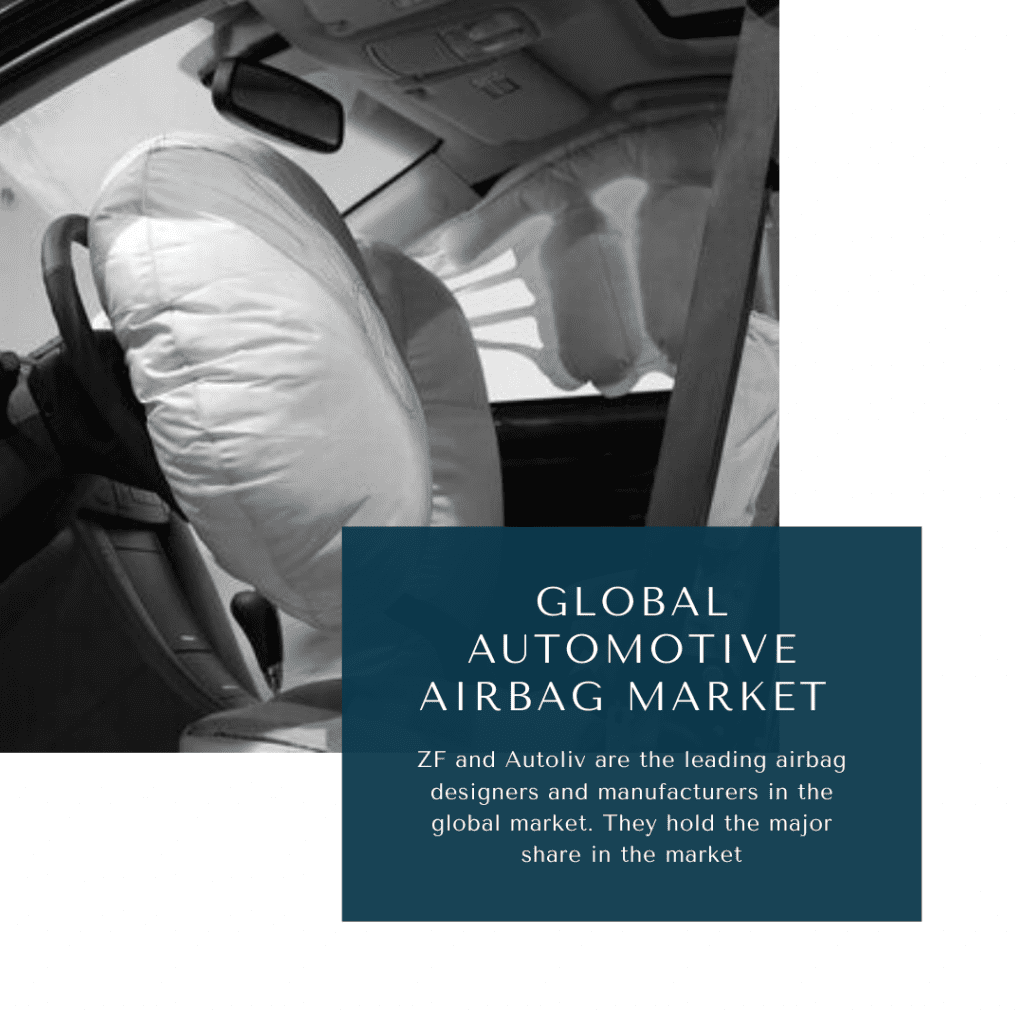 With the increased safety regulations and increased number of standard airbags in a passenger car will increase airbag market considerably.
The global Automotive airbags market size is estimated at $XX Million in 2020, estimated to grow to –% CAGR till 2025.
COMPETITVE LANDSCAPE
ZF and Autoliv are the leading airbag designers and manufacturers in the global market. They hold the major share in the market. Japanese company Toyoda Gosei and Joyson Safety Systems from US are the other airbag manufacturers. Some of the companies supplying integral components of an airbag system are:
| | | |
| --- | --- | --- |
| Manufacturer | Components | Country |
| Denso | Airbag ECU | Japan |
| Daicel Corporation | Inflators | Japan |
| Kolon Industries | Cushions and Fabrics | South Korea |
| Nihon Plast Co | Airbag Modules | Japan |
COMPANY PROFILE
THIS REPORT WILL ANSWER FOLLOWING QUESTIONS
Market size and Forecast, by OEM 2020-2025
Average B-2-B price by region
Installation and Growth rate of fast growing segments like Knee aribags and curtain airbags
OE-supplier alignment and Market share of leading vendors
Growth strategy followed by major vendors 
COVID-19 impact on Global Automotive airbags market
| | |
| --- | --- |
| Sl no | Topic |
| 1 | Market Segmentation |
| 2 | Scope of the report |
| 3 | Abbreviations |
| 4 | Research Methodology |
| 5 | Executive Summary |
| 6 | Introduction |
| 7 | Insights from Industry stakeholders |
| 8 | Cost breakdown of Product by sub-components and average profit margin |
| 9 | Disruptive innovation in the Industry |
| 10 | Technology trends in the Industry |
| 11 | Consumer trends in the industry |
| 12 | Recent Production Milestones |
| 13 | Component Manufacturing in US, EU and China |
| 14 | COVID-19 impact on overall market |
| 15 | COVID-19 impact on Production of components |
| 16 | COVID-19 impact on Point of sale |
| 17 | Market Segmentation, Dynamics and Forecast by Geography, 2020-2025 |
| 18 | Market Segmentation, Dynamics and Forecast by Product Type, 2020-2025 |
| 19 | Market Segmentation, Dynamics and Forecast by Application, 2020-2025 |
| 20 | Market Segmentation, Dynamics and Forecast by End use, 2020-2025 |
| 21 | Product installation rate by OEM, 2020 |
| 22 | Incline/Decline in Average B-2-B selling price in past 5 years |
| 23 | Competition from substitute products |
| 24 | Gross margin and average profitability of suppliers |
| 25 | New product development in past 12 months |
| 26 | M&A in past 12 months |
| 27 | Growth strategy of leading players |
| 28 | Market share of vendors, 2020 |
| 29 | Company Profiles |
| 30 | Unmet needs and opportunity for new suppliers |
| 31 | Conclusion |
| 32 | Appendix |