Global Automotive Engine Market 2019-2025
January 14, 2020

Request Sample
NUMBER OF PAGES-160
Multi User License - $2,500
AUTOMOTIVE ENGINE MARKET
As of Dec 2019, the auto industry is battling multiple headwinds like declining sales globally and especially in China, reduced margins for suppliers, job cuts and lower capital expenditure.
Almost all OEMs and suppliers have scaled down their revenue and profitability guidance for 2019.Both are looking extensively at e-mobility and shared mobility and the internal combustion engine is not getting the amount focus it used to, 5 years ago.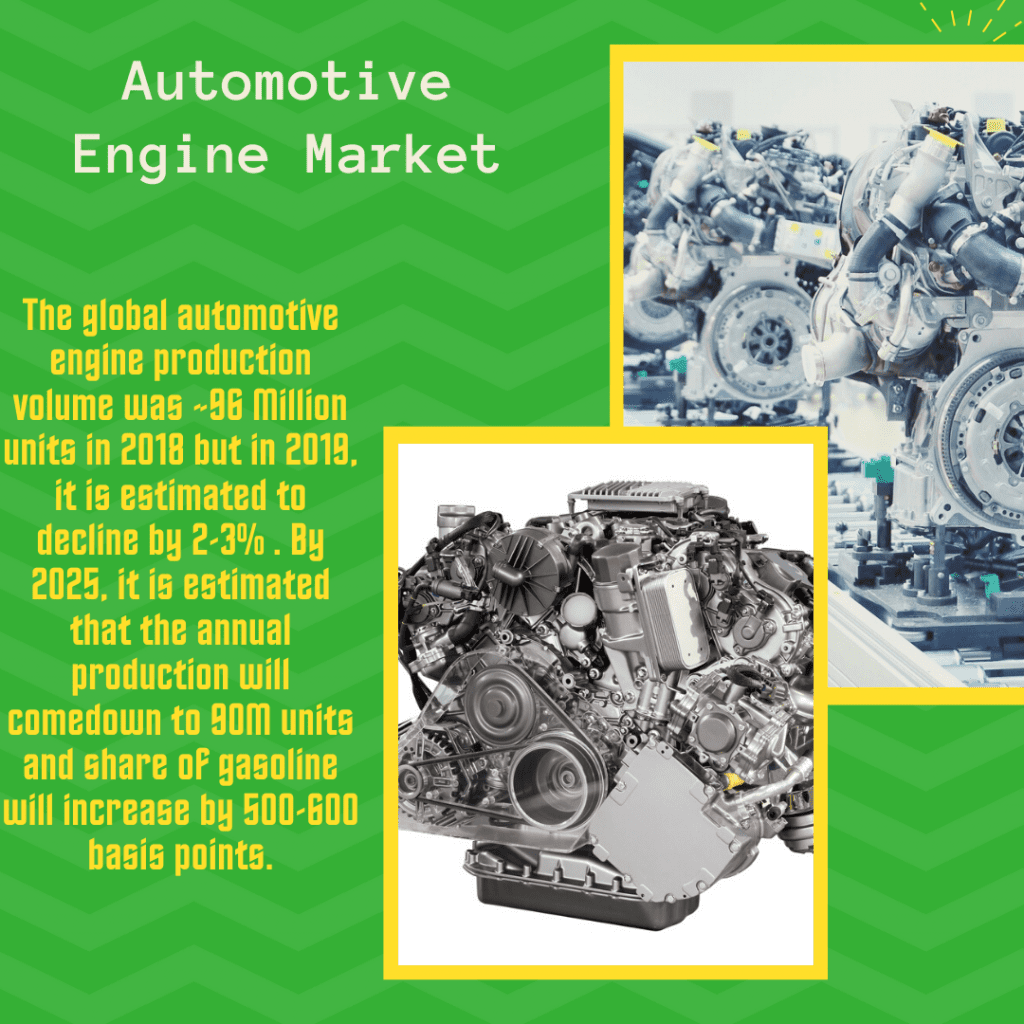 The global engine downsizing trend is done and dusted, the automotive engine will now play second fiddle to electric mobility.
Many mechanical components like oil pump, coolant pump, HVAC compressor will be electrified and thus the sub-component suppliers need to align themselves with this global vehicle electrification trend to stay relevant.
INTEGRATION OF ISG IN AUTOMOTIVE ENGINES
In Europe, now almost all engines are now coupled to either a 12 V BSG or a 48V ISG to improve city driving emissions. In recently unveiled Ford Puma, the ISG enabled Ford engineers to lower the engine's compression ratio and addition of a larger turbocharger for more power.
The ISG used on Audi`s higher segment vehicles post 2019, now allows recuperation of upto 12kW of power under mild-acceleration.
INTEGRATION OF CYLINDER DEACTIVATION ON AUTOMOTIVE ENGINES
Cylinder deactivation is now being looked at as mainstream fuel economy improvement technology, especially in higher displacement engines.In US, more than 54% engines produced had Gasoline Direct Injection and 14% had Cylinder deactivation technology. in 2019.
RECENTLY LAUNCHED ENGINES WITH CYLINDER DEACTIVATION TECHNOLOGY
| | | | | | |
| --- | --- | --- | --- | --- | --- |
| Sl no | OEM | Engine Code/ Family | Launched | Fuel | Displacement (L) |
| 1 | Daimler | M 282 | 2018 | Gasoline | 1.3 |
| 2 | Ford | EcoBoost | 2018(Updated) | Gasoline | 1.0 |
| 3 | Mazda | SKYACTIV | 2017 | Gasoline | 2.5(N.A. and Turbo) |
| 4 | VW | EA211/TSI | 2017 | Gasoline | 1.5 |
| 5 | Cadillac(GM) | DOHC V-6 | 2017 | Gasoline | 3.6 |
| 6 | Honda | I-VTEC | 2015 | Gasoline | 3.5 |
| 7 | Audi | TFSI | 2013 | Gasoline | 1.4, 4.0, W12 |
| 8 | GM | Ecotec3 | 2012 | Gasoline | 4.3, 5.3,6.2 |
MARKET SEGMENTATION

GLOBAL AUTOMOTIVE ENGINE PRODUCTION
The global automotive engine production volume was ~96 Million units in 2018 but in 2019, it is estimated to decline by 2-3% . By 2025, it is estimated that the annual production will comedown to 90M units and share of gasoline will increase by 500-600 basis points.
GLOBAL AUTOMOTIVE ENGINE PRODUCTION MARKET SHARE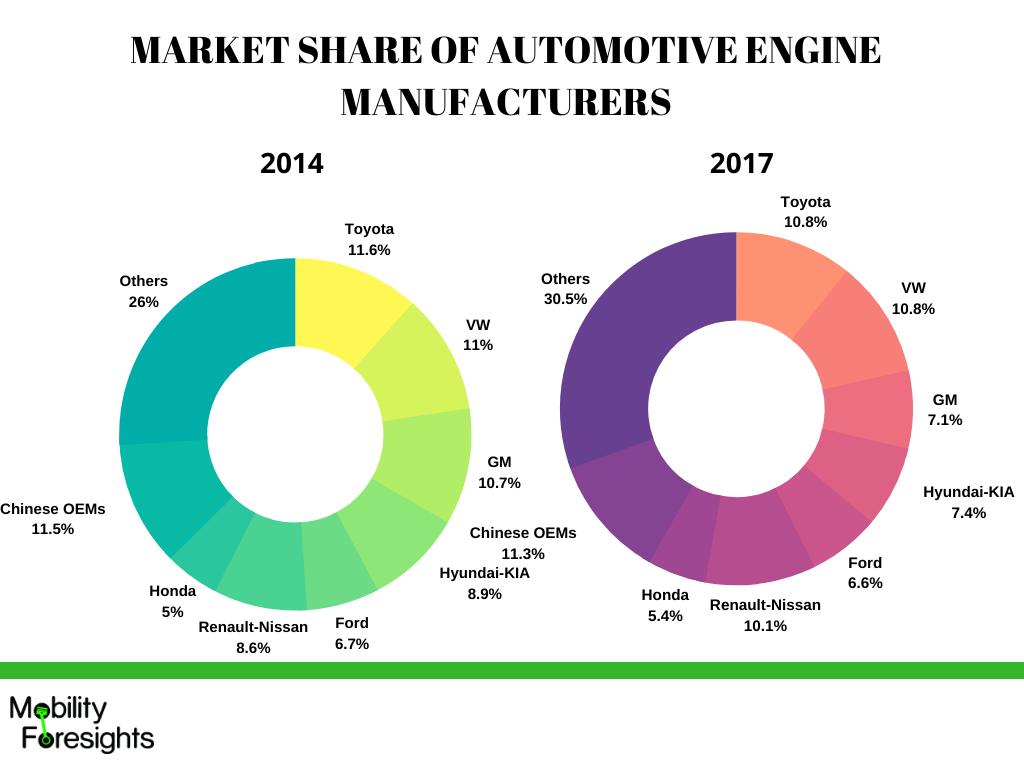 During 2014-2017,the market share of automotive engine manufacturers has remained almost same for top 2 players but it has declined for General Motors and Hyundai-KIA. Renault-Nissan alliance and Honda have been able to increase their share from 8.6% to 10.1% and 5% to 5.4% respectively.
FUTURE OF DIESEL ENGINE MARKET
The global Commercial vehicle market is estimated at ~10 Million units per annum and 80+% of them are powered by Diesel, and the rest by natural gas, electricity and gasoline. In passenger car segment, estimated at ~80 Million units per annum ~87% are powered by gasoline and the remaining by Diesel, CNG/LPG.
Europe is the biggest market for Passenger car Diesel engines, approx 48-50% of new cars sold in Europe were Diesel before VW scandal erupted in 2015. As of Dec 2019, Diesel share has now stabilized to 33% and is expected to remain in ~25-30%(~4 Million units per annum) range till 2025. In the light of upcoming 2021 95gm/km CO2 emissions rule, Diesel has an important role in bringing down emissions for larger SUVs,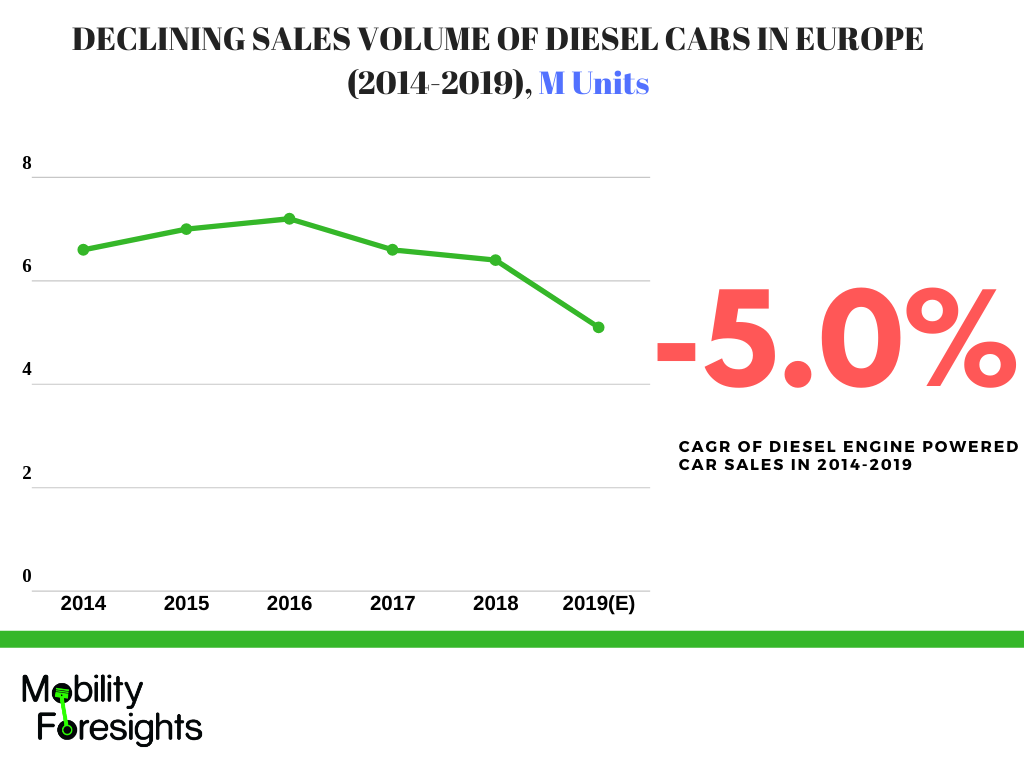 Due to much stricter norms now in place, VW now has a new twin dosing SCR system which includes dual AdBlue injection to significantly reduce NOx emissions. VW introduced a 1.6L TDI on its top-selling T-Cross to offer more flexibility to it`s consumers in June 2019
In coming years, even bigger challenges are about to come as CO2 rules will get even tougher for European OEMs. The new European Commission plans to propose revising legislation on CO2 emissions standards for cars and vans to move towards 2025 onward toward zero-emissions mobility from 2025.
India, which is the second biggest market for Diesel passenger cars after Europe, is battling numerous challenges including upcoming BS6(Euro Vi  equivalent) norms. Passenger car sales are down 13%(YOY) in Jan-Oct 2019 and Diesel share is now down to 33%(1 Million units per annum) compared to 55% in 2013.
FUTURE  OF GASOLINE ENGINE MARKET
With Diesel`s share shrinking, gasoline engine is now now the prime focus for further improvement. Going forward, we can expect the integration of Atkinson and Miller cycle engines + GDI( Gasoline Direct Injection) + VGT(Variable Geometry turbo) on a much bigger scale.
For example, in Jan 2020, Seat  launched its all new Leon with  two 1.0-litre units as well as the 1.5 TSI 96kW/130PS with a Miller-cycle combustion process and variable geometry turbocharger to improve efficiency by 10%. Delphi has already introduced 500 bar GDI system which could reduce PM emission by as much as 50% is more likely to be adopted by OEMs for higher segment vehicles.
The 3L and higher capacity gasoline engines will continue the way they are in North America but in Europe they will be either coupled with a PHEV or Mild hybrid technology to reduce emission.
BY OEM
VW– Audi`s revised 2.5L TFSI is now more compact and 26kg lighter than the previous model. Fitting the engine with an aluminium crankcase alone allowed Audi to achieve weight reduction of 18kg.
Toyota– World`s second biggest producer of auto engines after VW group in 2019 had highest share(~52%) of electrified vehicles globally, and 100% of them are powered by gasoline engines.
Hyundai- KIA – In July 2019, Hyundai showcased its new  CVVD(Continuously variable valve duration) engine, which regulates the duration of valve opening and closing as per driving conditions. This optimization provides 4% boost in performance, almost similar improvement in fuel efficiency, and 12% emissions reduction.
FUTURE  OF CNG AND LPG ENGINE MARKET
Europe has always been the biggest market for CNG and LPG powered cars. Registration of CNG and LPG powered vehicles in Europe peaked to 2.4% share of new car sales in 2010 due to growing Electric vehicle market and has been declining ever since.  In 2018, CNG & LPG powered cars comprised ~1.7% share of new car sales.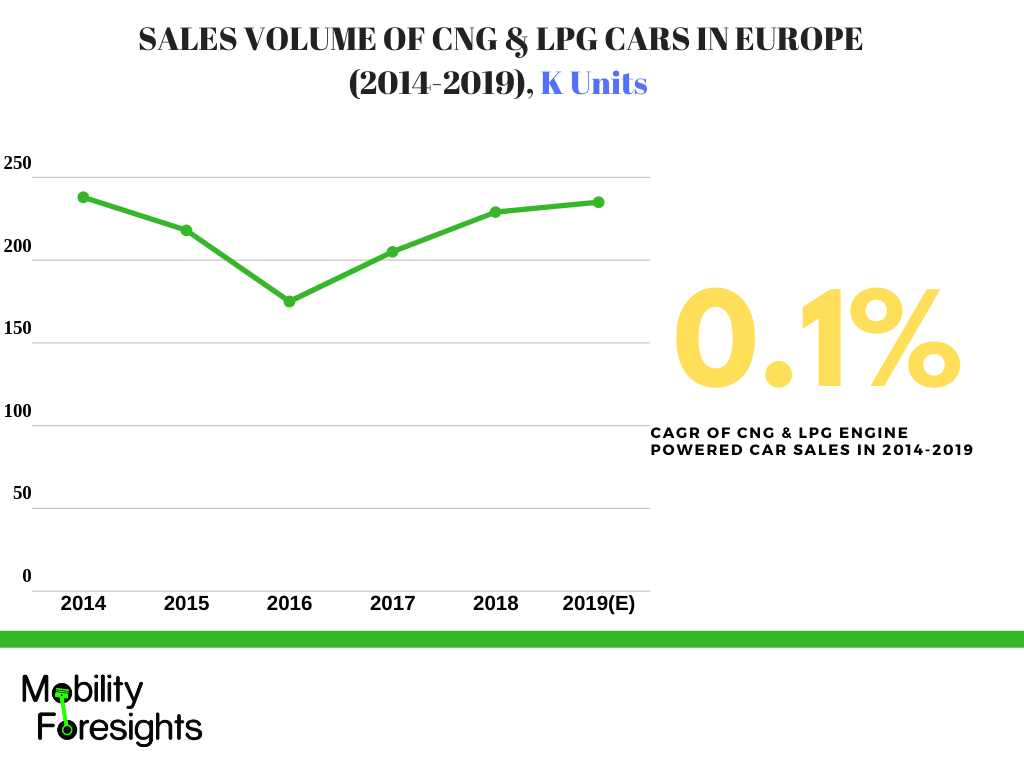 VW still believs CNG could play a much bigger role in transition to low emission vehicles and thus equippped  its natural gas models of the Polo TGI and Golf TGI with a third natural gas tank to offer a cumulative range of more than 400 Kms in WLTP cycle.
India is now a very important CNG car market and as per Maruti Suzuki( market leader with ~51% market share), about 7% of its new cars sold per annum are now dual fuel( Petrol + CNG) powered. 
COMPANY PROFILES
Hyundai- KIA
Ford Motor Company
Nissan Motors
BMW Group
SAIC 
Geely Group
KEY CONTENTS OF THE REPORT INCLUDE
The most important shift in OEMs engine development and manufacturing
Is there a growing market for innovative engine coating/ thermal encapsulation
What will be the future of non-electric, alternate fuel engines like CNG, LPG and E85
Top 10 engines and their derivatives which will power 31% of global production in 2019
In the light of declining diesel passenger vehicle sales,what will happen to CRDI system market and its sub-component manufacturing?
Market Dynamics (Trends, Drivers, and Challenges)
OE-supplier alignment in the automotive engine market
Market share and competitive landscape of Global Automotive Engines Market
R&D Capex for 2019-2025
Market Size, Market Segmentation, Market Forecast (Volume and Value)

Fuel type (Gasoline, Diesel, CNG, LPG, E85)
Sub-components( Piston, Crankshaft, Valves,fuel injection system, Cylinder head,Thermal management, Pumps)
Power output(HP) (<100,100-150,150-250,>250)
Geography (Asia, Europe, North America and Special focus on China)
Vehicle Application  (Passenger Vehicle and Commercial Vehicle)
Engine sourcing(in-sourced and outsourced)
For customized research, request a free sample.
| | | |
| --- | --- | --- |
| 1 | Market Segmentation | 3 |
| 2 | Executive Summary | 5-8 |
| 3 | Introduction | 9-15 |
| 4 | Insights from Industry stakeholders | 16-17 |
| 5 | Engine manufacturing in US, Europe and China | 18-19 |
| 6 | Engine cooling trends, by engine capacity | 20-23 |
| 7 | Turbocharger penetration, by OEM | 24-27 |
| 8 | GDI Penetration, by OEM | 29-32 |
| 9 | Breakdown of new concept vehicles by ICE powertrain | 33-38 |
| 10 | Engine Light-weighting trends | 39-41 |
| 11 | Integration of ISG in Automotive Engines, by region, by OEM | 41-44 |
| 12 | Integration of Cylinder deactivation, by region, by OEM | 44-47 |
| 13 | Internal friction reduction and coating trends, by region, by OEM | 48-51 |
| 14 | Improvement in Piston and combustion bowl in past 5 years | 52-55 |
| 15 | Market Size, Dynamics and Forecast by Engine Displacement | 56-75 |
| 16 | Market Size, Dynamics and Forecast by Sub-component | 76-100 |
| 17 | Market Size, Dynamics and Forecast by Geography | 101-125 |
| 18 | Market Size, Dynamics and Forecast by OEM | 126-140 |
| 19 | Competitive Landscape | 141-142 |
| 20 | Market share of sub-component suppliers | 143-144 |
| 21 | Company Profiles | 145-155 |
| 22 | Unmet needs and Market Opportunity for suppliers | 156-157 |
| 23 | Conclusion | 158 |
| 24 | Appendix | 159-160 |