GLOBAL AUTOMOTIVE FILTERS MARKET
INTRODUCTION
There are different kinds of automotive filters whose usage helps in achieving better fuel economy and more importantly cleaner environment. Fuel Efficiency and Emission norms are two major factors influencing the automotive filters market. Different kinds of filters used in an engine powered and hybrid vehicles are
Engine air filters

Cabin air filters

Oil filters

Fuel filters

Steering filters

Transmission filters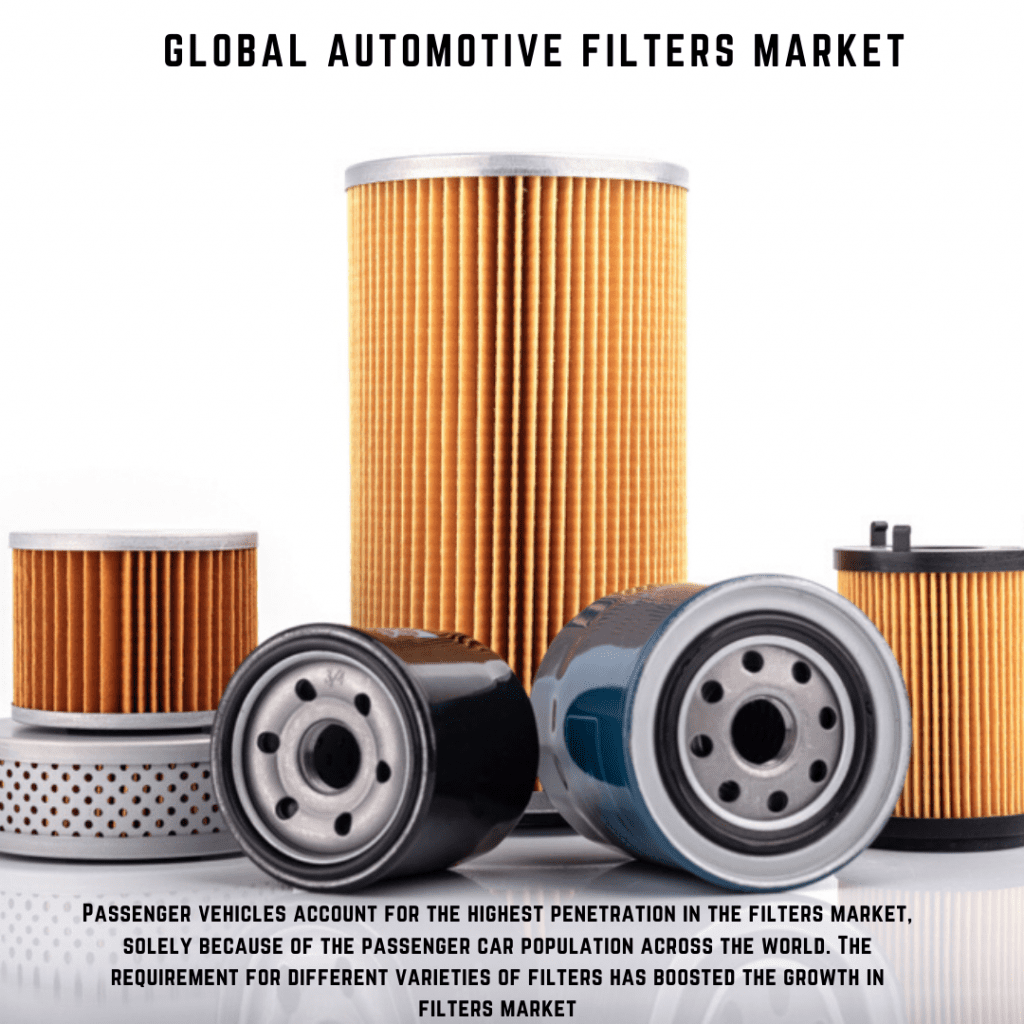 Whereas, a BEV essentially has 2 types of filters, Battery and Cabin filters. Battery filters consists of ventilation and critical for thermal management of batteries. Cabin filter keep passenger compartment free from any kind of contaminants.
MARKET SEGMENTATION
By type of Filter used
Air Filter

Oil Filter

Cabin Filter
By End Use
By Vehicle Usage
Passenger Vehicles

Commercial Vehicles

Two-Wheeled Vehicles
By Geography
MARKET DYNAMICS
Engine powered and Hybrid vehicles accounts majority of the market in filtration systems. The stringent emission norms across the world have been the major driving factor of the automotive filters market in recent times. However, with the increase in electric vehicles production there has been direct effect on air and oil filters.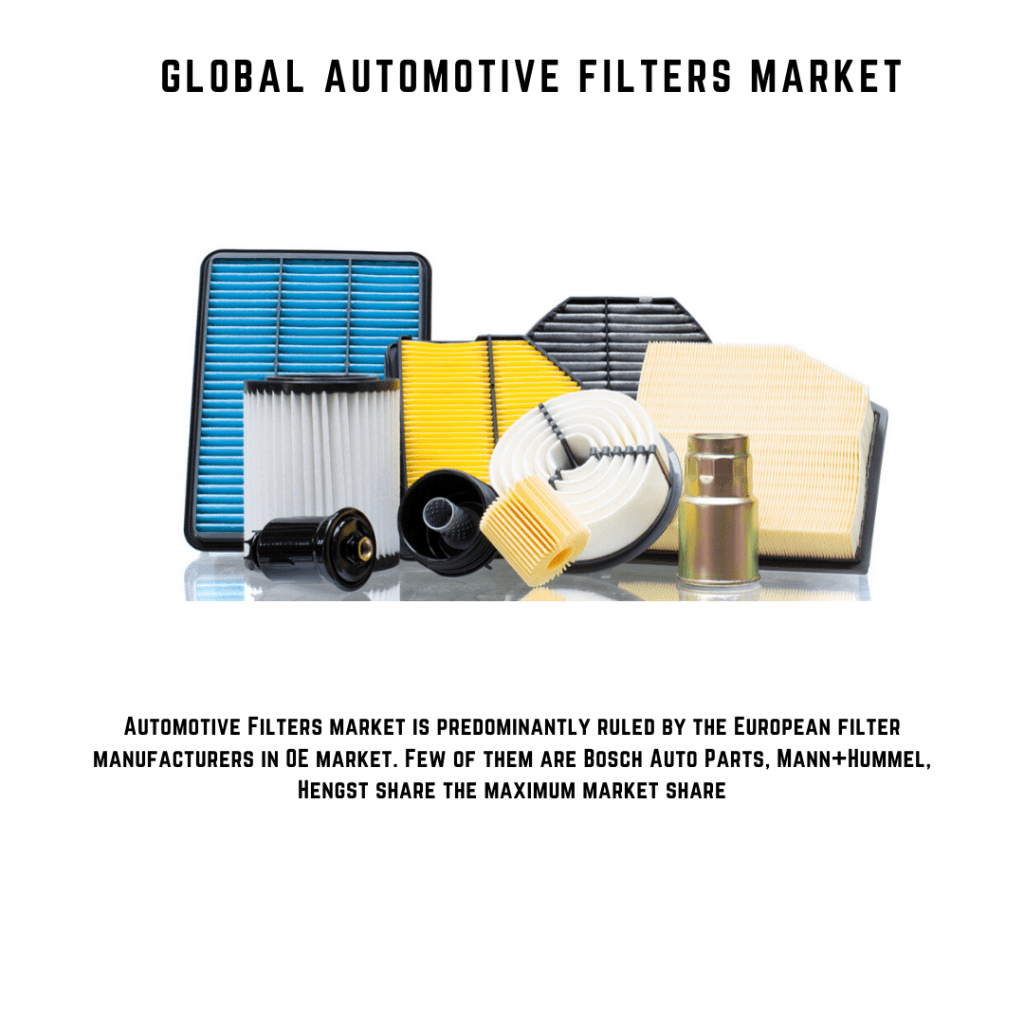 PASSENGER VEHICLE FILTERS MARKET
Passenger vehicles account for the highest penetration in the filters market, solely because of the passenger car population across the world. The requirement for different varieties of filters has boosted the growth in filters market. In order to maintain a cleaner passenger compartment and stricter emission acts has demanded for better filters across the passenger car segment. Any passenger cars are subjected to change the filters after every 20,000 -30,000 miles driven. If the vehicles are used extensively or in not so favourable conditions filter change must be considered much before the subjected period. Installation of air and oil filters improves the fuel efficiency of the vehicle and hence drivers are driven to install filters in their cars.
COMMERCIAL VEHICLE FILTERS MARKET
The second highest filter market is found in passenger vehicles segment. It can be either LCV or an HCV.
Since usually commercial vehicles spend much of the time in construction sites or any other working site prone to huge amount of dust, the need for better air intake and cleaner cabin becomes important. Moreover, commercial vehicles travel a long distance and this creates a need for better fuel efficiency and emission. All these reasons constitute and help in growth of the filters market in commercial vehicles segment.
US AUTOMOTIVE FILTERS MARKET
US being a hub for automobile sales, auto makers demand for large number of filters.. There is a high demand for quality air filters and has lead to number of air filter manufacturers, most of them being after market. Some of the automotive filters manufacturers from US are Donaldson, Parker Hannifin. Some of the leading aftermarket manufacturers are K&N Engineering.
EUROPE AUTOMOTIVE FILTERS MARKET
The European market with large number of auto manufacturers has come out as one of the leaders in filter markets in the world. The other reason being severe regulations to control emission has led to surge in filters market.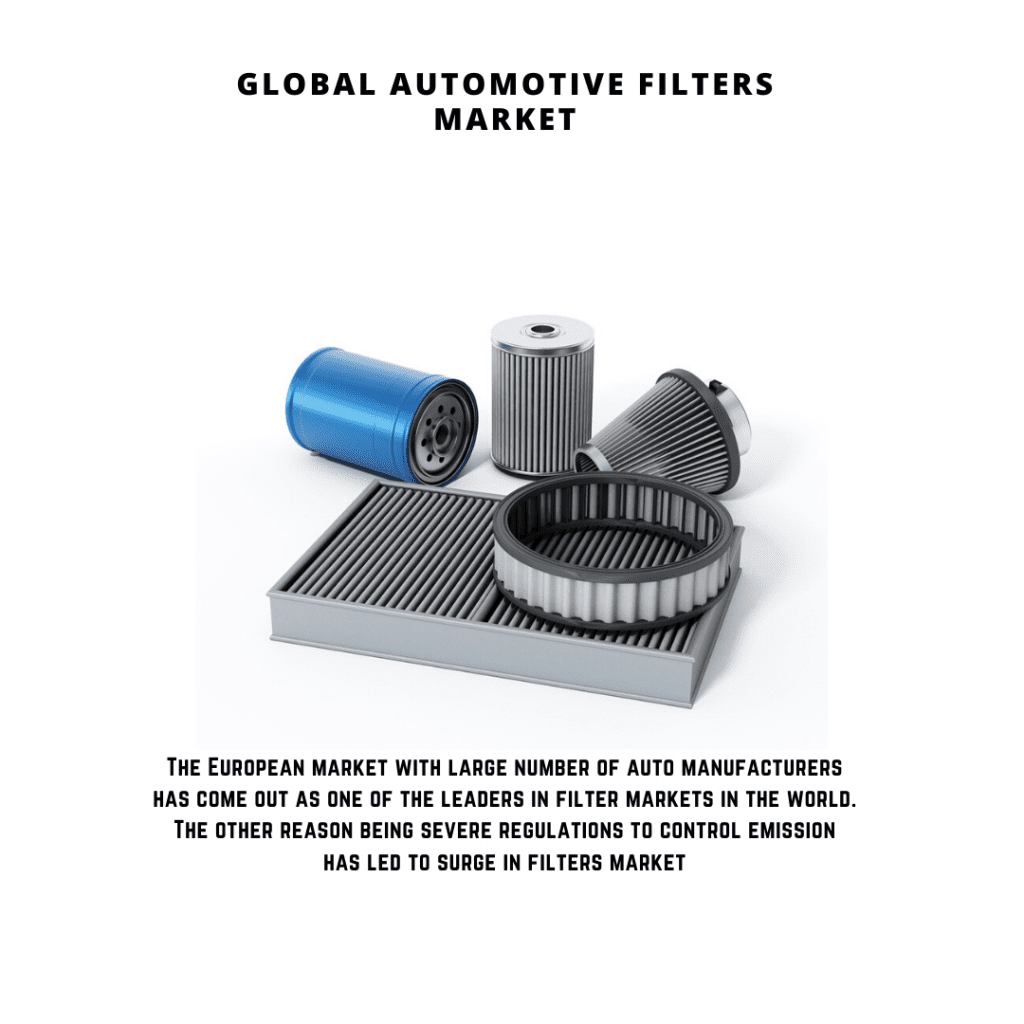 Many leading air and oil filters manufacturers are from Europe supplying to the OEMs. Some of them are Bosch, Mann+Hummel, Hengst, Mahle GmbH and Freudenberg Filtration Systems all of them from Germany. UFI filters from Italy are another filter manufacturer who excel both OE and aftermarket sales. Some of the aftermarket filter solutions are Alco and BMC filters. Bosch also has their aftermarket sales.
CHINA AUTOMOTIVE FILTERS MARKET
China is now world`s biggest automotive market. Even though it accounts for highest amount of BEVs there is a high requirement for cabin air filters and battery filters. The European filter manufacturers like Mann+Hummel and Bosch are the leaders in this region. Bengbu Jinwei Filters is one of the very few Chinese automotive filter manufacturers. Gaubb Group from China under the brand YBM Filters have been manufacturing filters for passenger vehicles.
INDIA AUTOMOTIVE FILTERS MARKET
India accounts for largest 2 wheeler market in the world. The stricter emission regulations from the Indian Government has played important role in filters market in India. India is also one of the leading markets in commercial vehicles demanding the increasing number of filters from the vehicle manufacturers. Some of the leading filters manufacturers are Fleetguard, Zenith, Inzin and Viking filters.
MARKET SIZE AND FORECAST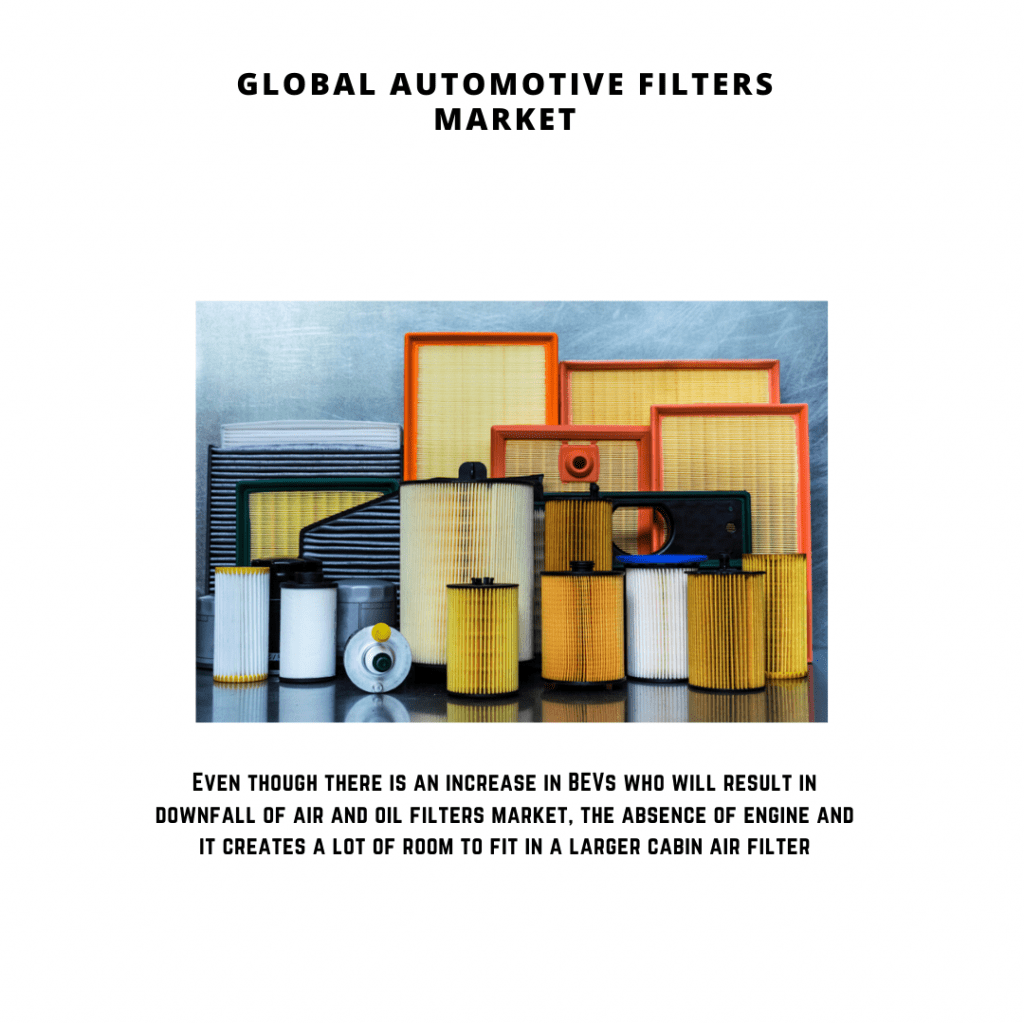 Even though there is an increase in BEVs who will result in downfall of air and oil filters market, the absence of engine and it creates a lot of room to fit in a larger cabin air filter. This prospect might influence the filter manufacturers to look onto it closely and work on this. Among IC engine vehicles, the stringent emission rules worldwide must help the filters market to increase.
RECENT LAUNCHES
Mann+Hummel has developed a new filter for public transport vehicles especially buses, called 'Fine Dust Eater'. It is an emission neutral device designed to capture PM2.5-PM10 sized particles

UFI Filters has opened its first aftermarket plant in India. UFI is operating the aftermarket under the name Sofima Filters.
COMPETITVE LANDSCAPE
Automotive Filters market is predominantly ruled by the European filter manufacturers in OE market. Few of them are Bosch Auto Parts, Mann+Hummel, Hengst share the maximum market share. Donaldson and Parker Hannifin from US are the leading manufacturer in US region. Denso and Toyota Boshoku are the Japanese filter manufacturers. In aftermarket sales K&N from US have been the aftermarket leaders. Fleetguard Filters from India have been supplying filters to major Cummins Filtrations and other OEMs across the world.
COMPANY PROFILE
Inzin

Viking Filters

SOGEFI group