Global Automotive Finance Market 2020-2025
August 21, 2020

Request Sample
Coming Soon
Multi User License - $2,500
GLOBAL AUTOMOTIVE FINANCE MARKET
KEY FINDINGS
The Auto Finance Industry is considered to become the next red flag across economies in the world. Falling demand for cars, outbreak of virus forcing people to stay indoors, liquidity crunch and rising job losses indicates that future of the market is cluttered with a huge number of defaults by the borrowers.
The industry is expected to gain momentum in the Asia-Pacific region in the next decade. However, the current scenario has raised the level of uncertainty as world's largest auto market ,China is expected to witness a decline of around 15.6% in the auto sales in 2020 while in India , auto loan rejection rates have doubled from 8% to 15% due to the fear of defaults on the part of the borrowers.
Auto finance companies need to revamp their business models post the pandemic. They need to be the provider of the entire mobility solutions to their customers, invest in more product innovations that increases the adoption of electric vehicles, reconsider the change from ownership to rental and subscription-based models and diversify their operations to invest more in other avenues.
INTRODUCTION
Automotive financing or auto financing are services that offer financial products and support to further allow people to purchase vehicles without having to make the complete payment in cash. Such an arrangement includes the borrowing of money from financial institutions such as banks, credit unions, and dealers or other informal money lenders.
AUTOMOTIVE FINANCE MARKET DYNAMICS
Of all the sectors that escaped the 2008 financial crisis relatively unscathed, auto lending industry was one of them. The cash strapped borrowers continued to prioritise paying off their cars over their homes and credit cards with a simple logic that one can sleep in the car but cannot drive their house to work.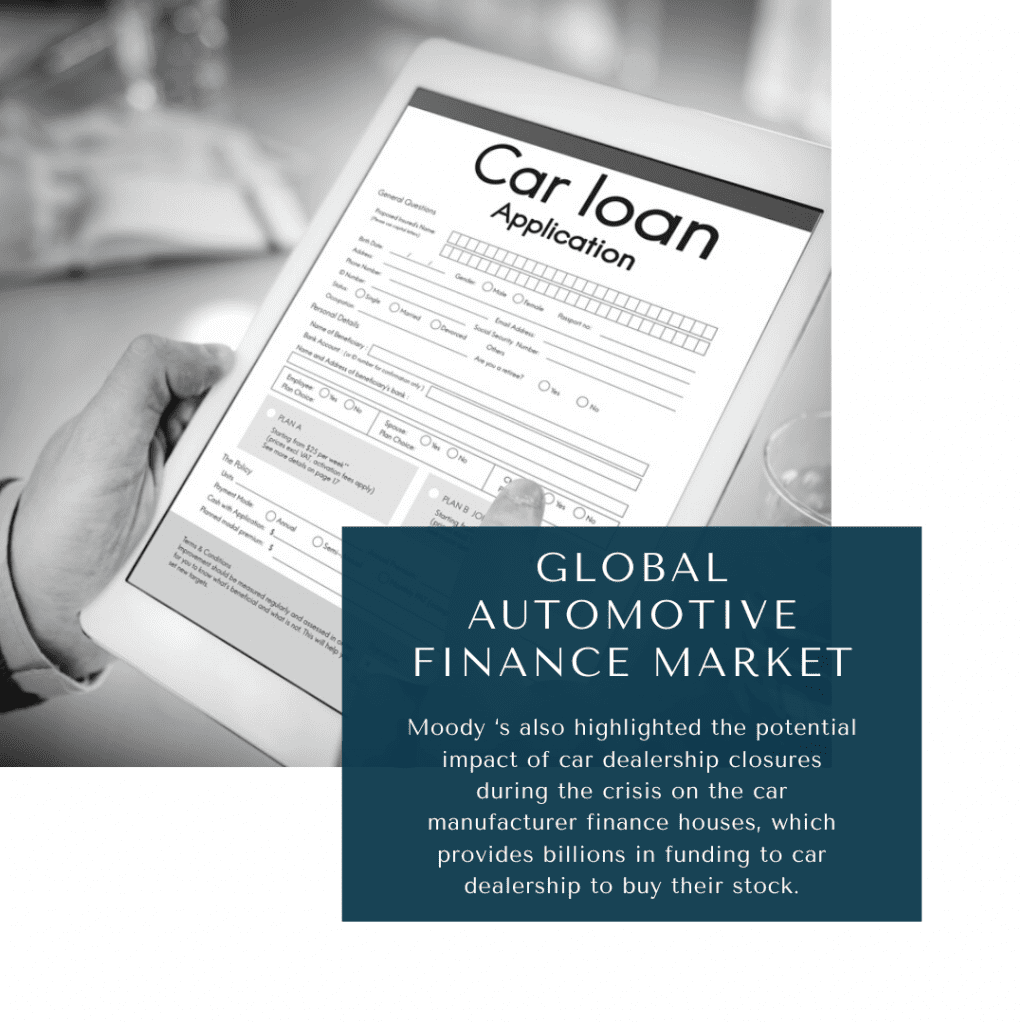 However, the USD 1.3 trillion industry which as now become 60 % bigger than it was back then, is under severe pressure due to COVID-19. Not only are millions of people being put out of work, but government are calling for everyone to stay at home to limit the spread of the virus which raises question that whether borrowers will continue to put their cars above all when money is tight.
CURRENT SCENARIO IN AUTOMOTIVE FINANCE MARKET
The industry that was considered as a buoyant business till 2019 with lending in United Kingdom rising from USD 28 Billion to USD 56.73 Billion from 2012 to 2017, the repayment of such lending now looks uncertain. OEMs will delay new product launches due to supply chain disruption and lower demand perception, forcing consumers who are relatively less financially impacted to postpone their buying decision.
Social distancing and work-from-home norms will reduce the need to be mobile and hence reduce the demand for cars on the whole. Fleet and rental companies have surplus cars and their demand for new cars will also remain subdued.
But, as all clouds have a silver lining, there is some hope for the industry – we do see a few opportunities shaping up for auto financiers. Expiring leases present an opportunity for extension or renewal. In an attempt to weather lower fresh sales, offers to incentivize customers will lead to rise in personal contract financing.
Social distancing standards will drive the need for independent personal mobility. Customers who were using ride-shares and public transportation will likely switch to personal transport. This will increase the demand for cars, specifically the small cost-effective yet fuel-efficient ones.
Other factors that are expected to spur demand includes increasing investments in autonomous vehicles prompt financing from credit unions, dealers, and banks, increase in the use of online services, advancements in blockchain technology, and growing innovation in e-commerce.
AUTOMOTIVE FINANCE MARKET SEGMENTATION
Based on Provider of Funds
Banks
Captive Auto Loan Companies
A captive finance company is a subsidiary entity of a larger corporation that manufactures and sells a product to the general public. In the case of automobiles, a captive finance company offers loans to consumers who want to buy their parent corporation's vehicles.
Examples include General Motor Acceptance Corporation, Ford Motor Credit Company
A credit union is not affiliated to a specific auto company. In such a case,loans are given to the members of the credit union at attractive interest rates
Other Financial Institutions
Includes Cooperative Banks , NBFC etc.
Based on the Type of Finance
A direct auto loan is when one applies for a car loan at a bank, credit union or other lending company
An indirect auto loan is financing that one gets through the automotive dealer, their lending partners or another financial institution.
AUTOMOTIVE FINANCE MARKET SIZE AND FORECAST
Estimates indicate that global auto sales are expected to decline by 22% this year to 70.3 million units led by 26.6% in the US to 12.5 million units as compared to a year ago. In China which is world's largest auto market, sales are expected to decline by 15.6% while in Europe a drop of around 13.6 million units is expected. Such numbers indicate the level of downturn which is expected to be faced by automotive finance companies across the world.
Moody 's also highlighted the potential impact of car dealership closures during the crisis on the car manufacturer finance houses, which provides billions in funding to car dealership to buy their stock. For Example, the finance arm of Volkswagen Group, the world's largest car manufacture, owed around USD 27.34 billion from dealership till the end of 2019.
Asia-Pacific is expected to have considerable market growth due to the increasing number of favourable government initiatives, especially in India, China, and Japan, to maintain consumer interest and promote growth in the automotive industry.
The global automotive finance market size is estimated at $XX billion in 2020 growing at –% CAGR till 20205
COMPETITIVE LANDSCAPE
Some of the key players in automotive finance market include Bank of America Corporation, Ford Credit, Ally Financial Inc, Honda Financial Services, Hitachi Capital Asia-Pacific Pte. Ltd., BMW Financial, HSBC Holdings plc, Maruti Finance, HDFC Bank Limited, TATA Motor Finance. ICBC (Industrial and Commercial Bank of India), Volkswagen AG, Bank of China, BNP Paribas SA, Capital One Financial Corporation, Standard Bank Group Ltd, Wells Fargo & Co, Mercedes-Benz Financial Services (Daimler AG) and Toyota Financial Services.
Furthermore, the automotive financing market in Asia Pacific has become highly competitive with an increase in the number of used-car outlets and vehicle showrooms. Moreover, a decline in automotive loan rates in the region is further expected to propel the regional growth.
UPCOMING TRENDS IN AUTOMOTIVE FINANCE MARKET
Mobility as a service will drive growth and profitability
Mobility services are exploding in popularity, especially on well-known ride sharing platforms. It is estimated that that annual revenue from such mobility services could soar up to trillions in 2030.
The auto finance industry should respond to such change with a range of strategies to better own the customer relationship in this new space, simplifying the payments ecosystem, and partner with (or compete with) start-ups moving into the space.
Emergence of Block Chain Technology
Insurers and banks are piloting a variety of blockchain-powered financing solutions, and auto captive lenders are serving as test-beds for manufacturer blockchains. The most exciting prospects include putting the vehicle on a blockchain to support for insurance, fraud detection and floorplan financing, and using blockchain to turn the vehicle into a mobile wallet.
Artificial Intelligence will open new avenues for generating sales
It has traditionally been understood that banks would know more about the customer while the manufacturer's captive lender would know more about the vehicle. That is now changing, as AI enable banks and fintech lenders to tap new sources of consumer data for predictive insights. For example, these systems can use advanced analytics to predict which vehicle options a consumer may want with surprising accuracy.
Emergence of new business models
One payment, one vehicle and one party has been the traditional model in the auto finance sector. However, with the emergence of   the subscription model, in which consumers pays a flat fee for access to the car of their choice, and the shared ownership model, in which a single vehicle is owned by more than one person, the landscape is changing. These models could help keep vehicles affordable as technology features increase manufacturing and maintenance costs
 This probably means a smaller market for auto sales. Dealers will need to decide if they build a mobility service, consolidate and attempt to compete at scale or pick another path to profitability in order to ensure their survival in the long run.
COMPANIES PROFILED
ICBC (Industrial and Commercial Bank of India)
| | |
| --- | --- |
| Sl no | Topic |
| 1 | Market Segmentation |
| 2 | Scope of the report |
| 3 | Abbreviations |
| 4 | Research Methodology |
| 5 | Executive Summary |
| 6 | Introduction |
| 7 | Insights from Industry stakeholders |
| 8 | Cost breakdown of Product by sub-components and average profit margin |
| 9 | Disruptive innovation in the Industry |
| 10 | Technology trends in the Industry |
| 11 | Consumer trends in the industry |
| 12 | Recent Production Milestones |
| 13 | Component Manufacturing in US, EU and China |
| 14 | COVID-19 impact on overall market |
| 15 | COVID-19 impact on Production of components |
| 16 | COVID-19 impact on Point of sale |
| 17 | Market Segmentation, Dynamics and Forecast by Geography, 2020-2025 |
| 18 | Market Segmentation, Dynamics and Forecast by Product Type, 2020-2025 |
| 19 | Market Segmentation, Dynamics and Forecast by Application, 2020-2025 |
| 20 | Market Segmentation, Dynamics and Forecast by End use, 2020-2025 |
| 21 | Product installation rate by OEM, 2020 |
| 22 | Incline/Decline in Average B-2-B selling price in past 5 years |
| 23 | Competition from substitute products |
| 24 | Gross margin and average profitability of suppliers |
| 25 | New product development in past 12 months |
| 26 | M&A in past 12 months |
| 27 | Growth strategy of leading players |
| 28 | Market share of vendors, 2020 |
| 29 | Company Profiles |
| 30 | Unmet needs and opportunity for new suppliers |
| 31 | Conclusion |
| 32 | Appendix |