Global Automotive Semiconductor Market 2020-2025
September 16, 2020

Request Sample
Coming Soon
Multi User License - $2,500
GLOBAL AUTOMOTIVE SEMICONDUCTOR MARKET
INTRODUCTION
It is obvious to the human perception that an automobile on the road today has simply transformed from being a mere mechanically operated assembly of components to an electro-mechanically operated device. A strong contributing factor to this transformation is the use and development of semiconductors in the automotive industry in the past few years.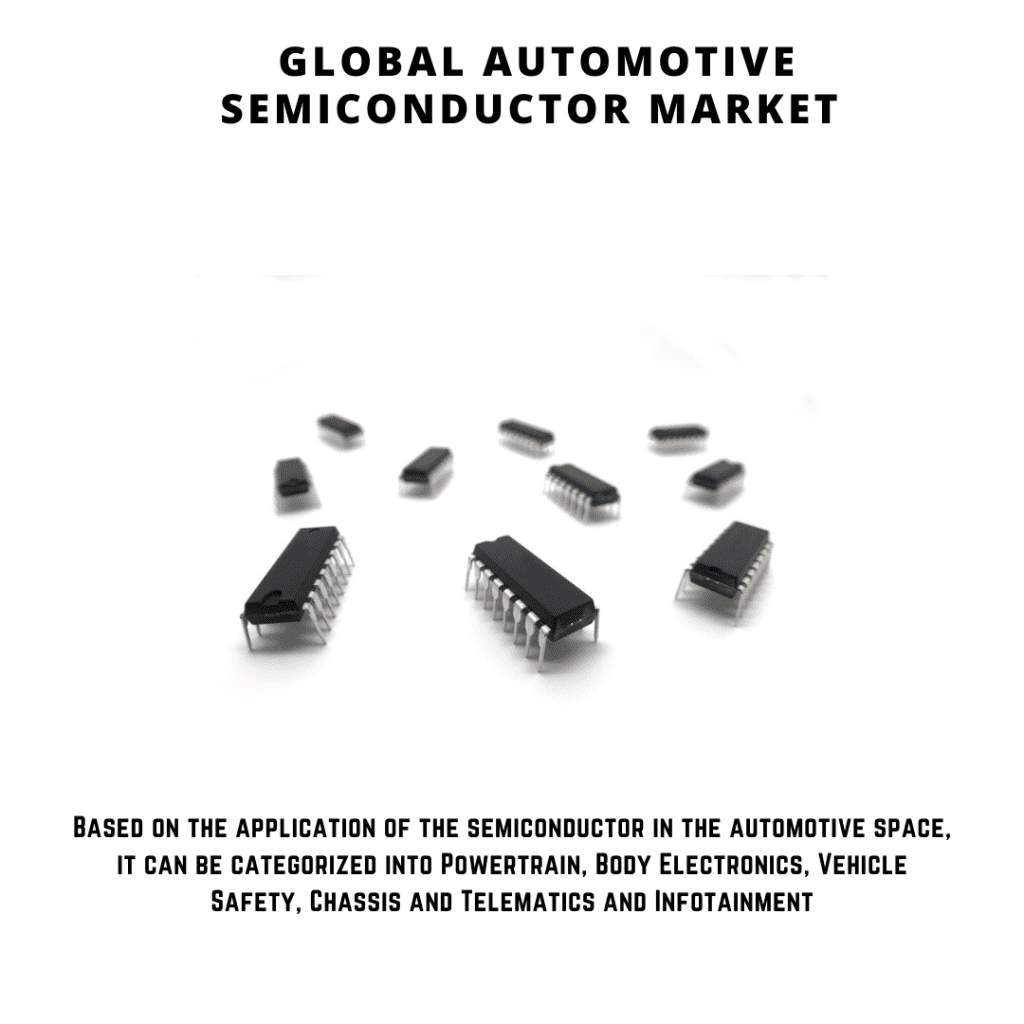 Many big giants, such as Samsung, NVIDIA, Sony, Panasonic, etc are making substantially large investments into the semiconductors field as they foresee the exponential rise in demand for semiconductors in the future. With the vehicles seeming to become more and more complex and loaded with features, the need and demand for semiconductors is only going to see an upward rise.
AUTOMOTIVE SEMICONDUCTOR MARKET DYNAMICS
The automotive industry is seeing improvements by leaps and bounds in areas such as electromobility, automated driving, connectivity, etc each of which require semiconductors as their backbone.
Automated driving promises greater level of safety for the vehicles and many vehicles have already employed some levels of safety by means of Advanced driver assistance systems or ADAS which enable safety features such as Collision warning and Automatic Emergency braking.
Similarly, connectivity features such as wireless internet and navigation systems are already enabled on most vehicles. In terms of electrification of the drive train, many automakers are already looking at complete electrification or on the lines of partial electrification by means of hybrid drive trains.
It is fascinating to note that the basis of all such advancements in the automotive sector are electronic devices such as semiconductors.
SEMICONDUCTOR DEVELOPMENT LEAD TIME IN AUTO INDUSTRY
One interesting aspect of the semiconductors that are being used in the automotive domain is that it requires a very high level of precision and quality. According to a chip manufacturer, the average time to manufacture a semiconductor chip to get accepted by an automotive OEM is around 6 months.
In fact, during this time the manufacturer ensures that the semiconductor is already of a superior quality by subjecting it to high voltage and high temperature tests.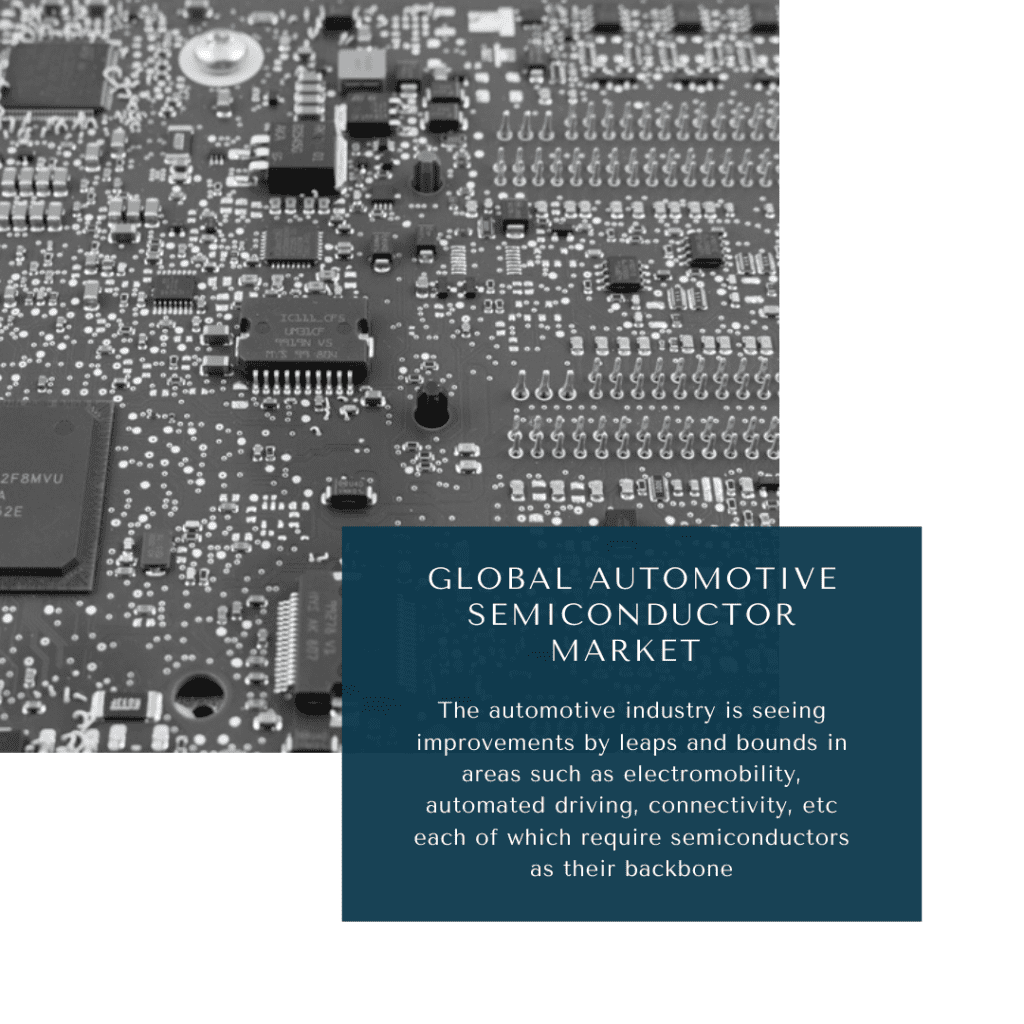 Besides this long duration and extremely stringent quality controls, the automotive OEMs tend to perform their own individual tests at a system level to ensure smooth functionality in the vehicle. This gives rise to an exceptionally high amount of time and process for a semiconductor company to get their product accepted for use in a vehicle.
Consequentially, automotive OEMs rarely tend to switch between semiconductor companies and their products. This gives rise to a high level of trust and loyalty between semiconductor companies and automotive OEMs.
AUTOMOTIVE SEMICONDUCTOR MARKET SEGMENTATION
In order to analyse the need and market for semiconductors in the automotive sector, it is essential to understand how the global automotive semiconductor market is segmented. Firstly, based on the type of the vehicle, the market can be categorized into Light Commercial Vehicle (LCV), Passenger car and Heavy Commercial Vehicle (HCV).  
Based on the application of the semiconductor in the automotive space, it can be categorized into Powertrain, Body Electronics, Vehicle Safety, Chassis and Telematics and Infotainment.
Another significant factor based on which the semiconductor market can be categorized is the component where it is used, which are Processor, Sensor systems, Memory devices, Analog Integrated circuits, and Lighting devices, to name a few. Each of these sub segments find an appropriate and increasing need for semiconductors.     
AUTOMOTIVE SEMICONDUCTOR MARKET SIZE AND FORECAST
The global automotive semiconductor market is estimated at $XX Billion in 2020 growing at –% CAGR till 2025.
COMPETITIVE LANDSCAPE
NXP Semiconductor – is one of the leading semiconductor companies which acquired Freescale Semiconductor in 2015 to become a giant in the industry. With a collaboration with Hella Aglaia recently, NXP semiconductors reported the highest profits in its automotive branch. This is clearly indicative of the demand and rise of the semiconductor industry.
Infineon Technologies AG – also acquired a company called International Rectifier in 2015, thereby improving it strength in this domain. This company currently is a strong player specifically in chips for Radar and ADAS sensors.
Texas Instruments – is an American pioneer in the semiconductor domain currently offering state of the art solution for Camera, Radar, Sensor fusion, Lidar and Ultrasound applications.
Some of the other players in the semiconductor domain are NVIDIA, Toshiba Corporation, STMicroelctronics, Osram, etc.
THE WAY FORWARD IN AUTOMOTIVE SEMICONDUCTOR MARKET
Semiconductors are turning out to be a vital part of the automotive future. It is gaining exceptional demand especially in areas related to automated driving, connected driving and electrification of drive trains.
Many big players are continuously investing largely into the advancement of semiconductor technology. Although lots of progress is happening in this field, a lot about the compatibility and usability of these semiconductors for various automotive OEMs remain a good unanswered question.
An in-depth study of the technology and the improvements required in the semiconductor technology can give valuable insights into the future of the semiconductor technology. At last, but not the least, it is obvious that semiconductors are the future of the automotive development and significant amount of developments are soon awaited!
COMPANIES PROFILED
| | |
| --- | --- |
| Sl no | Topic |
| 1 | Market Segmentation |
| 2 | Scope of the report |
| 3 | Abbreviations |
| 4 | Research Methodology |
| 5 | Executive Summary |
| 6 | Introduction |
| 7 | Insights from Industry stakeholders |
| 8 | Cost breakdown of Product by sub-components and average profit margin |
| 9 | Disruptive innovation in the Industry |
| 10 | Technology trends in the Industry |
| 11 | Consumer trends in the industry |
| 12 | Recent Production Milestones |
| 13 | Component Manufacturing in US, EU and China |
| 14 | COVID-19 impact on overall market |
| 15 | COVID-19 impact on Production of components |
| 16 | COVID-19 impact on Point of sale |
| 17 | Market Segmentation, Dynamics and Forecast by Geography, 2020-2025 |
| 18 | Market Segmentation, Dynamics and Forecast by Product Type, 2020-2025 |
| 19 | Market Segmentation, Dynamics and Forecast by Application, 2020-2025 |
| 20 | Market Segmentation, Dynamics and Forecast by End use, 2020-2025 |
| 21 | Product installation rate by OEM, 2020 |
| 22 | Incline/Decline in Average B-2-B selling price in past 5 years |
| 23 | Competition from substitute products |
| 24 | Gross margin and average profitability of suppliers |
| 25 | New product development in past 12 months |
| 26 | M&A in past 12 months |
| 27 | Growth strategy of leading players |
| 28 | Market share of vendors, 2020 |
| 29 | Company Profiles |
| 30 | Unmet needs and opportunity for new suppliers |
| 31 | Conclusion |
| 32 | Appendix |