Global Automotive Steering System Market 2020-2025
April 28, 2020

Request Sample
Coming Soon
Multi User License - $2,500
GLOBAL AUTOMOTIVE STEERING SYSTEM MARKET
MARKET DYNAMICS
For all steering system suppliers, their ADAS exposure is based completely on electric power steering.
In passenger vehicles, the transition from manual/hydraulic power steering to electronic power steering (EPS) is over and 98% of new platforms planned by all OEMs have EPS as standard.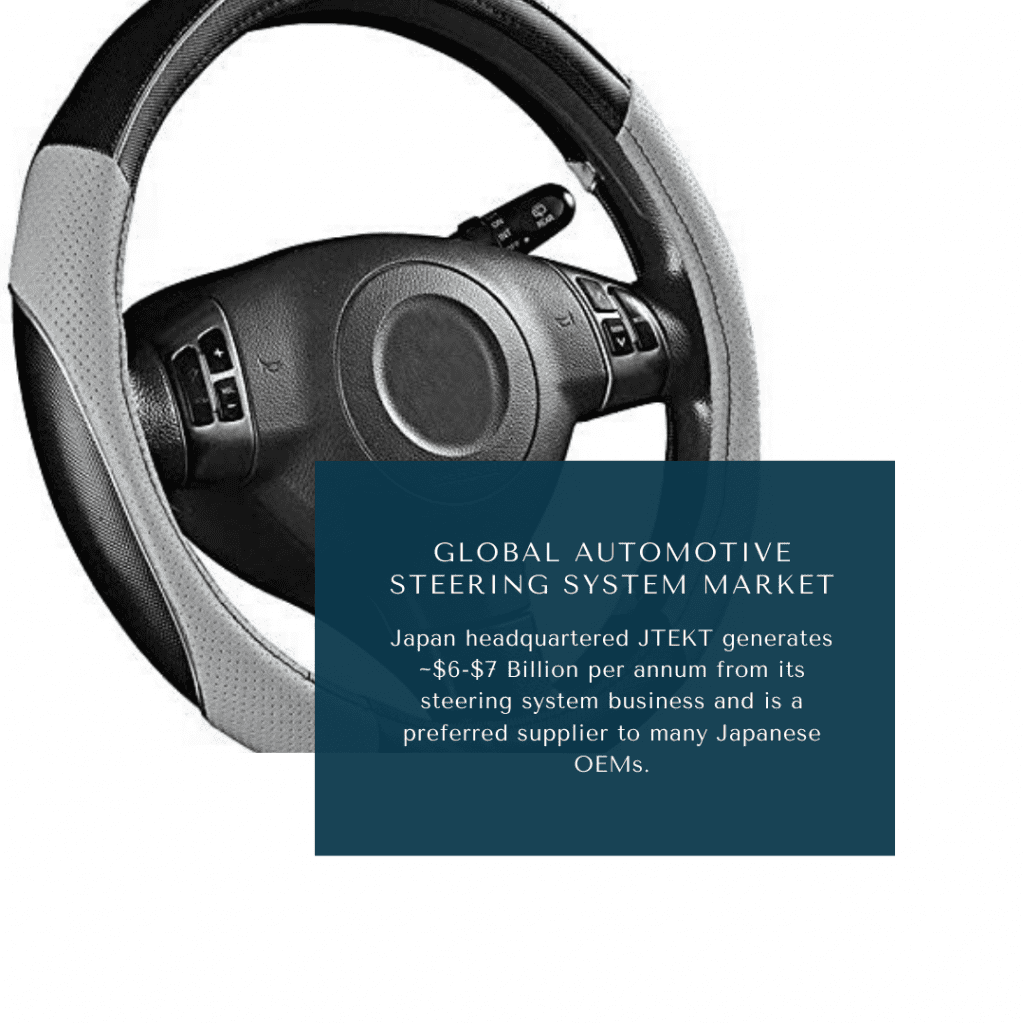 More than 20 car manufacturers have committed to equip all new passenger cars by September 2022 with the low speed automatic emergency braking (AEB) technology.
Steer by wire-L2 automation (2X dollar content compared to conventional steering system) is expected to bring in the revenue growth for all suppliers in next 5 years, especially post 2022 when Euro NCAP 2025 starts approaching. Automatic emergency steering will be the biggest enabler of Steer by wire.
MARKET SEGMENTATION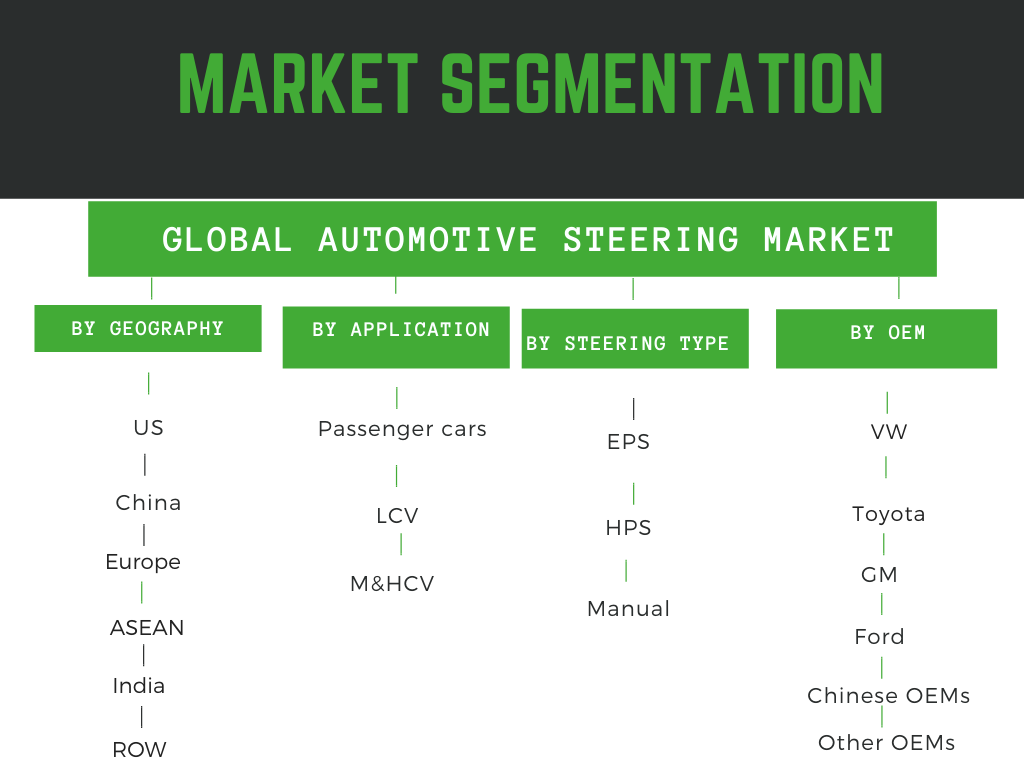 MARKET SIZE AND FORECAST
The global automotive steering system market is estimated at ~$22 Billion in 2020, growing at 7% CAGR till 2025. The average per unit price of steering systems is expected to remain stagnant till 2022 when Euro NCAP trials begin. The global automotive production peaked in 2018 and has been in decline mode ever since .
Many OEMs have already asked for price cut from their respective steering system suppliers.

CHINA AUTOMOTIVE STEERING SYSTEM MARKET
China led Asia pacific market accounts for highest number of new product launches for steering system suppliers. Although, the decline in auto production forecast for 2019 and 2020 is unprecedented, it is still the biggest automotive market globally.
More than 15 OEMs have committed to launch 25 L2+ automated vehicles by 2022. It is an important opportunity for steering suppliers to offset the decline in revenues by supplying advanced steering systems required in these vehicles.
The decline of Chinese passenger car sales(~8% YOY) in 2019 and a reduced guidance for 2020 is major challenge to the global Automotive steering system market. 
China Automotive Systems which is among the biggest supplier of steering systems to domestic brands in China signed an exclusive contract with Great Wall Motor for its low cost EV ORA R1  in H1 2019.It also supplies EPS to domestic as well as foreign origin OEMs.
INDIA AUTOMOTIVE STEERING SYSTEM MARKET
The brush column steering system market (Torque assist <60Nm) has been on a decline mode in India due to volume erosion in lower segment vehicles. On, the contrary, the brushless column assist EPS has been growing at higher single digits for past 4 years despite slowdown in overall industry volumes.
Among recent launches, only Tata Harrier(launched in Jan 2019) has a hydraulic power steering, rest all vehicles have electronic power steering system.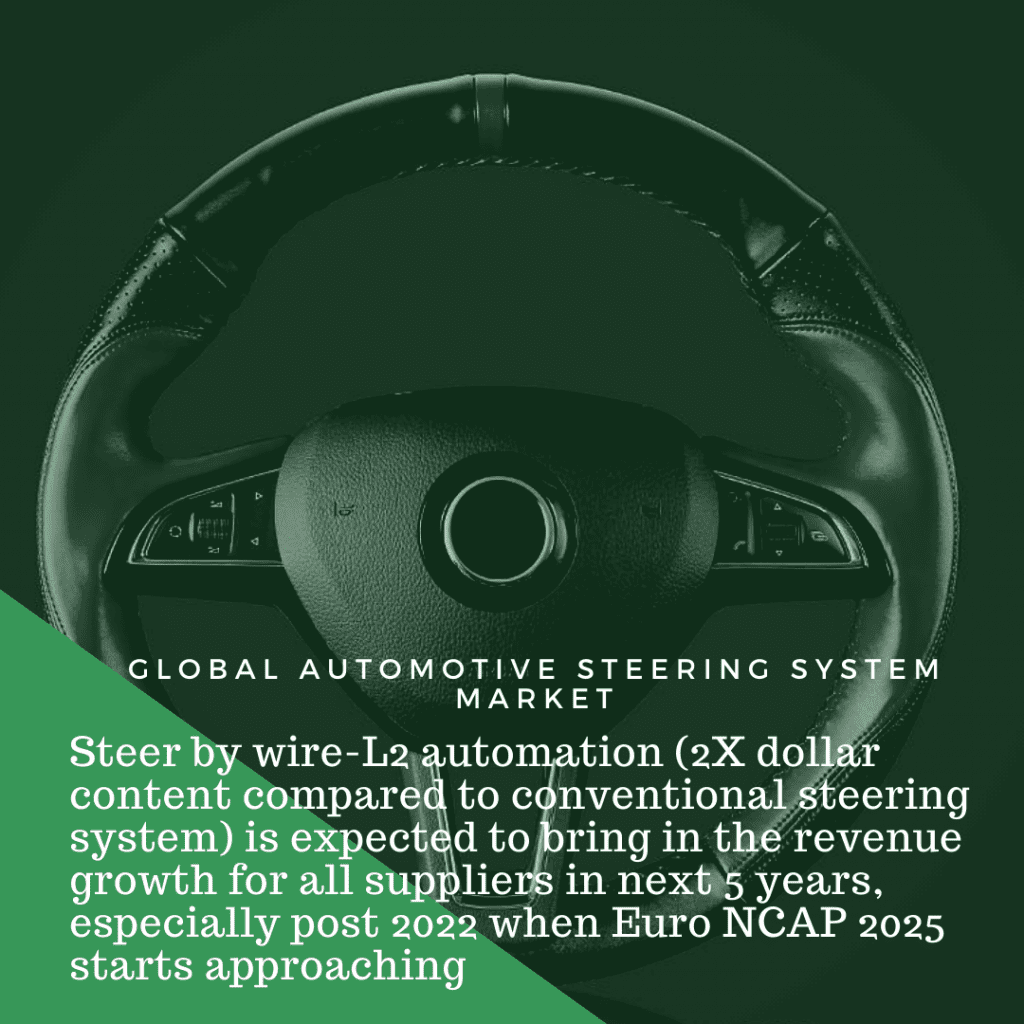 EUROPE AUTOMOTIVE STEERING SYSTEM MARKET
Europe passenger car sales were up by 1% in 2019(YOY) and the volume is expected to decline by ~2% in 2020.Europe is among the most important market for steering suppliers as it has the highest penetration of steer by wire, globally.
The recently concluded merger between PSA and FCA could be a great opportunity for existing suppliers of either groups to consolidate their volumes and improve their bottom line.
US AUTOMOTIVE STEERING SYSTEM MARKET
In US, total passenger car sales was 17.1 Million units but we expect volume erosion of 0.3-0.5 M units in 2020 on the back of global slowdown. US is the biggest market for rack assisted power steering system due to 16% share(2.6M units in 2019) in new car sales for pickup trucks.
RAM pickups outgrew the market and grew by 18% YOY, FCA sources steering from Non-American vendor for both Dodge and Jeep brands for various models. This is in sharp contrast to GM and Ford who have traditionally relied on American suppliers for steering sourcing.
COMPETITIVE LANDSCAPE
The global automotive steering system market is highly concentrated among less than 10 vendors.There is an intense cost competition among suppliers in lower and mid-segment vehicles as the technology value add is minimal. The gross margins on EPS products are lowest among all steering types as many tier-1 suppliers are dependent on other suppliers for sub-component sourcing.
In China, suppliers are facing two major problems, 1) There is an intense price war (not sustainable in the long run) among suppliers and 2) OEMs are putting up ambitious sales targets which are of-course followed by multiple downward revisions throughout the year.In these circumstances it will be very difficult for any supplier to improve their revenues and gross margin.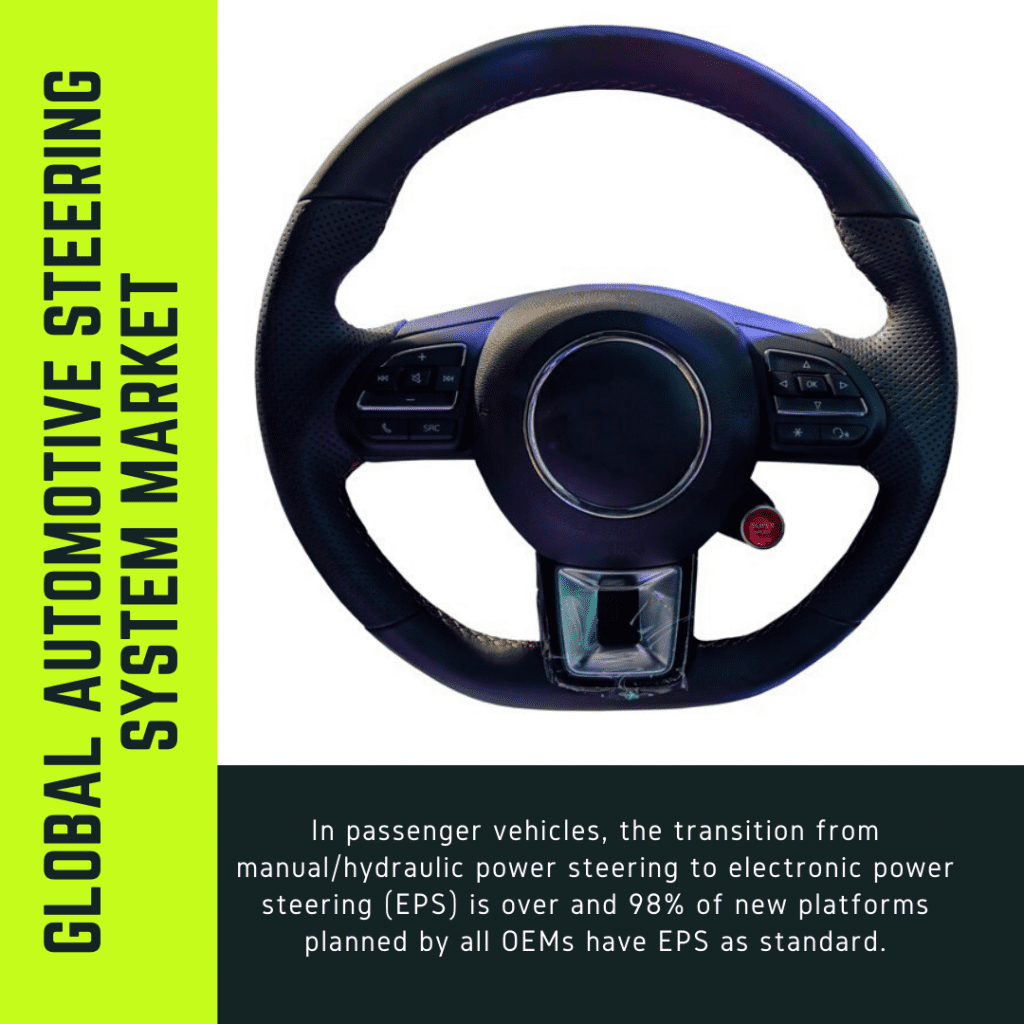 Excellent negotiation skills and recurring revenue from existing platforms and OEMs are key pillars of suppliers` overall business strategy.
JTEKT and Nexteer are specialist steering suppliers who also have an adjacent drive-line business. 
Japan headquartered JTEKT generates ~$6-$7 Billion per annum from its steering system business and is a preferred supplier to many Japanese OEMs. It had more than 25%  share of global automotive steering system market in 2019.
ZF, Bosch and Nexteer are market leaders in commercial vehicle segment.
Nexteer is the market leader in North America and GM North America is its biggest customer (derives ~30% of its global revenues), followed by other OEMs.
China based China Automotive Systems (annual gross margin~14%) entered in a joint venture with Hyoseong Electric Company to produce small electric motors(3 million units' annual production) for use in EPS systems. As ADAS integrated steering volumes increase in coming years, we expect many more suppliers to take a similar approach to get a better grip on the overall quality and cost control.
COMPANY PROFILES
Global Steering Systems LLC
Mando Corporation
Hyundai Mobis
Hitachi Automotive Systems
China Automotive Systems, Inc