Global Automotive Tires Market 2020-2025
May 12, 2020

Request Sample
Coming Soon
Multi User License - $2,500
GLOBAL AUTOMOTIVE TIRES MARKET
Automotive tires market is an integral part of the auto industry. There are more than 35 tire manufacturers in different parts of the world.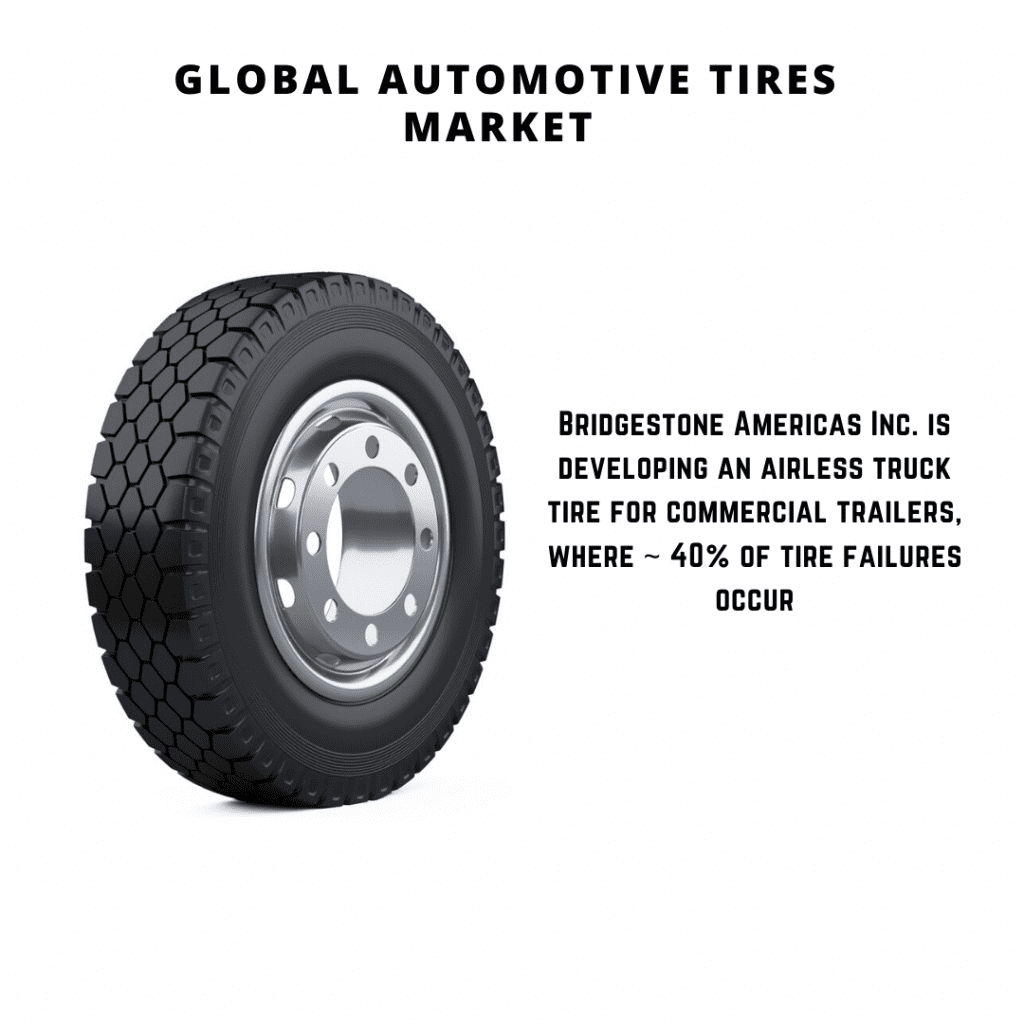 US AUTOMOTIVE TIRES MARKET
In US, due to high popularity of SUVs,Crossovers and Pickups which comprised ~71% of new car sales in 2019 have 17, 18 or 19 inch tires as a standard fitment. 225 and 235 section tires with 60/65 aspect ratio are most common in the US market.
Except for the Ford Escape every Ford car in the list comes with section width of tire more than 230. The Ford SUVs have an average size of 255 mm. One of the variant of pick-up truck Ford F150 comes with tire of as high as 315 mm section width; it is the highest for any car in the region. Every model of Ford comes with the radial tire as standard option. Ford F150 has the most number of variants equipped with light truck tire.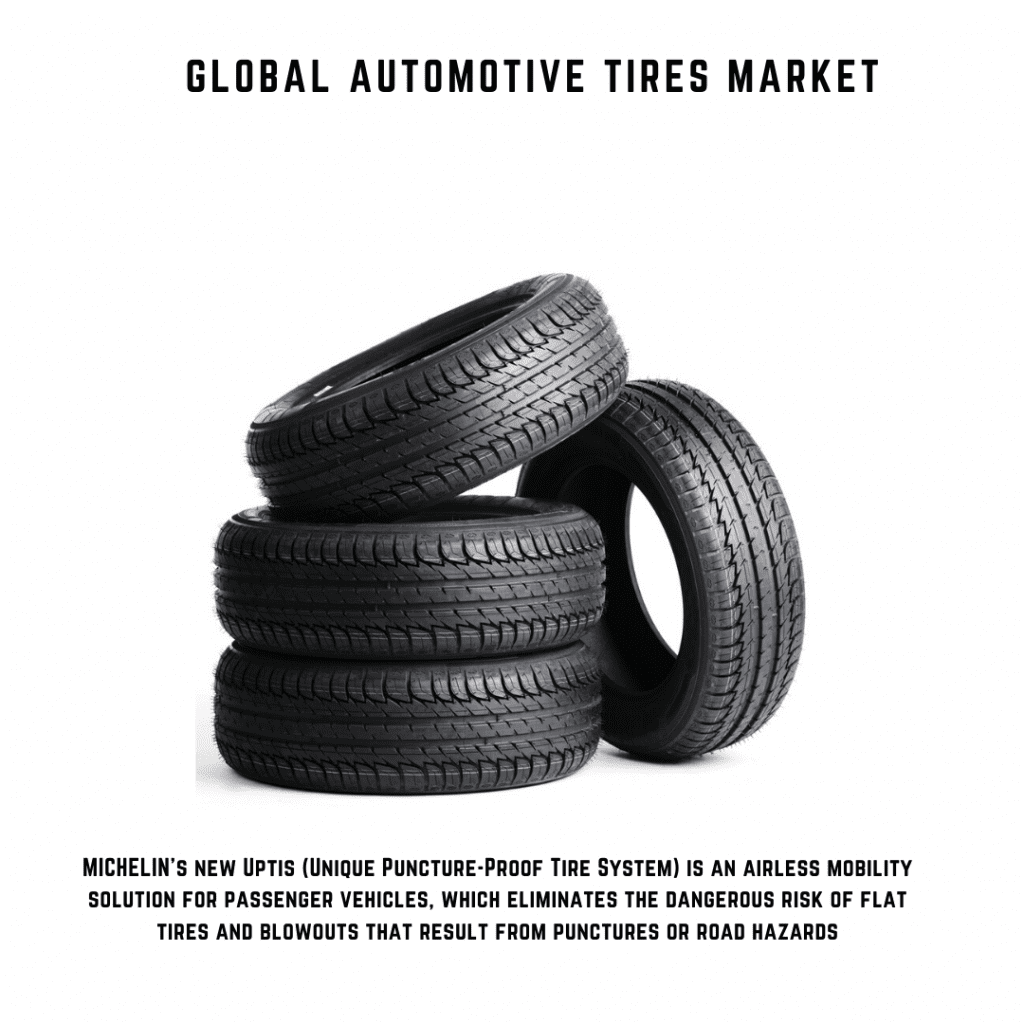 Toyota Corolla features the smallest section width tire in the region 195 mm, along with Hyundai Elantra these are the only 2 models with sub 200 section width tires.
 The Chevrolet model too has the more number of its variants with section width more than 230 mm. The Chevrolet Malibu has the lowest size among the Chevy models having 205 mm for its entry model. Except for few models of pick-up truck Chevrolet Silverado Passenger tires are used by default.
Light truck tires are used for few variants of Chevy Silverado. Toyota in its pick-up truck Tacoma and SUV Highlander the tires are 230+ section width ones. The sedans and the Rav4 have tires with width fewer than 230 mm.
The powerful SUVs of Jeep have higher section width and average being 255 mm. The Jeep Grand Cherokee has a variant with tire of section width as high as 295 mm.
Honda has all its cars in medium range section width around 215-225 mm. None of the cars has tires width beyond 235 mm. Honda Civic has variants with tires of highway terrain and few for normal driving conditions.
Subaru and Mazda  have all of its variants tires being 225 mm section width.
EUROPE AUTOMOTIVE TIRES MARKET
In Europe, hatchbacks are popular and comprise ~28% of new car sales every year. Many base variants of such popular hatchbacks(VW Polo, VW Golf,Toyota Yaris, Fiat 500)  have 14 and 15 inch tires going up to 17 and 18 inch tires on higher trims/ sports variants.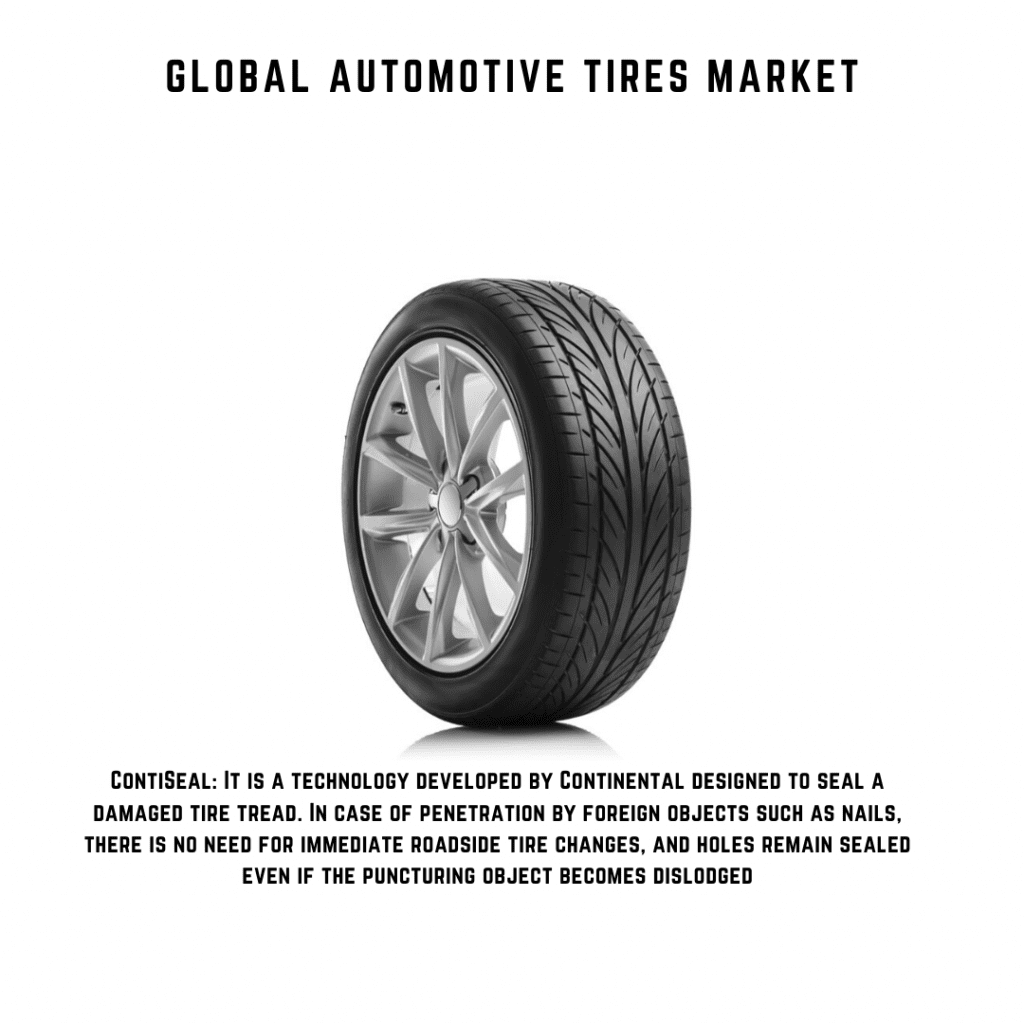 Unlike US where 225,235 section tires are most common, in Europe 205 and 215 section tires can be found on many vehicles.
AUTOMOTIVE TIRES MARKET SIZE AND FORECAST
Global Automotive tire market size is estimated at ~$166 Billion in cumulative revenue and ~$12 Billion in Cumulative profits in 2019.
RECENT DEVELOPMENTS IN PASSENGER CAR TIRE MARKET 
Goodyear launched a new all-season line designated for  PSA Groupe with industry's 3-Peak Mountain Snowflake (3PMSF) designation for winter traction as well as a "A" rating for low rolling resistance under EU tire labeling regulations.
Bridgestone's Non-Pneumatic Tire Technology "Air Free Concept" is a technology that eliminates the need for tires to be inflated with air to support the weight, using a unique structure of spokes stretching along the inner sides of tires. With this technology, tires need less maintenance and have no worry of punctures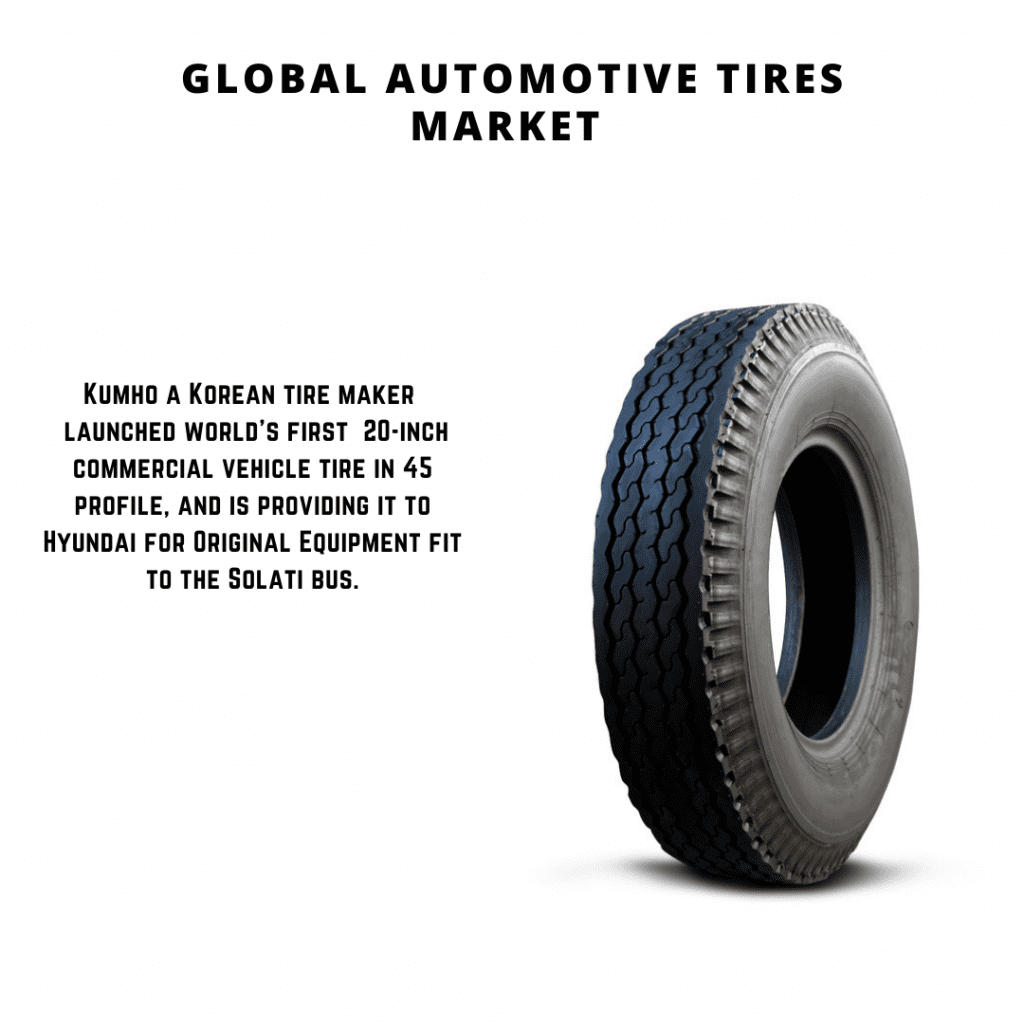 Bridgestone has also developed a new tire strain technology which allows autonomous vehicle users to remotely monitor air pressure, wear and tear, and load in real-time
MICHELIN's new Uptis (Unique Puncture-Proof Tire System) is an airless mobility solution for passenger vehicles, which eliminates the dangerous risk of flat tires and blowouts that result from punctures or road hazards
ContiSeal: It is a technology developed by Continental designed to seal a damaged tire tread. In case of penetration by foreign objects such as nails, there is no need for immediate roadside tire changes, and holes remain sealed even if the puncturing object becomes dislodged.
RECENT DEVELOPMENTS IN COMMERCIAL VEHICLE TIRE MARKET 
In light of the quickly developing territorial take trucking section, The Goodyear Tire and Rubber Company launched three new sizes for the Goodyear Fuel Max RTD (Regional Traction Drive) tire line
Bridgestone Americas Inc. is developing an airless truck tire for commercial trailers, where ~ 40% of tire failures occur
Bridgestone also launched  M713 Ecopia tire, a California Air Resources Board (CARB) compliant drive tire for tandem-axel applications in long-haul and regional service. The tire also features an IntelliShape sidewall that reduces overall tire weight to minimize rolling resistance
Yokohama Tire  launched two new spiral E-3 tires, the non-directional RT31 and the directional RT32. .
Kumho a Korean tire maker  launched world's first  20-inch commercial vehicle tire in 45 profile, and is providing it to Hyundai for Original Equipment fit to the Solati bus. The variant of the Kumho ProTran KC53 was launched in 245/45R20C 115/113R configuration
Carbon black supplier, Cabot Corp. has developed an engineered elastomer composite which it claims can extend the life of off-highway vehicles significantly. The pre-mixed composite solutions of elastomers  requires fewer mixing stages, lower mixing temperatures and shorter mixing cycles than conventional products
TIRE SUPPLIERS` EARNINGS
The automotive tire suppliers had a PAT margin of 6-8% in 2019.
Michelin reported annual Revenue of $26.9 Billion in 2019 and sees a drop in OE demand due to weak macro environment.It has also reduced inventories to align with stagnant demand across the globe.In light duty vehicle segment, replacement tire earnings have been trending upwards in North America and China but on a downward trend in Europe.
Bridgestone reported annual Revenue of $32.9 Billion in 2019 and 19% decline in operating profit. Global unit sales fell 4% worldwide for both  consumer and commercial segment. It is is forecasting a rebound in earnings of 5% or better in 2020 on the back of a better price/mix component and lower raw materials expenses.
Yokohama reported annual sales of $5.6 Billion in 2019, unchanged as compared to last year but 15.4% lower business profit to $460.8 Million due to higher production and fixed costs. For 2020, it is expecting a rebound in business profit of ~10% and a 1.5% gain in sales revenue.
Goodyear America`s  operating income dropped 15.9% to $550 million on 3% lower revenue of $7.92 billion in 2019.
Apollo —  with 2018 sales of $2.47 Billion, recently reported lower sales and earnings for first nine months of its FY 2020.
COMPANY PROFILES
THIS REPORT WILL ANSWER FOLLOWING QUESTIONS
Market Size and Forecast, by geography($M)
Opportunities and risks in  Global Automotive Tires Market
Important technology trends and regulatory changes
5 key predictions for next 5 years in Global Automotive Tires Market
Competitive landscape and market share of leading vendors
| | |
| --- | --- |
| Sl no | Topic |
| 1 | Market Segmentation |
| 2 | Scope of the report |
| 3 | Abbreviations |
| 4 | Research Methodology |
| 5 | Executive Summary |
| 6 | Introduction |
| 7 | Insights from Industry stakeholders |
| 8 | Cost breakdown of Product by sub-components and average profit margin |
| 9 | Disruptive innovation in the Industry |
| 10 | Technology trends in the Industry |
| 11 | Consumer trends in the industry |
| 12 | Recent Production Milestones |
| 13 | Component Manufacturing in US, EU and China |
| 14 | COVID-19 impact on overall market |
| 15 | COVID-19 impact on Production of components |
| 16 | COVID-19 impact on Point of sale |
| 17 | Market Segmentation, Dynamics and Forecast by Geography, 2020-2025 |
| 18 | Market Segmentation, Dynamics and Forecast by Product Type, 2020-2025 |
| 19 | Market Segmentation, Dynamics and Forecast by Application, 2020-2025 |
| 20 | Market Segmentation, Dynamics and Forecast by End use, 2020-2025 |
| 21 | Product installation rate by OEM, 2020 |
| 22 | Incline/Decline in Average B-2-B selling price in past 5 years |
| 23 | Competition from substitute products |
| 24 | Gross margin and average profitability of suppliers |
| 25 | New product development in past 12 months |
| 26 | M&A in past 12 months |
| 27 | Growth strategy of leading players |
| 28 | Market share of vendors, 2020 |
| 29 | Company Profiles |
| 30 | Unmet needs and opportunity for new suppliers |
| 31 | Conclusion |
| 32 | Appendix |