Global Automotive Wheels Market 2020-2025
May 29, 2020

Request Sample
Coming Soon
Multi User License - $2,500
GLOBAL AUTOMOTIVE WHEELS MARKET
INTRODUCTION
The automotive wheels must withstand the weight of the vehicle and this is the primary function of it. It also plays role in providing the structure and support for the tires. The wheels nowadays are designed so as to increase the aesthetic appeal of the vehicle. The alloy wheels and finishing to the wheels are crucial in enhancing the aesthetic look of an automobile.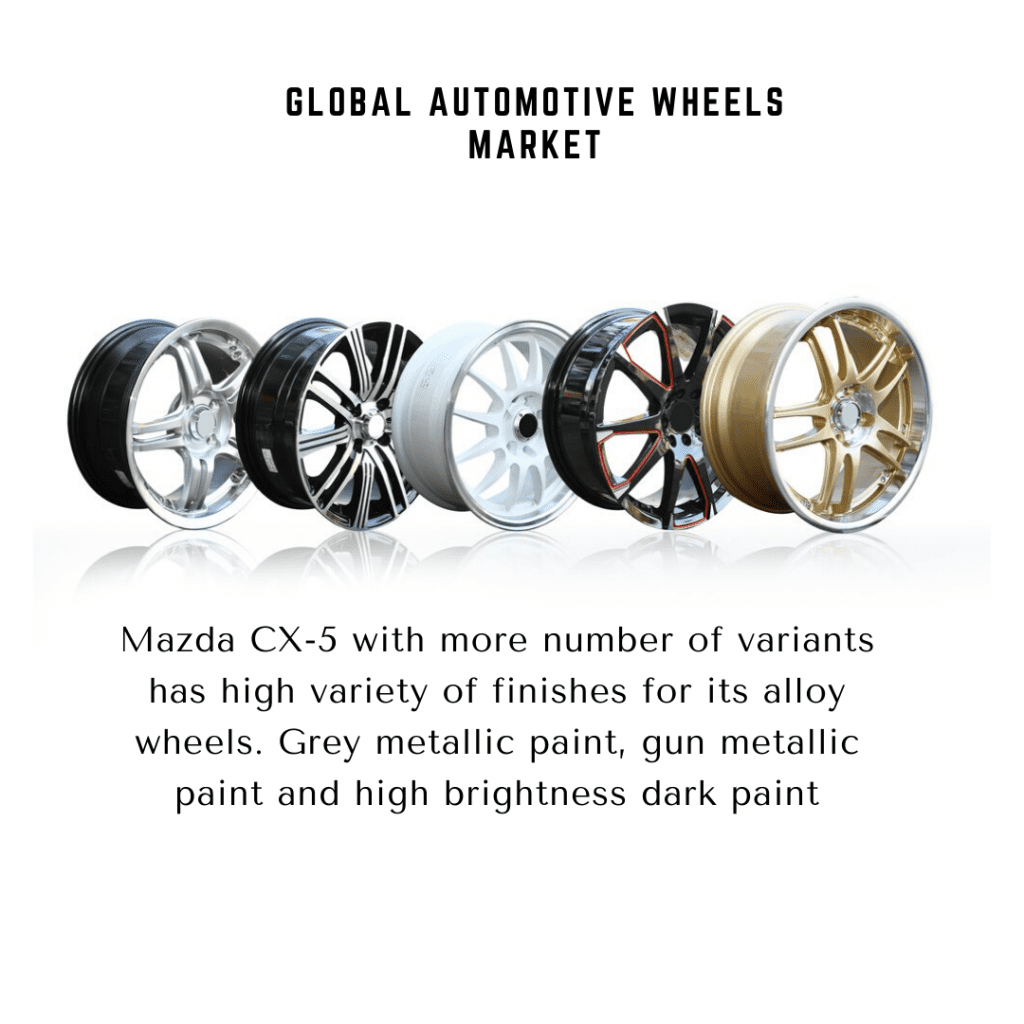 MARKET SEGMENTATION
By Rim Size
By Material
By Number of Spokes
By Spoke Design
Twinspoke
V-Spoke
Split Spoke
Multi Spoke
Diamond Cut Design
By Vehicle Type
Gasoline Powered
Diesel Powered
PHEVs/BEVs
By Distribution Channel
By Geography
BY RIM SIZE
In the US market the top 30 selling cars are dominated by the SUVs and the pick-up trucks and hence evidently the rim size in these vehicles is higher compared to sedan and hatchbacks. Ford alone has 3 SUVs and 1 pick-up truck and hence most of its vehicles come with 18" rim size in entry models and go up to 21" size. However the lone sedan in the list Ford Fusion has lower rim size with 17" in most of the variants and 19" in only one of the variant. Toyota has 2 sedans and 1 SUV in top 10 selling cars. Also none of the Toyota cars feature rim size >19" and also the presence of higher number of hybrid variants has lead to opting for lower diameter rims. Toyota also features 15" rim wheel model i.e. Corolla. Along with Hyundai Elantra only Corolla features 15" rim wheels in the list.
Chevrolet is one of those 3 brands among top selling vehicles which provide 22" rim wheels to its models. These 22" is usually option for the higher end variants. The sedan Malibu and SUV Equinox rim size vary from 17" to 19". The Jeep vehicles all of them being high performance vehicles SUVs and pick-up trucks 20" rim wheels are found.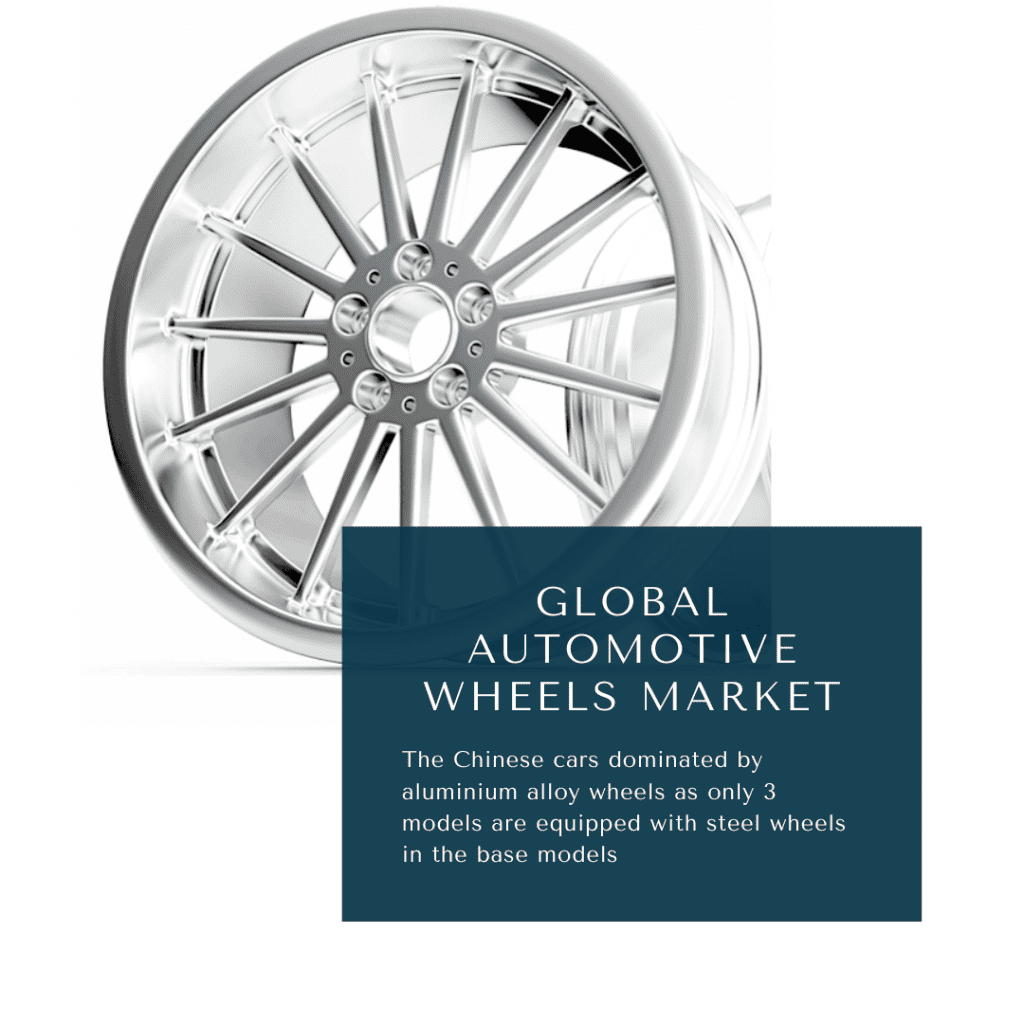 Nissan and Honda vehicles have all of its models featuring wheels with sub 20" rim sized ones.
In European region cars with 14" diameter wheels is found. Volkswagen Polo and Fiat 500 are the 2 models with this minimum size of rims. Also Volkswagen with its Tiguan is the only other model along with Ford Kuga to feature 20" rim the largest size rim in European top selling cars. The average rim size in the cars in this region is found to be between 17' and 19".
In China irrespective of SUVs and sedans the passenger cars are all found to be sub 20" wheels as none of the top selling models features 20" diameter wheels. Volkswagen Santana and Wuling Hongguang are the only models with 14" diameter wheels. The average size of rim diameter of these wheels is found to be 16"-18".
Similar to China there is no single passenger car in the list with wheel having 20" rim diameter. The 19" wheel is featured in only 3 models Toyota Rav4 and C-HR and Mazda CX-5. The small size wheels with 14" rim diameter is found in only few models such as Toyota Tank, Passo, Voxy and Roomy, Nissan Note and Suzuki Solio.
Honda in few vehicles vary the rim size based on the drive, for 4WD lower size ones compared to higher size wheels for front wheel drive cars.
US AUTOMOTIVE WHEELS MARKET
Ford with 5 of its cars in top 30 selling list in the region has aluminium wheel as standard and different finishes of aluminium wheel as optional package. Sparkle silver painted finish is commonly found in the steel wheels used as standard among low end models in Ford Fusion and Ford F150. Polished aluminium finish is most commonly found finishing among aluminium wheels. 6 and 5 spoke with twin and multi spoke design is found in the SUV and pick-up range of vehicles. The Toyota vehicles in the region are all featured with alloy wheels primarily except for the entry level models. Black and silver machined alloy wheels are found majorly in these vehicles. Toyota Camry features a V spoke design only vehicle to feature this design among top selling cars.
All of the Chevrolet cars 4 of them in the top 30 feature aluminium wheels. Twinspoke design is the most common design found in these vehicles. Bright silver painted and machined face finish is found in Chevrolet vehicles. The Jeep vehicles all are featured with aluminium wheels. The long list of variants in Jeep models has various finishing for these wheels. Gloss black paint, satin carbon, granite crystal, tech silver, tech grey finishing is found. Jeep Cherokee and Compass models feature diamond cut design wheels.
In Nissan every 16" wheel is found to be steel wheel and the rest of the models are equipped with alloy wheels. Nissan Sentra features dualspoke design wheels. The Honda has every variant of its models with alloy wheels. Honda CR-V has 5 spoke wheels; whereas the Civic models features 15 spoke wheels in one of it variant. Black alloy wheel with chrome and bronze accent finish is found in Honda Accord. Honda CR-V features the diamond cut spoke design wheels.
The 22" wheels found in GMX Sierra and Ram 1500 are all aluminium wheels with carbon gray and dark gray finishing. Ram 1500 has cast aluminium wheels.
EUROPE AUTOMOTIVE WHEELS MARKET
Volkswagen with 5 models in top 30 cars in the region is most for any automaker. The base models of the car come with steel wheels, but the alloy wheel is found in every other variant. Gloss black, grey metallic and dark graphite finishing is found in these alloy wheels. These cars come with mostly 4, 5 and 10 spoke wheels.
Peugeot models are equipped with alloy wheels as standard feature. The various finishes for alloy wheels are carbone two tone, dark finish and saphir black finish to these alloy wheels. Diamond cut design spokes are found in these wheels.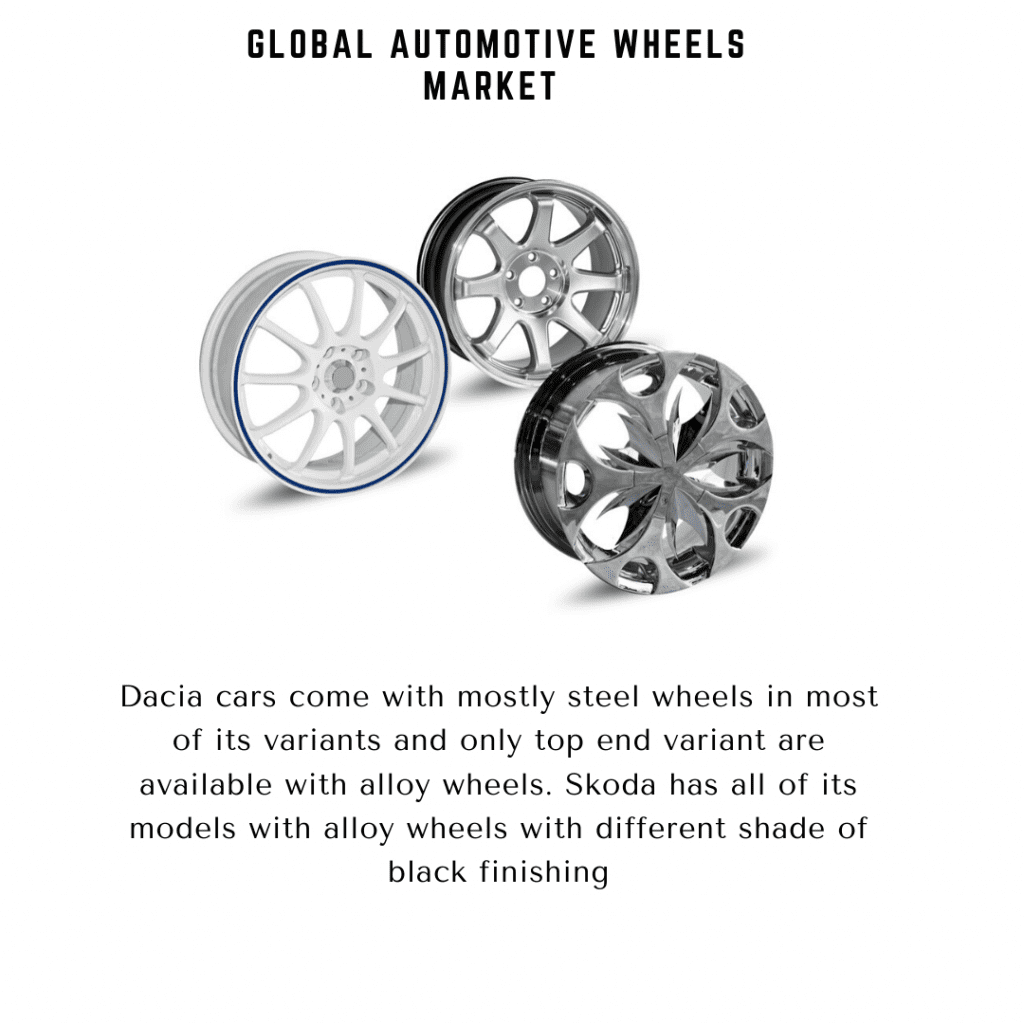 Ford mostly has alloy wheel as standard in all its variants and has the highest number of different finishing to the wheels. Most commonly found being luster nickel, magnetic machined, shadow silver and matt black finishes. Toyota has alloy wheel standard across all its models and variants with matt black, black machined face finish the most frequently found finishing for these wheels. Double spoke design is found in the Toyota models. Renault across its 3 models Captur, Clio and Megane alloy wheels are standard. Diamond cut design spoke is commonly found in these wheels.
Dacia cars come with mostly steel wheels in most of its variants and only top end variant are available with alloy wheels. Skoda has all of its models with alloy wheels with different shade of black finishing.
Vauxhall Corsa along with Opel Astra and Fiat 500 comes with bi-colour alloy wheel. Mercedes A class cars the only luxury brand cars in the list come with platinum vanadium alloy wheel and also forged alloy wheels for AMG version. The AMG version also comes with 7 Twinspoke cross design.
CHINA AUTOMOTIVE WHEELS MARKET
The Chinese cars dominated by aluminium alloy wheels as only 3 models are equipped with steel wheels in the base models. Nissan Sylphy, Volkswagen Santana and Roewe Ei5 are the only models with steel wheels for their base models. The aluminium alloy wheels are available for these models itself but for different other variants.
JAPAN AUTOMOTIVE WHEELS MARKET
Toyota in 7 of its models feature steel wheel as standard option in entry models. Usually the lower size diameter wheels are found to be steel wheels. The aluminium alloy wheels come with cutting glitter black paint, hyper chrome metallic paint finish and also forged and sputtered aluminium wheels.
Honda in its every model the base model is equipped with the steel wheel and the subsequent variants are all aluminium alloy wheels.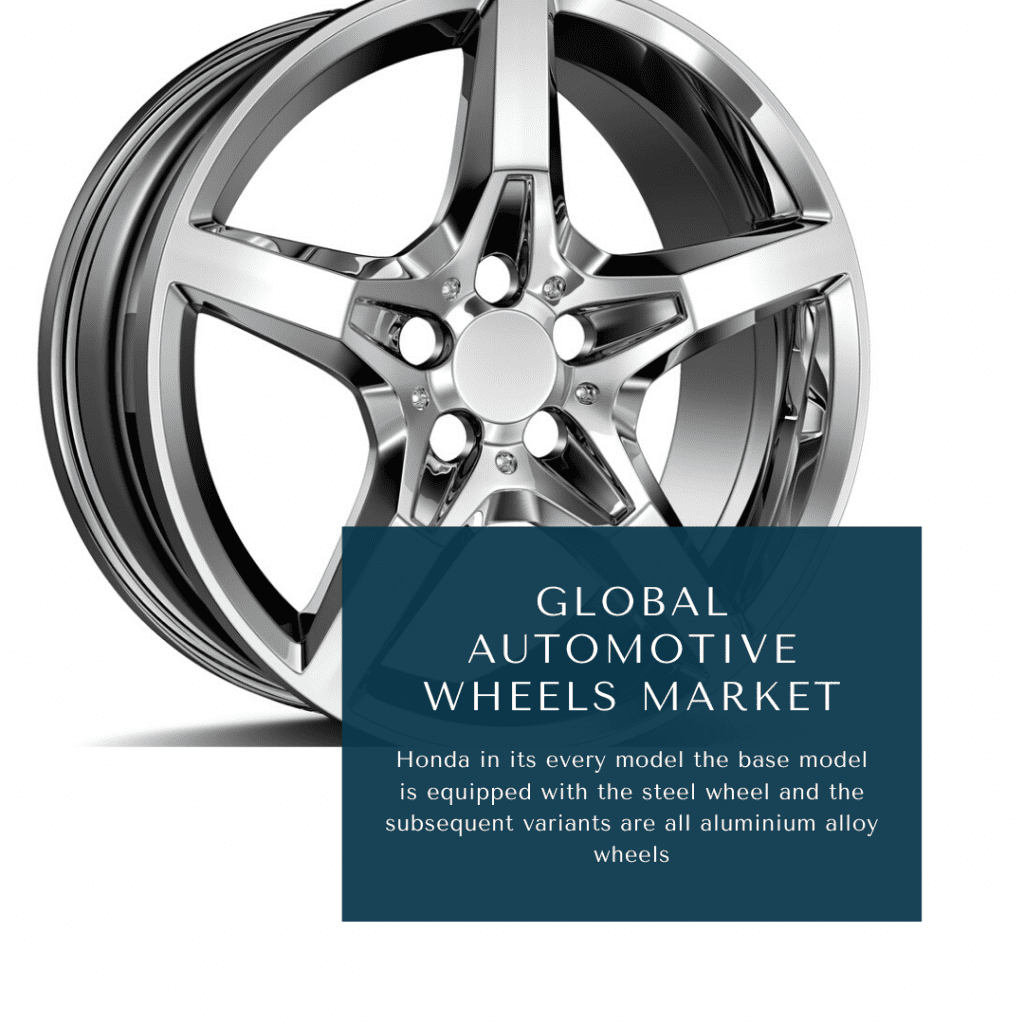 Subaru vehicles come with dark grey or black machine finish aluminium alloy wheels.
Mazda CX-5 with more number of variants has high variety of finishes for its alloy wheels. Grey metallic paint, gun metallic paint and high brightness dark paint
COMPETITIVE LANDSCAPE
The leading wheel manufacturers are Mangels Industries and Iochpe-Maxion from Brazil, Ronal AG and Borbet (Germany), CLN Group (Italy), Superior Industries and Accuride (US). Some of the asian based wheel makers are Enkei Group (Japan), Wanfeng Auto Holding Group (China), Superior Alloy Industries (Taiwan) and Steel Strips Wheel Ltd (India).
COMPANY PROFILE
Accuride
Wanfeng Auto Holding Group
Foshan Nanhai Zhongnan Aluminum Wheel Co
Super Alloy Industries
| | |
| --- | --- |
| Sl no | Topic |
| 1 | Market Segmentation |
| 2 | Scope of the report |
| 3 | Abbreviations |
| 4 | Research Methodology |
| 5 | Executive Summary |
| 6 | Introduction |
| 7 | Insights from Industry stakeholders |
| 8 | Cost breakdown of Product by sub-components and average profit margin |
| 9 | Disruptive innovation in the Industry |
| 10 | Technology trends in the Industry |
| 11 | Consumer trends in the industry |
| 12 | Recent Production Milestones |
| 13 | Component Manufacturing in US, EU and China |
| 14 | COVID-19 impact on overall market |
| 15 | COVID-19 impact on Production of components |
| 16 | COVID-19 impact on Point of sale |
| 17 | Market Segmentation, Dynamics and Forecast by Geography, 2020-2025 |
| 18 | Market Segmentation, Dynamics and Forecast by Product Type, 2020-2025 |
| 19 | Market Segmentation, Dynamics and Forecast by Application, 2020-2025 |
| 20 | Market Segmentation, Dynamics and Forecast by End use, 2020-2025 |
| 21 | Product installation rate by OEM, 2020 |
| 22 | Incline/Decline in Average B-2-B selling price in past 5 years |
| 23 | Competition from substitute products |
| 24 | Gross margin and average profitability of suppliers |
| 25 | New product development in past 12 months |
| 26 | M&A in past 12 months |
| 27 | Growth strategy of leading players |
| 28 | Market share of vendors, 2020 |
| 29 | Company Profiles |
| 30 | Unmet needs and opportunity for new suppliers |
| 31 | Conclusion |
| 32 | Appendix |