Global Autonomous Car HD Maps Market 2019-2025
October 6, 2019

Request Sample
Number of Pages-103
2020-2025 update including COVID impact coming soon
Multi User License - $2,500
Autonomous Car HD Maps Market
KEY FINDINGS
L2+,L3 automated vehicles will account for most of market revenue and L4 automated vehicles will not enter mass production at least until 2022
By 2025 at least 15 OEMs will offer 25+ vehicles with L3 capability and ~5-6 vehicles with L4 capability, but the L4 automated vehicles will be volume constrained due to application in shared fleet only
Uniform, favorable and protectionist Chinese policies have accelerated L3 automated vehicle testing and thus local OEMs have a lead in bringing semi-autonomous vehicles to market
Baidu is the world leader in autonomous tech development and had 150+ partners as of Aug 2019
Cloud based map providers will have more than 90% market share by 2025, crowdsourcing tech by start-ups looks too difficult to scale up unless they partner with other suppliers or car manufacturers
MARKET SEGMENTATION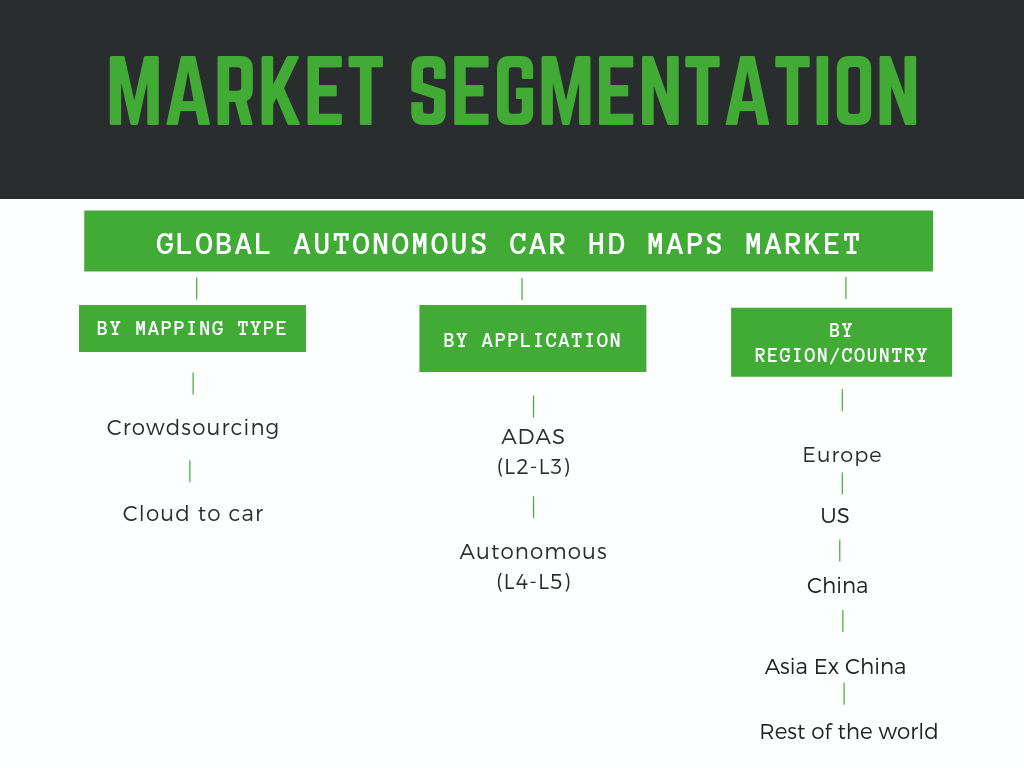 MARKET DYNAMICS
To reduce cost and size of HD maps, mapping providers are assessing innovating methods of finger print base maps(Civil Maps), streaming data from cloud(Mobileye) and vector and tile- based map format(Here maps).
The initiative taken by Britain`s National mapping agency, Ordnance Survey (OS) to standardize HD maps is a welcome move and the $230 Million investment to develop a nationwide platform for testing and developing autonomous vehicles will certainly benefit the UK autonomous car HD map market.
The rise of on-demand taxis, worldwide has been the biggest driver for autonomous cars with L4-L5 automation. Therefore, till 2025 the  vehicles fitted with L4 automation will be used in commercial application only.
Local OEMs outdoing their foreign rivals in launching premium , electric, connected and semi-autonomous cars is tam important trend in China. Geely, WM Motors, Byton, Xpeng are a few example. As of Oct 2019, 400+ EV startups are active in China and in past 12 months, 10+ all new premium BEV brands(Ex WEY, Ora,Geometry) have been launched in the Chinese market.
Partnerships between auto electronics suppliers-mapping tech startups, tech companies- mapping tech startups, car manufacturers- tech companies is the #1 trend in the autonomous car HD map market. Most of the partnerships happened because of complexity and cost of HD maps.
AUTONOMOUS CAR HD MAPS MARKET SIZE AND FORECAST
In China, many domestic companies like NIO, Xpeng, BYD,BAIC and Geely are already testing L3 automated vehicles and may offer them in the domestic market from 2020-2021. In Europe, L3 tech will only be offered in higher segment vehicles of premium manufacturers.
Globally, the cost of HD map will vary per region and supplier depending on its mapping technique and scale achieved in terms of number of OEMs and vehicle platforms served.
In US,Toyota and Honda, with combined 20% market share of passenger car market are way behind in launching L2-L3 automated vehicles. Shunning of L3 automated tech in mass market brands of "Detroit Big 3" and slow progress of L4 automated tech willl result in comparatively lower volume growth of HD map market as compared to China.
The L4-L5 autonomous car map market will have a strong co-relation with the number of autonomous vehicles on road(vehicle PARC) and not just with the number of autonomous vehicles sold per annum.
The Autonomous car HD maps market has the potential to go past $2 Billion by 2025, growing at a CAGR of 83% during 2019-2025
COMPETITIVE LANDSCAPE
As car OEMs are now launching global platforms to reduce development costs, the need for a unified global mapping supplier has become even stronger. Therefore, multiple partnerships among mapping suppliers across continents have been struck in past 2 years.
Most of the startups are crowdsourcing map data as they don't have vast database of maps unlike Here, TomTom and Google whereas all three Chinese vendors have their own survey fleet.
More than 15 mapping tech startups have come up in past 3 years and more than half of them have either received investment or collaboration from auto OEMs and suppliers–This is unprecedented in the 100 year old history of auto industry.
Unlike US, Europe doesn't have any tech giants like (Google, Intel, NVIDIA etc) and the number of mapping companies including startups is limited to just four, therefore European OEMs are dependent on mapping experts like TomTom and Here.

COMPANIES PROFILED
Here
Apple
Sanborn
Baidu
Mobileye
Waymo
NavInfo
Navmii
AutoNavi(Alibaba)
TELENAV
Micello
Civil maps
Deepmap
Lvl5
Carmera
Mapbox
Mapper
Mapillary
Comtech
Point one navigation
THIS REPORT WILL ANSWER THE FOLLOWING QUESTIONS
Market size and forecast in all segments
Growth in L3 automated vehicles in China
Tentative volume of L4 automated vehicles in service by 2025

Upcoming L4  Automated vehicles and their HD Maps supplier

Average B-2-B price of ADAS and Autonomous HD maps, by region, Cost difference between L3 and L4 HD maps
Opportunity for HD map vendors in autonomous shuttle market
OE-supplier alignment in autonomous car HD maps market by vehicle model
Market share of autonomous car HD maps vendors
5 key predictions for next 5 years in Autonomous car HD maps market
| | |
| --- | --- |
| 1 | Market Segmentation |
| 2 | Executive Summary |
| 3 | Introduction |
| 4 | Autonomous vehicle trial fleet deployed at present, by region |
| 5 | Evolution of Lidar, present status, cost and manufacturing |
| 6 | On Elon Musk`s Lidar is doomed claim |
| 7 | Global Autonomous Vehicle HD map trends |
| 8 | Autonomous shuttle market |
| 9 | The GPS war in China |
| 10 | Developments in Chinese market and its impact on global self-driving car maps market |
| 11 | Market Size, Dynamics, and Forecast by Level of Autonomy |
| 12 | Market Size, Dynamics, and Forecast by Geography |
| 13 | Market Size, Dynamics, and Forecast by Mapping Technology |
| 14 | Competitive Landscape |
| 15 | Company Profiles |
| 16 | All about start-ups active in the HD maps market |
| 17 | OE-supplier alignment |
| 18 | Unmet needs and Market Opportunity for suppliers |
| 19 | Conclusion |
| 20 | Appendix |