Global B2B Payment Market 2020-2025
November 18, 2020

Request Sample
Coming Soon
Multi User License - $2,500
GLOBAL B2B PAYMENT MARKET
INTRODUCTION
B2B payment is the largest segment of the global payment market. Driven by the expansion of the technology powered B2B payment offerings of leading FinTech companies and adoption of E-commerce by businesses, corporate payments are digitalized and robust growth is expected in next ten years.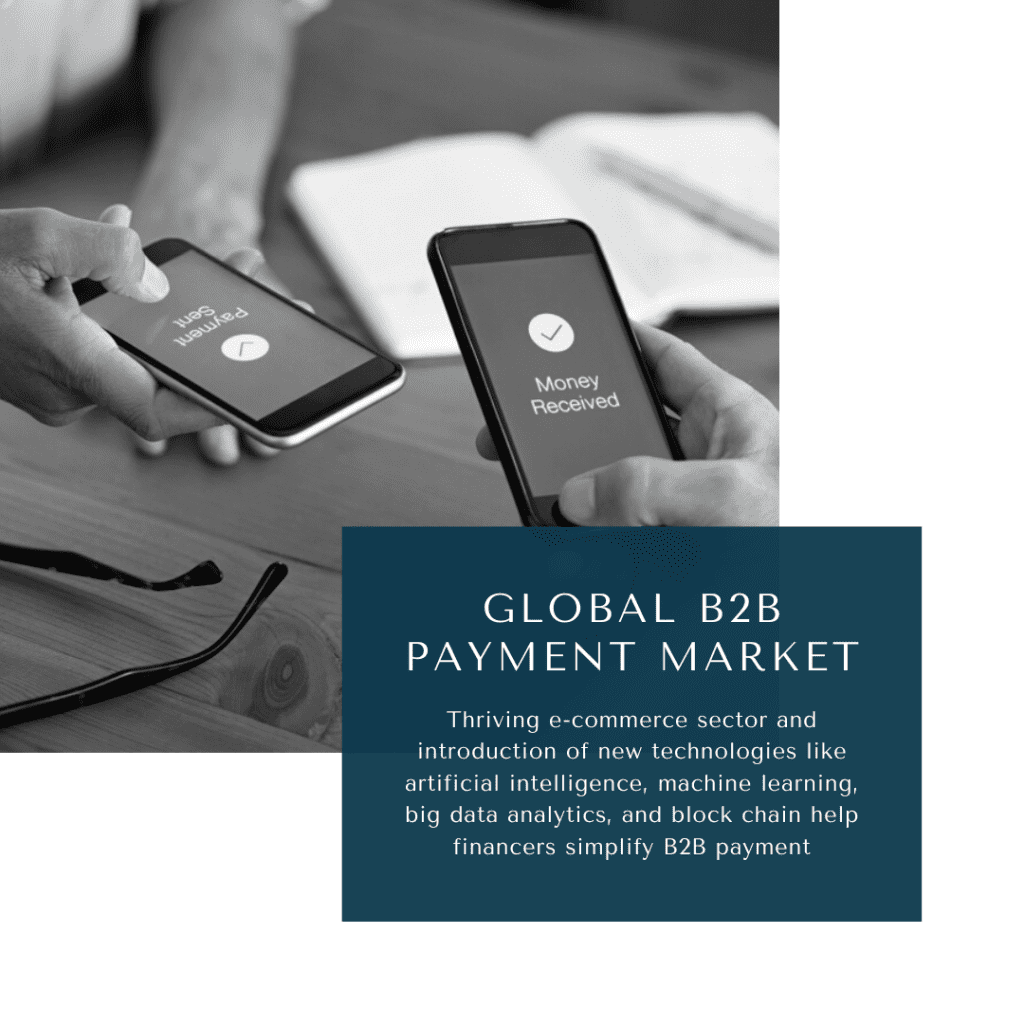 B2B payments across the globe have seen a steady change from paper checks to digital payments and invoices. With new technology and innovations, switching from paper check to digital payments is easier. Industries benchmarks are adapting towards faster and more efficient solution, it is only a matter of time before B2B payments will turn truly global and digital in nature.
MARKET DYNAMICS
Consumer's preference towards online payment is increasing, as it lowers the risk. While digital and wire payments have seen an increase, check payments have been decreasing yearly.
Online card payments and mobile wallets have been the digital alternatives for payment of goods and services. Digital payments have the benefit of quick and easy integration and lowering the processing cost for the users, and a better cashflow for the business.
Technological shift towards digitalization, growing consumer's preference for instant and real time payments, will help the market to grow.
Even though B2B market is gaining huge digital avenue, it's not easy for people to shift to digital payments from existing physical payments, due to high cost and time involved in the switching. So the growth rate might be little slow, but it is definitely increasing.
Due to highly competitive market, collaboration between digital payment players and cross border payment providers has led to an increase in quick and cheap digital payments. Across borders, payments can be slow and expensive, due to which banks pull back from correspondent banking because of risk and compliance concerns, these leads to limiting of new potential businesses.
MARKET SEGEMENTATION
By Transaction Type: Traditional and digital
By Business Segment: Small sized business, Medium sized business, and Large sized business
By Operating Channel: Cross border and domestic
COVID IMPACT ON B2B PAYMENT MARKET
After COVID-19, most of the businesses are severely affected, for safety concerns, people choose to do online transactions and this will help the market to grow digitally if businesses start to use digital payments and move with the phase.
MARKET SIZE AND FORECAST
Global B2B payments market is expected to be $38 trillion by end of 2020 and expected register with CAGR of 10%. So, looking at the amount accounted in B2B market, it is no mystery that speed is the key for digital market growth in the financial world.
Features like speed, coupled with irrevocability, and to make and receive payments after bank hours signifies important change. But with all the positive features, there are other factors which are impacting the slow growth i.e. due to easy access to internet, hackers can easily track and steal data, and this leads to data breech and increases the risk for payments.
To let the market, grow digitally, government needs to invest in the cybercrime system and reduce the risk and this in turn will help businesses to adopt digital payments.
Even though banks services are slow and expensive they dominate the market, and there is a need for collaboration between central banks across the world to make real time payments a reality.
Banks inefficiencies are opening doors for non-bank players and new infrastructure demands in not limited to domestic payments. Non-bank payments are dominating domestic market, due to its ease of online transaction and the applications available for the businesses are so wide to explore and makes it easy for the cashflow in the business.
THE WAY AHEAD
The world is driven by innovation, infrastructure building and regulation. All of which, in turn, makes B2B payments faster, better, cheaper and more relevant to look at as a primary business lever than ever before.
Developing real time payments, enabling check to Epayment capability, digitizing payments and currency through stable coins and cryptocurrencies, improving cross border payments, integrating card-based models into current processes and systems will help in much better B2B digital market growth.
COMPETITIVE LANDSCAPE
The key players operating in the global payment market are American Express Co., Bottomline Technologies, Ant Financial Services, Coupa Software, JP Morgan Chase & Co, Mastercard Inc, etc.
The target market has high competitive scenario as there is high presence of players operating.  B2B payment transaction market is highly competitive as major players are providing various cash back offers and discounts on transactions in order to attract more customer base.
INCORPORATION OF AI AND MACHINE LEARNING
Thriving e-commerce sector and introduction of new technologies like artificial intelligence, machine learning, big data analytics, and block chain help financers simplify B2B payment.
Reducing human errors and increasing efficiency and better cash flow for the business is the key focus of any business. AI and machine learning helps with fraud detection and prevention of cybercrime. Handling cybercrime is an important aspect of secure payments. Lesser errors increases efficiency of payment process and speeds up the processing time.
Artificial intelligence and machine learning helps in identifying alternative suppliers and provides crucial information to partners and collaborates quickly.
COMPANIES PROFILED
| | |
| --- | --- |
| Sl no | Topic |
| 1 | Market Segmentation |
| 2 | Scope of the report |
| 3 | Abbreviations |
| 4 | Research Methodology |
| 5 | Executive Summary |
| 6 | Introduction |
| 7 | Insights from Industry stakeholders |
| 8 | Cost breakdown of Product by sub-components and average profit margin |
| 9 | Disruptive innovation in the Industry |
| 10 | Technology trends in the Industry |
| 11 | Consumer trends in the industry |
| 12 | Recent Production Milestones |
| 13 | Component Manufacturing in US, EU and China |
| 14 | COVID-19 impact on overall market |
| 15 | COVID-19 impact on Production of components |
| 16 | COVID-19 impact on Point of sale |
| 17 | Market Segmentation, Dynamics and Forecast by Geography, 2020-2025 |
| 18 | Market Segmentation, Dynamics and Forecast by Product Type, 2020-2025 |
| 19 | Market Segmentation, Dynamics and Forecast by Application, 2020-2025 |
| 20 | Market Segmentation, Dynamics and Forecast by End use, 2020-2025 |
| 21 | Product installation rate by OEM, 2020 |
| 22 | Incline/Decline in Average B-2-B selling price in past 5 years |
| 23 | Competition from substitute products |
| 24 | Gross margin and average profitability of suppliers |
| 25 | New product development in past 12 months |
| 26 | M&A in past 12 months |
| 27 | Growth strategy of leading players |
| 28 | Market share of vendors, 2020 |
| 29 | Company Profiles |
| 30 | Unmet needs and opportunity for new suppliers |
| 31 | Conclusion |
| 32 | Appendix |