Global Business Jet Market 2020-2025
September 8, 2020

Request Sample
Coming Soon
Multi User License - $2,500
GLOBAL BUSINESS JET MARKET
OVERVIEW
The Global Business Jet Market was valued at xx Billion USD in 20xx and is expected to further expand at a CAGR of xx% in the forthcoming years. Increasing ability to spend in the upper class households along with lucrative aircraft programs especially for the business class is expected to further drive the growth of the market in the future.
A business jet refers to an aircraft that is specifically designed for private air travel for a small group of passengers. Some of the common types of business jets include single-pilot airplanes, propeller-driven jets, turbine aircraft and piston jets.
These jets are primarily used by individuals as well as private and government organizations for leisure travel, business tours, short-haul flights and VVIP transport.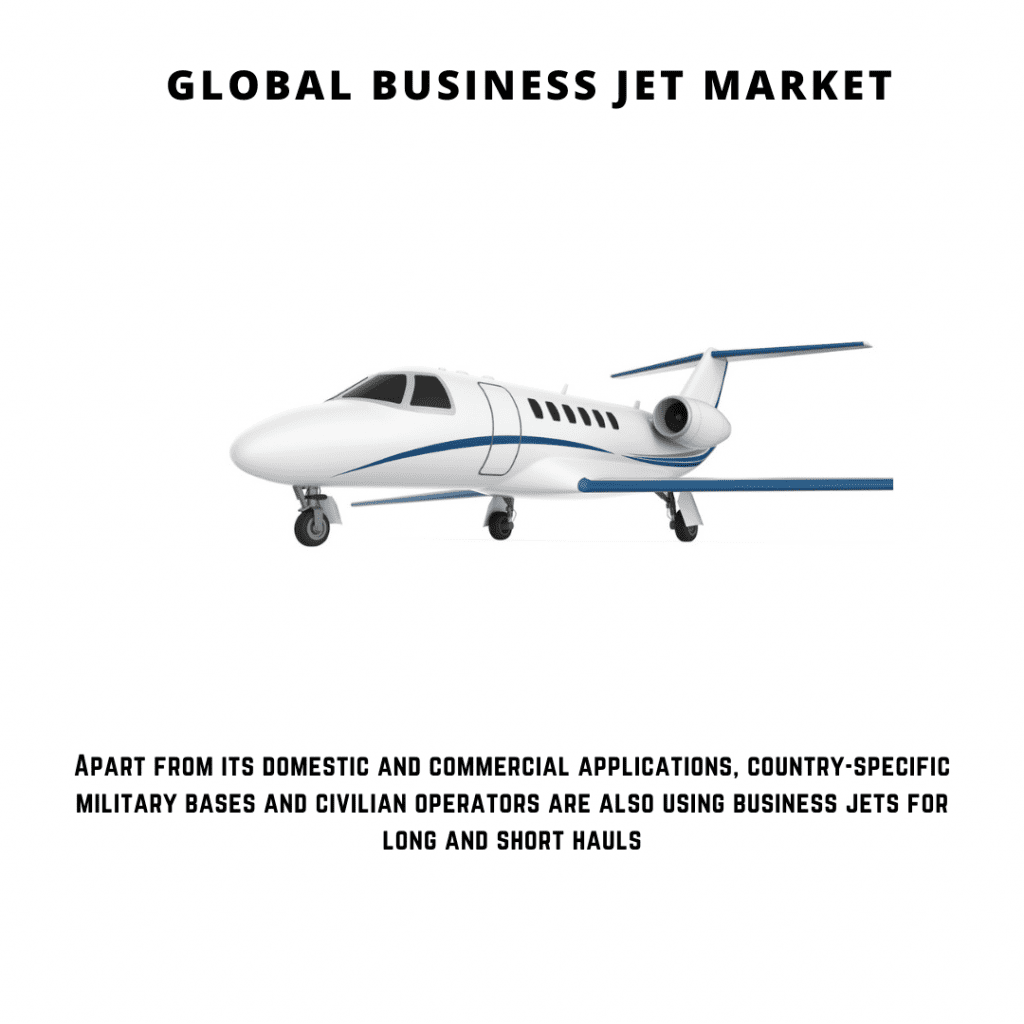 They can also be customized for other applications, such as evacuation during emergencies, express parcel deliveries and transporting goods for the armed forces.
The evolution of new and advanced technology in the aircraft industry has introduced extensive research and development of various aircraft models catering to different needs of the matured economies for now.
Emerging economies across the globe are also being introduced to this relatively new market segment and is only expected to generate an increase in overall demand owing to converging adoption to advanced technology and more developed market levels.
Growth in tourism activities as charter services expand their reach by introducing more routes both nationally and internationally will further drive the market demand for this segment. Technological advancements in the aviation segment and interior cabin products is expected to make this expansion possible and successful.
GLOBAL BUSINESS JET MARKET SEGMENTATION
There are five basic industry categories of business jets; these categories take into account a variety of parameters like that of weight, range, size, and cabin space.
BY TYPE
Light
Mid-sized
Large
Airliner
BY APPLICATION
Tourism
VIP Transportation
Government activities
Business activities
Others
BY SERVICE
On-demand Service
Air Taxis
Branded Charters
Jet-card Programs
OWNERSHIP
Fractional Ownership
Full Ownership
BY END-USE
BY POINT OF SALE
OEMS (Original Equipment Manufacturers)
Aftermarket
BY REGION
North America
Asia Pacific
Latin America
Middle East & Africa
South Africa
UAE
Saudi Arabia
GLOBAL BUSINESS JET MARKET TRENDS
Surging demand for long range business aircrafts: The growing demand for long range business aircrafts for various activities is driving the growth in the market and is estimated to hold the largest market share in the business jet market. As business jets are being utilised for more than one activities now to fulfill different individual needs, people are slowly realising its benefits.
These jets offer optimum performance, comfort, ease of travel and shorter fleet time thereby greatly contributing to its increased demand.
As airline travel becomes extremely stressful, tiresome and time taking owing to an increase in the number of travellers everyday, a large number of consumers are beginning to prefer business aviation to travel because it's more convenient, comfortable and offers adequate privacy to its consumers. Such increased demand is expected to favourably impact the business jet market supply as well as its cost. 
Business jets are increasingly being utilized by sportspersons, government officials, tourists, business persons, etc. now. Apart from its domestic and commercial applications, country-specific military bases and civilian operators are also using business jets for long and short hauls. Thus, the jet market is expected to witness moderate growth in the forthcoming years owing to its multi-utilities.
New generation aircrafts: Various advancements, including the integration of innovative connectivity solutions, avionics, interiors and more efficient engines in the jets, are acting as another factor contributing to the growth of this market segment.
Original equipment manufacturers (OEMs) are replacing mechanical flight systems with lightweight virtual windows, video calling systems and inflight entertainment systems that aid in enhancing the comfort and overall travel experience for the passengers.
In line with this, the introduction of Electric Vertical Take-off and Landing (eVTOL) aircraft that has superior urban air mobility is creating a positive impact on the market growth.
GLOBAL BUSINESS JET MARKET DRIVERS
Emerging economies: One factor responsible for the growth of the business jet market is the significant growth in global economies and subsequently profits made by multinational corporations and firms globally which in turn resulted in business expansions and an increase in the net disposable income among emerging households.
Globalization of business and trading resulted in the integration of global partners and connected economies which in turn is estimated to propel the demand of business jets in the global market. Time saving capability increases productivity including the tracking of business essentials, optimizing time, faster business track, thus  increasing the overall efficiency profit and revenue growth.
Furthermore, replacement of old private jets with new jets with advanced technology is a factor expected to support growth of the global business jet market in the near future.
Introduction of new programs: In response to the growing demand, various business jet operators are expanding their portfolio of membership programs, including member plans, preferred charter accounts, and private jet cards. These membership accounts offer reduced rates, additional fleet options, and negligible blackout dates.
The global market for on-demand business jet services is the most popular choice among consumers. These services are sub-divided into three business models, namely air taxis, branded charters, and jet card programs. There has been a steady increase in the number of branded charter operators across the industry. These operators offer on-demand flight access along with competitive trip-specific pricing.
Also, these operators are characterized by the adoption of sophisticated infrastructure for carrying out the operations as well as implementation of airline-style scheduling practices for minimizing deadhead costs.
The prominent operators in the branded charter arena, such as NetJets, Flexjet, Comlux, and VistaJet, are focusing on renewing their aircraft fleet. Such expansions are expected to create demand for new and cost effective flight options, thereby driving the growth of the overall market in the forthcoming years.
North America holds the largest market share: Market in North America accounts for a significant share in terms of revenue and is expected to maintain its dominance over the market in the upcoming years. Presence of prominent players and high adoption of private jets among end users especially in the US are factors propelling growth of the target market in this region.
In addition, high domestic investment and consumer spending are also among factors supporting the growth of this market in North America. The regional business aviation network, including manufacturers, suppliers, dedicated airports, and Fixed Base Operators (FBOs) witnessed rapid expansion, making it one of the most attractive regions for business aviation across the globe.
The market in Europe is expected to account for lucrative growth in terms of revenue in the near future, primarily owing to rising investments for the development and modernization of aviation infrastructure. Factors such as longer distances between the cities as well as deficient ground transportation network in the region are driving the need for large and medium business jets.
Rising number of high net worth individuals, especially in the Middle Eastern countries, is gradually turning the market into a lucrative one, for both aircraft OEMs as well as operators.
However, environmental regulations on old jets is a factor that could affect growth of the target market in this region. Growing aviation industry in countries such as China and India is a factor anticipated to drive growth of the business jet market in the Asia Pacific.
GLOBAL BUSINESS JET MARKET RESTRAINTS
Certification laws: Business jets manufacturers are required to undergo product certification before launching a new model in the market. However, due to lack of efficiency in the certification processes, aviation authorities are known to delay certification.
Safety is the most important parameter considered while providing certifications, where zero deviation is acceptable. For manufacturers to reach this level, multiple tests and iterations are needed.
This results in a lengthy approval period thus adding on to the delay in the production process. The time lag due to certification issues leads to loss of booked orders and acts as a market restraint for companies.
Unavailability of proper infrastructure: A major challenge for the business jets market is the unavailability of infrastructure in several nations. Developing economies such as India, China, Nigeria, and Malaysia although have the potential market for business jets, the infrastructure of these countries makes it unsuitable for the business jets market to grow.
There are many cities which are not well connected in terms of ease of travel. Certain areas do not have aerodromes and airports, some do not have available landing space, and some areas are not easily accessible from city limits.
COMPETITIVE LANDSCAPE
The business jet market is highly competitive and consists of several major players. In terms of market share, few of the major players currently dominate the market. However, with technological advancement and product innovation, mid-size to smaller companies are increasing their market presence by securing new contracts and by tapping new markets.
The key market players are constantly involved in designing and innovating business jets with the incorporation of advanced technological systems. Companies are looking forward to developing technologically advanced equipment and establishing strong partnerships with the companies in developed and emerging nations.
These companies are adopting strategies such as next-generation all-electric business aircraft and geographic expansion to establish their strong presence in the market.
KEY MARKET PLAYERS OF BUSINESS JET MARKET INCLUDE
| | |
| --- | --- |
| Sl no | Topic |
| 1 | Market Segmentation |
| 2 | Scope of the report |
| 3 | Abbreviations |
| 4 | Research Methodology |
| 5 | Executive Summary |
| 6 | Introduction |
| 7 | Insights from Industry stakeholders |
| 8 | Cost breakdown of Product by sub-components and average profit margin |
| 9 | Disruptive innovation in the Industry |
| 10 | Technology trends in the Industry |
| 11 | Consumer trends in the industry |
| 12 | Recent Production Milestones |
| 13 | Component Manufacturing in US, EU and China |
| 14 | COVID-19 impact on overall market |
| 15 | COVID-19 impact on Production of components |
| 16 | COVID-19 impact on Point of sale |
| 17 | Market Segmentation, Dynamics and Forecast by Geography, 2020-2025 |
| 18 | Market Segmentation, Dynamics and Forecast by Product Type, 2020-2025 |
| 19 | Market Segmentation, Dynamics and Forecast by Application, 2020-2025 |
| 20 | Market Segmentation, Dynamics and Forecast by End use, 2020-2025 |
| 21 | Product installation rate by OEM, 2020 |
| 22 | Incline/Decline in Average B-2-B selling price in past 5 years |
| 23 | Competition from substitute products |
| 24 | Gross margin and average profitability of suppliers |
| 25 | New product development in past 12 months |
| 26 | M&A in past 12 months |
| 27 | Growth strategy of leading players |
| 28 | Market share of vendors, 2020 |
| 29 | Company Profiles |
| 30 | Unmet needs and opportunity for new suppliers |
| 31 | Conclusion |
| 32 | Appendix |