Global Car Subscription Market 2019-2025
April 6, 2020

Request Sample
COMING SOON
Multi User License - $2,500
CAR SUBSCRIPTION MARKET
INTRODUCTION
Car subscriptions started making headlines in 2017 and by Q2-2018 end gathered full momentum. As of Dec 2019, 20 OEMs are offering  or about to offer vehicles by subscription around the world.
With the rise of Mobility-as-a-service, auto manufacturers are now increasingly trying car subscription services in small volumes to test consumer adoption in various regions.
Before, we discuss about the car subscription market, lets discuss what could be the potential reason for OEMs to get into or not get into this business model.
Pros
Premium brands (Ex Porsche, Cadillac, Audi etc) can get a new set of young customers, who were otherwise intimidated by high sticker price and who would have probably bought a vehicle of that segment later in their life.
Customers can switch models within the same brand after their subscription period is over
Cons
The pilot initiatives are limited to certain regions and a handful of countries only. The small sample size may not give true picture of consumer adoption worldwide
Most of the car subscriptions are expensive (2X-3X of monthly lease amount for same car)
Getting a vehicle via subscription is more about convenience (reserved through app), flexibility (multiple short-term plans) that comes with low financial liability.
MARKET SEGMENTATION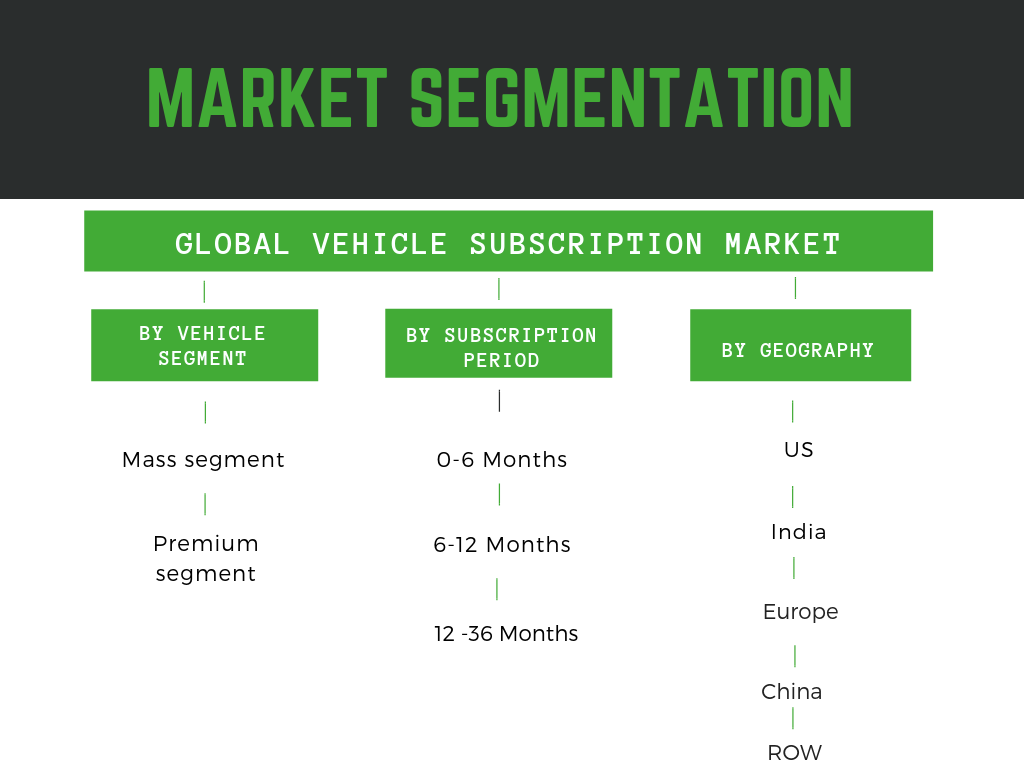 OEMS OFFERING OR ABOUT TO OFFER CAR SUBSCRIPTION- Dec 2019
SL NO
OEM
SUBSCRIPTION PARTNER
REGION
1
Polestar
Polestar space
(low cost, high tech retail outlet)
US and Canada
2
Porsche
Clutch Technologies
US and Canada(Upcoming)
3
Audi
Group 1 Automotive, Sixt
US and Europe
4
Cadillac
Select dealers
US, Switzerland(upcoming) and Germany(upcoming))
5
Volvo
Select dealers
US and UK
6
BMW and Mini
Drover (UK)
US, UK and Singapore
7
Mercedes Benz
Select dealers
US
8
Hyundai, Genesis
Revv(India), Select dealers
US, South Korea and India
9
Volkswagen
Zoomcar,Drover(UK)
India and UK
10
Nissan
Zoomcar
India
11
Mahindra & Mahindra
Zoomcar
India
12
MG Motors (SAIC)
Myles
India
13
Renault
Zoomcar
India
14
Jaguar Land Rover
Inmotion Ventures
UK
15
Lexus
Select dealers
US
16
Toyota
Zoomcar
India
17
Ford & Lincoln
Canvas
US
18
Jeep
Select dealers
US
19
PSA
Wagonex,Hellocars and Drover
UK,Australia
20
Kia Motors
Select dealers Hellocars
South Korea, Australia
COVID-19 IMPACT ON CAR SUBSCRIPTION MARKET
As we all know by now that COVID-19 has severely impacted all markets and industries worldwide, and the car Industry declined in Q1-2020 at an extremely rapid pace.Auto sales could decline by as much as ~20% for full year 2020. That is a grave challenge for the century old car ownership based business model. But, what will that mean for the car subscription market? We look at multiple scenarios below
Scenario 1:  Certain urban consumers who were earlier used to Mobility as a Service or Public transport and come out of this pandemic , relatively unaffected financially could be the new customers of car subscription as now public transport will operate with reduced capacity.
Scenario 2: Car OEMs start offering 0% finance in developed markets (US and Europe) with 84 month lease payments as a norm. If car subscription companies could bring down the  subscription prices in a comparable range of monthly lease payments then they have a real chance of wooing a customer who is not interested in more than a year long commitment of paying monthly lease.
Scenario 3: Car rental operators could introduce car subscription at a reasonable rate to compensate the reduced bookings to improve their cashflow
CAR SUBSCRIPTION MARKET SIZE AND FORECAST
As of Dec 2019, US, UK, Australia and India appear to be the focal points of car subscription.
Among the four countries mentioned above, India's inclusion would surprise all Industry stakeholders because India`s car ownership is amongst world`s lowest at ~22 cars per 1,000 inhabitants. But India is also a very young country and very high traffic congestion in all 8 tier-1 cities in India has made car ownership a liability who just want to get from point A to point B without associated driver fatigue.
In US, 80-85% of vehicles are either bought on finance/lease, which typically includes an average down payment of $3,000-$5,000 and a monthly payment of $400-$700.This might seem ok to people from earlier generation where car ownership was the only option but the millennials , many of whom are burdened with student loans find it a strain on their finances and thus could prefer the subscription model.
The future of car subscription market will also be impacted by the arrival of L3/L4 automated vehicles, consumers who need this kind of service, are typically not very keen on driving themselves and want maximum convenience with low financial liability.
COMPETITIVE LANDSCAPE
UK based Drover and India based Zoomcar have partnered with multiple OEMs for subscription services. Hyundai has made almost its entire lineup available in India through its partner(Revv).
Going forward, we believe there is scope for tech companies like Drover, Zoom car to scale the vehicle subscription services to many more cities. Although, there will be push back from dealer bodies but many of them just don't have the required infrastructure to support a revolutionary business model like this.
COMPANY PROFILES
Clutch Technologies LLC
Zoom Car Pvt Limited
FreshCar(Previously Carma Car)
Enterprise Rent-A-Car
LMP Subscriptions
Revv(Prime mover Mobility Technologies Pvt Ltd)
Canvas(A subsidiary of Ford Motor Credit Company)
Drover Limited
Hellocars(Innovate Automotive Pty Ltd)
Wagonex Ltd
Inmotion Ventures Ltd
Hertz Corporation
THIS REPORT WILL ANSWER FOLLWING QUESTIONS
Can vehicle subscription be rolled out by car manufacturers on a global scale? If yes then which segments and regions will be the top choices?
Which price point and vehicle segment offers good value to vehicle subscribers?
Who are the leading players so far, key differentiation in their business model?
Is there a possibility to offer expensive electric vehicles via subscription? If yes, then in which region?
What is the estimated car subscription market size and forecast for 2019-2025?
Who are the consumers of vehicle subscription? How do they differ based on region? What are their other mobility requirements
What are the major paint points of vehicle subscribers, globally and how it can be addressed by subscription providers?
Role of tech companies in roll out of subscription model, how will the role of dealers change and are they ready to accept the change in consumer behaviour?
| | |
| --- | --- |
| Sl no | Topic |
| 1 | Market Segmentation |
| 2 | Executive Summary |
| 3 | Introduction |
| 4 | Insights from Industry Stakeholders |
| 5 | Comparison of car subscription service costs in US, EU, India and Australia |
| 6 | Decoding OEMs strategy in Car subscription services |
| 7 | Impact of COVID-19 on Car subscription market |
| 8 | Role of dealerships in the growth of car subscription market, by region |
| 9 | Role of car rental companies in the growth of car subscription market, by region |
| 10 | Most popular subscribed car models in US, Europe, China, and India |
| 11 | Average car subscription period, by region |
| 12 | Profile of car subscribers, by region |
| 13 | Opportunity in premium and luxury car subscription, by region |
| 14 | Comparison of new car finance. lease, by region |
| 15 | Impact on used car market, by region |
| 16 | Risks in car subscription to OEMs and dealers, by region |
| 17 | Market Size, Dynamics, and Forecast by Geography |
| 18 | Market Size, Dynamics, and Forecast by subscription period |
| 19 | Market Size, Dynamics, and Forecast by OEM |
| 20 | Market Size, Dynamics, and Forecast by vehicle type |
| 21 | Competitive Landscape |
| 22 | Market share of major vendors |
| 23 | All about start-ups active in car subscription market |
| 24 | OEM-vendor partnerships for car subscription, by region |
| 25 | Company Profiles |
| 26 | Unmet needs and Market Opportunity for new vendors |
| 27 | Conclusion |
| 28 | Appendix |