China ADAS Market 2020-2025
August 26, 2020

Request Sample
Coming Soon
Multi User License - $1,800
CHINA ADAS MARKET
INTRODUCTION
China is currently third globally in ADAS implementation. The main focus of ADAS in these regions is technologies based on parking and driver alert. There is also a demand for adaptive cruise control along with which lane departure warning and lane keep assist come. The past year has seen a demand for Road traffic sign recognition in China. China along with Europe is one of the growing regions in the 2020-2025 time frame.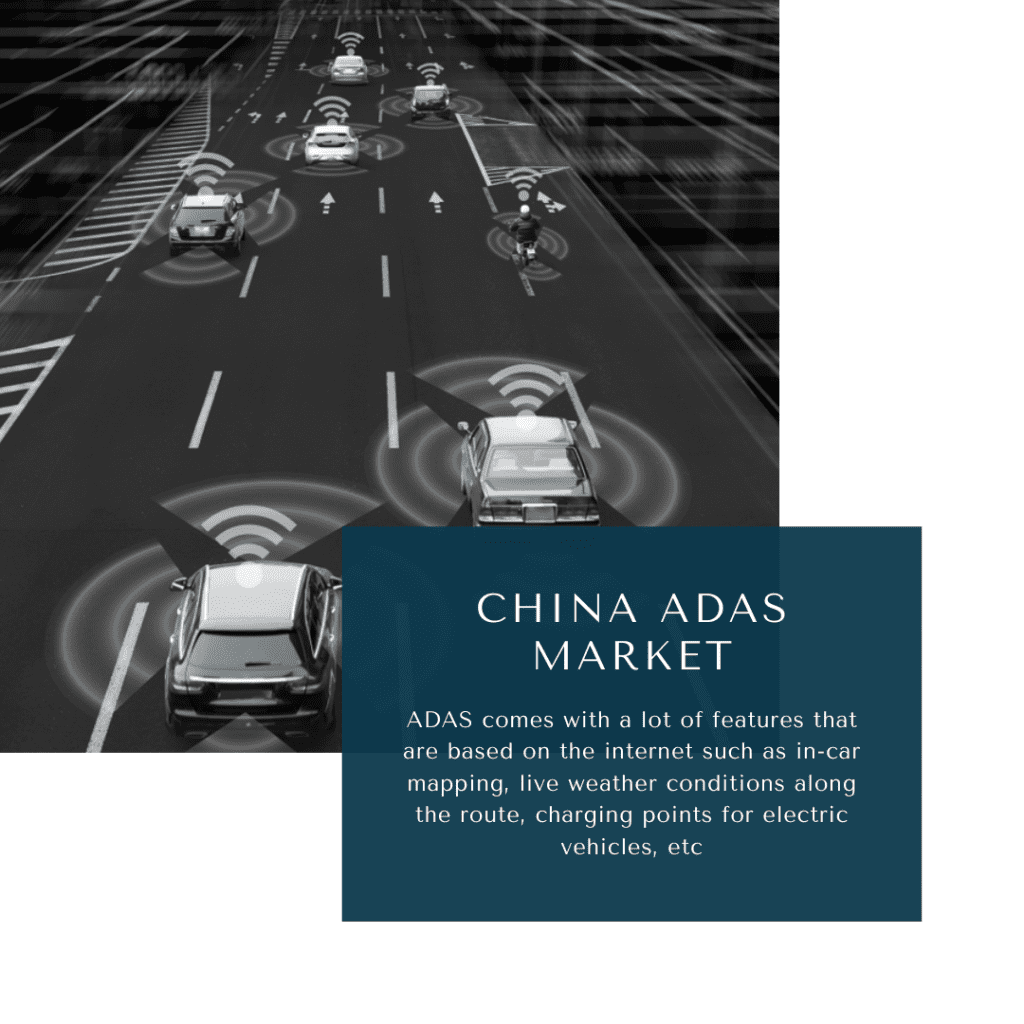 CHINA ADAS MARKET TRENDS
China has adaptive cruise control, 360-degree camera, automatic parking among its main demand from ADAS. Driver alert is a feature pushed by OEMs which has implications from insurance providers and the government in China.
SOFTWARE DEFINED VEHICLE
For ADAS the hardware development goes hand in hand with software development. Tesla showcased that vehicles can be developed without necessarily changing hardware by over the air updates which other OEMs are catching on. The hardware suppliers have set up their own software solutions and/or teamed up with software providers to develop effective solutions.
INTERIORS
In terms of ADAS and interiors, driver fatigue alert, seat alert when a vehicle is present in a blind spot, 360 camera, etc. There will be upcoming features such as cameras which showcase what's under the vehicle and in areas not generally visible. The government can have access to the information regarding the driver which can be used later on for legislation.
ELECTRIFICATION
ADAS comes along with a set of wiring, semiconductors, ECUs, etc. When the OEMs focus on electrification they'll be able to integrate the features in an easier setup. China had the largest EV sales in 2019 and also have a huge EV commercial vehicle sales base. Both of the segments will see implementation of ADAS on as faster scale mainly due to ease.
CHINA ADAS MARKET SIZE AND FORECAST
ADAS relies on collecting data and processing it to be effective and to also improve. Data collected includes driving patterns, external vehicle information such as number plates around a vehicle, routes taken by a vehicle, etc. The chinese government has access to the data put up on a Chinese server thereby they'll have access to information captured by cameras and radars provided it goes through a server.
China ADAS market size estimated at $4 Billion in 2020 growing at 14% CAGR till 2025.
ADAS & AUTONOMOUS
ADAS is the stepping stone for autonomous. Right now L2+ is the highest level of autonomous driving present in China. Tesla's autopilot is the leading software for autonomous right now available for usage. Global suppliers such as Veoneer etc. have set up research centers in China which will be used for supplying mainly to the Chinese market with the fine-tuning required for that market.
USER EXPERIENCE
Using various parameters around the vehicle such as weather, road conditions, safety, etc various features such as automatic emergency braking, lane departure warning are developed which enhances user experience. Climate control of air conditioning, infotainment system are also part of this user experience.
THE COMPLEXITY AND LAYERED LANDSCAPE OF CYBER SECURITY
ADAS comes with a lot of features that are based on the internet such as in-car mapping, live weather conditions along the route, charging points for electric vehicles, etc. Due to the nature of information present in a car, control of driving to a certain extent present in a car, personal information due to apple car play, android auto etc. cyber security is very important as external sources may gather this sensitive information causing data leakage and can also control the vehicle which may result in catastrophic ends. The legislation in China regarding this is vague hence prone to theft of intellectual property, design etc.
THE OUTLOOK THAT IS BUILDING A NEW AUTOMOTIVE ROAD MAP IN CHINA
ADAS in China will see increased growth mainly due a low base compared to Europe and USA. The growth will be supplemented by increasing demand for ADAS features and fine tuned products suppled to the chinese market by the OEMs and Suppliers. The commercial vehicle space will also see growth in ADAS implementation in China.
COMPANY PROFILES
Denso 
Veoneer
Autoliv
NXP
Hyundai Mobis
Magna
NVIDIA
Hella
Infineon AG
| | |
| --- | --- |
| Sl no | Topic |
| 1 | Market Segmentation |
| 2 | Scope of the report |
| 3 | Abbreviations |
| 4 | Research Methodology |
| 5 | Executive Summary |
| 6 | Introduction |
| 7 | Insights from Industry stakeholders |
| 8 | Cost breakdown of Product by sub-components and average profit margin |
| 9 | Disruptive innovation in the Industry |
| 10 | Technology trends in the Industry |
| 11 | Consumer trends in the industry |
| 12 | Recent Production Milestones |
| 13 | Component Manufacturing in US, EU and China |
| 14 | COVID-19 impact on overall market |
| 15 | COVID-19 impact on Production of components |
| 16 | COVID-19 impact on Point of sale |
| 17 | Market Segmentation, Dynamics and Forecast by Geography, 2020-2025 |
| 18 | Market Segmentation, Dynamics and Forecast by Product Type, 2020-2025 |
| 19 | Market Segmentation, Dynamics and Forecast by Application, 2020-2025 |
| 20 | Market Segmentation, Dynamics and Forecast by End use, 2020-2025 |
| 21 | Product installation rate by OEM, 2020 |
| 22 | Incline/Decline in Average B-2-B selling price in past 5 years |
| 23 | Competition from substitute products |
| 24 | Gross margin and average profitability of suppliers |
| 25 | New product development in past 12 months |
| 26 | M&A in past 12 months |
| 27 | Growth strategy of leading players |
| 28 | Market share of vendors, 2020 |
| 29 | Company Profiles |
| 30 | Unmet needs and opportunity for new suppliers |
| 31 | Conclusion |
| 32 | Appendix |