COMMERCIAL VEHICLE MARKET IN EUROPE
INTRODUCTION
The European Commercial Vehicle market has been a key driver for majority of investments in research and development and fuels major trades contributing to 6.9% of European GDP.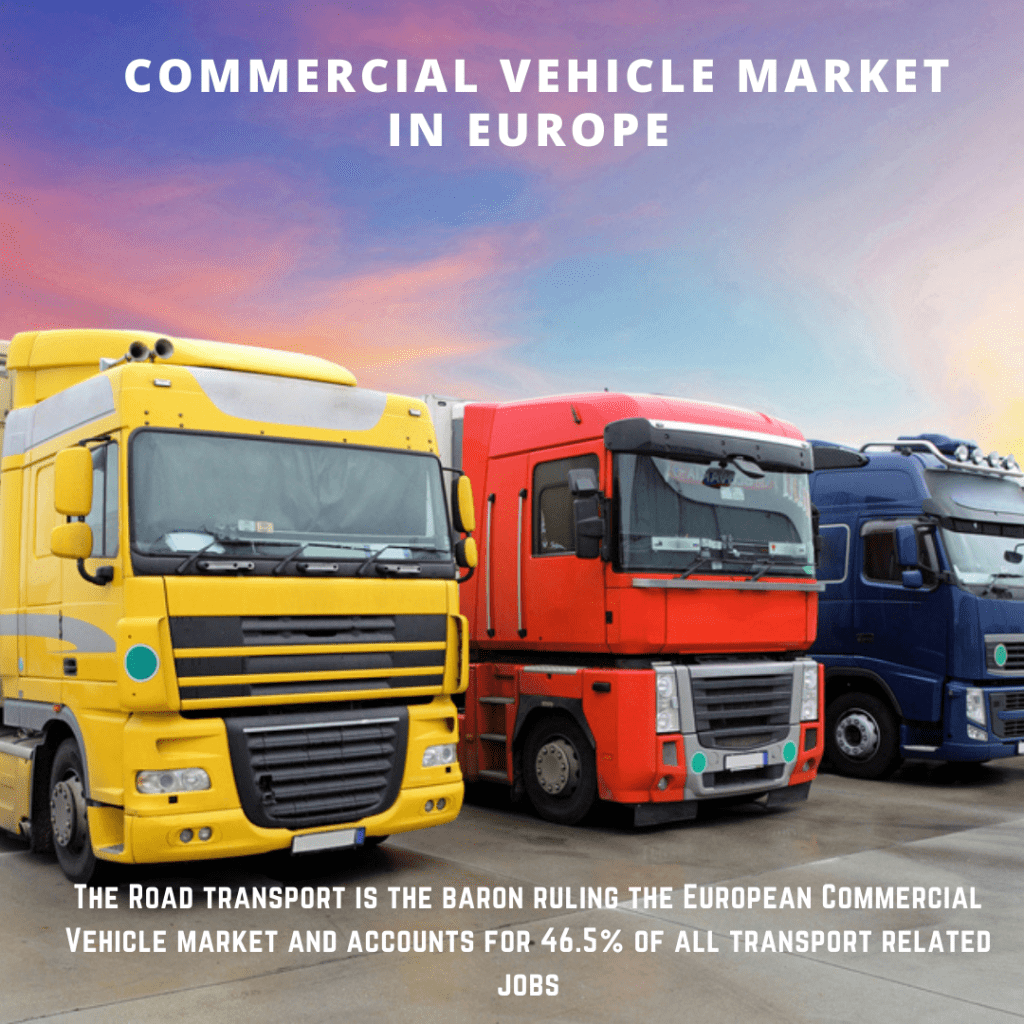 It will play a key role in helping Europe increase its GDP by 2030. The commercial vehicle market in Europe supports 12.2 million jobs, out of which 3 million jobs are high skilled jobs in manufacturing and production sector.
MARKET DYNAMICS
The major factors bringing about this growth is the rise in logistics due to e-commerce, onset of pandemic and ride sharing platforms. Another major factor driving the market is sustainable mobility and innovation as a result of tax incentives on electric vehicles and CO2 taxation. More than 55.6% of the total patents filled in the automotive sector was from Europe which quantifies into 9,541 patents
COVID IMPACT ON EUROPE COMMERCIAL VEHICLE MARKET
The global pandemic of COVID 19 has caused disruption on the minutest fronts and the pre-COVID world is really obsolete. Major sectors of the European commercial vehicle market experienced their lowest fall since World War 2. This is a rare upheaval and is driven by health and safety concerns along with economic turbulence.
COVID 19 catalysed the automotive industry slowdown and amplified the challenges projected by new technology and mobility trends. Spain and Italy were the most affected by this trend in the European market as they were also most severely hit by the pandemic.
COVID 19 disrupted the entire automotive value chain with almost resonant sales and production decline. Spain experienced highest sales drop while UK as well as France was most hit on the production front. European production of commercial vehicles is expected to witness a decrease of 28% to 35% owing to the shutdown of plants and supply chain.
To placate and tranquilize the effects of the global pandemic of COVID-19 as well as to establish the new normal successfully, a thorough action plan has to be implemented.  For the recovery period, the continuous functioning of both the manufacturing as well as retail operations is very essential.
Along with this a complete change in the value proposition has to be carried out. To free the suppliers from the stress caused by the compromised liquidity position, the supply chain visibility has to be improved. Priority should be given to the most critical suppliers by evaluating their risks and liquidity position and their productivity capacity should be enhanced.
Other resources should be chalked out in the European market to support these critical distressed suppliers. Post COVID 19, the dealership network is expected to dwindle by 6 % in next three years. So the commercial vehicle's OEM's need to perform risk assessment for dealership based on short term market trends and find investors at risk.
A network amalgamation process to aid the preservation of the critical mass of dealership is essential. It is extremely essential to identify the expectations of the customers from the commercial vehicle market and to coherently modify the value proposition and customize it to their needs.
 Q3-2020 UPDATE
commercial vehicle registrations in the European Union have declined by 28.2% for the initial eight months of 2020, as per most recent figures delivered today by the European Automobile Manufacturers Association (ACEA).
Every one of the 27 EU markets have recorded twofold digit rate drops for the year up until now. Shoots of recuperation were alluded to in July, when a negligible drop of 0.9% was recorded across all business vehicle fragments with development in Italy, Spain and France, yet request in August dropped by 18%.
August's figures show that registrations in Spain have plunged by 23%, in Germany by 22.7% and France by 3.1%, while Italy developed by 2.6%.
Interest for light business vehicles dropped by 18.6% in August. Figures were helped by a 4.1% expansion in Italy, yet hit by 24.4% and 22.2% compressions in Spain and Germany individually. France, the biggest van market in the EU, enlisted a 2.1% drop for the month.
Germany, the biggest market for medium and weighty business vehicles over 3.5 tons, saw registrations in this portion tumble by 26% in August. Italy recorded a 20.6% development, adding to a general decay of 11.9%.
Registrations of substantial commercial vehicles of 16 tons and over dropped by 11.7% in August. Spain (2.2%) and Italy (19.4%) recorded development, yet Germany encountered a huge drop of 29%. From January to August end, interest for this class has dropped by 37.9% contrasted with 2019's figures.
August was additionally a helpless month for enrollments of new medium and heavy duty vehicles over 3.5 tons. Following development of 18.1% for July, August saw numbers fall by 26.7%. registrations more than split in Italy, dropping by 63.4%, while Spain (34%), France (23.9%) and Germany (5.3%) recorded drop.
EUROPE COMMERCIAL VEHICLE MARKET SIZE AND FORECAST
The market draws a trade of €92 billion by estimated sale of 6.6 million vehicles and a tax revenue of €384.6 billion. The European Commercial Vehicle market accounts for 19% of the total motor vehicles and 23% of passenger cars manufactured in the world.
The Road transport is the baron ruling the European Commercial Vehicle market and accounts for 46.5% of all transport related jobs. The light commercial vehicle market comprising of vans and trucks are likely to grow with a CAGR of 6% during the forecast period till 2025.
COMPETITIVE LANDSCAPE
The commercial vehicles are manufactured in Europe Volvo group, Renault, Daimler, Volkswagen, PSA Peugeot Citroen, DAF and Iveco.
Based on the current terrain, Daimler will continue to be the number one truck manufacturer.
COMPANY PROFILE