GLOBAL CONSTRUCTION EQUIPMENT TIRE MARKET 
KEY FINDINGS 
According to Association of Natural Rubber Producing Countries (ANRPC) the world rubber production in 2020 was down by 10% to 12.597 million tonnes due to a combination of factors such as climate change, extreme weather and plant diseases that disrupted production across major growing countries.
Solid tyre technology will continue to evolve and improve in future as there will be erosion of pneumatic and foam filled pneumatics with rise of solid tyre wheel positions on compact construction equipment.
There has been great demand for wheeled loaders and articulated dump trucks tires, causing a shift from high profile tires to low profile tires.
The pneumatic tires have to be used in caution, as they can last up to five years. However, many variables go into determining tire life, including the kind of material the roller is on and the number of hours it is used. 
Tire makers facing new norms in Europe. As government is considering regulations that would set minimum standards for tyre design to reduce microplastic pollution, such as the rate of abrasion and durability. The requirement could lead to billions of dollars in redesign costs for tire makers.
INTRODUCTION 
Pneumatic tires are used on all types of vehicles, from cars to earthmovers to airplanes, as they are highly preferred in construction sectors. Tires enable vehicle performance by providing for traction, braking, steering, and load support. They are inflated with air, which provides a flexible cushion between the vehicle and the road that soothes out shock and provides for a comfortable ride quality. 
The construction of off-the-road depends, to a large extent, on the intended use of tyres. However, common components to all off-the-road tyres are the tread, carcass, beads, breakers, and sidewalls.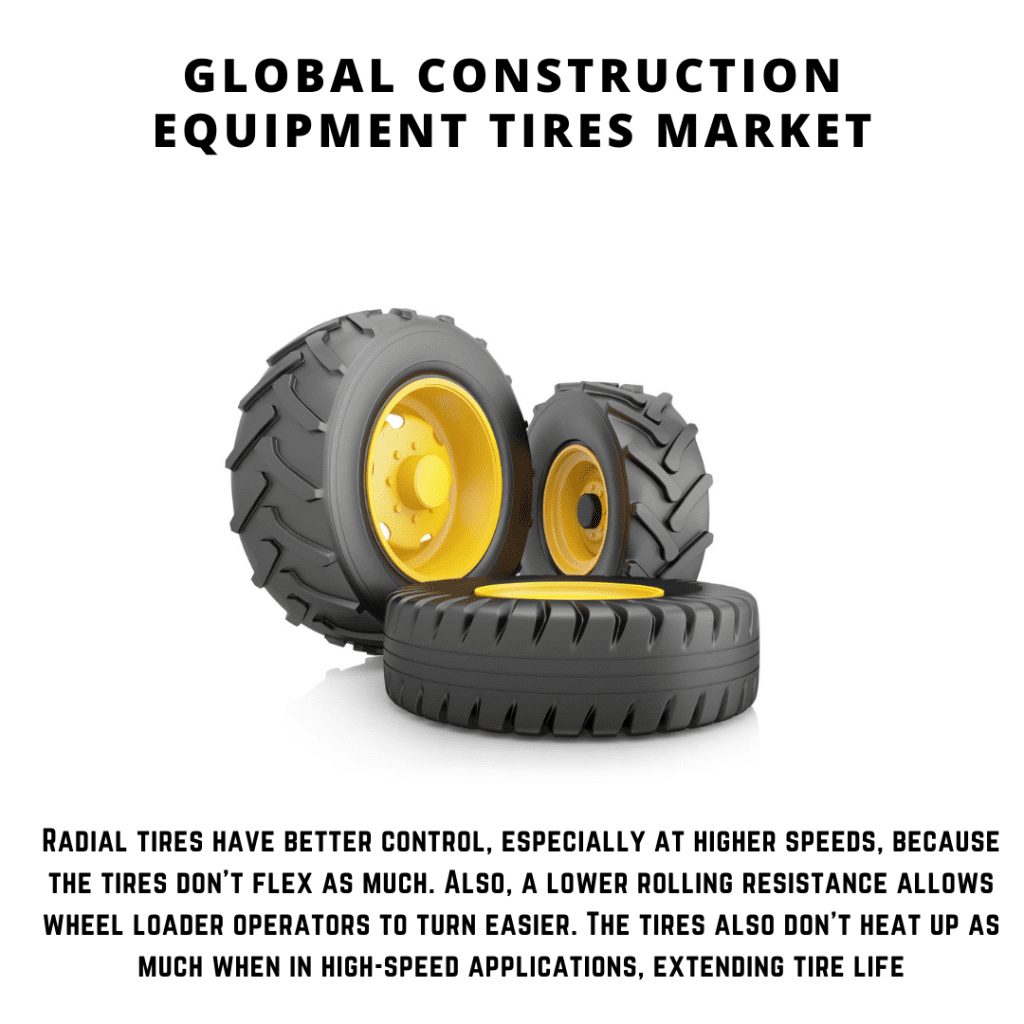 Rubber pads are trending nowadays, they offer a great advantage for both compact and heavier machinery, as most of the compact machines are now equipped with rubber tracks which offers improved performance and less wear in more extreme conditions.  
Larger machines typically run-on steel tracks, which can be damaging for some surfaces like turf and concrete. Adding rubber pads allow these heavier machines to work in places they would not have been able to before, at least not without damaging the surface. 
GLOBAL CONSTRUCTION EQUIPMENT TIRE MARKET DYNAMICS
The shortage of tyres and the effects it has on the supply chain continue to be problematic. So, Companies are in contact with alternative suppliers, mainly in Russia and China. And with some customers are working to secure agreements with the major tyre companies – Goodyear, Bridgestone and Michelin – that would secure tires for its large equipment.  
Many alternative suppliers have worked hard to improve the cost and wear life of their products but customers are making sure of quality in order to safeguard their production levels. In terms of demand, continuing to rise through late 2017 and beyond, there is some growth in supply from Bridgestone. While the company sees a deficit of 6000 tyres per year at present and will invest US$ 300 million (€ 202 million) in new production plants.  
The shortage of tyres looks like being problematic for the short term, all the major players are in the process of either commissioning new plants or expanding their current production facilities which means there is an end in sight to the long lead times experienced by contractors and rental companies at present. 
Right now, 60% of compact machines sold in North America are compact track loaders instead of skid steers. In Europe, Middle East and Africa (EMEA) are also seeing a shift from tyres to tracks, but the demand for skid steer loaders is less, with a rise in the number of compact machines being sold in North America – including compact wheeled loaders, compact telehandlers, mini dumpers and self-loading mixers – this means a demand for new tyre sizes.  
Another trend is a shift from pneumatic to solid tyres, especially for compact machines like skid steer loaders, telehandlers and compact wheeled loaders, which are being used in more intense and extreme applications.  
Wheel loader manufacturers are shifting to radial tire, which tends to be more expensive than a bias tire. However, the machine's total cost of ownership may be lower because the radial provides better traction and flotation, and helps contribute to lower fuel consumption.  
Radial tires have better control, especially at higher speeds, because the tires don't flex as much. Also, a lower rolling resistance allows wheel loader operators to turn easier. The tires also don't heat up as much when in high-speed applications, extending tire life. 
GLOBAL CONSTRUCTION EQUIPMENT TIRE MARKET SIZE AND FORECAST 
Global construction equipment tire market is estimated at $XX Billion in 2020 and growing at XX% CAGR till 2025. 
COMPETITIVE LANDSCAPE 
BKT has designed the prototype of a giant tire product, the EARTHMAX SR for dump trucks. The prototype that has been made and will be tested in coming months by engineers. 
Titan International has added a new size to its line-up of tires for articulated dump trucks, wheel loaders and scrapers. The size addresses such challenges as rim slip that causes bead chafing and possible air loss. The tire has a dual-taper bead design and extra-wide steel bead to resist rim indexing. 
Continental Tire unveiled its new Generation 3 line of tires designed for the rigors of the construction world. They are aimed at a number of diverse applications including construction, cement, utility, forestry, logging and emergency vehicles. 
Michelin has introduced the next generation of its airless tire for skid steers, which is more rugged than its predecessor the new tire features an improved shear beam construction that maximizes the core life of the tire, as well as 10x greater spoke life. The tires support a maximum load of 4,400 pounds. 
Hamm as a part of Wirtgen Group introduced a new generation of pneumatic tire rollers at Bauma 2019. The models offer operating weights between 10 ton and 28 ton and feature a variable ballasting concept. This allows to adjust the operating weight to match the asphalt type, thickness and application by adding or removing steel, magnetite or concrete ballast bodies between the axles.  
Accella Tyre Fill Systems has unveiled a new colour for its TLC Tyre and Rim Protection, which has greater safety and functionality to field operators and drivers of off-the-road vehicles. TLC is a protective coating that conditions the wheel and maintains cooler tire operating temperatures. This helps to eliminate premature failures caused by rust, and other deterioration. 
At the recent trade show in Munich, Yokohama's Alliance Tire Group introduced a new tire designed for heavy equipment operating in a variety of conditions. Developed specifically for use in construction, it features a steel-belted design with high puncture protection and reinforced sidewalls. The deep, self-cleaning tread design increases traction in dry, wet and wintry surfaces while an increased rubber-to-void ratio delivers high resistance to wear and longer tire life in the face of abrasive surfaces like concrete and tarmac. 
COMPANIES PROFILED