Global Container Shipping Market 2019-2025
September 25, 2019

Request Sample
Number of Pages – 80
Multi User License - $2,500
INTRODUCTION
For decades, since 1960s, the growth in container shipping volumes have outpaced global economic growth. At times, growing four times as fast as global GDP, reduced to just two after 2008 crisis and now it is down to less than 1.5. In coming years, in the light of on-going trade war and near-shoring, it could potentially come down to just 1.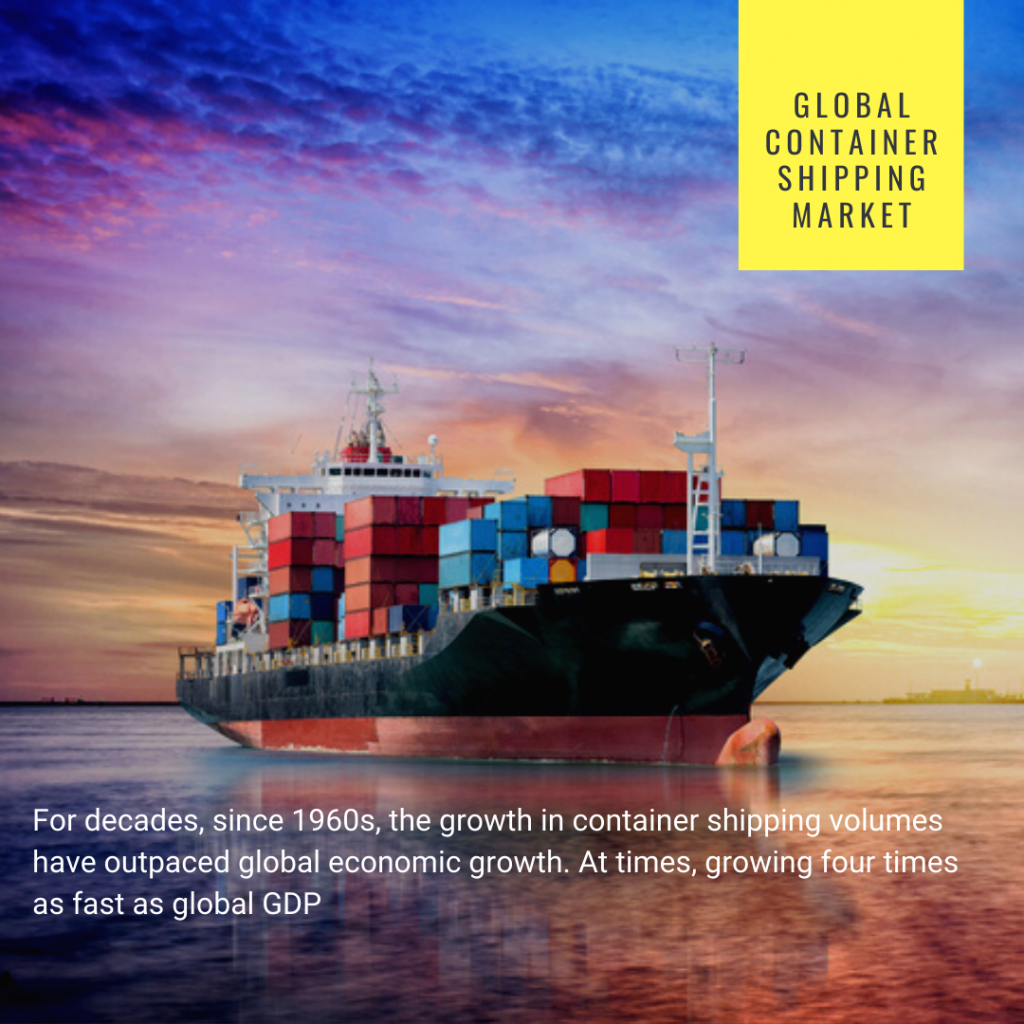 FREIGHT MOVEMENT
The US-China tariff war has hit container volumes between the two most important region Stand freight traffic is down by ~7% (Jan-Sep 2019). Vietnam has emerged as the biggest beneficiary of this and its exports have jumped by ~32% in the same period.
FREIGHT RATES
Ocean freight rates are among the biggest indicators of global trade health, higher rates equate to higher freight demand and vice-versa. Another important metric is the number of containers in global circulation. There were ~ 22 Million 20-foot-equivalent units (TEU) containers in circulation as of Sep 2019.
As od Sep 2019, the freight rates have been declining in all US and European trade routes for past few months. The freight rate between Shanghai to the US east coast was ~$2,700 for a 40Ft container in Aug 2019, ~24% lower than same period last year. As this is the time when retailers and distributors stock up good for upcoming holiday season, the declining rate are certainly not at all a good sign.
The additional 71 ultra large ships (14,500 TEU+ capacity), which will be delivered by 2021 end will further bring down the rates.
LEGISLATIVE CHALLENGES
On January 1, 2020, the International Maritime Organization (IMO)'s rules on sulphur emission come into force – it will have a significant impact on the shipping industry. This legislation will ban any penalize and ban any ship emitting more than 0.5% of sulphur in its fuel, a sharp cut of 3% from present level. Therefore, planning for this low sulphur exhaust implementation will be one of the container shipping industry's biggest challenges in 2019.
MARKET SIZE AND FORECAST
The volume carried by container shipping is expected to be double by 2030. However, in the few years, the industry has been operating at a loss. If we look at YTD 2019, global container shipping volumes were just ~1.3% higher than in the same period of 2018.
COMPETITIVE LANDSCAPE
Following two years of deep consolidation which has resulted in an oligopoly status on major trade routes, consisting of just three main alliances –2M, THE Alliance, Ocean Alliance.
MARKET SHARE  OF SHIPPING COMPANIES BEFORE CONSOLIDATION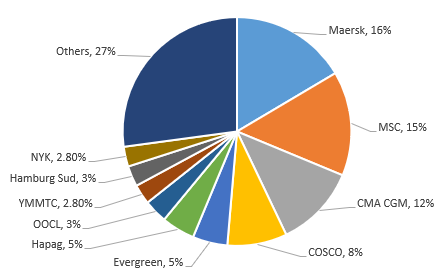 Source: Internal database
COMPANIES PROFILED
YMMTC
THIS REPORT WILL ANSWER FOLLOWING QUESTIONS
The market size (both volume (Million TEU) and value($Billion) of container shipping market in 2019-2025 and every year in between
Latest freight rate trends in container shipping market
Impact of blockchain on container shipping market
| | |
| --- | --- |
| Sl no | Topic |
| 1 | Market Segmentation |
| 2 | Scope of the report |
| 3 | Abbreviations |
| 4 | Research Methodology |
| 5 | Executive Summary |
| 6 | Introduction |
| 7 | Insights from Industry stakeholders |
| 8 | Cost breakdown of Product by sub-components and average profit margin |
| 9 | Disruptive innovation in the Industry |
| 10 | Technology trends in the Industry |
| 11 | Consumer trends in the industry |
| 12 | Recent Production Milestones |
| 13 | Component Manufacturing in US, EU and China |
| 14 | COVID-19 impact on overall market |
| 15 | COVID-19 impact on Production of components |
| 16 | COVID-19 impact on Point of sale |
| 17 | Market Segmentation, Dynamics and Forecast by Geography, 2020-2025 |
| 18 | Market Segmentation, Dynamics and Forecast by Product Type, 2020-2025 |
| 19 | Market Segmentation, Dynamics and Forecast by Application, 2020-2025 |
| 20 | Market Segmentation, Dynamics and Forecast by End use, 2020-2025 |
| 21 | Product installation rate by OEM, 2020 |
| 22 | Incline/Decline in Average B-2-B selling price in past 5 years |
| 23 | Competition from substitute products |
| 24 | Gross margin and average profitability of suppliers |
| 25 | New product development in past 12 months |
| 26 | M&A in past 12 months |
| 27 | Growth strategy of leading players |
| 28 | Market share of vendors, 2020 |
| 29 | Company Profiles |
| 30 | Unmet needs and opportunity for new suppliers |
| 31 | Conclusion |
| 32 | Appendix |