Global Corona Virus Test Kits Market 2020
June 12, 2020

Request Sample
NUMBER OF PAGES-109
Multi User License - $2,500
GLOBAL CORONA VIRUS TEST KIT MARKET
UPDATE-12th June 2020
Globally, ~106 Million COVID-19 tests have been conducted so far, up from 50 Million a month ago.The average daily number of test demand is now ~1.7 Million units
The global recovery rate is now 51% as compared to 35% a month ago. As ~115,000 cases are now being detected on a daily basis, test kit demand has grown by ~25% in June 2020
In terms of absolute demand, US and Russia have so far now cumulatively done 37 Million tests. Russia is sourcing kits from Dutch manufacturer Inzek, on the other hand US FDA has allowed 32 test kit manufacturers to supply for the country
Among the top 10 worst affected countries, Russia is the global leader now with ~96,000 tests done per Million, closely followed by Spain and UK with 95,000 and 91,000 tests respectively
86 countries out of 214  infected by COVID-19 now have a recovery rate of more than 75%, and majority of them do not rule out the possibility of a second wave of infections
UPDATE- 10th May 2020
Globally, ~47 Million COVID-19 tests have been conducted so far. Many countries have stepped up testing in past few weeks and the average number of tests per day is now 1.4 Million
US,Spain, Italy,UK, Russia and France now make up for ~50% of global daily test kit demand. US alone is now doing 17% of global tests per day
Germany, now with a recovery rate of 84% is still testing at ~40,000 per day, Spain with 66% recovery has now tested more than 52,000 per million( world`s highest)
India`s test rate per million has gone up 3X in past two weeks as many states have ramped up daily testing by 4X-6X as compared to April 1st week. In coming weeks, India could test at more than 150,000  per day
UPDATE- 23rd April 2020
Among 211 countries infected by COVID-19, 44 countries have recorded recovery rate of more than 60%. These countries have cumulatively done ~5.1 Million tests so far or 20% of global volume. Going forward, test kit demand for these countries is expected to contract
A total of 24.6 Million tests have been conducted worldwide and the top 10 countries with highest infections comprise 57% of the cumulative tests done so far
Among top 10 countries with highest infections, US, UK, Turkey and Russia have less than 20% recovery rate. Therefore, these countries will continue to have higher test kit demand in coming months
In Europe, Spain, Italy, Germany, France, UK have cumulatively done ~5.6 Million tests so far and there average recovery rate is 3X of US. Therefore, the daily test kit demand in these countries will start declining from next month
India`s testing ratio is among world`s lowest at ~400 tests/ Million. Due to linear increase in daily cases and past 5 day moving median at ~1,200 cases, India is expected to ramp up testing to 100,000 per day at-least for next 1 month. To achieve 20,000 tests per million, the country will have to do ~27 Million cumulative tests(70X of present volume)
INTRODUCTION
The global outbreak of Coronavirus has imparted a fear in people's mind. There is a requirement of a test kit to be deployed on a massive scale to test and isolate affected people. The numbers of patients in hospitals is exponentially increasing and due to this concerned governments are trying to get as many testing kits they can in shortest possible time to contain the pandemic.

MARKET SEGMENTATION
By Geography
Top 30 countries with highest COVID-19 infections
MARKET DYNAMICS
The test kit is mainly used by the medical personnel in the hospitals to diagnose the patients with symptoms. But of late testing has been carried out on almost everyone at the hospitals since there has been few positive cases where in people were not exposed earlier and had not developed any symptoms. There is major shortage of these test kits all across the globe. Many manufacturers are starting to produce these kits. German molecular testing company Qiagen has increased the production by 70%.
Singapore has developed its own corona virus diagnostic kit, and is prepared to ship them to other countries. Korean made test kits are finding large buyers internationally as almost 50 countries have approached Korean test kit manufacturers.
DiaSorin SpA biotech company from Italy is evidently one of the few companies whose share prices have gone up in past month. DiaSoorin has been developing the test kits for COVID-19 disease. They are anticipating earning of at-least 5-10 million euros from its new kit.
CORONAVIRUS TESTS PER DAY AND REQUIREMENT OF HIGHLY AFFECTED COUNTRIES
As on 23rd April 2020
| | | |
| --- | --- | --- |
| Country | Tests per day (As of 23 April) | Required tests per day (As of 23rd April) |
| USA | 3,00,000 | 3,00,000 |
| Spain | 20,000 | 1,00,000 |
| Italy | 65,000 | 65,000 |
| France | 20,000 | 50,000 |
| Germany | 1,20,000 | 1,20,000 |
| UK | 25,000 | 50,000 |
| Iran | 12,000 | 50,000 |
| Turkey | 40,000 | 50,000 |
| Belgium | 7,000 | 25,000 |
| Netherlands | 7,000 | 7,000 |
As on 31st March 2020
| | | | |
| --- | --- | --- | --- |
| Sl no | Country | Actual Tests per day as of 31st March 2020(Units) | Requirement Tests per day as of 31st March 2020(Units) |
| 1 | US | 100,000 | 150,000 |
| 2 | Italy | 30,000 | N/A |
| 3 | Spain | 25,000 | 100,000 |
| 4 | Germany | 50,000 | 50,000 |
| 5 | France | 12,000 | 50,000 |
| 6 | South Korea | 100,000 | 100,000 |
| 7 | China | 35,000(estimated) | N/A |
| 8 | Iran | 10,000 | 50,000 |
Source: Government agencies
RECENT MARKET TRENDs
Roche Diagnostics -Swiss pharmaceutical company has started shipping 400k medical kits to US every week.
BRIEF-Curetis are offering COVID-19 test kits all across Europe.
Australian Regulators have approved rapid Covid-19 testing kits manufactured by Melbourne based company and are expected to export 50,000 kits in its initial shipment.
Japan's Kurabo Industries Ltd has apparently launched new range of testing kit which is expected to give results in 15 mins.
FDA has apparently approved the test kits developed by the scientists from the University of Philippines. These test kits are expected to be exported in large numbers soon.
In South Korea as many as 4 test kit manufacturing companies have been assisting medical personnel and are testing about 20,000 people per day.
Iranian diagnostic company Pishtaz Teb Zaman has been the country's leading test kit so far and are capable of producing about 80,000 kits weekly. They are anticipating expanding the sales up to 400,000 of these kits in one month.
US airforce has flown 500,000 testing kits from Italy to the country.
Pune based Mylab becomes first Indian company whose test kits are approved by FDA.
 World`s biggest auto supplier, Bosch has developed a new testing kit which can provide results in less than 3 hours at the point of contact, doing away with transportation of samples.  
MARKET SIZE AND FORECAST
With the cases going beyond control, testing kits are expected to be sold like hot cakes. However, there are many research centres collaborating with the pharmaceutical and healthcare companies to ramp up the production of test kits. There has been unprecedented amount of research and development going on to reduce the test duration so as to increase the number of tests.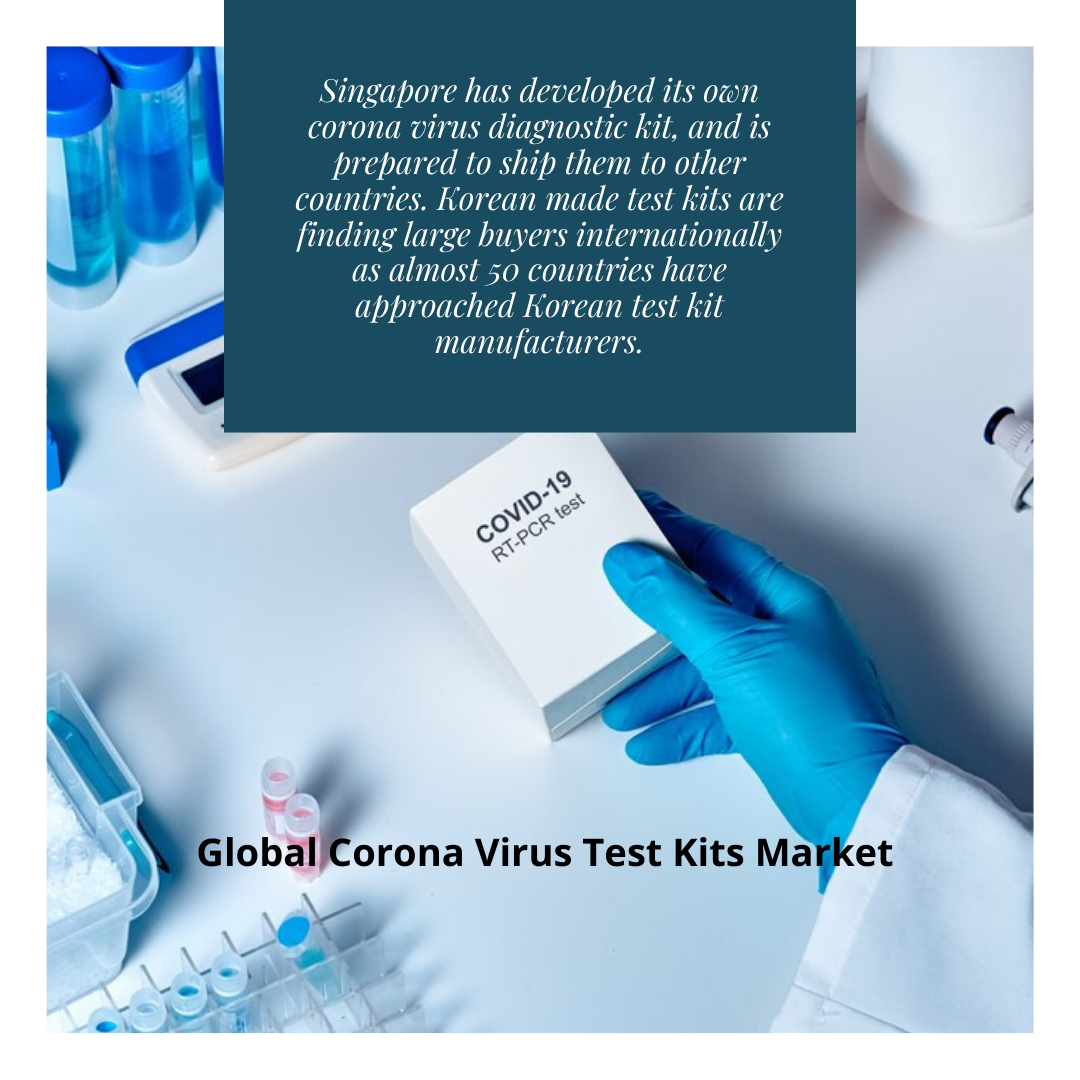 U.K based Mologic Ltd in collaboration with Senegalese research foundation have made the kits which take about only 10 minutes to complete the test. The rapid test kits are expected to boost the market. EU has confirmed that new certified kits made from Curetis will be made available to European countries. Thermo Fischer US manufacturer is trying to ramp up the production to 2 million test kits a week.
Scientists in Bangladesh have developed corona virus test kits at an individual cost of $ 3 is expected to be available in 3 weeks.
There are developments going on to make sure the kits are available for the public to take tests at home. These kits demand to be simpler yet effective; 4 catalyzer US manufacturer has been trying to come up with kits that provide rapid results.
The Global Coronavirus test kit market is estimated at $XX Million in 2020
US CORONAVIRUS TEST KIT MARKET
Tests per day in US increased 25 times to 100,000 in just 20 days from 05 March to 25 March
US is planning to expand this to 150,000 per day till the end of April
US had completed 3500 tests per million of their population in March and it needs to go beyond 10,000. For this, they've to increase their testing rate to 150,000-200,000 per day
EUROPE CORONAVIRUS TEST KIT MARKET
Italy, Spain, France, UK and Switzerland were collectively doing 85,000 tests per day in 1st week of April 2020
Germany and Switzerland did aggressive testing and taking precautionary measures, this has helped them in restricting the virus outbreak
Germany  performed more than 900,000 tests in March making their tests per million population ratio more than 11,000, Switzerland's tests per million population ratio was more than 15,000 in March, highest in the world
European Union regulations are easier to pass than Chinese and American regulations making Europe a favourable market for start-ups
SOUTH KOREA CORONAVIRUS TEST KIT MARKET
South Korea has tested more than 400,000 people and testing more than 15,000 people in a day, one of the most aggressively testing countries
S.Korea is rapidly becoming a key supplier of test kits and currently exporting kits to several Asian and European countries including Italy and India.It is producing more than 100,000 kits in a day
COMPETITIVE LANDSCAPE
The outbreak has led to immediate requirement of the test kits and many pharmaceuticals and healthcare firms have come together to produce kits at large scale. Some of the leading manufacturers are Qiagen (Germany), Roche (Switzerland), Seegene (South Korea), Solgent (South Korea), Curetis (Germany), Kurabo (Japan), Mologic (UK) and Thermo Fischer (UK).
COMPANY PROFILE
MD Solutions
Mylab
Pishtaz Teb Zaman Diagnostics
THIS REPORT WILL ANSWER FOLLOWING QUESTIONS
Global Corona virus Test kits market demand estimation(Volume and Value), split by top 60 countries-2020
List of all new companies manufacturing the test kits as of date
Government spending on Coronavirus testing by country
Top 10 test kits and their manufacturers with quickest turnaround time
Top 10 countries with negligible domestic kit manufacturing
To request customization– get in touch with us!
| | |
| --- | --- |
| Sl no | Topic |
| 1 | Market Segmentation |
| 2 | Scope of the report |
| 3 | Abbreviations |
| 4 | Research Methodology |
| 5 | Executive Summary |
| 6 | Introduction |
| 7 | Insights from Industry stakeholders |
| 8 | Cost breakdown of Product by sub-components and average profit margin |
| 9 | Disruptive innovation in the Industry |
| 10 | Technology trends in the Industry |
| 11 | Consumer trends in the industry |
| 12 | Recent Production Milestones |
| 13 | Component Manufacturing in US, EU and China |
| 14 | COVID-19 impact on overall market |
| 15 | COVID-19 impact on Production of components |
| 16 | COVID-19 impact on Point of sale |
| 17 | Market Segmentation, Dynamics and Forecast by Geography, 2020-2025 |
| 18 | Market Segmentation, Dynamics and Forecast by Product Type, 2020-2025 |
| 19 | Market Segmentation, Dynamics and Forecast by Application, 2020-2025 |
| 20 | Market Segmentation, Dynamics and Forecast by End use, 2020-2025 |
| 21 | Product installation rate by OEM, 2020 |
| 22 | Incline/Decline in Average B-2-B selling price in past 5 years |
| 23 | Competition from substitute products |
| 24 | Gross margin and average profitability of suppliers |
| 25 | New product development in past 12 months |
| 26 | M&A in past 12 months |
| 27 | Growth strategy of leading players |
| 28 | Market share of vendors, 2020 |
| 29 | Company Profiles |
| 30 | Unmet needs and opportunity for new suppliers |
| 31 | Conclusion |
| 32 | Appendix |