INTRODUCTION
Diesel as a fuel has 15% more calorific value than Petrol/gasoline, which results in 15-20% higher fuel economy for similar displacement engine.
It is for this reason that, diesel is a widely preferred choice of fuel for passenger cars in a cost sensitive market like India.
The most popular cars in India are typically hatchbacks, <4m in length and engine capacity in 1.2L-1.5L range.
As of Dec 2018,India`s car penetration, is at 18 cars per 1000 inhabitants, among the lowest in the world. But it is among the few global markets, where diesel is popular in passenger vehicle segment even after Volkswagen scandal,thus making it second biggest CRDI system market after Europe. The top 3 automotive markets i.e. China, US and Japan are gasoline dominated.
MARKET SEGMENTATION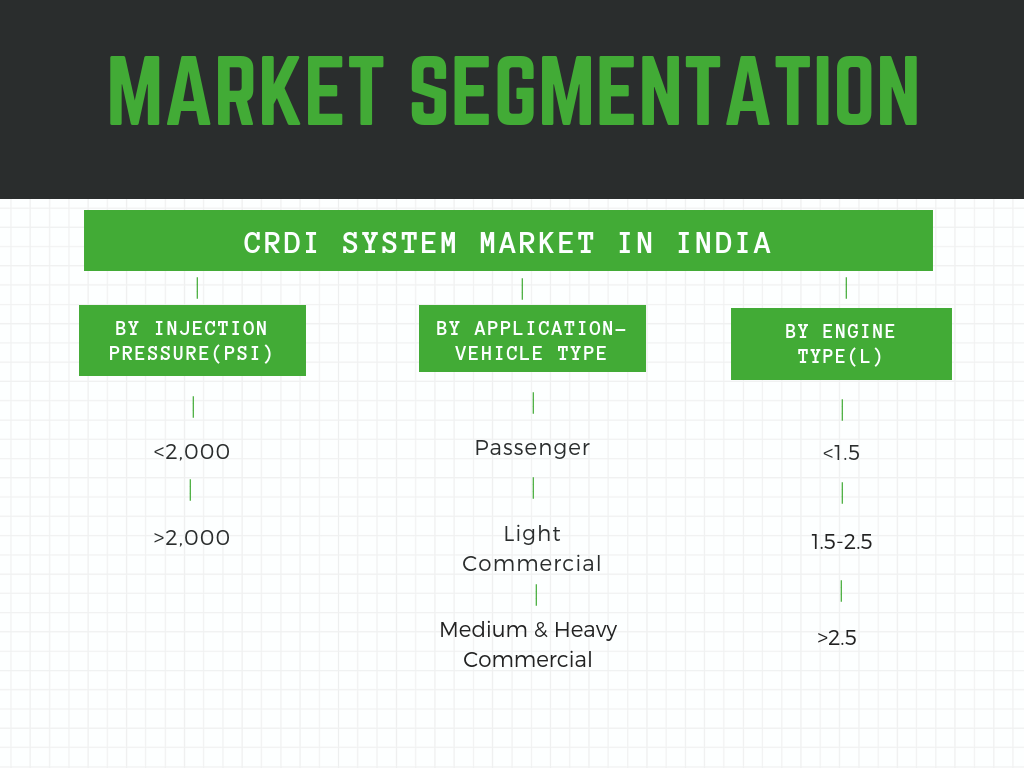 MARKET DYNAMICS
India has always been one of the biggest importers of crude oil, globally. The excise duty on gasoline/petrol and Diesel is one of the biggest revenue generators for the central government.
Diesel was subsidized in India till 2014, and the cost difference between gasoline and diesel was 30-35% then. But, owing to de-regulation and 10+ excise duty hikes on both fuels post 2014, the difference has narrowed down to ~6 INR or 7-8% only.
This has led to a substantial shift towards gasoline cars in B1 (entry level hatchback), B2 (Premium hatchback) and C1 (Entry level Sedan) segment. Cumulatively, these three segments account for ~50% of new car sales every year. Thus, this is one of the biggest challenge to the CRDI System market in India.
The commercial vehicle segment, has comparatively done well over past few years. It has regained market volumes close to the previous best record of 0.8 Million units in FY 2012. What`s even more interesting is that the annual bus sales exceeded 100,000 units in FY 2018 for the first time ever.More than 90% bus engines run on diesel and it is one of the biggest market value generators for CRDI system market in India.
The market for trucks with >35 tonne GVW grew at 100% YoY in 2018. This segments typically uses >6.5L Engines with >2000 Psi injection pressure. On the other hand, in developed markets like US and Europe, the trucks in the heavy-duty category typically deploy 10-13L engines with >2,500 Psi injection pressure.
MARKET SIZE AND FORECAST
The year 2005 marked the arrival of CRDI system in passenger vehicles in India, when Mahindra launched an updated version of its best-seller SUV "Scorpio "with 2.6L CRDE engine. The other homegrown major Tata also updated its SUV, Safari with a 3.0L CRDI engine. After that, Maruti Suzuki launched its top-seller Swift with a Fiat sourced 1.3L Diesel engine in 2007, which is present in many other passenger, cars even today.
The passenger vehicle segment in India was almost stagnant during 2011-2014 but has grown at ~8% CAGR for past 4 years. For Calendar year 2018, we estimate the market to reach ~3.35 Million units, which is an all-time high. It has potential to reach 5 million units in by 2025.
The split between diesel: petrol is now ~38:62 is 2018, which was 54:46 in 2012.The diesel passenger vehicle market in India has been in decline mode, because of high fuel prices. Both, gasoline and diesel touched record highs in 2018.
Owing to upcoming BS-VI emission norms (Indian equivalent of Euro 6), we expect Diesel share in passenger vehicles to decrease even further. Especially, in the B2 segment, because of increased cost of exhaust after-treatment system required for BS VI norms. But, on the brighter side, the arrival of BS VI norms will necessitate use of higher injection pressure CRDI system for better combustion and fuel economy.
The commercial vehicle segment in India has been doing extremely well for past 2 years. It is a very lucrative opportunity for CRDI system manufacturers, but there is also the fact the low-cost, small LCVs which make up for ~30% of Indian commercial vehicle market feature Direct/Indirect Injection without CRDI system. The best-selling LCV in India, Tata Ace features a naturally aspirated indirect injection Diesel engine.
The CRDI System market in India is expected to grow to XX Million units by 2023 at a CAGR of –%
COMPETITIVE LANDSCAPE
The CRDI System market in India has very limited players, owing to high technology input required to manufacture the same.
Bosch and Delphi TVS are the leading players in the market. Bosch established its presence in 1950s, the company knows the Indian market better than any other tier-1 supplier. The biggest On/off highway diesel engine supplier in the world, "Cummins" also has a long presence in India, but it caters only to commercial vehicles and off-highway segment in the country.
Delphi TVS is another leading player in CRDI system market in India, with historic presence, but relies heavily on Delphi for technical improvement. It caters to all vehicle segments including single and twin cylinder engines.
COMPANY PROFILES
Bosch India
Denso Pvt Limited
Continental Corporation India
Delphi TVS Diesel Systems Limited
Cummins India
| | | |
| --- | --- | --- |
| 1 | Market Segmentation | 3 |
| 2 | Executive Summary | 5-6 |
| 3 | Introduction | 7-10 |
| 4 | Market Size ,Dynamics and Forecast By Application | 11-19 |
| 5 | Market Size ,Dynamics and Forecast By Sub-components | 20-35 |
| 6 | Market Size ,Dynamics and Forecast By Battery Size | 36-44 |
| 7 | Competitive Landscape | 45-49 |
| 8 | Company Profiles | 50-72 |
| 9 | Unmet needs and Market Opportunity for suppliers | 73-74 |
| 10 | Conclusion | 75-76 |
| 11 | Appendix | 77-80 |