Global Dual-Clutch Transmission Market 2019-2025
February 15, 2020

Request Sample
COMING SOON
Multi User License - $2,500
DUAL-CLUTCH  TRANSMISSION MARKET
KEY FINDINGS
In China, where 1,767 car models are on sale, DCT transmission is offered on ~61% of them. DCT transmission is also extremely popular in domestic brands, who have the highest ~40% share of the overall market
In Europe, where 426 car models are on sale, DCT transmission is offered on ~75% of them, up from 54% in 2014
Dual-clutch transmission has very limited take off rate in US  and Japan and its reach is limited to premium European brands only
The growth in gasoline engine share(46% in 2013 to 67% in 2019) across Europe will result in higher-takeoff rate for DCTs and is a major growth driver for Dual-clutch transmission market
Borgwarner , Getrag(Magna)and ZF  are the top 3 DCT module suppliers, globally
INTRODUCTION
Transmission has a major role in deciding the fuel economy and driving experience of a vehicle. Automated transmission as compared to manual ones are meant to reduce driving fatigue but not without trade-off in terms of reduced fuel economy.
Dual clutch transmissions can deliver fast gearshifts with equal or even better fuel economy than a manual transmission.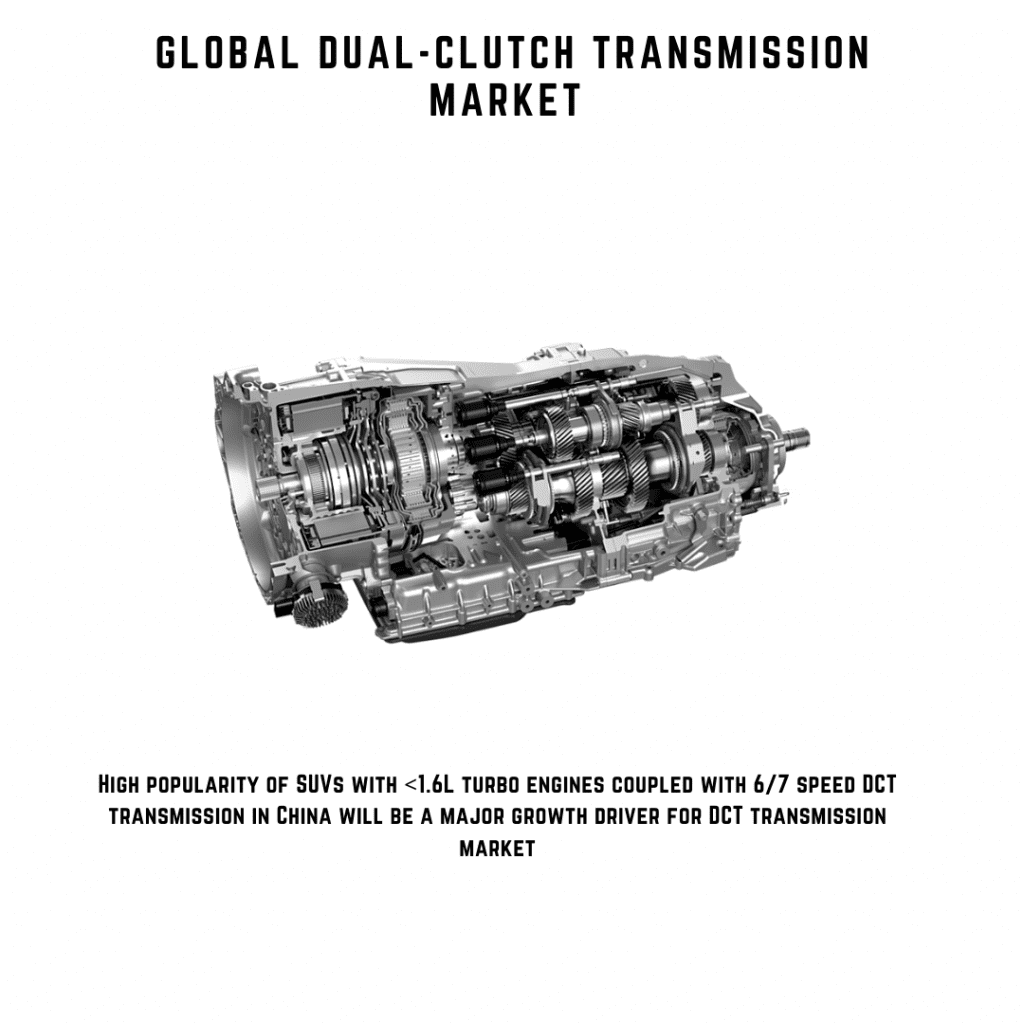 DCT transmission is predominantly a European technology with its roots in Germany. It is the most sought-after transmission type after torque converter automatics and CVT (Continuously variable transmission).
Until early 2000s, Dual clutch transmission (DCT) systems were though of a novel technology limited to Formula 1 and ultra-luxury cars. Volkswagen broke this concept when it started offering DCT transmission on the best-seller, mass segment Golf in 2003.
MARKET DYNAMICS
DCT transmissions are known for their ultrafast gear shift times (<200ms) and excellent fuel efficiency. The fuel economy improvement in DCT equipped cars as compared to torque converter automatics is in the range of 15-20%.
On the other hand, limited torque handling capacity and a large amount of recalls issued in past decade or so has affected their overall reach and reliability.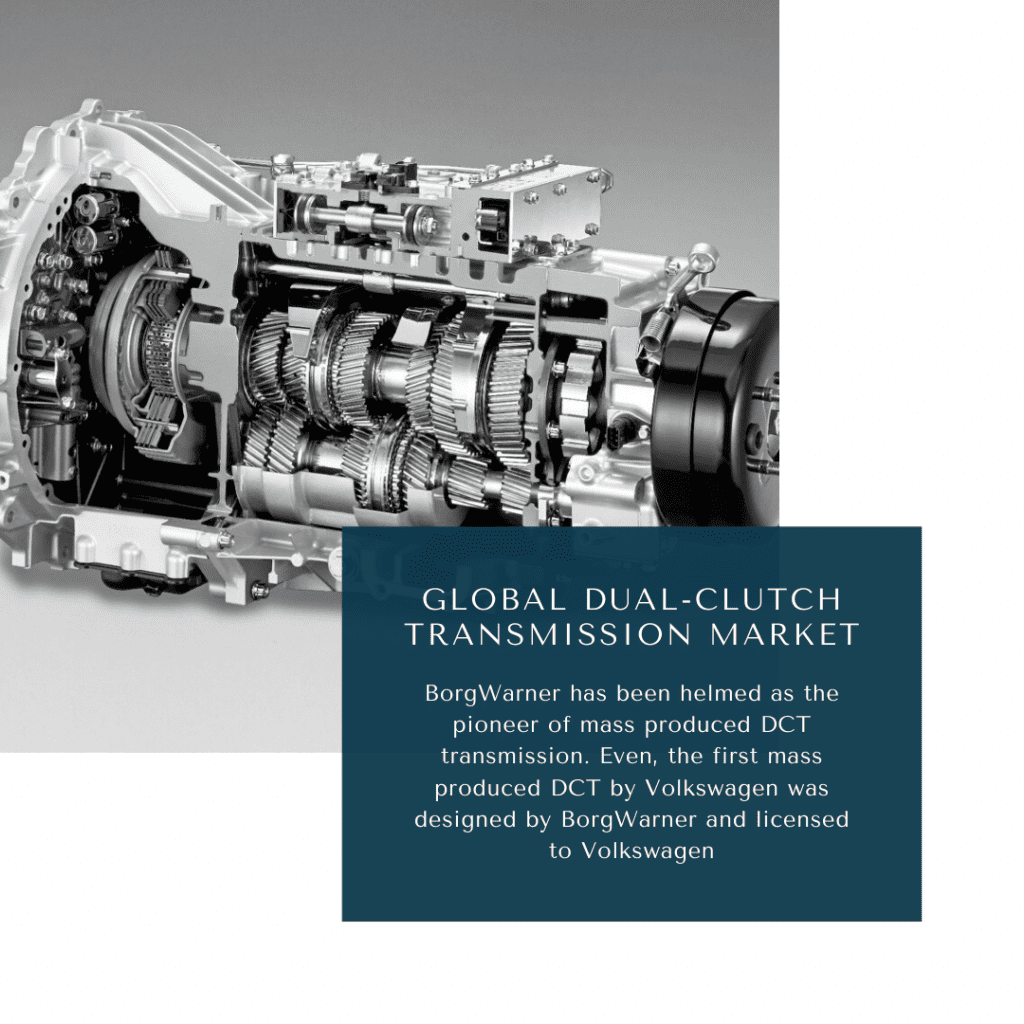 SUVs now make up for almost 36% of new car sales in Europe. To reap advantage of the growing SUV segment in Europe, VW group, the market leader(24% market share) in Europe has introduced 6 new models in the European market over past 12 months, taking its total number of SUVs to 17.DCT transmission penetration in VW group cars is the highest in Europe which sell on an average ~3.6-3.8 Million cars per annum in Europe
Diesel`s share in Germany in Oct 2019 has now declined to the lowest level since Oct 2000 at ~31%. The number of DCT transmissions which can handle torque in excess of 350Nm is much lower than transmission with torque handling capacity of 250Nm. Therefore, growth in gasoline powered vehicles volume should further increase the off-take of DCT transmission equipped vehicles in Europe.
High popularity of SUVs with <1.6L turbo engines coupled with 6/7 speed DCT transmission in China will be a major growth driver for DCT transmission market.
DUAL-CLUTCH TRANSMISSION MARKET SEGMENTATION

DUAL-CLUTCH TRANSMISSION MARKET SIZE AND FORECAST
Volkswagen group cars have the highest share of DCT transmission fitment followed by Ford, Hyundai/Kia. As of Sep 2019, 27 Million+ VW cars have been sold with a DCT transmission and the mid and premium segment cars (Ex Tiguan, Passat etc) have 80+% installation rate.
In Europe, among the top 25 best-selling cars, 14 out of 25 had at least one variant with DCT transmission, whereas in China 6 out of top 10 best-selling SUVs had DCT transmission as standard.
Globally, 7- speed DCT transmission (input torque <250Nm) has outgrown all other DCT transmission segment in transverse powertrain.
The global Dual-clutch  transmission market was estimated at $XX Billion in 2019 growing at –% CAGR till 2025
COMPETITIVE LANDSCAPE
The supplier base of DCT transmission market is limited due to limited adoption of this technology by car manufacturers. So far only Ford, Hyundai and select European automakers have equipped their cars with DCT. Most of the Japanese car makers have stayed away from this technology due to various reasons.
BorgWarner has been helmed as the pioneer of mass produced DCT transmission. Even, the first mass produced DCT by Volkswagen was designed by BorgWarner and licensed to Volkswagen. In China, the American multinational has an agreement with 12 local manufacturers to produce DCT modules for their various passenger cars locally.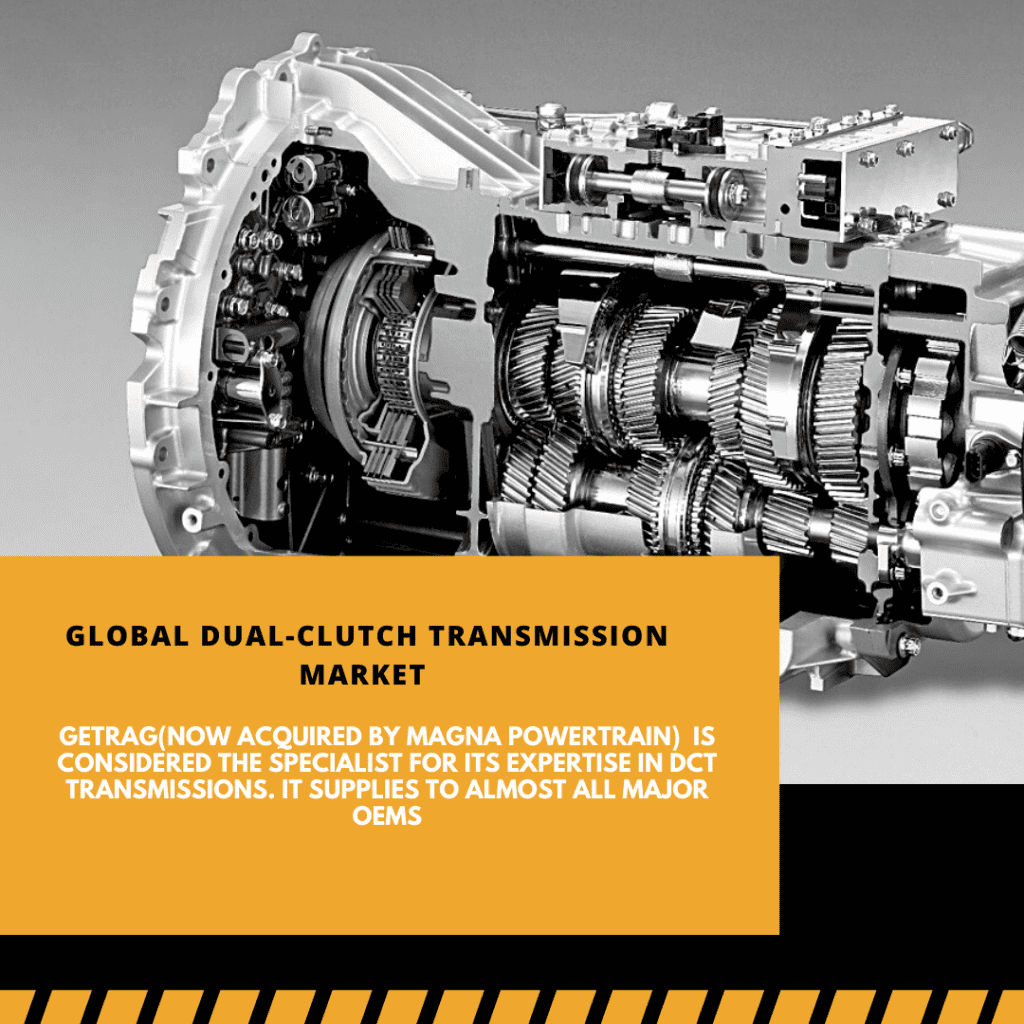 The in-house development of this DCT transmission technology has been limited to less than 5 OEMs. In 2007, Volkswagen became the first OEM to develop the widely used 7-speed DSG, in-house, followed by Renault in 2009
Getrag(now acquired by Magna Powertrain)  is considered the specialist for its expertise in DCT transmissions. It supplies to almost all major OEMs.
Unlike torque converter automatics, where new transmissions integrating electric motor have been developed for MHEV/PHEV applications, many suppliers(except Magna) are yet to develop something like that in DCT market. Therefore, it will be interesting to see the impact of growing vehicle electrification on DCT transmission market.
COMPANIES PROFILED
Fiat Powertrain Technologies
Oerlikon Graziano
THIS REPORT WILL ANSWER THE FOLLOWING QUESTIONS
How will the DCT transmission market grow/decline in key geographies globally?
Impact of e-mobility on DCT transmission market
Which vehicle segment will generate the highest DCT transmission demand in top 10 countries?
DCT transmission demand in luxury cars segment
What`s happening in the DCT transmission material supply chain?
Average B-2-B price in all segments
Future technology trend of DCT transmission and manufacturing capacity in US, Europe, China, and India
New product development and launches
Upcoming vehicle platforms with DCT transmission
OE- Supplier alignment in dual-clutch transmission market
Market share of leading players in different segments
To enquire about the report, write to us at sales@mobilityforesights.com
| | | |
| --- | --- | --- |
| 1 | Market Segmentation | 3 |
| 2 | Executive Summary | 5-6 |
| 3 | Introduction | 7-10 |
| 4 | Insights from Industry stakeholders | 11 |
| 5 | Key criteria for DCT transmission adoption by OEMs | 12-13 |
| 6 | Raw material supply chain and DCT transmission manufacturing in US, Europe and China | 14-15 |
| 8 | New product development and innovation | 18-19 |
| 9 | Global automotive transmission trends | 20-21 |
| 10 | Impact of growth in EV market on DCT transmission market | 22-23 |
| 11 | Market Size ,Dynamics and Forecast By Product type | 29-38 |
| 12 | Market Size ,Dynamics and Forecast By Application | 29-38 |
| 13 | Market Size ,Dynamics and Forecast By sub-component | 39-48 |
| 14 | Market Size ,Dynamics and Forecast By Geography | 49-65 |
| 16 | Competitive Landscape | 79-82 |
| 17 | OEM-supplier relationship in DCT transmission market | 27-28 |
| 18 | Company Profiles | 80-95 |
| 19 | Unmet needs and Market Opportunity for suppliers | 96-97 |
| 20 | Conclusion | 98-99 |
| 21 | 5 Key predictions | 100 |
| 22 | Appendix | 101 |