Global Defense Tactical Computers Market 2020-2025
August 24, 2020

Request Sample
Coming Soon
Multi User License - $2,500
GLOBAL DEFENSE TACTICAL COMPUTERS MARKET
KEY FINDINGS
In August, 2019, U.S. Defense Logistics Agency Aviation has awarded a contract of $28.4 Million five-year contract to Viasat for Small Tactical Terminals (STT) used by US special ops command. 
U.S. Navy's shipboard electronics tactical communication networks to be upgraded by Systel Inc., Texas. 
In April,2019, Northrop Grumman won a $3.2 Billion contract from U.S. Navy to build 24 more E-2D Hawkeye radar aircraft (a tactical Airborne Early Warning (AEW) aircraft). 
In 2019, Oshkosh Defense Inc. won a contract of $1.6 Billion from U.S. Government to make Joint Light Vehicles with tactical computers. 
Holt Integrated Circuits introduced a new rugged MIL-STD-1553 dual transceiver with integrated transformer which has a temperature withstanding range of -55 ℃ to 125 ℃. 
Army Future Command (AFC) to oversee all modernization process, which includes installation of tactical computers with AI and Machine learning ability, to be completed by 2028 with an estimated cost of $50 Billion.   
INTRODUCTION
The ever-increasing demand of data in the field and off field is at its peak and expected to grow in coming times. Majority of these data are defense related, which require fast and secure access to this information, emphasizing the requirement of highly rugged, high performance and reliable computing devices which can withstand even in harshest environment.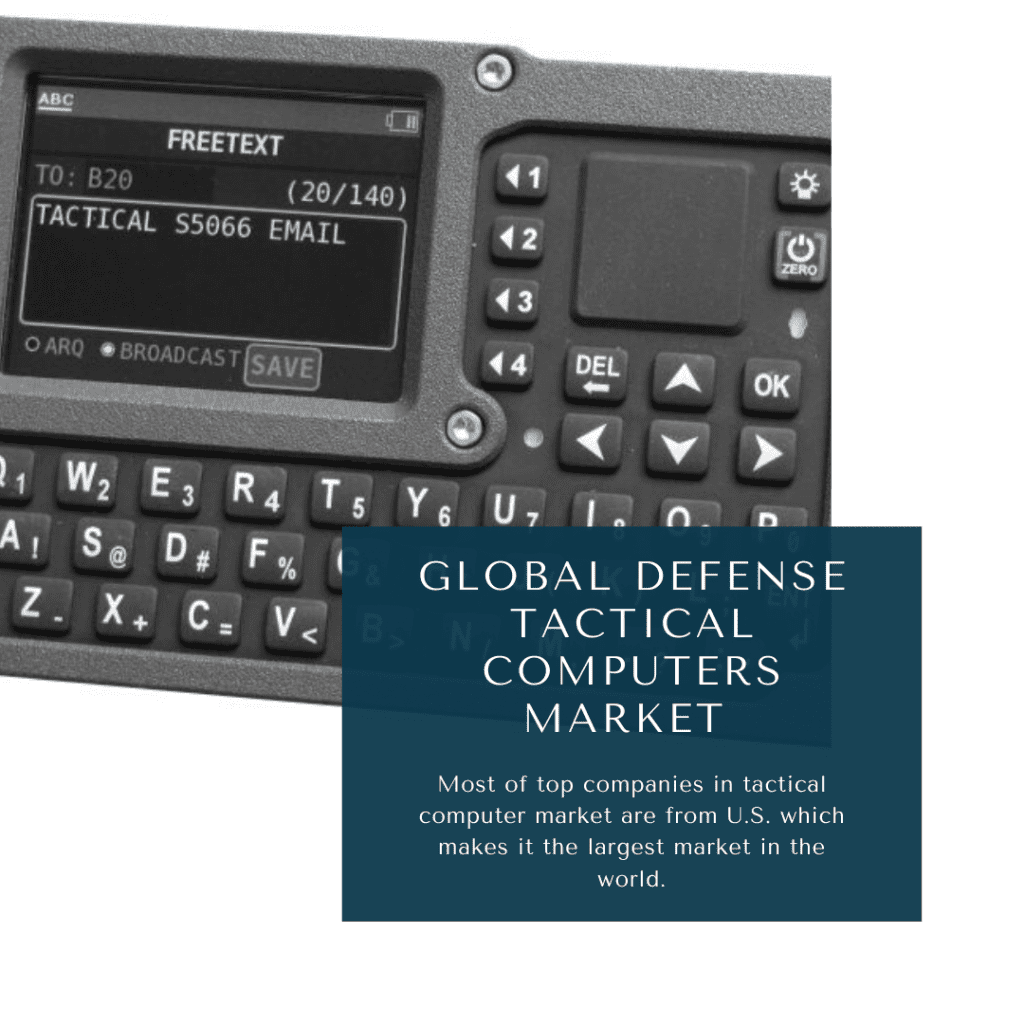 Accentuating paperless or digital storing of information is accelerating the demand of tactical computers throughout the military services i.e. ground, naval, air and space. Tablets and 2-in-1 computers are most demanded device in the military right now.
Internet of Things (IoT) and cloud computing are the new destination for aerospace and defense application and tactical computers are big help in such technologies.
DEFENSE TACTICAL COMPUTERS MARKET SEGMENTATION
BY TYPE
Tactical computers can be classified into to two types
RUGGED COMPUTERS
These computers can withstand any harsh environmental condition like extreme heat, cold region, in water conditions, vibrations and shock etc.
Rugged computers can be wearable and portable.
EMBEDDED COMPUTERS
Embedded computers are used in positioning, utility control, flight control, fire control, air defense system etc. These computers are fitted inside another device, equipment or system.
DEFENSE TACTICAL COMPUTERS MARKET BY PLATFORM
 Military command centers need rugged and highly compact computer servers for a number of defense purposes like real-time sharing of data, voice, image and videos from warships, aircrafts, submarines, fighter jets, tanks, armored vehicles, on field troops etc.
Various types of Intelligence, Surveillance and Reconnaissance (ISR) operations are performed by military which needs real time information sharing with the central command and other forces. these situations have led the demand of tactical computers in all three platforms-
Army
Navy
Air Force
U.S. Navy's Network Tactical Common Data Link (NTCDL) is a common center for sharing real time data of almost every action. 
DEFENSE TACTICAL COMPUTERS BY REGION
NORTH AMERICA
 In the last 20 years or so, U.S. Government has been spending billions of dollars to upgrade their old interactive equipment with more advanced tactical computers, which will allow them for real time information sharing between personnel and command centers.
Most of top companies in tactical computer market are from U.S. which makes it the largest market in the world.
ASIA PACIFIC
 Asia Pacific countries specially China has been developing cutting edge technologies in tactical equipment for its all three formats of military to share information, positioning, tracking, Intelligence, Surveillance and Reconnaissance (ISR) operations etc.
India has become the biggest importer of tactical computers after Government's decision to upgrade the existing systems of information sharing platform.
EUROPE
 United Kingdom, Britain, Italy, France and Germany are the top spenders in tactical computers market. Investment has increased in the recent years due to procurement of advanced fighter jets and tactical rotorcrafts to suppress the enemy's air defense.
European countries are spending more on R&D to get the top-notch products across all military platforms.
COMPETITIVE LANDSCAPE
U.S. Airforce to issue contract worth $99 Million for improved SWaP (size, weight and power) to deploy AI and Machine learning in embedded computing systems. 
U.S. plan to replace its $6 Billion Warfighter Information Network-Tactical (WIN-T) program after it loses its edge against Chinese and Russian technologies. 
KEY PLAYERS IN DEFENSE TACTICAL COMPUTERS MARKET
SAAB AB, SWEDEN
SECURE COMMUNICATION SYSTEMS INC., U.S.
| | |
| --- | --- |
| Sl no | Topic |
| 1 | Market Segmentation |
| 2 | Scope of the report |
| 3 | Abbreviations |
| 4 | Research Methodology |
| 5 | Executive Summary |
| 6 | Introduction |
| 7 | Insights from Industry stakeholders |
| 8 | Cost breakdown of Product by sub-components and average profit margin |
| 9 | Disruptive innovation in the Industry |
| 10 | Technology trends in the Industry |
| 11 | Consumer trends in the industry |
| 12 | Recent Production Milestones |
| 13 | Component Manufacturing in US, EU and China |
| 14 | COVID-19 impact on overall market |
| 15 | COVID-19 impact on Production of components |
| 16 | COVID-19 impact on Point of sale |
| 17 | Market Segmentation, Dynamics and Forecast by Geography, 2020-2025 |
| 18 | Market Segmentation, Dynamics and Forecast by Product Type, 2020-2025 |
| 19 | Market Segmentation, Dynamics and Forecast by Application, 2020-2025 |
| 20 | Market Segmentation, Dynamics and Forecast by End use, 2020-2025 |
| 21 | Product installation rate by OEM, 2020 |
| 22 | Incline/Decline in Average B-2-B selling price in past 5 years |
| 23 | Competition from substitute products |
| 24 | Gross margin and average profitability of suppliers |
| 25 | New product development in past 12 months |
| 26 | M&A in past 12 months |
| 27 | Growth strategy of leading players |
| 28 | Market share of vendors, 2020 |
| 29 | Company Profiles |
| 30 | Unmet needs and opportunity for new suppliers |
| 31 | Conclusion |
| 32 | Appendix |