Global Defense Tactical Radio Market 2020-2025
June 15, 2020

Request Sample
Coming Soon
Multi User License - $1,800
Global Defense Tactical Radio Market 2020-2025
INTRODUCTION
Motorola introduced DynaTAC 8000x, the first commercial handheld cell phone in 1983, weighting 800gms with 10 hours of recharge time and cost $3,500-$4,000. In early 1980s it was touted as among the greatest revolution in communication equipment for defence personnel in modern history.
Batteries have always been the major limitation for wearable computing devices including defense tactical radio for individual warfighting personnel. Lightweight, long-lasting, fast, and field-rechargeable batteries have been in heavy demand.
As Battlefield deployments could last up to 3-4 days, short-lived batteries could be fatal to personnel relying on in-uniform communications and other related devices.
MARKET DYNAMICS
Since 2018, many armies across the globe are looking to capitalize on Internet of Things(IOT), highly secure networking along with smartphone like computing to improve their communication.Reduced size, weight, and power (SWaP) requirements have become a reality in nearly every Defense program now.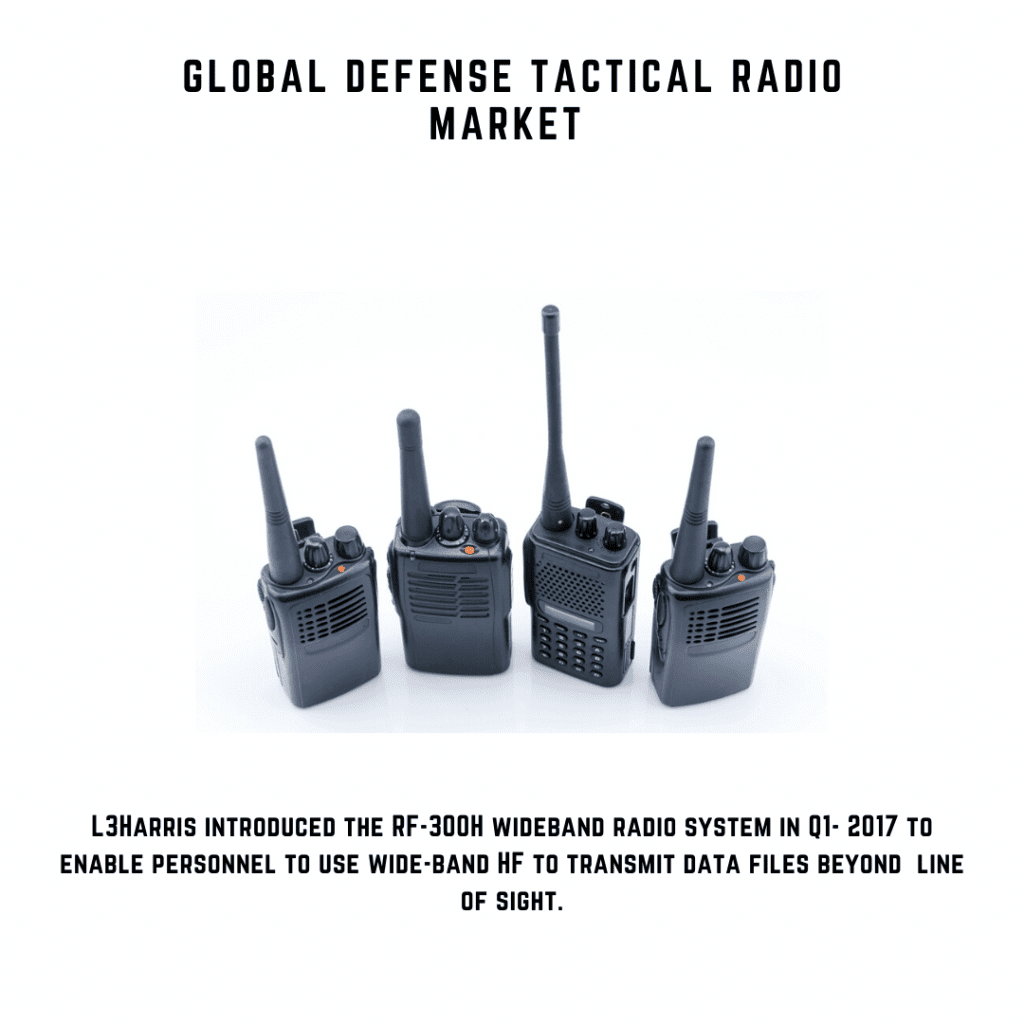 The US Army is now looking to further integrate cloud computing technologies into military micro-cell for front role warriors and software-defined radios to connect cell phones, laptop computers, and tactical radios.
US DARPA wants communication communication contractors to provide long-range communication through mosaic antennas comprising  low size, weight, power, and cost (SWaP-C) transceiver element. The mosaic approach could also work with unmodified military tactical radios and waveforms, and still be cost effective.
NEW CONTRACTS AWARDED IN DEFENSE TACTICAL RADIO MARKET
May 2020- U.S. Navy awarded ViaSat and Data Link solutions, a five-year contract worth ~$0.99 Billion to provide digital tactical networking and voice communications capability for U.S. and allied aircraft, land vehicles, and surface warships
May 2020– U.S. Army awarded a  contract for tactical network man-pack radios from L3Harris and Collins Aerospace worth $203.2 Million. the production will begin in Q1-2021
May 2020– US based Silvus Technologies was awarded a $3.9 million order from the U.S. Army to provide tactical Mobile Ad Hoc (MANET) radios 
March 2020-  Marine corps  officials awarded a $382 Million, 5 year contract to L3Harris for RF-300H-MP manpack radios, RF-300H-MP vehicle-mount radios, and RF-300H-MP radio transit cases. It is to be noted that the RF-300H delivers data  10X faster than the AN/PRC-150(C) it will replace by March 2025
Sep 2019- Collins Aerospace was awarded a contract to provide AN/ARC-210 secure avionics radios for U.S. and allied Military aviation. It will also provide additional AN/ARC-210 avionics radios and related equipment for U.S. and foreign military aircraft. The order is valued at $310 Million. The new equipment are expected to be delivered by Sep 2022
Sep 2019– Northrop Grumman  was awarded a $51 Million contract to build Huntsman secure networking radio for aviation and missile-defense application. The LX-4-SAB radio offers NSA-certified Suite B cryptography and several radio frequencies for anti-jam redundancy. The radio is water-resistant and can withstand temperature extremes, wind, rain, snow and dust.
June 2019- Naval Information Warfare Systems Command  in San Diego awarded a $41.5 Million 5 year contract to L-3.HF radio. L-3 will do the work in Camden and should be finished by June 2024
May 2019–  Israel based Elbit Technologies was awarded a $127 Million contract to supply vehicular tactical radio systems. The vehicular tactical radio systems will be delivered till 2022.The radios will include multiple configurations for integration of a range of armored vehicles and tanks 
Feb 2019– New Zealand Army awarded Harris Defence Australia a $40 Million contract for a new tactical communications network. Till Jan 2019, the Australian defence forces had some 20,000 Harris radios across land, sea and air platforms.
MARKET SIZE AND FORECAST
US Army is expected to spend $9.6 Billion between 2020-2025 to upgrade communication equipment.The investment  will be made for  2-channel Leader radio, the Manpack radio and the Rifleman radio The critical design review for Capability Set`21 has already been conducted.
The global Defense tactical radio market is estimated at $XX Billion in 2020 growing at –% CAGR till 2025
COMPETITIVE LANDSCAPE
The defense tactical radio market has about 15 major suppliers who rely on cutting edge R&D for new product development.
L3Harris introduced the RF-300H wideband radio system in Q1- 2017 to enable personnel to use wide-band HF to transmit data files beyond  line of sight.Harris was also among the very first companies to to deploy software-defined radios (SDRs) based on specifications from the now defunct Joint Tactical Radio Systems (JTRS) program.
Collins cryptography is using Tactical secure Voice Suite B algorithms to secure the ARC-210 radios. Rohde & Schwarz  was awarded a $16 Million- 7 year contract in April 2018 for shipboard and mobile long-range communications. The deliverable included HF radio transceiver systems from the company's series 2000 and 4100 radio communications families. 
In Jan 2020, BAE Systems completed the acquisition of Raytheon Technologies Corporation's Airborne Tactical Radios business after receiving regulatory and other customary approvals. In the very same month, Northrop Grumman  won a contract to develop open architecture radio for USAF battle management system. The contract is aimed at providing four radio frequency waveforms: Multifunction Advanced Data Link (MADL),Link-16 CMN-4, Common Data Link (CDL),  and Multi User Objective System (MUOS).
COMPANY PROFILES
THIS REPORT WILL ANSWER FOLLOWING QUESTIONS
Market Size and Forecast of Defense Tactical radio market ( Units and $Million),2020-2025
New defense tactical radio contracts awarded in past 3 years by governments across the world
New product development in last 12 months
Major opportunities, risks, and threats in global Defense tactical radio market
Market share of major vendors
Growth strategy followed by major defense tactical radio contractors
| | |
| --- | --- |
| Sl no | Topic |
| 1 | Market Segmentation |
| 2 | Scope of the report |
| 3 | Abbreviations |
| 4 | Research Methodology |
| 5 | Executive Summary |
| 6 | Introduction |
| 7 | Insights from Industry stakeholders |
| 8 | Cost breakdown of Product by sub-components and average profit margin |
| 9 | Disruptive innovation in the Industry |
| 10 | Technology trends in the Industry |
| 11 | Consumer trends in the industry |
| 12 | Recent Production Milestones |
| 13 | Component Manufacturing in US, EU and China |
| 14 | COVID-19 impact on overall market |
| 15 | COVID-19 impact on Production of components |
| 16 | COVID-19 impact on Point of sale |
| 17 | Market Segmentation, Dynamics and Forecast by Geography, 2020-2025 |
| 18 | Market Segmentation, Dynamics and Forecast by Product Type, 2020-2025 |
| 19 | Market Segmentation, Dynamics and Forecast by Application, 2020-2025 |
| 20 | Market Segmentation, Dynamics and Forecast by End use, 2020-2025 |
| 21 | Product installation rate by OEM, 2020 |
| 22 | Incline/Decline in Average B-2-B selling price in past 5 years |
| 23 | Competition from substitute products |
| 24 | Gross margin and average profitability of suppliers |
| 25 | New product development in past 12 months |
| 26 | M&A in past 12 months |
| 27 | Growth strategy of leading players |
| 28 | Market share of vendors, 2020 |
| 29 | Company Profiles |
| 30 | Unmet needs and opportunity for new suppliers |
| 31 | Conclusion |
| 32 | Appendix |