Global Electric Aircraft Market 2020-2025
November 9, 2020

Request Sample
Coming Soon
Multi User License - $2,500
GLOBAL ELECTRIC AIRCRAFT MARKET
INTRODUCTION
The electric aircraft market trend was started when the global trend of vehicle electrification picked up pace. The main reason for transition to Electric Vehicles was due to the higher emission rate of conventional engines.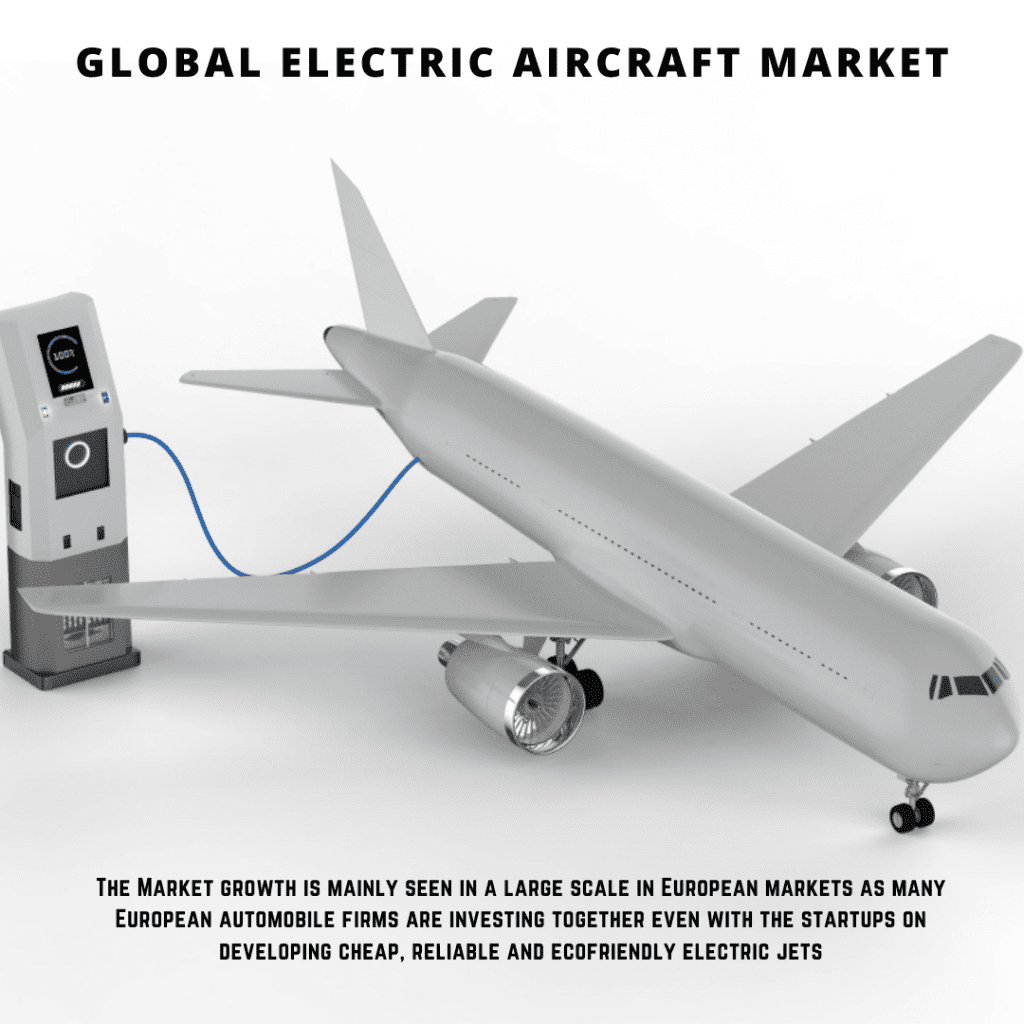 The transition from conventional engines to electric driven mode using batteries and propellers was initially introduced in aircraft designs in order to reduce emissions from aircrafts which are driven by conventional engines and gas turbines, as they cause a lot of pollution in the stratosphere which increases the depletion of ozone layer due to the harmful gases released by the engine.
DESIGN REQUIREMENT AND ROLE OF THE ELECTRIC AIRCRAFT
DESIGN REQUIREMENT
The desired design selection which is highly required by the market and the public are:
4 passengers including pilot
Range = Maximum of 800km
Cruise speed = 150-200km/h
Fully electrical powered.
ROLE OF ELECTRIC AIRCRAFT
The Aircraft needs to be very light weight in order to decrease weight to power ratio.
The aircraft should deliver more power per unit weight.
The energy conversion needs to be more efficient.
Improved high altitude performance.
High reliability and safety.
The Electric aircraft needs to be less noisy when compared to conventional aircraft.
The maintenance need to be easy for the aircraft.
The electric aircraft should be less polluting aircraft type.
NEW PRODUCT DEVELOPMENT IN ELECTRIC AIRCRAFT MARKET
On 23 September 2020, Gothenburg-based Heart Aerospacepresented its ES-19 design, a 19-seat all-electric commercial aircraft planned to fly by mid-2026.
On 10 June 2020, the Velis Electrovariant of the two-seat Pipistrel Virus was the first electric aircraft to secure type certification, from the EASA
On 28 May 2020, an electric-powered Cessna 208BECARAVAN, became the largest commercial aircraft to fly on electric power.
Australia-based Magnixintended to fly an electric Cessna 208 Caravan with a 540 kW (720 HP) motor for up to an hour, on August 2019.
On May 2019, Roland Berger counted almost 170 electric aircraft programmes in development, anticipating over 200 by the year end.
On March 19, 2018, Israel Aerospace Industriesannounced it plans to develop a short-haul electric airliner, building on its small UAS electric power systems experience
The NASA Puffinwas a concept, proposed in 2010, for an electric-powered, vertical take-off and landing (VTOL), personal air vehicle
The European Commission has financed many low TRLprojects for innovative electric or hybrid propulsion aircraft.
SCOPE OF THE ELECTRIC AIRCRAFT
Ultralight Aircraft
Light Jet
Battery
Electric Motor
Others
Hybrid
All Electric
Less than 500 KM
More than 500 KM
North America
Europe
Asia Pacific
Rest of the World
ELECTRIC AIRCRAFT MARKET SIZE AND FORECAST
The Market growth is mainly seen in a large scale in European markets as many European automobile firms are investing together even with the startups on developing cheap, reliable and ecofriendly electric jets.
The secondary large electric jet market is the United States of America. NASA in 2010 started a project of the vertical takeoff of an electric jet as same as the mechanism used in the F35 fighter jets. Then several companies joined the electric jet race combining with NASA.
The global electric aircraft market size is estimated at $XX Million in 2020 growing at –% CAGR till 2025.
FUTURE POTENTIAL
The future mainly includes the increased reliability of the electric jets. The reliability and cost reduction are the important aspects which are highly concentrated by every company which is manufacturing electric aircrafts as they spend a sizable amount in the Research and Development for increased reliability and cost reduction.
They are also investing in research into lightweight alternative materials, wire insulation, conductors, and the improvement of magnetic materials and semi-conductors to make motors and electronics lighter.
The Leaptech program is also widely used in order to check the efficiency and reliability in using multiple propellers in a single frame. Turbo-electric propulsion concepts create more efficient aircraft by combining turbine engines with generators that distribute power to electrically driven propulsors.
COMPANIES PROFILED
| | |
| --- | --- |
| Sl no | Topic |
| 1 | Market Segmentation |
| 2 | Scope of the report |
| 3 | Abbreviations |
| 4 | Research Methodology |
| 5 | Executive Summary |
| 6 | Introduction |
| 7 | Insights from Industry stakeholders |
| 8 | Cost breakdown of Product by sub-components and average profit margin |
| 9 | Disruptive innovation in the Industry |
| 10 | Technology trends in the Industry |
| 11 | Consumer trends in the industry |
| 12 | Recent Production Milestones |
| 13 | Component Manufacturing in US, EU and China |
| 14 | COVID-19 impact on overall market |
| 15 | COVID-19 impact on Production of components |
| 16 | COVID-19 impact on Point of sale |
| 17 | Market Segmentation, Dynamics and Forecast by Geography, 2020-2025 |
| 18 | Market Segmentation, Dynamics and Forecast by Product Type, 2020-2025 |
| 19 | Market Segmentation, Dynamics and Forecast by Application, 2020-2025 |
| 20 | Market Segmentation, Dynamics and Forecast by End use, 2020-2025 |
| 21 | Product installation rate by OEM, 2020 |
| 22 | Incline/Decline in Average B-2-B selling price in past 5 years |
| 23 | Competition from substitute products |
| 24 | Gross margin and average profitability of suppliers |
| 25 | New product development in past 12 months |
| 26 | M&A in past 12 months |
| 27 | Growth strategy of leading players |
| 28 | Market share of vendors, 2020 |
| 29 | Company Profiles |
| 30 | Unmet needs and opportunity for new suppliers |
| 31 | Conclusion |
| 32 | Appendix |