Global Electric Excavator Market 2020-2025
August 27, 2020

Request Sample
Number of Pages- 70
Multi User License - $2,500
GLOBAL ELECTRIC EXCAVATOR MARKET
INTRODUCTION
As the auto industry worldwide moves to a sustainable, electrified future, a similar movement can be seen in off highway vehicle segment. As of Aug 2020, there are 156 electrified models available for sales across construction, agricultural and material handing segment as compared to less than 50, five years ago.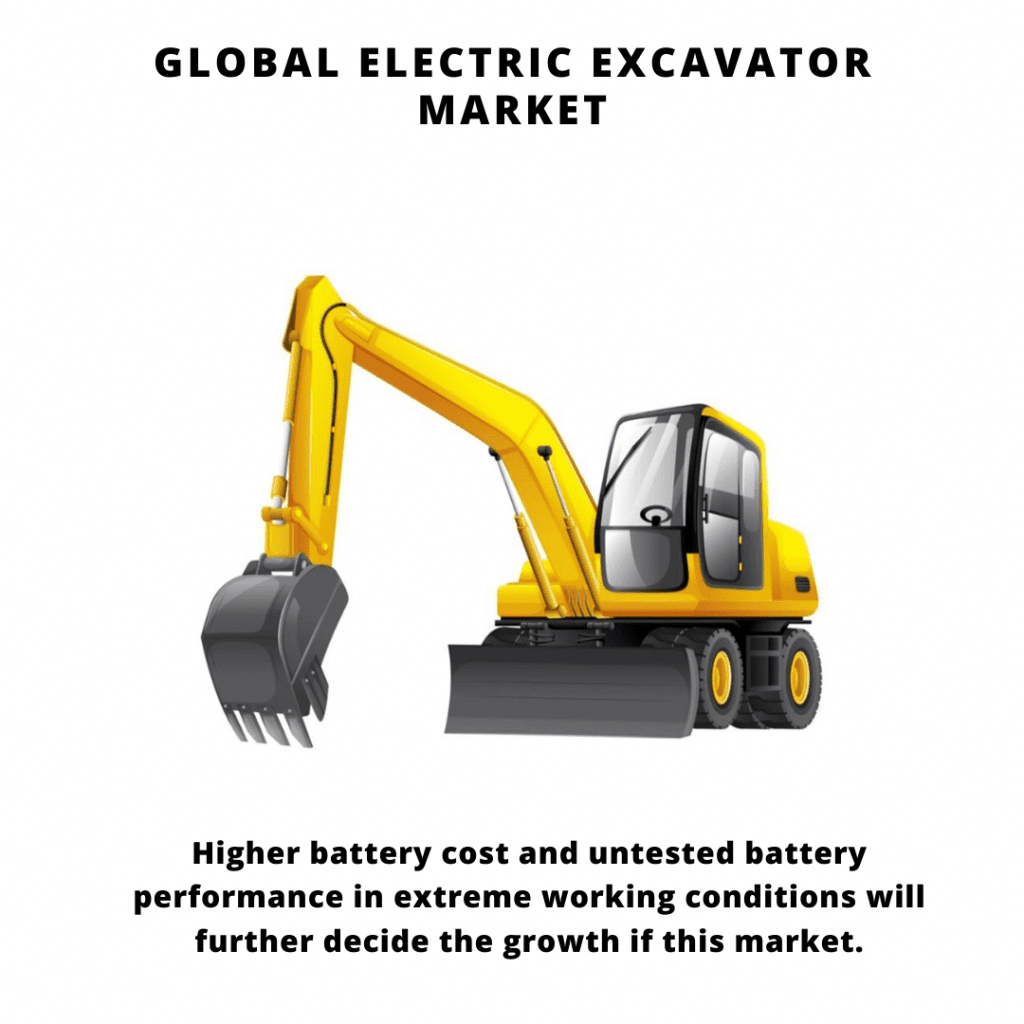 In compact excavator segment, the push towards electrification is higher due to ecological aspects as these machines primarily operate in urban environment.
In terms of operating cost, a battery powered earthmover is lower than that of a diesel-powered machine
GLOBAL ELECTRIC EXCAVATOR MARKET DYNAMICS
In Europe, especially in city centres there has been an increasing trend of banning high emission vehicles and subsequently there has been growing demand for zero emission, low noise machines. Examples include indoor demolition and basement projects, urban/city centre developments, night-time work and construction in hospitals, schools etc
The further development of electric vehicle battery and charging solutions has further aided the development of electric excavator market.
In Bauma 2016, Bobcat showcased the prototype of the E10e, which generated tremendous interest and traction from prospects.
NEW PRODUCTS DEVELOPED IN ELECTRIC EXCAVATOR MARKET
Feb 2019– Bobcat launched new E10e, 1 tonne, zero tail swing (ZTS) mini-excavator based on the very successful diesel powered E10 ZTS mini-excavator for indoor applications such as demolition and basement construction. The biggest advantage of this excavator is that when charged with a 400V supercharger it can operate throughout a full working day and can be recharged to 80% of the capacity in under 2 hours
April 2019– Hyundai, unveiled HX10A, powered by a Yanmar diesel engine but can also be bought with an HPU electro hydraulic unit.
July 2018- France based Mecalac started producing a wheeled electric excavator, the e12, which has an operational range of eight hours and 146kW per hour of power. The powertrain is supplied by Dana.
GLOBAL ELECTRIC EXCAVATOR MARKET SIZE AND FORECAST
In 2020, post COVID, Europe is expected to be the fastest growing market for electric vehicles and it is no different in case of electric excavators. Bobcat is already producing E10e at Dobris, Czech Republic to take advantage of this.
Higher battery cost and untested battery performance in extreme working conditions will further decide the growth if this market.
The global Electric excavator market is estimated at $XX Million in 2020, growing at –% CAGR till 2025.
COMPETITIVE LANDSCAPE
The conventional excavator market has always been consolidated and it is no different in case of electric excavators. However, OEMs are following different strategies and setting different milestones to achieve higher electrification.
Volvo Construction equipment has already announced that the company would not produce diesel powered compact excavators or wheeled loaders in the future.
Hyundai is working with Cummins on a 100% electric-powered excavator –believes that by offering a plug-in system with no charging required it can appeal to larger chunk of fleet operators
Germany based Wacker Neuson is one of the prominent manufacturers of electric equipment but does not believe that in the medium term all products will be electric.
China-based LiuGong utilises most of the diesel excavator's hydraulic system allowing a reduced R&D timeline.
COMPANY PROFILES
THIS REPORT WILL ANSWER FOLLOWING QUESTIONS
Market Size and Forecast (2020-2025), Units and $M
Market split by region, end use segment and excavator Power output
Market share of leading vendors, 2020
COVID impact on Electric excavator market and OEMs earnings
Electric excavator technology trends
| | |
| --- | --- |
| Sl no | Topic |
| 1 | Market Segmentation |
| 2 | Scope of the report |
| 3 | Abbreviations |
| 4 | Research Methodology |
| 5 | Executive Summary |
| 6 | Introduction |
| 7 | Insights from Industry stakeholders |
| 8 | Cost breakdown of Product by sub-components and average profit margin |
| 9 | Disruptive innovation in the Industry |
| 10 | Technology trends in the Industry |
| 11 | Consumer trends in the industry |
| 12 | Recent Production Milestones |
| 13 | Component Manufacturing in US, EU and China |
| 14 | COVID-19 impact on overall market |
| 15 | COVID-19 impact on Production of components |
| 16 | COVID-19 impact on Point of sale |
| 17 | Market Segmentation, Dynamics and Forecast by Geography, 2020-2025 |
| 18 | Market Segmentation, Dynamics and Forecast by Product Type, 2020-2025 |
| 19 | Market Segmentation, Dynamics and Forecast by Application, 2020-2025 |
| 20 | Market Segmentation, Dynamics and Forecast by End use, 2020-2025 |
| 21 | Product installation rate by OEM, 2020 |
| 22 | Incline/Decline in Average B-2-B selling price in past 5 years |
| 23 | Competition from substitute products |
| 24 | Gross margin and average profitability of suppliers |
| 25 | New product development in past 12 months |
| 26 | M&A in past 12 months |
| 27 | Growth strategy of leading players |
| 28 | Market share of vendors, 2020 |
| 29 | Company Profiles |
| 30 | Unmet needs and opportunity for new suppliers |
| 31 | Conclusion |
| 32 | Appendix |