Global Electric Farm Tractor Market 2020-2025
October 28, 2020

Request Sample
COMING SOON
Number of Pages- 70
Multi User License - $2,500
GLOBAL ELECTRIC FARM TRACTOR MARKET
INTRODUCTION
Electrification in auto industry has been a global trend for more than 5 years now and it was just a matter of time when it would trickle down to off highway vehicles.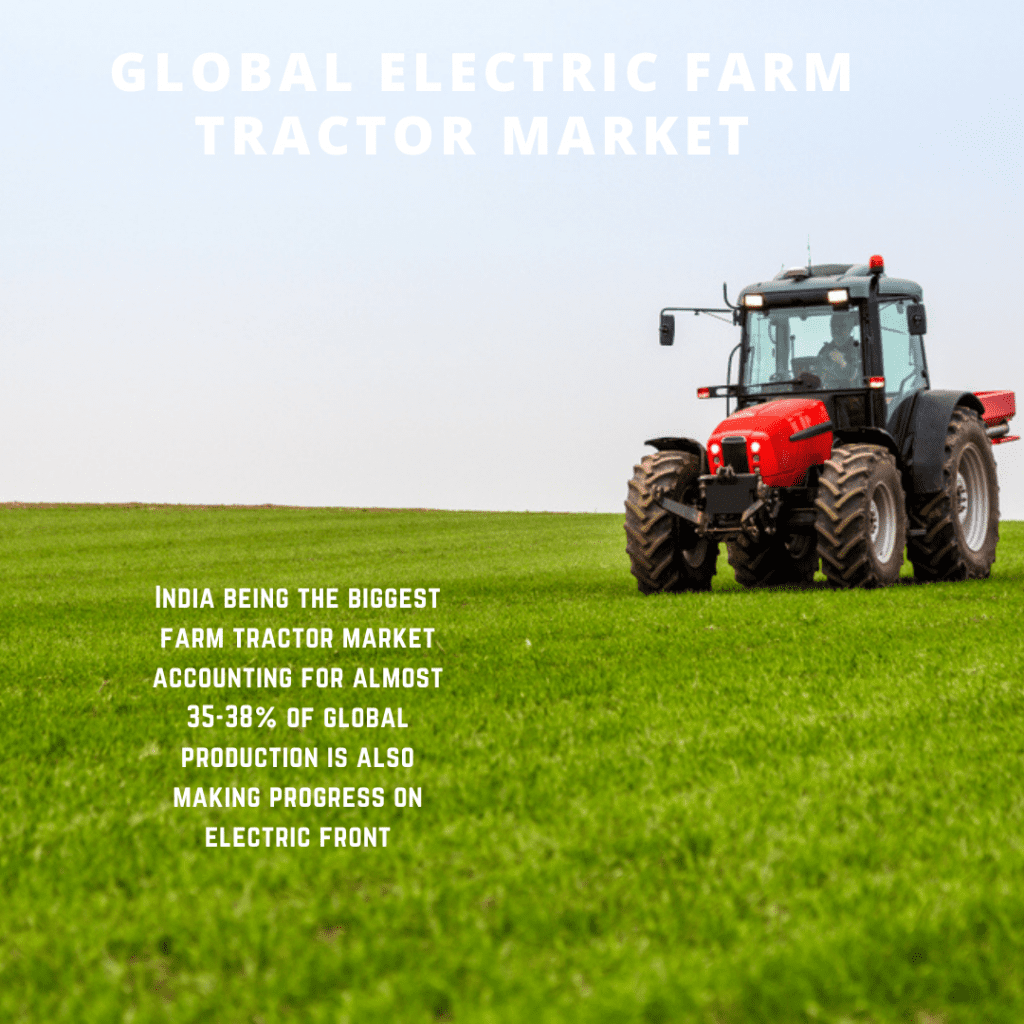 Equipment manufacturers across the globe are experimenting with various electrical equipment to improve tractors and implements.
MARKET DYNAMICS
Electrically driven tractors could be very efficient in energy consumption and the weight to power ratio / power density. The absence of emissions could be a crucial environmental benefit.
The agriculture industry believes there are a few barriers that are preventing electrification of agriculture tractors. The biggest problem lies in the specific energy of Li ion batteries and the pulling power from electric motor as compared to Diesel as a fuel.
India being the biggest farm tractor market accounting for almost 35-38% of global production is also making progress on electric front. In 2017, Escorts Ltd launched India`s first electric tractor concept. The product was aimed to cater to 22 HP to 90 HP range and compliant with tier 4 emission norms of Europe and America.
US based Solectrac has manufactured 10-12 units of eUtility models based on two-wheel drive Farmtrac diesel tractor hardware from Escorts. It already has the Solectrac e70N in development which is a larger 70hp-equivalent model with four-wheel drive.
NEW PRODUCTS DEVELOPED
As per John Deere, the future farming vision is centred around three fields:
Electrification
Artificial Intelligence (AI) and
Automation and autonomy
In March 2020- John Deere showcased "Joker", the fully autonomous electric tractor with articulated steering and a tracked single axle.
In Jan 2020- Kubota unveiled prototypes of electric tractors and electric compact excavators. It is actively engaged in research and development of electric components like motors, inverters, and battery packs.
In Nov 2019, CNH Industrial N.V.: STEYR showcased future farming technology with its STEYR Konzept – a hybrid powered concept tractor
MARKET SIZE AND FORECAST
The global electric farm tractor market is estimated at $XXM in 2020 growing at –% CAGR till 2025
COMPANY PROFILES
Escorts Ltd
THIS REPORT WILL ANSWER FOLLOWING QUESTIONS
Market opportunity for electric tractors by region, application and power output (Units and $M), 2020-2025
Important growth drivers and trends in electric farm tractor market
New product development and impact of development in Lithium ion batteries
COVID impact on electric tractor adoption
| | |
| --- | --- |
| Sl no | Topic |
| 1 | Market Segmentation |
| 2 | Scope of the report |
| 3 | Abbreviations |
| 4 | Research Methodology |
| 5 | Executive Summary |
| 6 | Introduction |
| 7 | Insights from Industry stakeholders |
| 8 | Cost breakdown of Product by sub-components and average profit margin |
| 9 | Disruptive innovation in the Industry |
| 10 | Technology trends in the Industry |
| 11 | Consumer trends in the industry |
| 12 | Recent Production Milestones |
| 13 | Component Manufacturing in US, EU and China |
| 14 | COVID-19 impact on overall market |
| 15 | COVID-19 impact on Production of components |
| 16 | COVID-19 impact on Point of sale |
| 17 | Market Segmentation, Dynamics and Forecast by Geography, 2020-2025 |
| 18 | Market Segmentation, Dynamics and Forecast by Product Type, 2020-2025 |
| 19 | Market Segmentation, Dynamics and Forecast by Application, 2020-2025 |
| 20 | Market Segmentation, Dynamics and Forecast by End use, 2020-2025 |
| 21 | Product installation rate by OEM, 2020 |
| 22 | Incline/Decline in Average B-2-B selling price in past 5 years |
| 23 | Competition from substitute products |
| 24 | Gross margin and average profitability of suppliers |
| 25 | New product development in past 12 months |
| 26 | M&A in past 12 months |
| 27 | Growth strategy of leading players |
| 28 | Market share of vendors, 2020 |
| 29 | Company Profiles |
| 30 | Unmet needs and opportunity for new suppliers |
| 31 | Conclusion |
| 32 | Appendix |