Electric Three Wheeler Market in India 2020-2025
September 1, 2020

Request Sample
COMING SOON
Multi User License - $1,800
ELECTRIC THREE WHEELER MARKET IN INDIA-INTRODUCTION
India has been making headlines for past 2 years about the mass-shift to e-mobility, across two-wheeler and passenger vehicle segments but without much success. On the other hand, a segment of auto manufacturing has silently adopted e-mobility like no other and is showing no signs of slowing down, i.e. electric three-wheeler market in India or e-rickshaw as it is widely called.
India being a developing country, where annual per capita income was just ~$1,800 in 2018, three-wheelers are an important mode of transportation for millions of Indians. Very often, they are associated with high pollution in northern and Eastern India where single-cylinder gasoline/diesel autos are prevalent due to non-existent CNG/LPG infrastructure.
MARKET SEGMENTATION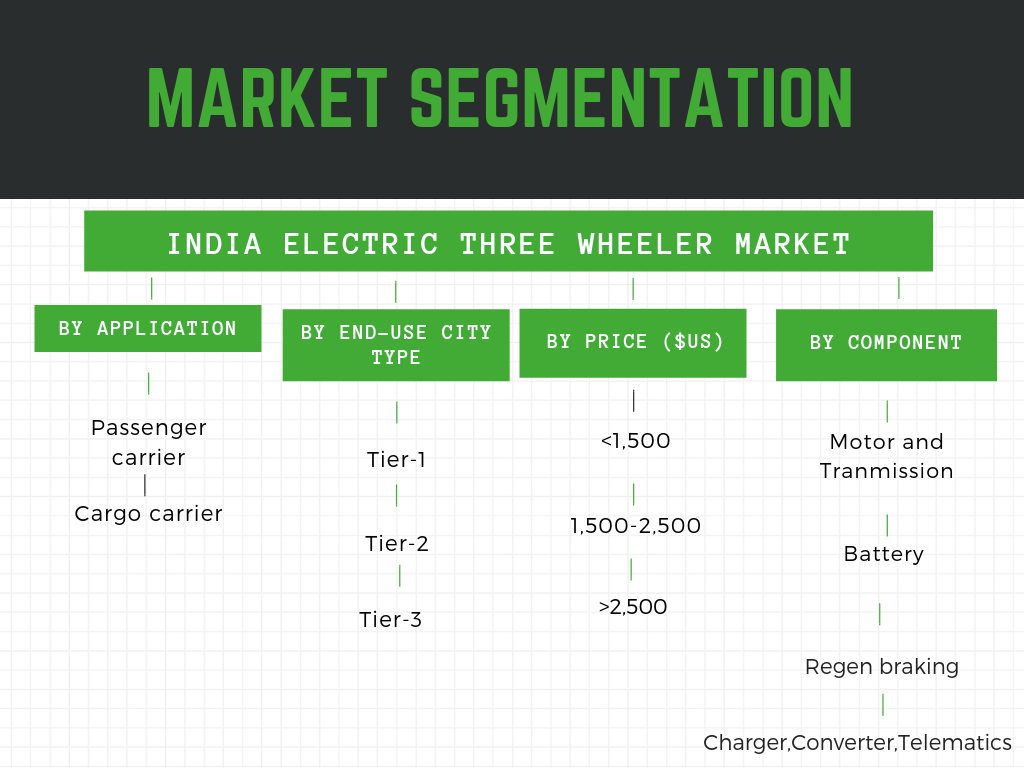 MARKET DYNAMICS
Electric three wheelers started starts gaining popularity post 2012. They have now become a viable alternative for pedal powered and gas engine powered rickshaws. The biggest reason behind growth of electric three-wheeler in India is not regulation/incentives but the low running cost (70-80% savings as compared to gas powered three-wheeler) for driver as well as passenger.
The buyer/driver of electric three-wheeler is expected to recover his investment in 8-9 months and the rider gets an affordable ride at Rs 10 (~$0.15) per ride. Not to mention, the added benefits of non-polluting first mile/last mile/short trip transportation, which is becoming a menace in tier-2 cities
During 2012-2013 when the market was in early stages of development, 100% of electric three-wheelers were powered by Lead Acid batteries but now there is a definite shift towards Li-ion batteries.
MARKET SIZE AND FORECAST
The electric three-wheeler market in India is estimated at ~$150 Million in 2019 and has the potential to go past $1 Billion by 2025.
SOME OF THE ELECTRIC THREE WHEELERS AVAILABLE IN INDIA -JULY 2019
| | | | | | | |
| --- | --- | --- | --- | --- | --- | --- |
| Sl no | OEM | Model | Battery(kWh) | Top speed (Km/hr) | Ideal Range (Kms) | Price range without subsidy(USD) |
| 1 | Mahindra & Mahindra | Treo | 3.7-7.4 | 25-45 | 85-130 | ~$2,000-$3,200 |
| 2 | Lohia Auto | Comfort | 4.8 | 25 | 100 | ~$1,800-$2.400 |
| 3 | Kinetic Green | DX | 2.1 | 25 | 80 | ~$1,900 |
| 4 | Terra Motors | Y4 Alfa | 4.8 | 25 | 100 | ~$1,900 |
| 5 | Gayam Motor Works | Urban ET | 4.8 | 55 | 110 | ~$4,700 |
                                                                                                                                            Source- Dealers and company websites
OPPORTUNITY IN THE INDIAN ELECTRIC THREE-WHEELER MARKET
FOR COMPONENT MANUFACTURERS
Given the history of low R&D spending by Indian auto component manufacturers, there exists a huge gap in demand and supply for critical components like battery, motor controller, regen braking etc.
The domestic supplier base of gasoline/CNG/LPG powered three- wheelers is strong and mature but they are still coming to terms with emission shift to BS VI(comparable to Euro VI). Thus, very limited investment has been made on e-mobility so far. Majority of Indian Electric two and three wheelers companies are relying on Bosch for e-powertrain development.
The market leaders of conventional 3-wheelers (Bajaj and TVS with cumulative 80% market share) are still developing their products and that is where the biggest opportunity lies for component suppliers.
FOR ELECTRIC THREE WHEELER MANUFACTURERS
The market size of electric three- wheelers in India has already outgrown gasoline/CNG/LPG by 20% in FY 2019. But it wont stop there as many pedal rickshaw drivers, which are abundant in northern and eastern India(densely populated cities with narrow lanes) will shift to Electric three wheelers further augmenting the market size.
COMPETITIVE LANDSCAPE
The boom in electric three-wheeler market in India has resulted in many small scale, regional players entering the market. Among the major reasons for this is the substitution of complicated Internal combustion engine with e-powertrain, resulting in greater simplification of three-wheeler manufacturing.
The bigger players are still developing their products with superior technology and will launch them prior to April 2020 BS VI timeline.
IMPORTANCE OF BALANCED DISTRIBUTION IN ELECTRIC THREE WHEELER MARKET IN INDIA
For Electric three wheelers to do well in India, the distribution has to better than the existing market leaders. The dealers for electric three wheelers are so far concentrated in Northern and Eastern India and have almost negligible presence in the west and south.  For comparison, Bajaj (market leader of three wheelers with 50% market share) has 2,200 dealers across India. About 45% are spread across comparatively wealthier and Industrialized west and south India.
COMPANY PROFILES
Terra Motors
Kinetic Green Energy & Power Solutions Ltd
Vani Electric Vehicles pvt. Ltd.
Udaan E Rickshaw
Goenka Electric Motor Vehicles Pvt. Ltd.
THIS REPORT WILL ANSWER THE FOLLOWING QUESTIONS
Market size of electric three-wheeler market in India and growth potential in every year (2019-2025)? Most important disruption factors in every segment
Which electric three-wheeler segment (Passenger/cargo) will have highest growth and in which region?
How much battery range and charging time is enough for electric three-wheeler drivers/operators in India?
Electric three-wheeler battery and associated components manufacturing in India
Impact of Electric three-wheeler market growth on conventional three- wheeler market
Details on government schemes and legislation promoting electric three-wheeler market in India
Role of Chinese imports in electric three-wheeler manufacturing
OE-supplier alignment in electric three-wheeler market in India?
Who are the leading distributors of electric three wheelers in India?
All about new product development, new entrants, start-ups, and manufacturing plants
Market share of leading players in different segments?
Details on workforce shortage of skilled sales and service support for electric three-wheeler in India
Potential in integration of electric three-wheelers with on-demand taxi market in India
              To request customization, Please write to us at sales@mobilityforesights.com
| | | |
| --- | --- | --- |
| 1 | Market Segmentation | 3 |
| 2 | Executive Summary | 5-6 |
| 3 | Introduction | 7-10 |
| 4 | Insights from Industry stakeholders | 11 |
| 5 | Key criteria for E-rickshaw adoption by OEMs | 12-13 |
| 6 | Raw material supply chain and E-rickshaw manufacturing in India | 14-15 |
| 7 | Pain point of dealers and distributors | 16-17 |
| 8 | New product development and innovation | 18-19 |
| 9 | Important three wheeler trends in India | 20-21 |
| 10 | Impact of growth in EV market on conventional three wheeler market | 22-23 |
| 11 | Market Size ,Dynamics and Forecast By City type | 29-38 |
| 12 | Market Size ,Dynamics and Forecast By Application | 29-38 |
| 13 | Market Size ,Dynamics and Forecast By Price | 39-48 |
| 14 | Market Size ,Dynamics and Forecast By Component | 49-65 |
| 15 | Government legislation and incentives for electric -three wheelers | 66-67 |
| 16 | Three wheeler battery manufacturing in India | 68-69 |
| 17 | Competitive Landscape | 70-72 |
| 18 | OEM-supplier relationship in Electric three-wheeler market | 73-74 |
| 19 | Company Profiles | 75-90 |
| 20 | Unmet needs and Market Opportunity for OEMs and suppliers | 91-97 |
| 21 | Conclusion | 98-99 |
| 22 | 5 Key predictions | 100 |
| 23 | Appendix | 101 |