Global Electronic Cargo Tracking System Market 2020-2025
August 6, 2020

Request Sample
Coming Soon
Multi User License - $2,500
GLOBAL ELECTRONIC CARGO TRACKING SYSTEM MARKET
KEY FINDINGS
India to introduce ECTS (electronic cargo tracking systems) at more cross-border points to facilitate traffic-in-transit from other countries.
ECTS (electronic cargo tracking systems) helps in retaining good customers and grow market share and revenue.
ECTS can provide benefits to both the public and private sector.
East African countries are adopting this technology to reduce tax evasion and theft, which in turn leads to an increase in Tax revenue.
INTRODUCTION
Cargo travels for long-distance. And unfortunately, there is an increase in theft, tax evasion, delays in clearance which results in increased cost.
Electronic cargo tracking in developing countries has benefited transporters with increased efficiency and productivity, which leads to cost reduction benefits.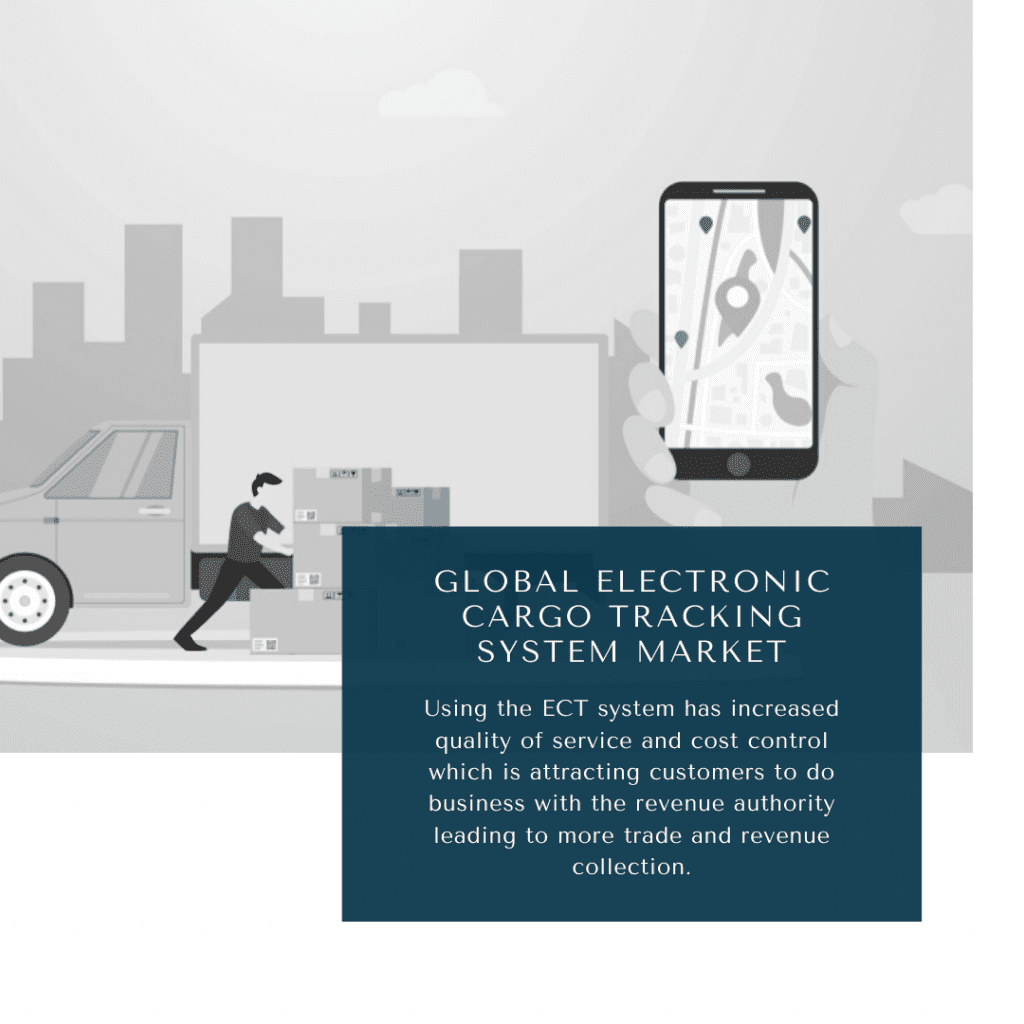 The system also helps in better-quality reliability and service quality, which is usually thought of as tools to hold good customers and increase market share and revenue and lastly there is enhanced shipment and container veracity, built around a core of security issues.
The system similarly presents benefits to the public sector.
WHAT IS ECTS?
It is a type of cargo tracking and monitoring software system which is responsible for gathering, analyzing, displaying data and notifying users to activity related to cargo being transported in real-time. It consists of a speed monitor, an engine idling monitor, a temperature sensor, a door sensor, a GPS (global positioning sensor), or a power sensor.
HOW ECTS WORKS?
The devices attached to the cargo container report data to a monitoring system.
A server receives, normalizes and stores the data obtained.
The data associated with the device and shipment are presented to the user.
These data are monitored for any alert
If any alert condition exists, the customer or the operations user or both are alerted based on pre-set preferences.
If no alert condition occurs, the process continues with the devices reporting data until the shipment is received at the destination.
HOW IT GENERATES ALERTS FOR USER?
The application system consists of various sensors with a predetermined statistic. If those stats are violated, it alerts the user. Details of such sensors are as follows-
An engine in an idle position for more than a predetermined period.
Exceeding a predetermined
A communication loss for more than a predetermined period.
A door open
A temperature outside a predetermined range.
A global positioning system (GPS) failure.
The cargo container has stopped moving in a non-designated stopping area.
Loss of power in the device attached to cargo.
A signal that the cargo container has diverted from a geofenced route.
The application system defines three levels of alert priorities: high, medium, and system. High-level alerts are displayed on both the operational and the customer security centre websites, and also comprise sending a user notification. Medium level alerts are only shown on the executive or customer security centre website. System-level alerts are only displayed on the operational security centre website and may include sending a notification, depending on the individual alert configuration.
If the alert generated is a type of clearing condition or a kind of false alarm, the alerts are auto cleared.
MARKET SIZE AND FORECAST
The global electronic cargo tracking system market si estimated at $XX Million in 2020 growing at –% CAGR till 2025
BENEFITS OF ECTS
Real-time reporting of any incident related to container security violation before arriving at destination and custom and port authorities' remedial action is a core issue. This technology helps avoid most of these problems. Some features are pointed below-
An electronic system eliminates the old ways of doing business, which involved loads of paper works.
It provides a double edge, one with the expectation in the reduction of illicit trade caused by diversion lead and second is increased collection of revenue from imports.
The usage of the radio frequency identification (RFID) system to monitor cargo in transit has created a significant impact by improving transit management in global supply chains, ultimately reducing inventory costs by up to 70% along with the service offered improved.
Using the ECT system has increased quality of service and cost control which is attracting customers to do business with the revenue authority leading to more trade and revenue collection.
CHALLENGES AND FUTURE SCOPE OF ECTS
The logistics industry is a multi-billion-dollar
Shipment industry itself loses billions of dollars in cargo theft every year.
With this size of this business, it's difficult keeping track of shipments, especially cross border shipments where custom and port authorities are only meant to transfer the cargo.
The process involved in information processing by border officials, along with other intelligence agencies is presently quite taxing with vulnerabilities associated with container stacking are also quite high.
ECTS demand is quite high in East African countries like Uganda, Kenya, Tanzania their governments have already been using this technology and are planning to expand to have more Tax Revenue.
India introduced ECTS, in 2019, at the Kolkata port and cross-border point between India-Nepal to facilitate traffic-in-transit from other countries.
KEY PLAYERS IN ELECTRONIC CARGO TRACKING SYSTEM MARKET
Alibaba
Transecur
Myascents
Trackntrace
Webtechnologies.co
Utrackafrica
| | |
| --- | --- |
| Sl no | Topic |
| 1 | Market Segmentation |
| 2 | Scope of the report |
| 3 | Abbreviations |
| 4 | Research Methodology |
| 5 | Executive Summary |
| 6 | Introduction |
| 7 | Insights from Industry stakeholders |
| 8 | Cost breakdown of Product by sub-components and average profit margin |
| 9 | Disruptive innovation in the Industry |
| 10 | Technology trends in the Industry |
| 11 | Consumer trends in the industry |
| 12 | Recent Production Milestones |
| 13 | Component Manufacturing in US, EU and China |
| 14 | COVID-19 impact on overall market |
| 15 | COVID-19 impact on Production of components |
| 16 | COVID-19 impact on Point of sale |
| 17 | Market Segmentation, Dynamics and Forecast by Geography, 2020-2025 |
| 18 | Market Segmentation, Dynamics and Forecast by Product Type, 2020-2025 |
| 19 | Market Segmentation, Dynamics and Forecast by Application, 2020-2025 |
| 20 | Market Segmentation, Dynamics and Forecast by End use, 2020-2025 |
| 21 | Product installation rate by OEM, 2020 |
| 22 | Incline/Decline in Average B-2-B selling price in past 5 years |
| 23 | Competition from substitute products |
| 24 | Gross margin and average profitability of suppliers |
| 25 | New product development in past 12 months |
| 26 | M&A in past 12 months |
| 27 | Growth strategy of leading players |
| 28 | Market share of vendors, 2020 |
| 29 | Company Profiles |
| 30 | Unmet needs and opportunity for new suppliers |
| 31 | Conclusion |
| 32 | Appendix |