Global Energy Storage Market 2020-2025
November 12, 2020

Request Sample
Coming Soon
Multi User License - $2,500
GLOBAL ENERGY STORAGE MARKET
INTRODUCTION
The global energy storage market has been witnessing growth on account of imbalances in power supply and demand owing to power outages from storms, equipment failures and fire accidents.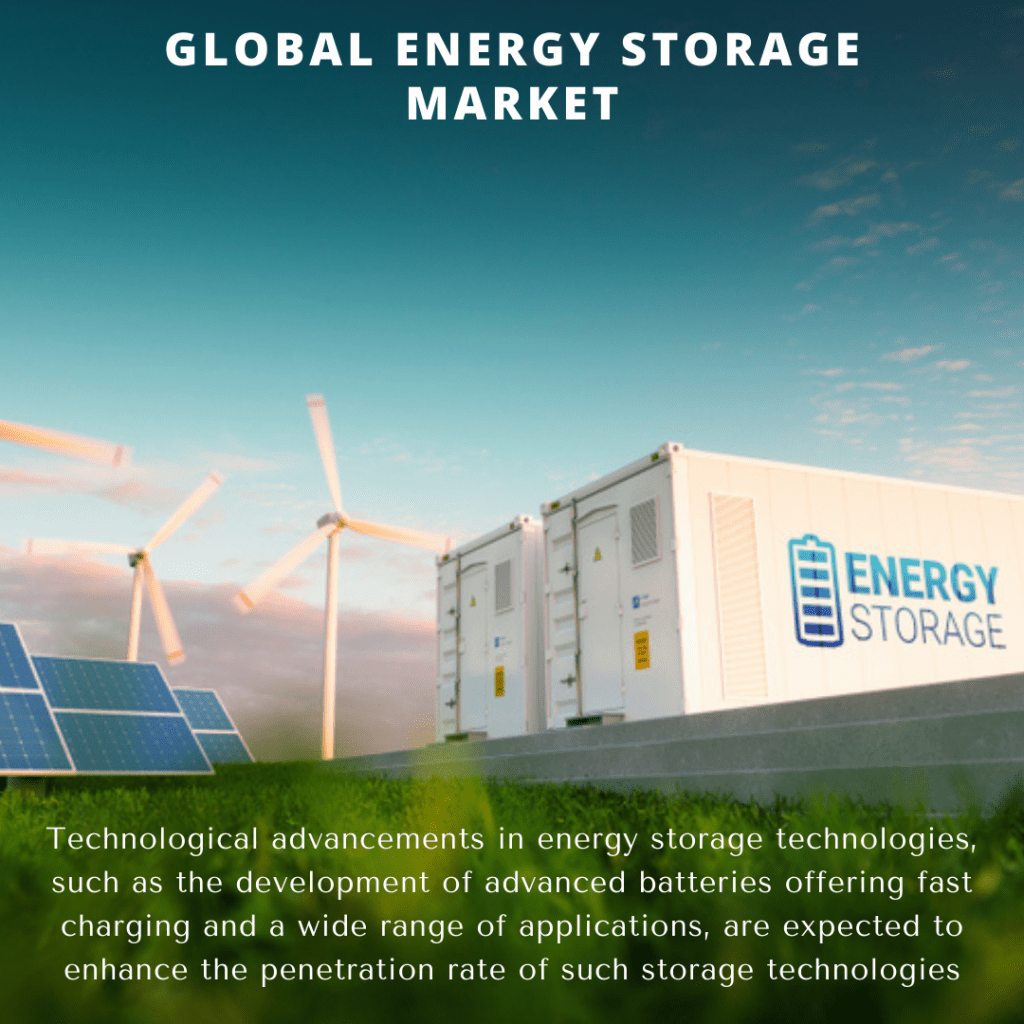 Energy storage helps eradicate energy poverty which is one of the key factors that is anticipated to dive the market over next few years. Traditional energy sources including coal and natural gas power plants switch on and off according to demand fluctuations.
Poor power quality and pollution of traditional energy sources created the demand for energy storage system over the past few years and it is expected to continue over the forecast period.
MARKET DYNAMICS
Increased adoption of energy storage systems in transportation
Software integration for management of energy storage systems
Increasing adoption of renewable energy
In electric vehicles, there  is a need of storing energy and it should help the vehicle to cover a maximum distance. So, there is a demand in high capacity storage system like superconductive batteries.
Adapting to new resources of energy, there is a surge in demand for storage of energy. The pollution created by coal and natural gas are a threat to environment. Natural resources are not available forever. Because of this, industries are moving towards renewable resources like solar energy, wind energy etc.
Growing investments in renewable energy is anticipated to enhance the demand for energy storage systems in utility solutions. These variable methods of power generation presents challenge to electrical grids situated locally, that are typically not designed to handle different output generated and are often stretched-out in providing the existing electricity.
Energy storage systems are chiefly suited to smoothing the fluctuating output of renewables and regulating the ramping up and down of wind and solar generation.
The Key driver is the effort by government across the world in order to reduce carbon emissions. About five years ago, the Paris Agreement was negotiated by 197 countries which agreed to set emissions reduction targets with the objective of limiting global warming, less than 2°C compared to pre-industrial levels.
The agreement was attended by a set of targets for emissions moderation in various countries. In the aggregate, the IEA approximates that $13.5 trillion in additional investment will be mandatory just to attain these goals. These directives and the decreased costs of renewable generation are resulting in dropping competitiveness and departure of many coal-fired power plants.
As new coal plant deployments are replaced by distributed resources and renewables, the grid will require new sources of inertia to conserve stability. Inertia on the grid has conventionally delivered by the rotary mass of thermal power generators, that permits the system to uphold stability if a portion of transmission or generation assets go offline.
Energy storage is evolving as an ideal solution for providing synthetic and real inertia as ever-expanding clean power sources come online and cannot replicate the inertia provided by large-scale fossil-fueled generators.
MARKET SIZE AND FORECAST
Growing demand for uninterrupted and reliable power supply from end-use sectors, such as medical, industrial, marine, telecom, and data centers is expected to drive the demand for energy storage systems over the forecast period. Demand for continuous power is anticipated to attain exponential growth in the years to come owing to rapid industrialization, infrastructure development, and continuous population growth over the coming years. This trend is expected to positively influence the energy storage industry landscape.  
Technological advancements in energy storage technologies, such as the development of advanced batteries offering fast charging and a wide range of applications, are expected to enhance the penetration rate of such storage technologies. However, the COVID-19 pandemic has severely impacted the market supply chain, thereby hampering the overall growth of the industry.
The residential sector is expected to account for the largest share in the energy storage market by application with majority of the demand coming from Germany, Australia, and the United States.   
The commercial and industrial (C&I) sector is increasingly adopting renewable power generation sources, such as solar and wind energy, for self-consumption. But renewable energy is an intermittent power source and the C&I sector is failing to utilize these resources to its fullest potential.
COMPETITIVES LANDSCAPE
In February 2017, ABB launched an innovative microgrid, combining battery and flywheel-based storage technologies, designed to test the scalability and improve the power stability for around 300,000 people in Anchorage, Alaska, USA.
In December 2016, Leading battery storage producer Samsung SDI Co., Ltd. (South Korea) teamed up with leading storage inverter maker Dynapower to develop an all-in-one storage solution for commercial and industrial customers. It is a move that will remove intermediaries, lower the installed costs, and encourage a broader use of behind-the-meter batteries.
In March 2016, GS Yuasa Corporation (Japan) announced that the company has introduced a new advanced Nano-Carbon Lead Acid battery. The new SLR-1000 is a two volt advanced lead battery that provides an unprecedented 5000 cycles at 70% depth of discharge.
In March 2015, Samsung SDI Co., Ltd. (South Korea) and ABB Ltd (Switzerland) formed a strategic commercial alliance to develop and market microgrid systems that comprise energy storage solutions. The alliance will help Samsung to expand its leading position in the microgrid market.
COMPANIES PROFILED
| | |
| --- | --- |
| Sl no | Topic |
| 1 | Market Segmentation |
| 2 | Scope of the report |
| 3 | Abbreviations |
| 4 | Research Methodology |
| 5 | Executive Summary |
| 6 | Introduction |
| 7 | Insights from Industry stakeholders |
| 8 | Cost breakdown of Product by sub-components and average profit margin |
| 9 | Disruptive innovation in the Industry |
| 10 | Technology trends in the Industry |
| 11 | Consumer trends in the industry |
| 12 | Recent Production Milestones |
| 13 | Component Manufacturing in US, EU and China |
| 14 | COVID-19 impact on overall market |
| 15 | COVID-19 impact on Production of components |
| 16 | COVID-19 impact on Point of sale |
| 17 | Market Segmentation, Dynamics and Forecast by Geography, 2020-2025 |
| 18 | Market Segmentation, Dynamics and Forecast by Product Type, 2020-2025 |
| 19 | Market Segmentation, Dynamics and Forecast by Application, 2020-2025 |
| 20 | Market Segmentation, Dynamics and Forecast by End use, 2020-2025 |
| 21 | Product installation rate by OEM, 2020 |
| 22 | Incline/Decline in Average B-2-B selling price in past 5 years |
| 23 | Competition from substitute products |
| 24 | Gross margin and average profitability of suppliers |
| 25 | New product development in past 12 months |
| 26 | M&A in past 12 months |
| 27 | Growth strategy of leading players |
| 28 | Market share of vendors, 2020 |
| 29 | Company Profiles |
| 30 | Unmet needs and opportunity for new suppliers |
| 31 | Conclusion |
| 32 | Appendix |