GLOBAL ESCALATORS MARKET
KEY FINDINGS
As of August 2020, the Indian Green Building Council (IGBC) has 7.17 billion sq. ft of registered real estate under development as 'Green'. This constitutes over 5,918 registered projects. This augurs well for the vertical transportation sector, especially for smart and intelligent and sustainable solutions, a key enabler in the process of urbanization of cities.
A total of 6.5 million square meters of new shopping center space was to be delivered in 2019-20. With 2.5 million square meters alone was due to be completed in 2020.
Recently, new projects in middle-east countries have increased the demand for escalators of major companies.
Impact of the COVID-19 pandemic, the industry faced a challenge to observe and enforce the highest safety standards in vertical transportation, which lead to the development of auto-sanitize/anti-microbial technologies to escalator handrail.
INTRODUCTION
The global trends around urbanization remain unchanged; denser urban developments and taller buildings in metropolitan areas, an increasing flow of people moving around cities, a growing middle class and aging populations, as well as a continuing trend towards one-person households all, drive demand for escalators.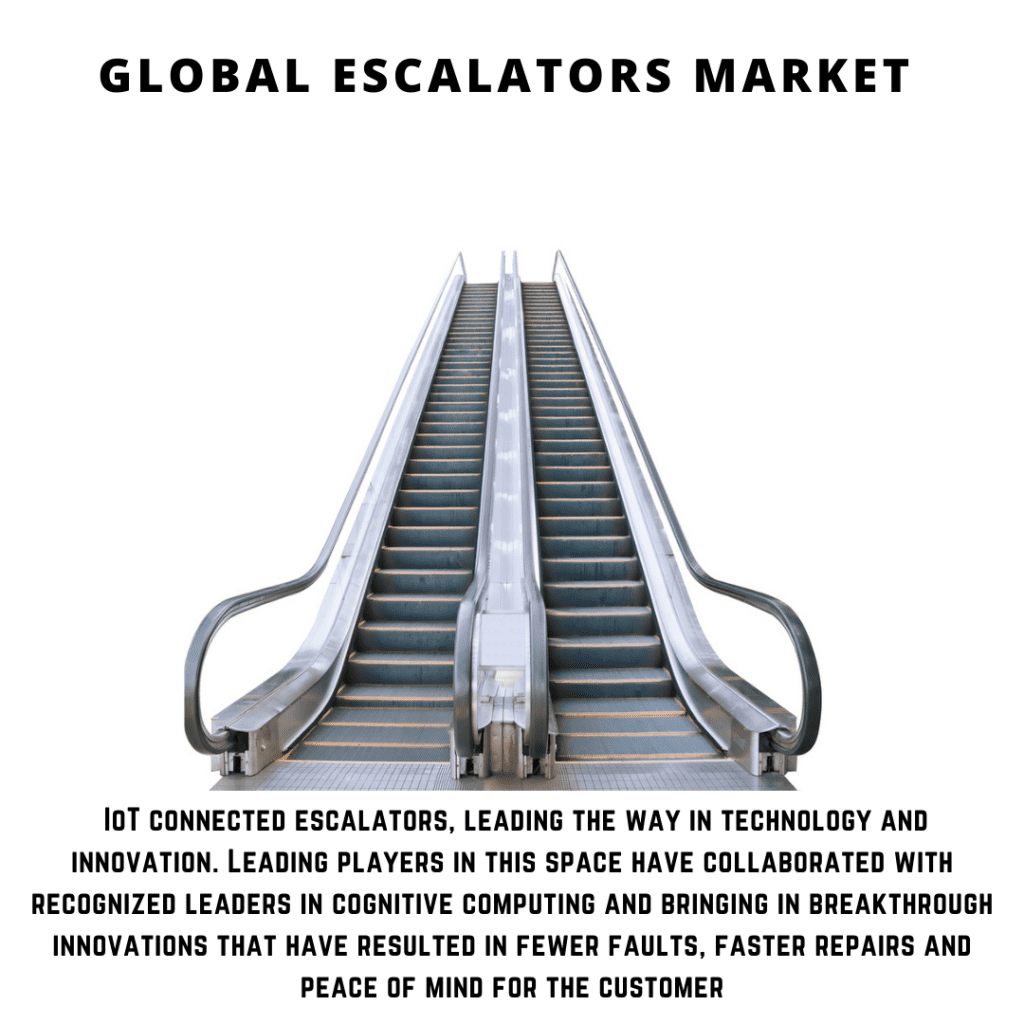 The invention of the escalator was, literally, ground-breaking. It expanded our concept of space and time and, accordingly redefined the possibilities of the shuttle. Stairs and elevators were for the committed and purposeful, their limitations constraining vertical expansion, above and below ground. Stairs require patience and effort. The Escalator has a constant flow of people who could ascend and descend floor to floor and with modified architecture, creating fluid transitions into spaces above and below.
ESCALATORS MARKET DYNAMICS
Escalator seeks to maximize the use of architectural space through design that employs ergonomic curves and values harmony with the building. It will be equipped with a variety of optional features for efficient maintenance and energy savings, including system inverters, transport capacity control systems and CRT monitoring panels, etc. By innovation, a slip prevention step, foot slip minimization system, and other advanced safety devices provide higher stability and greater comfort. With power modernization and with enhanced safety, reliability, energy efficiency and appearance. The process will be completed with minimal downtime and disruption.
In recent years, it is witnessed that smart technology has been transforming the vertical transportation industry by incorporating advanced technologies that offer facilities with increased security, improved energy efficiency, and effective crowd management. The properties of smart escalators such as low energy consumption and faster operations will have a positive impact on the growth of the market in the coming years. As the industry navigates through these unprecedented times, touchless technology has been transforming the industry to make built environments healthier.
The major aim of all the players is to provide enhanced safety and convenience through means such as developing congestion detection systems. To do so, a proactive approach is preferred for human resource development and improving technological capabilities globally.
ESCALATORS MARKET SIZE AND FORECAST
The global escalators market is estimated at $XX Billion in 2020 and growing at XX% CAGR till 2025.
COMPETITIVE LANDSCAPE
Hyundai elevator has developed a novel concept with the world's first transparent LED display in their escalators. The display can be used to provide information in high-rise buildings with a fine view or tourist spots.
Mitsubishi Electric Corporation with its new series of escalators, enhance passenger safety and comfort and also achieve significant energy savings compared to previous models. With targeting annual sales of 500 units in the ASEAN, Middle Eastern, Latin American and Indian markets.
The Internet of Things (IoT) has certainly captivated the attention of the technology and business community, alike. Interestingly, technology has also changed the way buildings are controlled today – they are a lot smarter and more efficient now.  IoT connected escalators, leading the way in technology and innovation. Leading players in this space have collaborated with recognized leaders in cognitive computing and bringing in breakthrough innovations that have resulted in fewer faults, faster repairs and peace of mind for the customer. Using the latest technology, the escalators will be monitored and keep technicians one step ahead of what is happening.
Otis is expanding its digital technology portfolio for faster, smarter escalators and service solutions that enhance the future passenger experience and support smart city development. It has showcased several innovative Internet of Things (IoT) solutions as well as smart escalator systems and services and illustrating "The Future Passenger Experience".
COMPANIES PROFILED