Europe Automotive Lead-acid Battery Market 2019-2025
December 1, 2019

Request Sample
COMING SOON
Multi User License - $1,800
EUROPE AUTOMOTIVE LEAD-ACID BATTERY MARKET
KEY FINDINGS
As of Oct 2019, there were 426 passenger car models on sale in Europe with 4,270 variants. SUVs accounted for 121 models followed by hatchbacks with 116 models.The average lead acid battery capacity was 58Ah
Italy, UK, Germany and Spain have on an average 630 cars/thousand inhabitants and average age of cars is ~11 years. Therefore, one vehicle on an average requires 3-4 lead-acid batteries in its lifetime.
Till Oct  2019, European auto market has done comparatively well in comparison to other major auto markets. So far the EU market is down by just ~1.5% compared to 12% in China, and 4% in US and 13% in India.Commercial vehicle sales are up 4.5% 
INTRODUCTION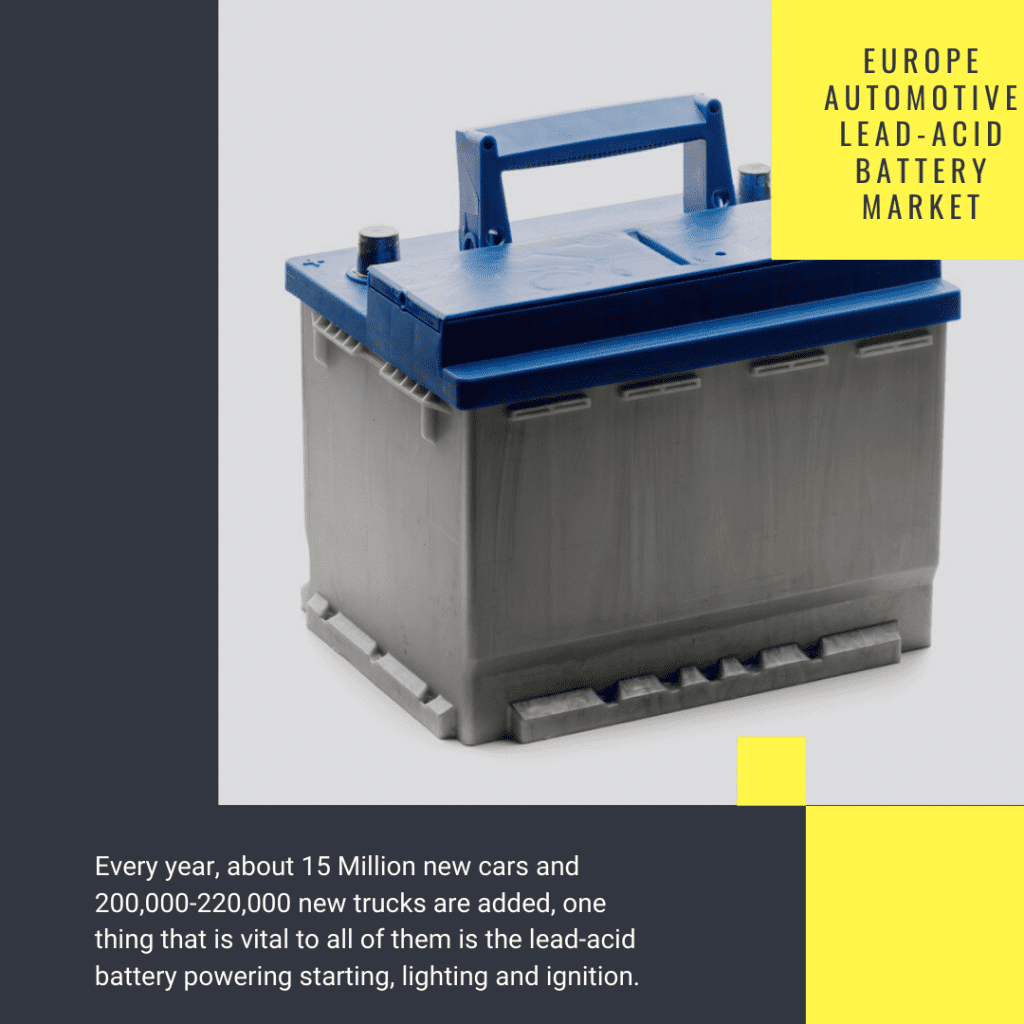 Europe's battery industry employs 30,000 workers, with 20,000 workers employed directly by the lead battery industry. The annual turnover of  50+ members is $~7.2 Billion. There has been a lot of talk about Lithium ion batteries becoming the future of energy storage but the European Commission has predicted a 10x increase in demand for EU battery energy storage by 2050
MARKET SEGMENTATION

EUROPE AUTOMOTIVE LEAD-ACID BATTERY MARKET DYNAMICS
In February 2019, EUROBAT published its "2019-2024 Election Manifesto".highlighting three core areas where new policies need to be focused to achieve the ambitious decarbonisation goals.The new goals emphasize on Europe taking the lead in sustainable battery design and production meant for upcoming electric vehicles and establishing a clear regulatory framework. At present, there are many overlaps between existing regulations such as: Battery Directive, End-of-Live (ELV) Vehicles Directive and REACH. 
All of this is being done to make Europe, the global leader in the 48V mild hybrid lead-acid battery market. The 12V and 48V mild- hybrid market is expected to dominate in Europe and many other regions except China.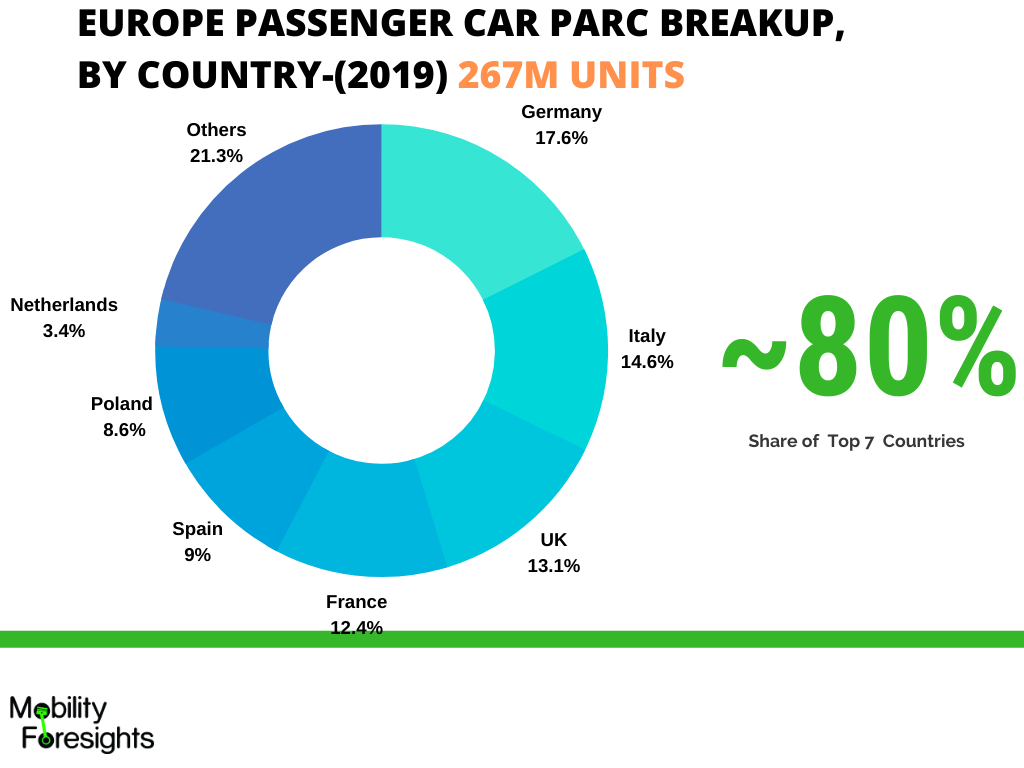 EUROPE AUTOMOTIVE LEAD-ACID BATTERY MARKET SIZE AND FORECAST
As of Oct 2019, there are more than 260 Million passenger cars , 4 Million trucks and 30 Million vans on European roads. Every year, about 15 Million new cars and 200,000-220,000 new trucks are added, one thing that is vital to all of them is the lead-acid battery powering starting, lighting and ignition.
The European cars are known worldwide for their sophisticated engineering and higher than global average electronics content. This mandates the presence of a high capacity battery, which can range from 40Ah in standard A segment cars to 100Ah in Premium C& D segment cars.
Given >90% penetration of start-stop system in European cars as of Nov 2019, there is a growing demand for AGM(Absorbent Glass Mat) batteries which are also called advanced lead acid battery.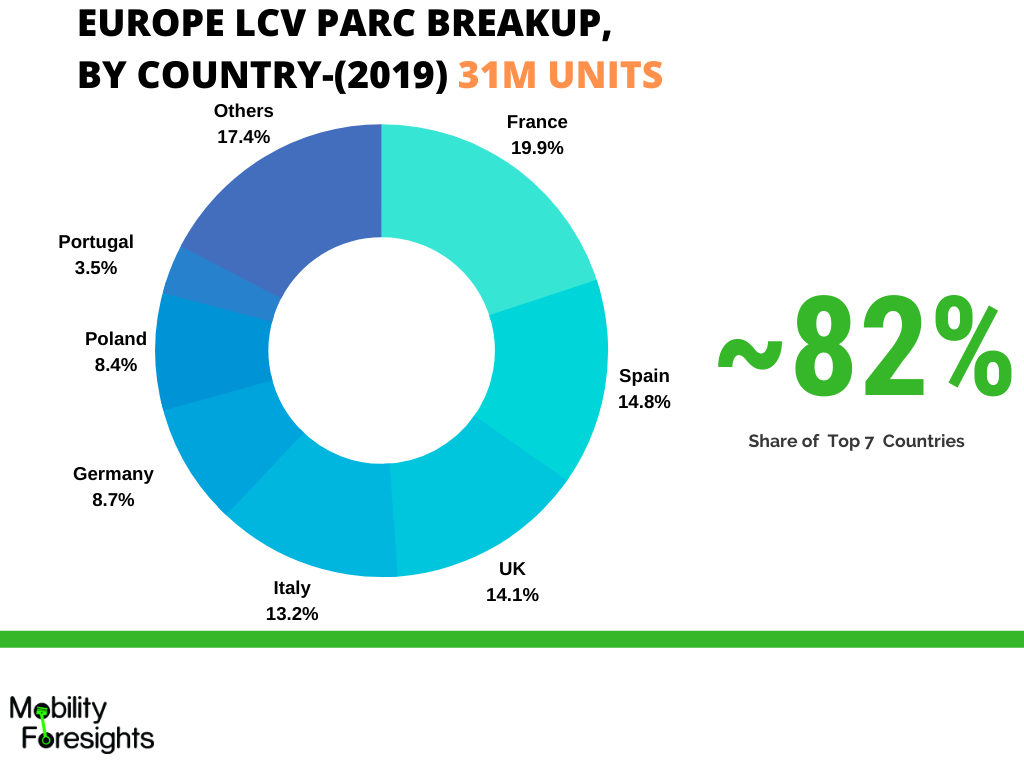 The main criteria for choosing an advanced lead battery remains the complex  combination of cost, performance, reliability,safety, and high recyclability.
The European automotive lead-acid battery replacement demand exceeds the OE demand by a ratio of 3:1.
The Europe automotive lead-acid battery market is estimated at $XXB annually growing at –% CAGR .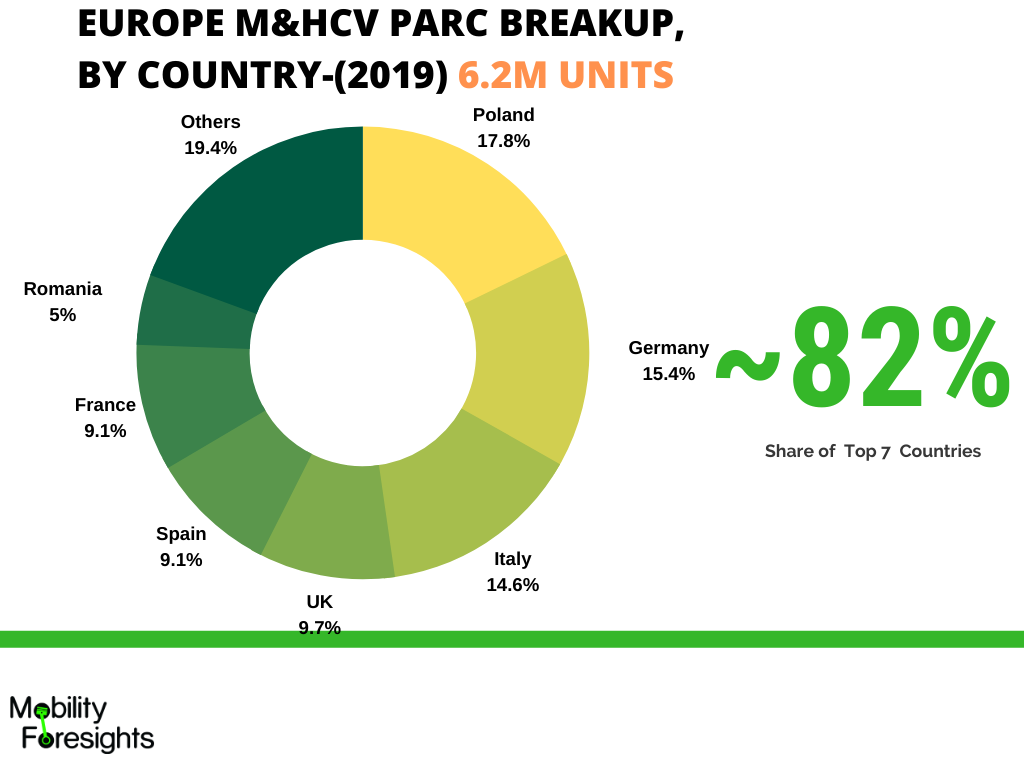 COMPANY PROFILES
Varta Automotive System
Akkumulatorenfabrik MOLL GmbH + Co. KG
Daramic, Inc
Entek International
THIS REPORT ANSWERS FOLLOWING QUESTIONS
Changes in the OE spec lead acid battery chemistry, weight and electrolyte
Impact of e-mobility on automotive lead-acid battery replacement. Potential use in traction application
Average B-2-B price in OE market, wholesale and retail price in replacement market
How will the lead acid battery market grow/decline in key countries in Europe?
Impact of zero lead legislation by European union on the lead acid battery industry
Top 10 vehicles generating 35% of European lead acid battery replacement demand
The pain points of fleet operators in battery replacement
Impact of Brexit on European lead-acid battery market
Who are the market leaders and their market share?
Dynamics in off-highway vehicle Lead acid-battery market
| | |
| --- | --- |
| Sl no | Topic |
| 1 | Market Segmentation |
| 2 | Scope of the report |
| 3 | Abbreviations |
| 4 | Research Methodology |
| 5 | Executive Summary |
| 6 | Introduction |
| 7 | Insights from Industry stakeholders |
| 8 | Cost breakdown of Product by sub-components and average profit margin |
| 9 | Disruptive innovation in the Industry |
| 10 | Technology trends in the Industry |
| 11 | Consumer trends in the industry |
| 12 | Recent Production Milestones |
| 13 | Component Manufacturing in US, EU and China |
| 14 | COVID-19 impact on overall market |
| 15 | COVID-19 impact on Production of components |
| 16 | COVID-19 impact on Point of sale |
| 17 | Market Segmentation, Dynamics and Forecast by Geography, 2020-2025 |
| 18 | Market Segmentation, Dynamics and Forecast by Product Type, 2020-2025 |
| 19 | Market Segmentation, Dynamics and Forecast by Application, 2020-2025 |
| 20 | Market Segmentation, Dynamics and Forecast by End use, 2020-2025 |
| 21 | Product installation rate by OEM, 2020 |
| 22 | Incline/Decline in Average B-2-B selling price in past 5 years |
| 23 | Competition from substitute products |
| 24 | Gross margin and average profitability of suppliers |
| 25 | New product development in past 12 months |
| 26 | M&A in past 12 months |
| 27 | Growth strategy of leading players |
| 28 | Market share of vendors, 2020 |
| 29 | Company Profiles |
| 30 | Unmet needs and opportunity for new suppliers |
| 31 | Conclusion |
| 32 | Appendix |