Europe Automotive Lighting Market 2020-2025
September 17, 2020

Request Sample
Coming Soon
Multi User License - $1,800
EUROPE AUTOMOTIVE LIGHTING MARKET
In 2019, Europe witnessed an annual sale of 15.8 million units of passenger vehicles. The only region to witness a significant rise in car sales in the year in 2019. In 2020, post COVID, the sales volume is expected to come down to ~12-12.2 M units down by at least 23%.
EUROPE AUTOMOTIVE LIGHTING MARKET DYNAMICS
Unlike US and China, Europe's major chunk of new car sales are acquired by hatchback vehicles and this resulted in comparatively less penetration of LED in headlights segment. However, the tail lamp's LED fitment in the region was one of the highest than most other regions.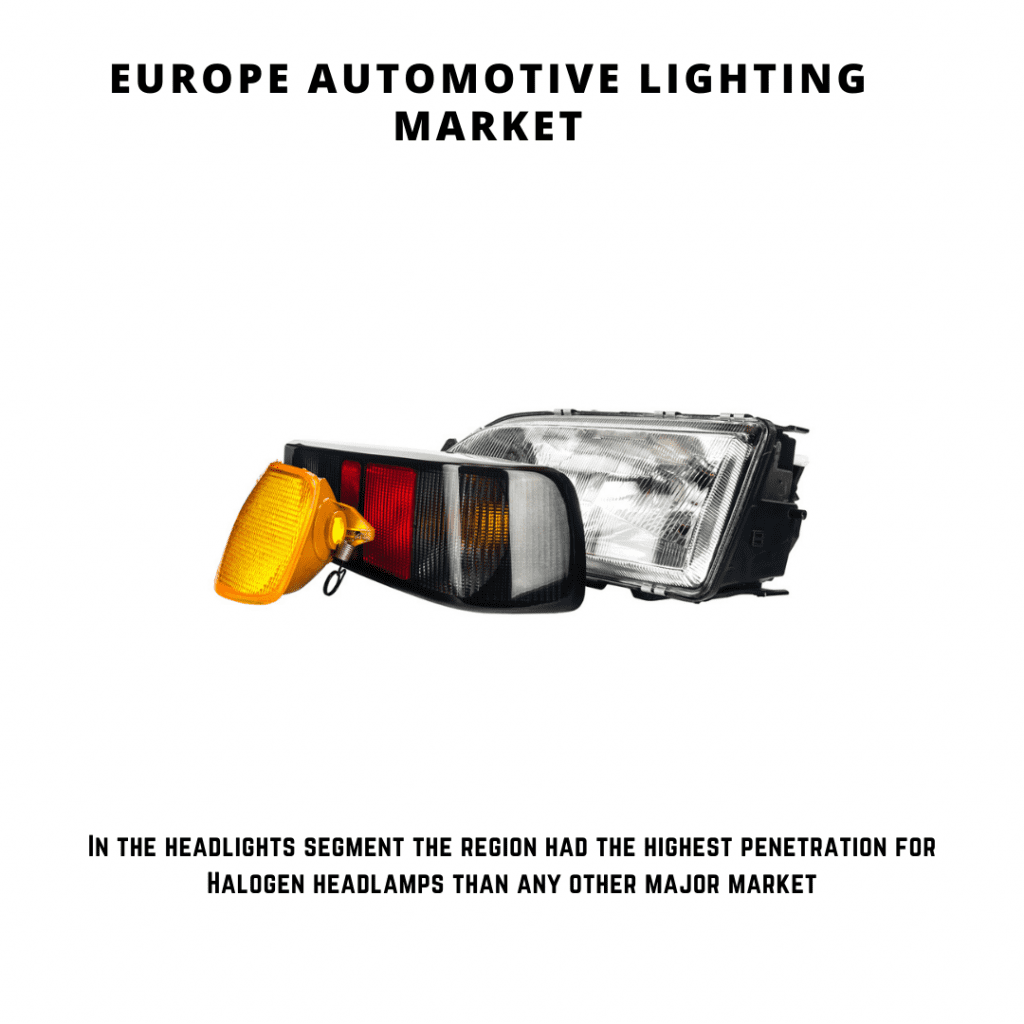 In Europe the top selling models had comparatively higher adoption of adaptive headlights than other markets.
EUROPE AUTOMOTIVE LIGHTING MARKET BASED ON TECHNOLOGY
Halogen headlights among the top selling cars were mostly Halogen Reflectors and only about 1/3 of Halogen headlamps were Projector type.
In the EVs segment almost every top selling EVs were equipped with the LED headlights regardless the car segment.
In ultra-premium segment, BMW in 7 of its models is offering Laser headlights and in coming years more OEMs are bound to provide this feature.
Among the top selling OEMs VW Group, Renault, PSA Group and Toyota, Volkswagen vehicles had highest penetration of LED headlights in the region. Budget cars from FCA, Renault had sub-par LED headlights fitment in the region.
In contrast to poor LED fitment in headlight segment in budget cars, the same car models had rear tail lamp equipped boosting the regions LED volume.
EUROPE AUTOMOTIVE LIGHTING MARKET BY POSITION
In the headlights segment the region had the highest penetration for Halogen headlamps than any other major market. In premium segment few of the Audi models were equipped with HID headlights in few of those variants, which was absent in the top selling cars.
In rear tail lamp segment, VW group cars such as VW Passat, Skoda Fabia and Seat Leon were equipped with rear LED combination lamp.
Many models of premium and ultra-premium cars from Mercedes Benz are equipped with OLED tail lamps increasing the market value of rear lighting segment.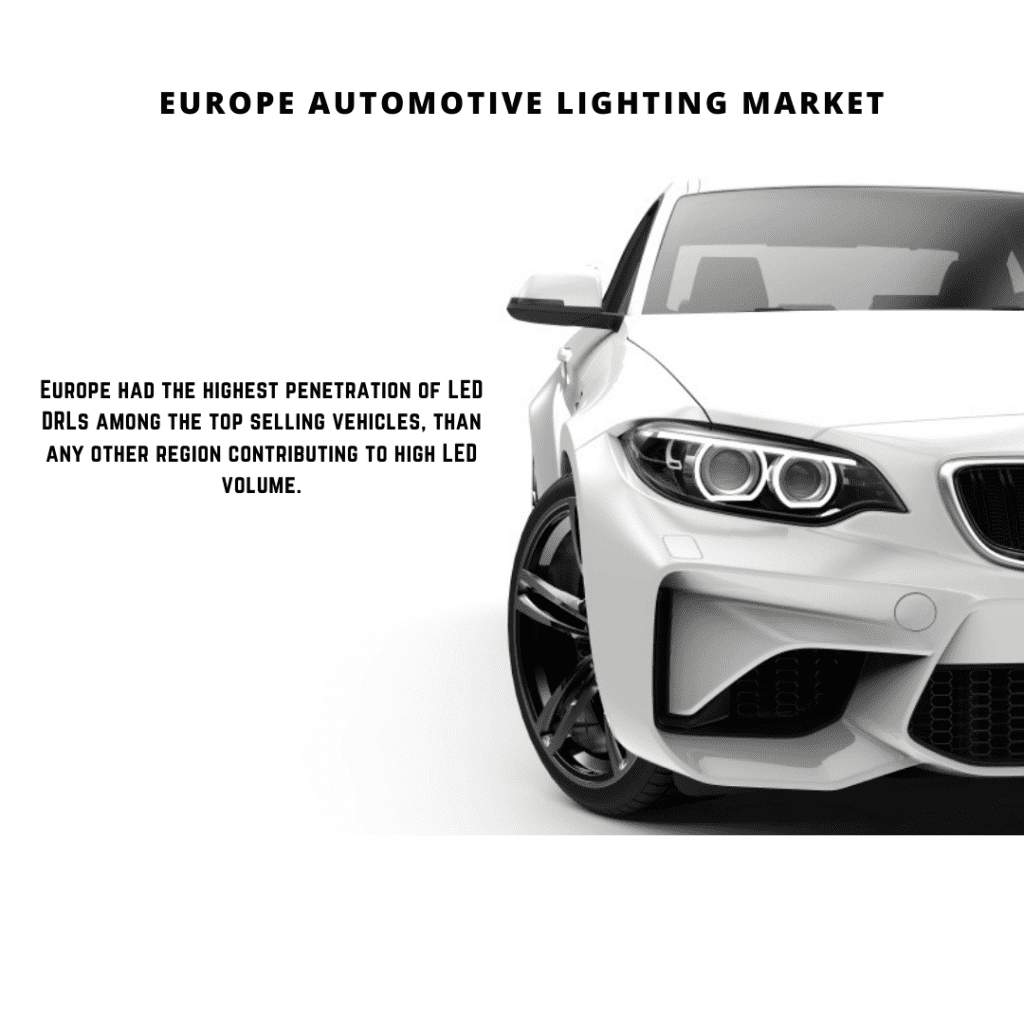 Europe had the highest penetration of LED DRLs among the top selling vehicles, than any other region contributing to high LED volume.
Although Europe had higher penetration of front fog lamps in the top sellers, the LED adoption in this segment has been comparatively less.
Europe region one of the lowest penetration in LED in interior and signalling segment.
EUROPE AUTOMOTIVE LIGHTING MARKET SIZE AND FORECAST
In the coming years the increased adoption of LEDs in headlamps and miscellaneous (fog lamps, signalling) segment is estimated.
At the end of 2025, the overall LED volume in the country is estimated to be on par with US's volume. It is estimated it requires at least 4 years to reach the pre COVID volume of LEDs.
COMPETITVE LANDSCAPE
The top global automotive lighting manufacturers are Koito (Japan), Stanley (Japan), Hella (Germany), ZKW (Austria), Valeo (France) and Calsonic Kansei [Formerly Magneti Marelli] (Japan). On Global front, ZKW and Hella acquired close to 30% of market share. Some of the other European lighting companies are Valeo (France), OSRAM (Germany).
COMPANY PROFILE
Calsonic Kansei Corporation
Sanden Corporation
| | |
| --- | --- |
| Sl no | Topic |
| 1 | Market Segmentation |
| 2 | Scope of the report |
| 3 | Abbreviations |
| 4 | Research Methodology |
| 5 | Executive Summary |
| 6 | Introduction |
| 7 | Insights from Industry stakeholders |
| 8 | Cost breakdown of Product by sub-components and average profit margin |
| 9 | Disruptive innovation in the Industry |
| 10 | Technology trends in the Industry |
| 11 | Consumer trends in the industry |
| 12 | Recent Production Milestones |
| 13 | Component Manufacturing in US, EU and China |
| 14 | COVID-19 impact on overall market |
| 15 | COVID-19 impact on Production of components |
| 16 | COVID-19 impact on Point of sale |
| 17 | Market Segmentation, Dynamics and Forecast by Geography, 2020-2025 |
| 18 | Market Segmentation, Dynamics and Forecast by Product Type, 2020-2025 |
| 19 | Market Segmentation, Dynamics and Forecast by Application, 2020-2025 |
| 20 | Market Segmentation, Dynamics and Forecast by End use, 2020-2025 |
| 21 | Product installation rate by OEM, 2020 |
| 22 | Incline/Decline in Average B-2-B selling price in past 5 years |
| 23 | Competition from substitute products |
| 24 | Gross margin and average profitability of suppliers |
| 25 | New product development in past 12 months |
| 26 | M&A in past 12 months |
| 27 | Growth strategy of leading players |
| 28 | Market share of vendors, 2020 |
| 29 | Company Profiles |
| 30 | Unmet needs and opportunity for new suppliers |
| 31 | Conclusion |
| 32 | Appendix |