EUROPE AUTOMOTIVE LOGISTICS MARKET
INTRODUCTION
European Union is a very important market in automotive industry and automotive industry plays a crucial role in EU's imports and exports.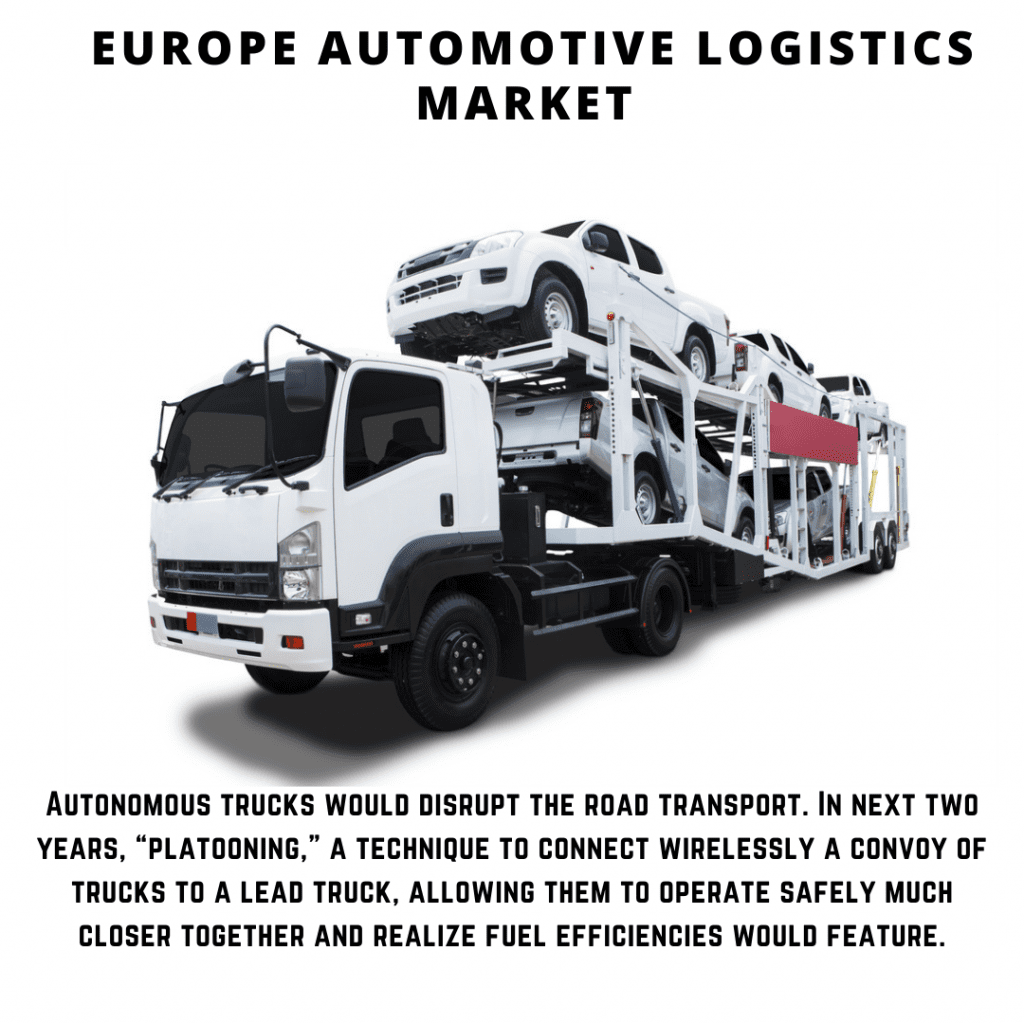 It is the second largest automaker in the world with 17.8% of total automobile production. Germany is the largest Automobile exporter in the world with UK, Belgium and France at 5th,9th and 10th in Auto exports. Motor vehicles and components are the EU's third most valuable export, On the import side, Automobile is the 8th most valuable import.
Logistics players provide a wide range of functions this can be classified in the following way:
Position in the supply chain 
a. Upstream Supply Chain
Order Consolidation: consolidating orders from different vendors of an automaker
Bulk breaking: distributing orders from one vendor to multiple automakers
Vendor Managed inventory/ Consignment inventory: fulfillment responsibility lies with the logistics players, for standardized products.
Clearing Agent: For imports of auto sub components, documentation and transportation activities are taken care.
b. Downstream Supply Chain
Freight forwarding: Container stuffing at factory premises or loading of vehicles in Ro-Ro carrier from car terminal and export documentation.
Transport Arrangement: Transport arrangement through Land/ Sea/ Rail for completely built units
Pre dispatch inspection: inspecting vehicles before transportation of vehicles.Order Kitting: Cross docking operation to ship spare parts from vendors to automobile service stations.
Services that they offer

Transportation

Fulfillment

Forwarding & Clearing
Market they serve

Domestic

International
TRENDS IN THE EUROPEAN AUTOMOTIVE LOGISTICS MARKET
On 1 January 2021, the United Kingdom will leave the EU Single Market and Customs Union, and all EU policies. This was its choice. As a result, it will lose all the rights and benefits it had as an EU Member State, and will no longer be covered by the EU's international agreements. The following are some of the impacts that automotive logistics industry would face:
Pre Brexit
Post Brexit

As UK was a part of EU, The EU internal border is seamless, as goods are able to move freely between EU member states with no checks and no customs formalities

Customs formalities and checks on UK goods entering the EU, with more border delays, this would increase more holding costs to the merchants / Manufacturers and slightly higher costs associated to logistics with commissions for forwarding/ clearing agents.

But there would be measures to help firms including cooperation at roll-on, roll-off ports such as Dover and Holyhead.

As UK was a member state the documentation required was very minimal and seamless

UK goods no longer benefit from free movement of goods, leading to more red tape for businesses and adjustments in EU-UK automotive supply chains.

Companies serving EU and UK need to comply with both set of automotive standards to perform their business.

There would be no import VAT or deferment that was allowed.

Some UK automotive online purchases would attract import VAT from EU and vice versa.

Certificate of origin was not required.

UK firms will have to self-certify the origin of goods in order to get the benefit under zero tariff.

Local content requirements were not in place as UK was a member state

Cars will face special restrictions. Gasoline or diesel vehicles will need to be made with at least 55% local content to escape tariffs.

Electric and hybrid vehicles will be allowed to contain 60% overseas content — but that will fall to 55% by 2026.

Batteries will be allowed to contain 70% international content, but that will drop over the same period of time to 50%.

UK has the access of EU market, which allowed the EU transport operators a large customer based.

UK no longer participates in EU Single Market for transport services.

UK operated the right to conduct unlimited cross-trade in the EU and up to three cabotage operations within the territory of a Single Member State

On road transport, EU and UK haulers will be able to carry cargo to and from any point of the other party's territory, they will also be able to perform two extra operations within the other party's territory (of which maximum 1 cabotage operation for UK haulers)

UK airlines had 7th, 8th and 9th degree of freedom.

UK Aircargo carriers can no longer operate cargo flights between EU destinations based on UK-issued licence.

UK air cargo carriers had 5th degree of air freedom.

UK Aircargo carriers can no longer operate passenger flights onwards to or from the EU. Member States can agree bilateral 5th freedom with UK for extra-EU cargo. This could hamper the auto spare parts trade of EU China market for UK carriers.
With the recent container crisis, the China-Europe rail saw a spike in demand, one thing that many supply chain partners in automotive industry players have realized is the importance if alternative logistics plan in place, the demand for automotive spares and CBUs is likely to increase as rail now stands as an option in between Air and Sea, with transit time of 15 days compared to 33-35 days in sea and with just a fifth of what air cargo industry charges.
This would help automotive players to save their inventory holding cost for critical items. Some drivers and challenges are:
Subsidies on infrastructure and operations provided by both European Union and China.

The relocation of Chinese manufacturing facilities further inland, driven in part by rising wages in coastal areas

Chinese exports of automobile parts to Germany are likely to increase, as EU and China remain very big trading partners. Rail is also better at handling hazardous cargo this would increase the battery logistics for EV.

The imbalance of trade, resulting in costlier eastbound trade resulting in high container repositioning cost to China.

With variation in gauge of Chinese and Russian railways, the container transfer between railways has been experiencing variations in transit time.
To cut emissions in logistics space,intra-Europe short-sea services is one viable option, this combined with multimodal transport would help EU meet its 2030 emissions target, European Commission's investment and push towards this would likely increase the demand for the Ro-Ro services.
TRENDS IN THE TECHNOLOGY IN EUROPE AUTOMOTIVE LOGISTICS MARKET
Autonomous trucks would disrupt the road transport. In next two years, "platooning," a technique to connect wirelessly a convoy of trucks to a lead truck, allowing them to operate safely much closer together and realize fuel efficiencies would feature.
In about five years, the next wave, driverless platooning, will take hold. On interstate highways, these platoons will feature a driver in the lead truck and unmanned trucks following close behind. Upon leaving the highway, drivers will resume control of each vehicle.
Supply chain control towers would make their way to the top spot as a major digital disruptor, as automotive supply chain industry is a global network this helps major automakers like BMW and Mercedes building their control towers integrating their logistics players.
Logistics players who can leverage on digital twin would likely gain a lot because this would help in capturing many automotive players.
IMPACT OF COVID-19 PANDEMIC ON AUTOMOTIVE LOGISTICS PLAYERS AND THEIR RESPONSE
As European automotive industry has suspended the production this has caused a significant impact on UECC's liner trading network, for this they have reduced the frequency of sailing.

Eukor has adjusted schedules and reduced the capacity accordingly.

The carrier, which specializes in vehicle and high and heavy cargoes, did not rule out changes to its existing services.

Wallenius Wilhelmsen Group on Thursday announced that it would reduce its fleet by 10 to 15 vessels through a mix of:

Cold lay-up

Ship scrapping

Returning chartered-in tonnage to their owners.

Ro- Ro terminals at Antwerp, Zeebrugge and Hamburg have seen 22%, 23%, 25% drop in operations in this year. The port of Hamburg is likely to witness a recovery because of its expansion of rail links with China, this 'New Silk Road" would help them in create an alternative revenue stream.

The ro-ro sector will also get a boost from recently announced fiscal support measures from European governments that are expected to stimulate demand. The auto-specific support focuses on battery-electric vehicles and plug-in hybrid-electric vehicles (BEVs/PHEVs) and includes broader tax reductions.
COMPANY PROFILES