Europe Construction Equipment Market 2020-2025
October 16, 2020

Request Sample
Coming Soon
Multi User License - $1,800
EUROPE CONSTRUCTION EQUIPMENT MARKET
KEY FINDINGS
There is huge potential for Electric and hybrid equipment manufacturers to take over the market from traditional mechanical and hydraulic ones.
Focus should be on developing new machines and technology to curb emissions as well as heat and noise pollution.
Companies should focus more on penetrating in the fast-growing segments, while maintaining their positions in the slow-growing segments.
INTRODUCTION
The construction industry is very important to the EU economy. The sector provides 18 million direct jobs and contributes to about 9% of the EU's GDP.
This industry relies heavily on use of equipment and vehicles especially in construction sites and mining sites to cut down labor cost and time for the project.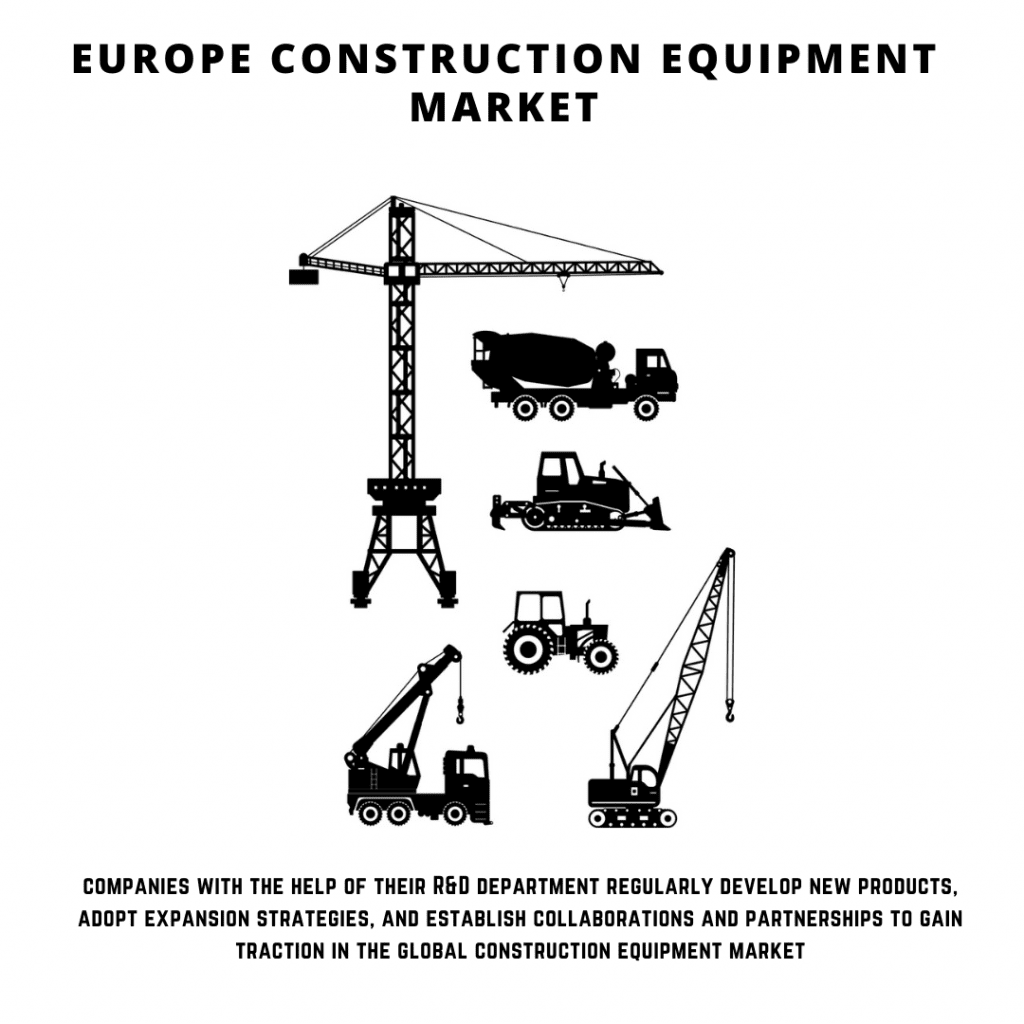 Europe is witnessing a major growth in the industry due to rapid development in transport infrastructure in the region. Projects such as London Cross rail (approx. 17 billion EUR) and Germany and Denmark's Fehmarn Belt fixed link which is one of its kind world's longest immersed road and rail tunnel are driving the growth of the market.
In Europe, demand for construction equipment grew in almost every country after the economic recession of 2008-10.
EUROPE CONSTRUCTION EQUIPMENT MARKET DYNAMICS
With demand for cost effective and environment friendly machines for lower emissions, the traditional construction equipment manufacturers are now opting for hybrid and electric vehicles and technologies rather than the more traditional mechanical and hydraulic ones as they not only produce zero emission but also produce very less heat, noise and vibration.
Automation and use of AI is driving the latest research and development in this industry.
In 2020, Dutch company BAM infra built the world's first electric road roller that is capable of saving more than 70 liters of fuel per day and cutting 236 kilograms of carbon dioxide per day.
In 2019, Volvo Construction Equipment announced in an official statement that it will start producing compact electric excavators and wheel loaders. EC 15 to EC 27 electric excavators and L20 to L28 electric wheel loaders will be in production from mid-2020.
However, still the major part of industry machinery relies on the use of IC Engines as the main source of their power, but there is no doubt that in near future we will see them get replaced by electric and hybrid machines.
EUROPE CONSTRUCTION EQUIPMENT MARKET SEGMENTATION
Construction equipment market in Europe is segmented as below-
Equipment category
Earthmovers
Road equipment
Concrete equipment
Cranes
Power output
<100 Hp Construction Equipment
101–200 Hp Construction Equipment
201–400 Hp Construction Equipment
>400 Hp Construction Equipment
Drive Type
IC Engine
Electric and Hybrid
Geographic Landscape
Germany
France
The UK
The Rest of Europe
EUROPE CONSTRUCTION EQUIPMENT MARKET SIZE AND FORECAST
Tier-5 compliant engines are expected to have the largest market share of construction equipment by emission regulation in 2025.
The Selective Catalytic Reduction (SCR) after treatment device segment is projected to grow at the fastest CAGR during the forecast period due to stricter emission regulation standards in Europe.
The Asia Pacific region is going to be the largest market and Middle-East to be the fastest growing market for construction equipment.
The sizable population in countries such as China, India, Indonesia and Thailand have resulted in increased number of government projects such as sewer systems, airports and renewable energy projects offering a huge market space for the European equipment manufacturers to establish themselves in these economies.
These are high-end and big-size projects that require intense labor force and heavy construction equipment.
In Europe, Germany accounted for the largest construction equipment market share in Europe during 2019 and is expected to be the fastest- growing market during the next five years.
Europe Construction equipment market size is estimated at $XX Billion , growing at –% CAGR till 2025
COMPETITIVE LANDSCAPE
The construction equipment market in Europe is quite fragmented. AB Volvo, Atlas Copco AB and Caterpillar Inc. are some of the top market players due to their better after sales services, which makes them highly preferable among customers.
These companies with the help of their R&D department regularly develop new products, adopt expansion strategies, and establish collaborations and partnerships to gain traction in the global construction equipment market.
COMPANIES PROFILED
| | |
| --- | --- |
| Sl no | Topic |
| 1 | Market Segmentation |
| 2 | Scope of the report |
| 3 | Abbreviations |
| 4 | Research Methodology |
| 5 | Executive Summary |
| 6 | Introduction |
| 7 | Insights from Industry stakeholders |
| 8 | Cost breakdown of Product by sub-components and average profit margin |
| 9 | Disruptive innovation in the Industry |
| 10 | Technology trends in the Industry |
| 11 | Consumer trends in the industry |
| 12 | Recent Production Milestones |
| 13 | Component Manufacturing in US, EU and China |
| 14 | COVID-19 impact on overall market |
| 15 | COVID-19 impact on Production of components |
| 16 | COVID-19 impact on Point of sale |
| 17 | Market Segmentation, Dynamics and Forecast by Geography, 2020-2025 |
| 18 | Market Segmentation, Dynamics and Forecast by Product Type, 2020-2025 |
| 19 | Market Segmentation, Dynamics and Forecast by Application, 2020-2025 |
| 20 | Market Segmentation, Dynamics and Forecast by End use, 2020-2025 |
| 21 | Product installation rate by OEM, 2020 |
| 22 | Incline/Decline in Average B-2-B selling price in past 5 years |
| 23 | Competition from substitute products |
| 24 | Gross margin and average profitability of suppliers |
| 25 | New product development in past 12 months |
| 26 | M&A in past 12 months |
| 27 | Growth strategy of leading players |
| 28 | Market share of vendors, 2020 |
| 29 | Company Profiles |
| 30 | Unmet needs and opportunity for new suppliers |
| 31 | Conclusion |
| 32 | Appendix |