Europe Farm Tractor Market 2020-2025
August 3, 2020

Request Sample
Coming Soon
Multi User License - $1,800
EUROPE FARM TRACTOR MARKET
The Europe farm tractor market is at the forefront of the bloc's export. The bloc accounts for almost 54% of the world's imports and 64% of the world's export of agricultural machinery. The sector employs almost 170k people and includes 7k industrial firms contributing nearly $47 Billion annually
EUROPE FRAM TRACTOR MARKET SEGMENTATION
By engine capacity
Less than 40 HP
41 to 100 HP
More than 100 HP
By Country/Region
UK
Italy
Spain
Germany
France
Eastern Europe
Scandinavian countries
WHAT IS DRIVING EUROPE FARM TRACTOR MARKET?
One of the most important reason is rising farm labor costs owing to shortage of migrant workers. According to the German Association of Agricultural Employers (GLFA), there is a steep decline in the number of seasonal immigrants labour during the peak harvest period in Germany.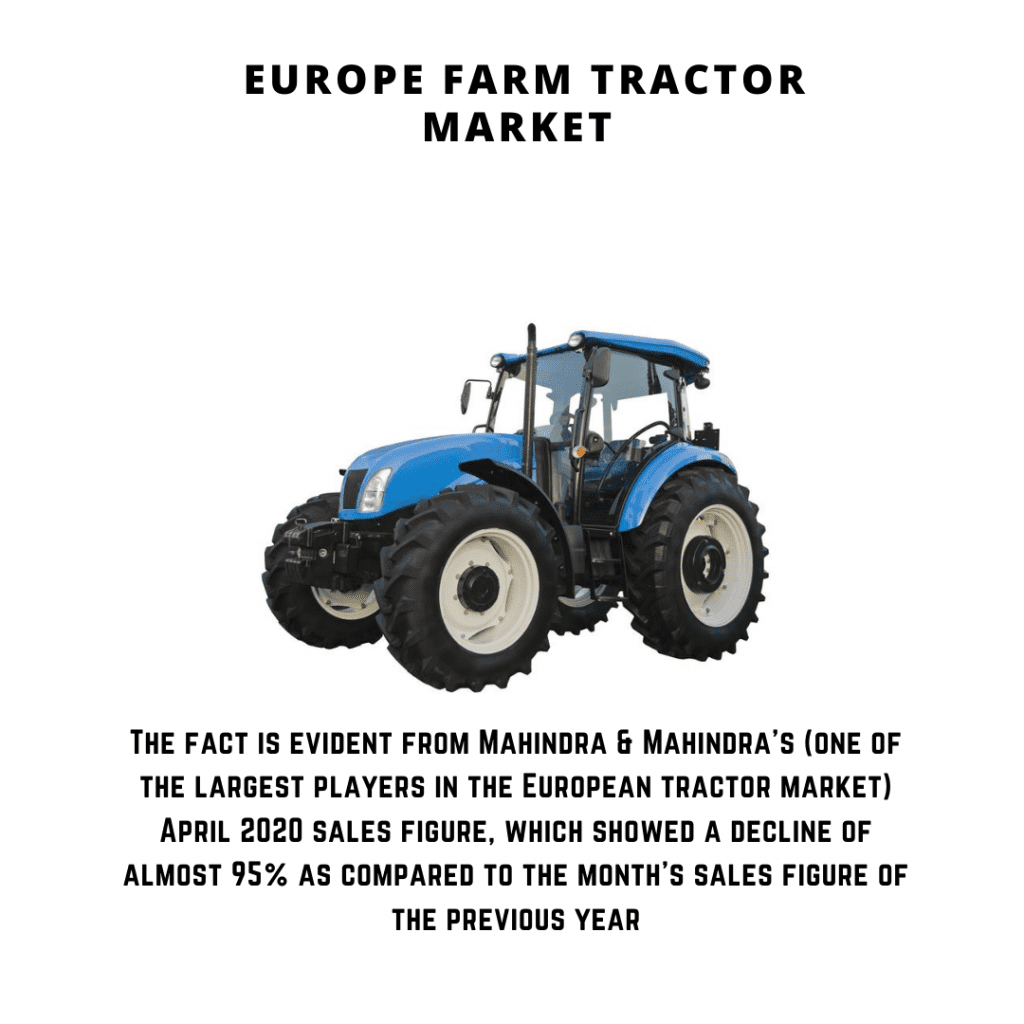 A shortage of farm labor is giving way to rise in wage rates which is expediting the process of adoption of tractors. A reason for the labor shortage can be attributed to rapid urbanization, which is promoting migration to cities.
The same rapid urbanization is also boosting the agricultural sector, which in turn is boosting the tractor market. According to some publications, the global urban population has grown by 1.98% between 2016 and 2017, resulting in increased demand for food.
TECH ADVANCEMENT IN EUROPE FRAM TRACTOR MARKET
Another important factor can be the technological advancements that are revolutionizing the farming and agricultural processes such as precision farming or autonomous tractors. Replacement of existing machinery with advanced machines is expected to fuel the growth.
The autonomous tractors which is currently discussed as a concept in the board meetings are expected to significantly increase productivity and efficiency while driving down the costs of labor.
Apart from these factors, the Tractor Mother Regulation which came into effect from 1st January 2018 significantly fuelled the rapid advancement and innovation in the European Farm Tractor market. The regulation mandates stringent safety norms for farm tractors such as TMR, diesel emission norms and ABS.
WHAT COULD DAMPEN EU FARM TRACTOR MARKET?
The forecasted growth can be hindered due to the high taxes and import tariffs imposed by different countries on agricultural equipment. For example, the Republic of Turkey imposed a 21% duty on agricultural machineries imported from non-EU countries in 2017.
COVID IMPACT ON EU FARM TRACTOR MARKET
Another unaccounted huge business disruption occurred due to the prolonged COVID-19 pandemic which will severely deter the forecasted growth. The fact is evident from Mahindra & Mahindra's (one of the largest players in the European tractor market) April 2020 sales figure, which showed a decline of almost 95% as compared to the month's sales figure of the previous year (exported 56 tractors in April,2020 against 1057 in the same month in 2019).
One of the important reason for the development of the agricultural sector in European Union was due to the protection that the sector enjoyed on account of the Europe's trade bloc since the 1960s. But those protections are gradually getting reduced due to factors such as declining rural population, the sector's smaller contribution to the European Union's economy and reforms to the common agricultural policy. There has been a constant push to include agriculture in Free Trade Agreements which will make the sector more competitive due to cheaper imports.  
But with advanced and innovative agricultural machineries including tractors, this threat can be converted into an opportunity. This is what the European Agricultural Machinery Association (CEMA) is trying to attain through AgriTech 2030. It focusses on 3 key areas as listed below –
Maximising the agricultural machinery industry's contribution to Highly Productive, Competitive and Sustainable Farming Models with improved safety standards
 Bringing the European framing sector to the forefront of digital and precision agriculture
 Strengthening Europe's Industrial and Technological leadership in advanced farm equipment
HOW THE EU TRACTOR INDUSTRY CAN TURN THE PANDEMIC INTO AN OPPORTUNITY?
The industry including OEMs, distribution centres, etc. should adapt to new strategy in order to emerge out successfully in the new normal –
Globalization to Localization – In the pre-COVID era the world was a global market, but the pandemic has largely shifted this scenario due to wide scale supply chain disruptions, nationwide lockdowns and restrictive trade policies.
Governments across the world are now more concerned about narrowing their trade deficits. Hence in the post-COVID era, at least for some period of time "producing local and consuming local" can be the new strategy for business.
According to estimates, from December 2020 till Q3 2021, the farm tractor market will register a stable growth because of localization. By Q3-Q4 2022, the industry can be expected to reach the pre-COVID level growth rate.
      2. Rental Business – Due to the disruption in cash flows caused by COVID-19, it will be a bit difficult for the farmers to afford a tractor                for the next few years.
Hence a shared platform for farm tractors will prevail in the next 2 or 3 years. It could be a huge opportunity for the dealers tying up with financial institutions in offering a 'pay as you use' or 'rent to buy' option.
EUROPE FRAM TRACTOR COMPETITIVE LANDSCAPE
The European Tractor market consists of some of the dominant players such as Deere & Company, CNH Industrial, Kubota, etc. which have higher share in the market. The leading vendors focus on aftersales service for increasing brand loyalty and driving growth.
CNH industrial– The Dutch tractor manufacturer offers 3 brands in European market. It has a manufacturing facility in Italy for low horsepower tractors. Larger tractors are produced in UK based facility. CNH has been pushing precision farming and technology is accessible through 2 brands, New Holland and Case IH.
Deere and Company– The American tractor manufacturer is one of the top selling tractor brands in Europe region. It offers small medium and large tractors with varied range of horsepower along with farm management solutions, combines, balers, front loaders etc. Deere is preparing to achieve global excellence with huge focus on European market.
AGCO– TheAmerican farm machinery manufacturer sold under brand names Massey Ferguson, Challenger, Valtra and Fendt. Fendt is the leading manufacturer in Germany. Ferguson tractors are available in varied horsepower, from 38 HP to 400 HP.
KUBOTA– This Japanese manufacturer is a leading vendor of medium and low horsepower farm tractor segment with various offerings in 60 Hp to 170 HP range. It has a huge distribution network across Europe and large market base in Spain, Italy, Netherlands, UK and France. KUBOTA Corporation announced in 2018 that it will invest USD 64 million in a new development and research centre for tractors in Europe. They have a vision to enhance sales and expand business outreach in the European region.
Other prominent players in the European market are Argo Tractors, Carraro, Lovol Arbos Group.
COMPANY PROFILE
| | |
| --- | --- |
| Sl no | Topic |
| 1 | Market Segmentation |
| 2 | Scope of the report |
| 3 | Abbreviations |
| 4 | Research Methodology |
| 5 | Executive Summary |
| 6 | Introduction |
| 7 | Insights from Industry stakeholders |
| 8 | Cost breakdown of Product by sub-components and average profit margin |
| 9 | Disruptive innovation in the Industry |
| 10 | Technology trends in the Industry |
| 11 | Consumer trends in the industry |
| 12 | Recent Production Milestones |
| 13 | Component Manufacturing in US, EU and China |
| 14 | COVID-19 impact on overall market |
| 15 | COVID-19 impact on Production of components |
| 16 | COVID-19 impact on Point of sale |
| 17 | Market Segmentation, Dynamics and Forecast by Geography, 2020-2025 |
| 18 | Market Segmentation, Dynamics and Forecast by Product Type, 2020-2025 |
| 19 | Market Segmentation, Dynamics and Forecast by Application, 2020-2025 |
| 20 | Market Segmentation, Dynamics and Forecast by End use, 2020-2025 |
| 21 | Product installation rate by OEM, 2020 |
| 22 | Incline/Decline in Average B-2-B selling price in past 5 years |
| 23 | Competition from substitute products |
| 24 | Gross margin and average profitability of suppliers |
| 25 | New product development in past 12 months |
| 26 | M&A in past 12 months |
| 27 | Growth strategy of leading players |
| 28 | Market share of vendors, 2020 |
| 29 | Company Profiles |
| 30 | Unmet needs and opportunity for new suppliers |
| 31 | Conclusion |
| 32 | Appendix |