Farm Tractor Market in India 2020-2025
October 14, 2020

Request Sample
COMING SOON
Multi User License - $1,800
FARM TRACTOR MARKET IN INDIA
India is an agricultural and a developing country. Agriculture is the primary source of income to around 58% of India's population. But in recent years, the   contribution of agriculture to the Gross Value Added (GVA) has decreased from 18.2% in 2014-15 to 16.5% in 2019-20.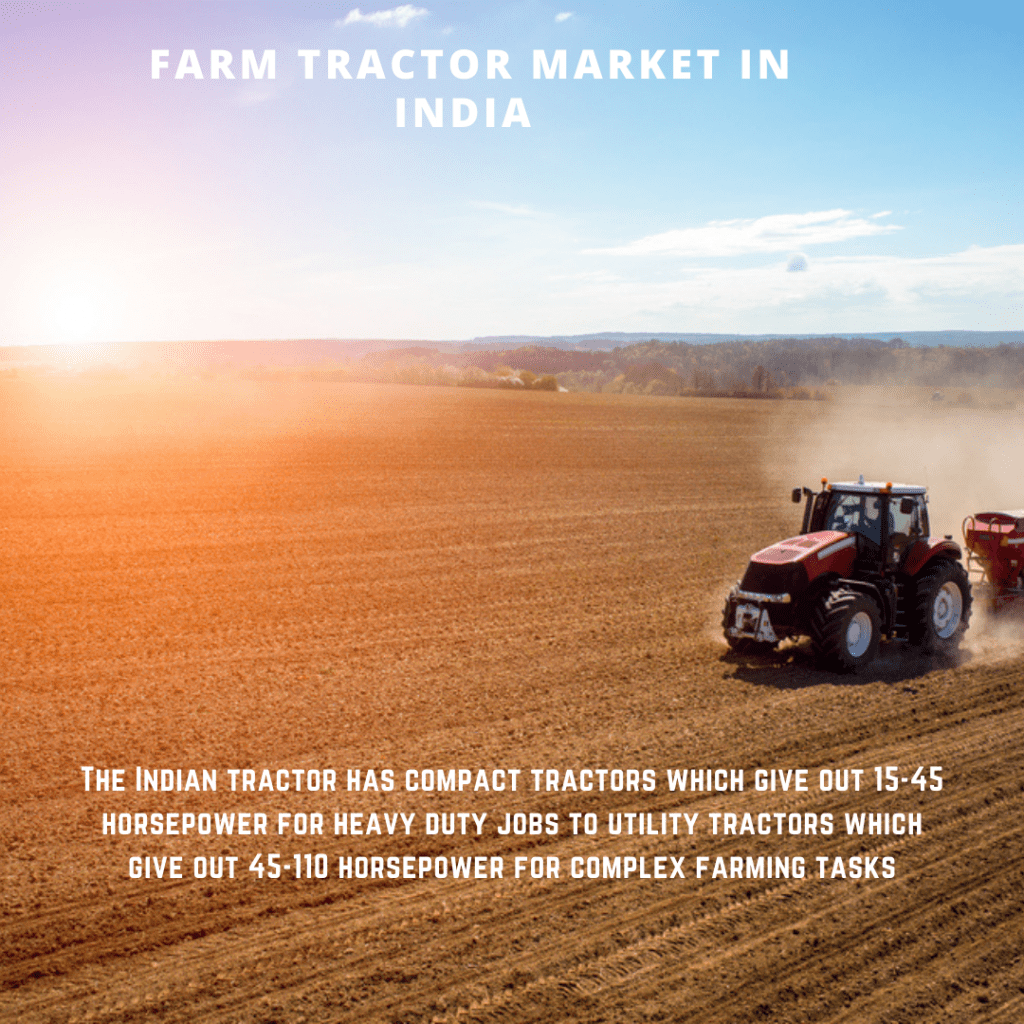 India aims to double the farm income by 2022. This ambitious goal is expected to generate increased investment in agricultural infrastructure, and one of the parameters in the agricultural infrastructure is "Tractors'.
HISTORY OF TRACTORS IN INDIA
Tractors have come a long way since its first launch in the 1940s. Dependence on tractors increased as the technology developed. During the 1960s, companies like Eicher, Tractor and Farm Equipment Limited (TAFE), Escorts and Mahindra & Mahindra (M&M) came into existence. From the 1970s to the 1980s, tractors were imported from the East.
During the 1980s and 1990s, state owned tractor companies like Haryana Tractors and Punjab Tractors came into being. In 1998, New Holland Tractors came to India and invested 75 million dollars in the market. After the 1990s, India had almost 29% of the tractor population in the world.
TOP 5 TRACTOR COMPANIES IN INDIA IN 2020
Here is a list of top tractor brands in India in 2020:
Mahindra & Mahindra (M&M)
Tractors and Farm Equipment Limited (TAFE)
John Deere India Private Limited
Swaraj Tractors
Sonalika Tractors
Escorts Ltd
TOP 5 TRACTORS IN INDIA IN 2020
Here is a list of the top-5 tractors in India in 2020:
Mahindra 475 DI (4-cylinders, 42 HP, 2830 cc, ₹45-5.80 lakhs)
Farmtrac 60 (3-cylinders, 50 HP, 3147 HP, ₹6.30-6.80 lakhs)
John Deere 5310 (3-cylinders, 55 HP, 2900 cc, ₹7.89-8.50 lakhs)
Sonalika 745 DI III Sikander (3-cylinders, 50 HP, 3065 cc, ₹5.75-6.20 lakhs)
Massey Ferguson 1035 DI (3-cylinders, 36 HP, 2400 cc, ₹4.90-5.25 lakhs)
INDIA TRACTOR MARKET DYNAMICS
Indian Tractor market is the biggest market worldwide excluding the 20 HP tractors used in China, which accounts to one third of the global production. China and United States of America are the other major tractor markets in the world.
Indian Tractor Industry saw a positive growth during the years 2014-2017. Domestic sales increased by 18.2% in April 2016 to March 2017. The tractor exports curve remained flat during these years.
But, the tractor sales in India declined by over 10% in 2019-20 compared to 2018-19. In the past few years this is the first declination in the Indian Tractor Industry. The industry also suffered in 2020 due to economic slowdown, unusual monsoons and the Covid-19 pandemic.
Mahindra & Mahindra- the market leader recorded a drop of 7.8% sales in 2020 compared to 2019 although its market share increased by 1%.
TAFE lost 1.41% market share and a drop of 17% in sales. But, the top 4 market leaders- Mahindra & Mahindra, TAFE, Sonalika and Escorts have a combined market share of over 81%.
Even during this economic slowdown, the stand-out performer in Indian Tractor Industry was Japan based Tractor manufacturer- 'Kubota' which grew its sales by 18% and a market share of 0.44%.
Based on the last 5 Financial Years, Mahindra & Mahindra holds the top position in its Market Shares at around 41%. TAFE's market share declined from 23.1% in 2019 to 16.9% in 2020. Kubota is the stand-out performer with 1.8% share in the market considering the company arrived in 2016.
MARKET SIZE AND FORECAST
The Indian Tractor Industry still has a long way to go. Low level of tractor sales in India needs strong focus on availability of finance for agriculture tools and on rural development.
India farm tractor market is estimated at $XX Million in 2020 growing at –% CAGR till 2025.
COMPETITIVE LANDSCAPE
The development in technology and the wider agriculture market in India have resulted in evolution of Tractor manufacturers in India. Currently a wide range of tractors with a range of 15hp to 110hp are available.
The Indian tractor has compact tractors which give out 15-45 horsepower for heavy duty jobs to utility tractors which give out 45-110 horsepower for complex farming tasks. 
COMPANIES PROFILED
Powertrac Tractors
Farmtrac Tractors
Solis
Digitrac
HMT
Massey Ferguson
Eicher
Indo Farm
Agri King
Trakstar
| | |
| --- | --- |
| Sl no | Topic |
| 1 | Market Segmentation |
| 2 | Scope of the report |
| 3 | Abbreviations |
| 4 | Research Methodology |
| 5 | Executive Summary |
| 6 | Introduction |
| 7 | Insights from Industry stakeholders |
| 8 | Cost breakdown of Product by sub-components and average profit margin |
| 9 | Disruptive innovation in the Industry |
| 10 | Technology trends in the Industry |
| 11 | Consumer trends in the industry |
| 12 | Recent Production Milestones |
| 13 | Component Manufacturing in US, EU and China |
| 14 | COVID-19 impact on overall market |
| 15 | COVID-19 impact on Production of components |
| 16 | COVID-19 impact on Point of sale |
| 17 | Market Segmentation, Dynamics and Forecast by Geography, 2020-2025 |
| 18 | Market Segmentation, Dynamics and Forecast by Product Type, 2020-2025 |
| 19 | Market Segmentation, Dynamics and Forecast by Application, 2020-2025 |
| 20 | Market Segmentation, Dynamics and Forecast by End use, 2020-2025 |
| 21 | Product installation rate by OEM, 2020 |
| 22 | Incline/Decline in Average B-2-B selling price in past 5 years |
| 23 | Competition from substitute products |
| 24 | Gross margin and average profitability of suppliers |
| 25 | New product development in past 12 months |
| 26 | M&A in past 12 months |
| 27 | Growth strategy of leading players |
| 28 | Market share of vendors, 2020 |
| 29 | Company Profiles |
| 30 | Unmet needs and opportunity for new suppliers |
| 31 | Conclusion |
| 32 | Appendix |