Global Finance Cybersecurity Market 2020-2025
November 16, 2020

Request Sample
Coming Soon
Multi User License - $2,500
GLOBAL FINANCE CYBERSECURITY MARKET
INTRODUCTION
In the Financial services, the companies such as public & private banking, insurance, financial institutions, etc. are adopting technology and facing increasingly high risk of cyberattacks.
Several companies in the finance sector are transforming their operation to online and some companies are facing obstacles in the transformation due to risk associated with cyberattacks. Therefore, to protect the market in the finance industry, cybersecurity is going to play an important role in the future.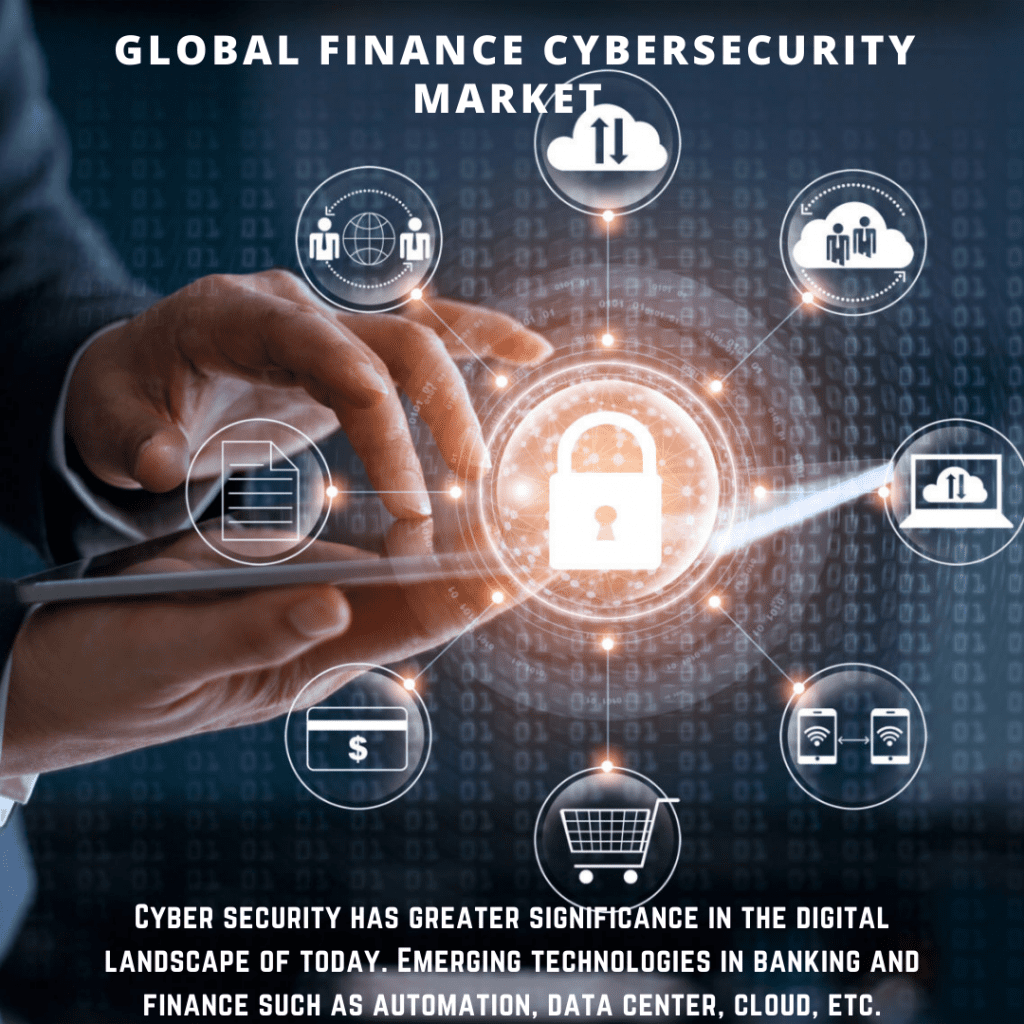 New business models and technologies like Internet of things are heavily relying on digitalization for their growth. Also the system is becoming more complex, interconnected and exposed to cyber security issues. For example, IoT products enabled with IP sensors are exposed to vulnerabilities with user data.
According to the Palo Alto Networks, March 2020, around 40,261 suspicious domain names were identified. Moreover, the pandemic situation has pushed many businesses to operate online and the concerns of cyber threat is becoming a concern to the organization.
MARKET DYNAMICS
The market opportunities for cyber security has increased and some security vendors are actively involved in capitalizing their market position with the help of mergers and acquisition. For example, In April 2020, Investcorp, an institutional investment products company acquired Avira operations GmbH & Co. KG, a Germany based cyber security solution provider.
Emerging and innovative vendors are engaged in product upgradation and partnerships to increase their market share. For example, in April 2020, Check Point Software Technologies Ltd. Announced series of Quantum Security Gateways for the enterprise and corporate data centers.
In the COVID-19 pandemic, several cases of Cybercrime were observed across industries and thus, many organization operating their business online are cautious of the cyber-attack are investing on their products.
MARKET SIZE AND FORECAST
Cyber security has greater significance in the digital landscape of today. Emerging technologies in banking and finance such as automation, data center, cloud, etc. are in the global threat to exploits, vulnerabilities and malware.
The service segment of the cybersecurity market dominated the market in 2019 with the revenue share of 54.7% In the forecasted period, it is expected to dominate the market. The hardware segment is expected to have highest CAGR over the forecasted period. They comprise of hardware equipment and devices like encrypted USB flash drives, firewalls and Intrusion Prevention System that secure organization's IT networks.
Geographically, North America dominated the market in the year 2019 with market share of 36.7%. There is high demand for the cyber security solutions due to the presence of various companies headquartered in U.S. and increasing standards and policies for maintaining data privacy and security in the region.
COMPETITIVE ANALYSIS
Cisco Systems, Inc.: It is a U.S. based company and designs, manufactures and sells Internet Protocol (IP)-based networking and other products related to the communication and IT industry. The company has subsidiaries like OpenDNS, Webex, Jabber and Jasper. In 2020, the company was ranked fourth on the annual 100 Best companies to Work for in 2020. Cisco operate across geographical segments like Americas, EMEA and APJC.
Financials
Revenue (Q4, 2020) – $12.2 Billion
Net Income (Q4, 2020) – $2.6 Billion
Market Cap – $157.15 Billion
Check Point Software Technology Ltd: The company develops, markets and supports a range of products and services for IT security. It provides solutions to protect industries from the malware, ransomware and advanced targeted threats.
The company has offices across 70 locations worldwide and the development centres located in Israel and Belarus.
Financials
Revenue (Q3, 2020) – $509 Million
Net Income (Q3, 2020) – $201 Million
Market Cap – $16.996 Billion
IBM: It is an American technology and consulting company and operated through five segments: Cognitive Solutions, Global Business Services, Technology Services & Cloud Platforms, Systems and Global Financing. They are one of the largest employers in the industry with more than 70% employees based outside America, with largest number in India.
Financials
Revenue (Q3, 2020) – $17.6 Billion
Net Income (Q3, 2020) – $1.7 Billion
Market Cap – $102.27 Billion
CONCLUSION
Finance Cybersecurity market is a growing market and the key growth drivers are the evolving finance sector through emerging technologies. Several companies are adopting technology and starting their operations in the online platform, especially after COVID-19 pandemic which forced employees to work from home.
The risk of vulnerabilities related to cyber-attacks and privacy concerns, organization is extending their focus towards safeguarding their data and information with the cybersecurity solutions. The market of cyber security is growing rapidly and for the forecasted period 2020-2025, the growth is high and new product and innovations will help the company in this market to acquire more client base.
COMPANIES PROFILED
| | |
| --- | --- |
| Sl no | Topic |
| 1 | Market Segmentation |
| 2 | Scope of the report |
| 3 | Abbreviations |
| 4 | Research Methodology |
| 5 | Executive Summary |
| 6 | Introduction |
| 7 | Insights from Industry stakeholders |
| 8 | Cost breakdown of Product by sub-components and average profit margin |
| 9 | Disruptive innovation in the Industry |
| 10 | Technology trends in the Industry |
| 11 | Consumer trends in the industry |
| 12 | Recent Production Milestones |
| 13 | Component Manufacturing in US, EU and China |
| 14 | COVID-19 impact on overall market |
| 15 | COVID-19 impact on Production of components |
| 16 | COVID-19 impact on Point of sale |
| 17 | Market Segmentation, Dynamics and Forecast by Geography, 2020-2025 |
| 18 | Market Segmentation, Dynamics and Forecast by Product Type, 2020-2025 |
| 19 | Market Segmentation, Dynamics and Forecast by Application, 2020-2025 |
| 20 | Market Segmentation, Dynamics and Forecast by End use, 2020-2025 |
| 21 | Product installation rate by OEM, 2020 |
| 22 | Incline/Decline in Average B-2-B selling price in past 5 years |
| 23 | Competition from substitute products |
| 24 | Gross margin and average profitability of suppliers |
| 25 | New product development in past 12 months |
| 26 | M&A in past 12 months |
| 27 | Growth strategy of leading players |
| 28 | Market share of vendors, 2020 |
| 29 | Company Profiles |
| 30 | Unmet needs and opportunity for new suppliers |
| 31 | Conclusion |
| 32 | Appendix |