Global Flexible Plastic Packaging Market 2020-2025
October 23, 2020

Request Sample
Coming Soon
Multi User License - $2,500
GLOBAL FLEXIBLE PLASTIC PACKAGING MARKET
INTRODUCTION
Packaging is the largest end-user group of plastic goods, accounting for over 40 % of the world's overall consumption of plastic.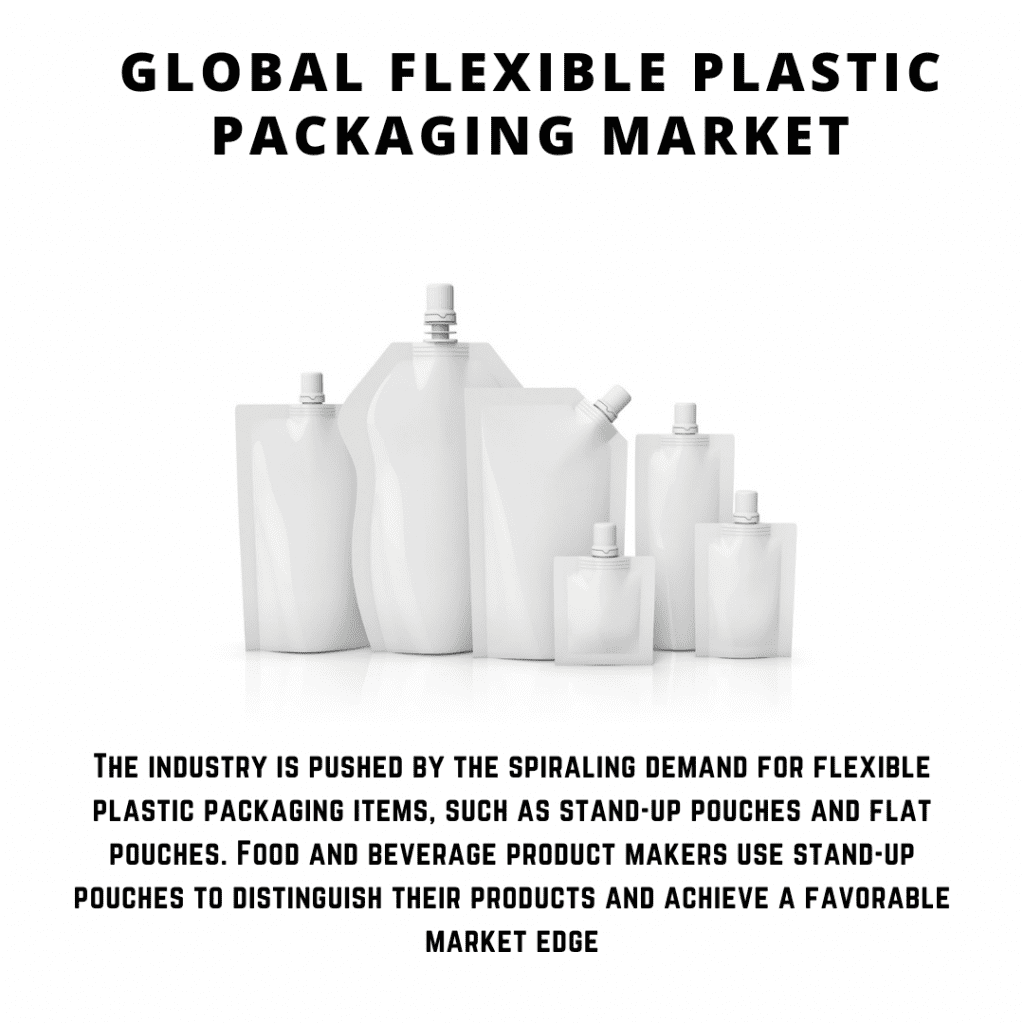 It is estimated that more than 2 million single-use plastic bags and more than 1 million plastic bottles are delivered worldwide every minute, with bottles and bags being the world's most produced and used plastic packaging material. It is estimated that this figure will exceed half a trillion by 2020.
FLEXIBLE PLASTIC PACKAGING MARKET DYNAMICS
The industry is pushed by the spiraling demand for flexible plastic packaging items, such as stand-up pouches and flat pouches. Food and beverage product makers use stand-up pouches to distinguish their products and achieve a favorable market edge. The versatility of being customised to deliver exclusive designs, shapes , and sizes is available for stand up pouches.
REGULATIONS
In order to regulate the sector, governmental bodies such as the Environmental Protection Agency ( EPA) have introduced different legislation. This regulatory body promulgated Effluent Guidelines and Specifications of Organic Chemicals, Plastics, and Synthetic Fibers (OCPSF), which concern the discharge of plastic items.
The limits on the use of the commodity force market participants to comply with the regulatory guidelines defined by different bodies.
SHIFTING TRENDS AND GEOGRAPHY
Due to factors such as weight reduction compared to glass and enabling a more economical transportation operation, the polyethylene terephthalate ( PET) segment would expand lucratively during the forecast period based on the raw material.
At present, heavy and delicate glass bottles are commonly replaced by plastic bottles made from PET because they provide recycled packaging for mineral water and other drinks. With this growing trend expected to persist, demand for PET in bottled water packaging is expected to be propelled.
By geography, due to the existence of two densely populated countries, i.e. China and India, Asia-Pacific would have lucrative growth during the forecast era. The rise in disposable income in these countries would complement the development of sectors such as food and drink, pharmaceuticals, pet foods and cosmetics, which, in exchange, would allow the demand for plastic bottles and containers to flourish.
With China's rapidly expanding economy, consumer spending on personal and home-care goods, such as perfumes and cosmetics, has been rising. In addition, India is also expected to see an increase in plastic packaging used in the food and beverage industry, especially with the recent nationwide lockout, which is raising the need for longer-term storage of food.
RECENT PARTNERSHIPS IN FLEXIBLE PLASTIC PACKAGING MARKET
June 2020: Amcor has collaborated with Espoma Organic to introduce a new bio-based polymer kit with the goal of innovating more natural packaging. Polyethylene (PE) film contains 25% bio-based content which, in this case, is extracted from sugarcane.
Sept 2020: Amcor has partnered with Nestle to introduce recyclable flexible retort pouches which, beginning with wet cat food, will increase the environmental footprint of consumer packaging by up to 60%. The new pouch follows the Circular Economy packaging standards recently issued by the CEFLEX Consortium.
KEY MARKET PLAYERS
Because of the involvement of many players operating their industry on national and international borders, the plastic packaging market is dynamic. With the involvement of major players such as Alpla, AMCOR Limited, Bemis Company Inc., Berry Plastics Corporation, among others, the competition is moderately oriented.
COMPANIES PROFILED
| | |
| --- | --- |
| Sl no | Topic |
| 1 | Market Segmentation |
| 2 | Scope of the report |
| 3 | Abbreviations |
| 4 | Research Methodology |
| 5 | Executive Summary |
| 6 | Introduction |
| 7 | Insights from Industry stakeholders |
| 8 | Cost breakdown of Product by sub-components and average profit margin |
| 9 | Disruptive innovation in the Industry |
| 10 | Technology trends in the Industry |
| 11 | Consumer trends in the industry |
| 12 | Recent Production Milestones |
| 13 | Component Manufacturing in US, EU and China |
| 14 | COVID-19 impact on overall market |
| 15 | COVID-19 impact on Production of components |
| 16 | COVID-19 impact on Point of sale |
| 17 | Market Segmentation, Dynamics and Forecast by Geography, 2020-2025 |
| 18 | Market Segmentation, Dynamics and Forecast by Product Type, 2020-2025 |
| 19 | Market Segmentation, Dynamics and Forecast by Application, 2020-2025 |
| 20 | Market Segmentation, Dynamics and Forecast by End use, 2020-2025 |
| 21 | Product installation rate by OEM, 2020 |
| 22 | Incline/Decline in Average B-2-B selling price in past 5 years |
| 23 | Competition from substitute products |
| 24 | Gross margin and average profitability of suppliers |
| 25 | New product development in past 12 months |
| 26 | M&A in past 12 months |
| 27 | Growth strategy of leading players |
| 28 | Market share of vendors, 2020 |
| 29 | Company Profiles |
| 30 | Unmet needs and opportunity for new suppliers |
| 31 | Conclusion |
| 32 | Appendix |