Global Fuel Cell Commercial Vehicle Market 2020-2025
September 25, 2020

Request Sample
Coming Soon
Multi User License - $2,500
GLOBAL FUEL CELL COMMERCIAL VEHICLE MARKET
KEY FINDINGS
The market is eager for a safe fuel cell especially for purposes that generally have a fixed route. To ensure this, vehicles will have to be built with safety in mind while hydrogen fuelling stations will also have to be set up accordingly
The cost for a fuel cell vehicle right now is not one that operators can bear easily hence will require help from the government
The fuel cell vehicle can offer the power offered by a diesel-powered vehicle. Hence will be preferred over electric commercial vehicle if the other factors such as fuelling etc. are of similar costs
To develop fuel cell technology especially for commercial purposes, governments are combining with universities and private players to distribute the gains throughout while developing cleaner energy
The supply chain for this type of vehicle will also have to be addressed as right now manufacturing is mainly from South Korea, Japan and China
INTRODUCTION
FCEV trucks have the benefit of being an electric vehicle, but with a similar weight and power output to regular diesel-powered trucks, and have a similar refueling time of around 15-20 minutes.
The global fuel cell commercial vehicle market is a very niche market currently set for growth as various OEMs, fuel suppliers and government have shown increasing interest in this technology
GLOBAL FUEL CELL COMMERCIAL VEHICLE MARKET DYNAMICS
Hyundai announced that the hydrogen fuel cell system being shipped to the European continent will also be used by non-automotive companies including a Swiss hydrogen solution firm called GRZ Technologies.
Hiringa Energy and HYZON Motors agree to deploy fuel-cell-powered heavy trucks in New Zealand in 2021.This agreement is in line with Hiringa and its partners' strategy to roll out over 1,500 FCEVs by 2026.
The trucks will come in a variety of right-hand drive configurations with a gross combined mass (GCM) of more than 50t and suitable for New Zealand operators including 8×4 and 6×4 rigid and prime movers with driving distances of up to 500km.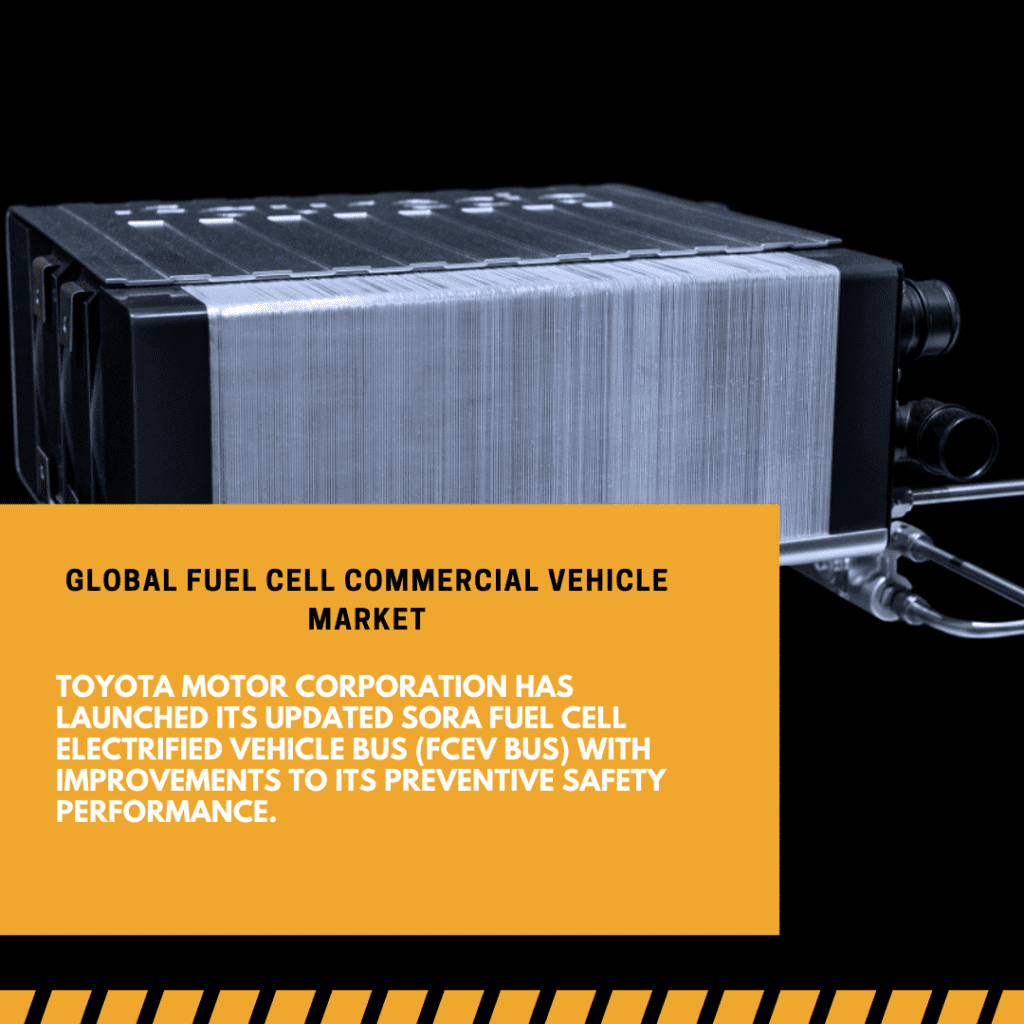 Plug Power holds a vision of decarbonizing the globe, and more specifically in the areas of green hydrogen and mobility. The company's 30 to 125 kW ProGen engine suites heavy-duty vehicle applications, including class 6 and 8 trucks.
Daimler plans to fuel the truck with liquid hydrogen, rather than the gaseous hydrogen.
Freudenberg Sealing Technologies announced a partnership with German vehicle manufacturer Quantron AG to deploy its new fuel cell system in heavy-duty trucks.This partnership is supported by the Energy Research Programme of the Bavarian State Ministry of Economic Affairs, Regional Development and Energy in Germany
NEW PRODUCT DEVELOPMENT IN GLOBAL FUEL CELL COMMERCIAL VEHICLE MARKET
Hyundai Motor is developing a long-distance tractor unit capable of traveling 1,000 kilometers on a single charge equipped with an enhanced fuel cell system with high durability and power, aimed at global markets including North America and Europe.
Toyota Motor Corporation has launched its updated Sora Fuel Cell Electrified Vehicle bus (FCEV bus) with improvements to its preventive safety performance. Toyota also integrated its fuel cell technology into Energy Observer Developments' hydrogen power generator
Plug Power, a provider of hydrogen engines and fueling solutions enabling e-mobility, announced a memorandum of understanding (MOU) for the demonstration of Plug Power's ProGen fuel cell engine in Class 6 and Class 8 vehicles, which will be used by Linde for delivery of products. This fleet of hydrogen fuel cell vehicles is expected to be on the road in early 2021.
Daimler unveiled a long-haul fuel-cell semi-truck that will begin customer trials in 2023. The Mercedes-Benz GenH2 is based on the brand's current Actros semi. It boasts a range of 1,000 kilometers (621 miles) and a payload of 25 tons.
GLOBAL FUEL CELL COMMERCIAL VEHICLE MARKET SIZE AND FORECAST
Hyundai Motor Group aims to secure a 700,000-unit-a-year capacity of fuel cell systems for automobiles as well as vessels, rail cars, drones, and power generators by 2030.The Company shipped 10 units of the Hyundai Xcient Fuel Cell, the fuel cell heavy-duty truck, to Switzerland.
The company plans to ship a total of 50 Xcient Fuel Cells to Switzerland in 2020. The goal for Hyundai is to sell 1,600 Xcient units by 2025.
The global fuel cell vehicle commercial vehicle market is estimated at $XX Million in 2020 growing at –% CAGR till 2025.
COMPANY PROFILES
| | |
| --- | --- |
| Sl no | Topic |
| 1 | Market Segmentation |
| 2 | Scope of the report |
| 3 | Abbreviations |
| 4 | Research Methodology |
| 5 | Executive Summary |
| 6 | Introduction |
| 7 | Insights from Industry stakeholders |
| 8 | Cost breakdown of Product by sub-components and average profit margin |
| 9 | Disruptive innovation in the Industry |
| 10 | Technology trends in the Industry |
| 11 | Consumer trends in the industry |
| 12 | Recent Production Milestones |
| 13 | Component Manufacturing in US, EU and China |
| 14 | COVID-19 impact on overall market |
| 15 | COVID-19 impact on Production of components |
| 16 | COVID-19 impact on Point of sale |
| 17 | Market Segmentation, Dynamics and Forecast by Geography, 2020-2025 |
| 18 | Market Segmentation, Dynamics and Forecast by Product Type, 2020-2025 |
| 19 | Market Segmentation, Dynamics and Forecast by Application, 2020-2025 |
| 20 | Market Segmentation, Dynamics and Forecast by End use, 2020-2025 |
| 21 | Product installation rate by OEM, 2020 |
| 22 | Incline/Decline in Average B-2-B selling price in past 5 years |
| 23 | Competition from substitute products |
| 24 | Gross margin and average profitability of suppliers |
| 25 | New product development in past 12 months |
| 26 | M&A in past 12 months |
| 27 | Growth strategy of leading players |
| 28 | Market share of vendors, 2020 |
| 29 | Company Profiles |
| 30 | Unmet needs and opportunity for new suppliers |
| 31 | Conclusion |
| 32 | Appendix |