Global Aircraft Engines Market 2020-2025
June 24, 2020

Request Sample
COMING SOON
Multi User License - $1,800
INTRODUCTION
Engines are the most important component of any vehicle and it is no different in case of aircrafts. Aircraft engine can range from simple and low-cost piston engines commonly equipped on lighter aircrafts to extremely quick and sophisticated fighter jet engines.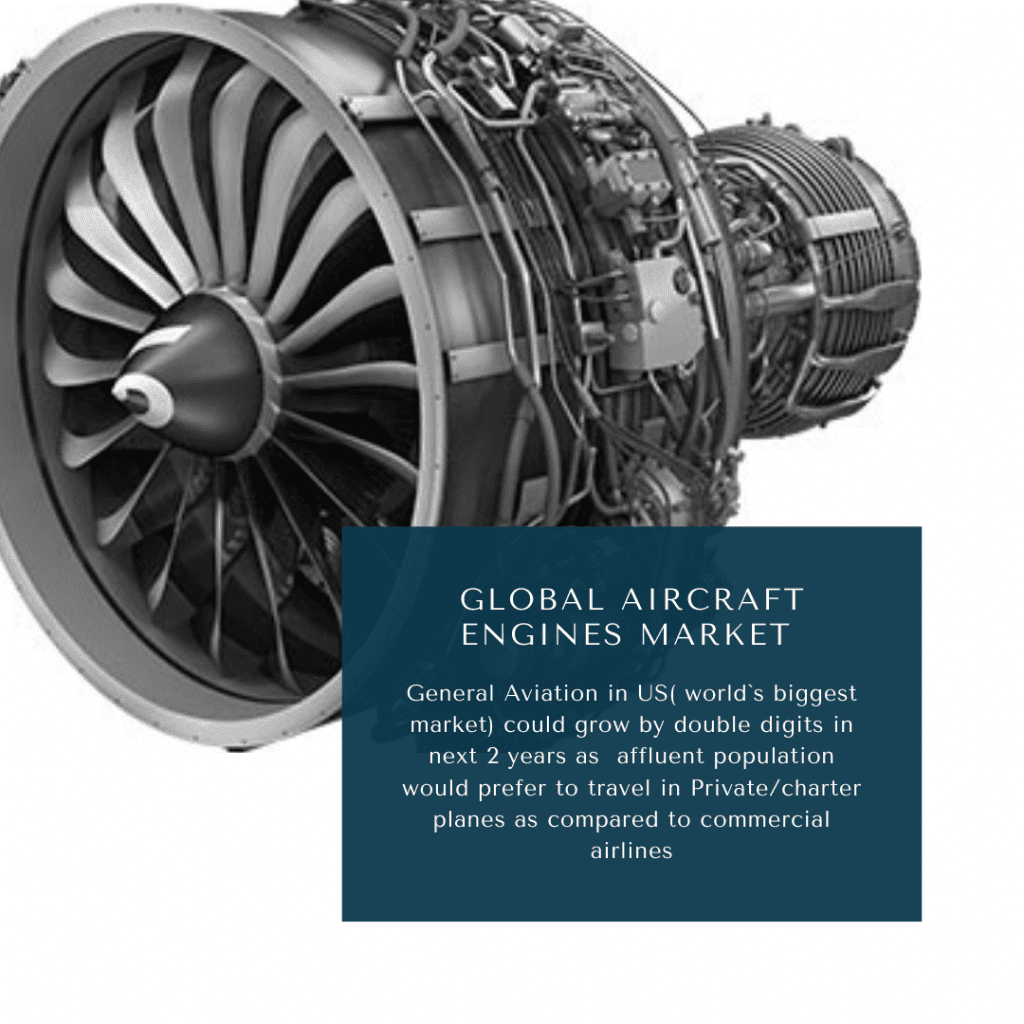 In past 120 years of aircraft engine development, engineers have always focussed on more power, durability and better fuel efficiency at the same time implementing weight savings. There is no doubt that Aerospace technologies greatly benefited from world wars earlier but the recent developments have focussed more on reducing emissions and increasing electrification.
Commercial Airlines, now more than ever are looking for stable engine operation and reduce unscheduled engine removals and significant events that could curtail their regular operations.
MARKET DYNAMICS
Despite COVID-19 the aircraft engine manufacturers are moving ahead with their plans to launch high tech engines like Textron Aviation has continued work on the Denali (turboprop single). Similarly, GE Aviation still expects the first flight of its new Catalyst turboprop engine and delivery of the first engine to Textron Aviation in 2020.
Like other transportation modes, Aviation is also now moving towards sustainable aviation fuel. In Dec 2019, Bombardier announced that Latitude 33 Aviation, a private jet charter company based in California, took delivery of the first Bombardier customer aircraft to fly away on sustainable aviation fuel (SAF).
In terms of electrification, on 29th May 2020, Magnix made the first flight with a prototype of a Cessna 208B Grand Caravan aircraft powered by 750-hp Magni500 all-electric propulsion system. U.S. startup Archer announced plans to bring an eVTOL aircraft to market. Voltaero – a French startup started flight testing the fixed-wing design in March 2020 and has plans to achieve type certification under EASA's CS-23 rules, deliveries to begin by the 2022-end.
MARKET SEGMENTATION
By Geography
US
China
Russia
India
Saudi Arabia
France
Germany
UK
Japan
South Korea
Rest of the world
By End use
By Application
General Aviation
Military
Commercial Aviation
By Engine type
Piston
Turboprop
Turbofan
Turboshaft
NEW CONTRACTS AWARDED IN GLOBAL AIRCRAFT ENGINES MARKET
June 2020– GE Aviation was awarded a $394 Million contract from the Defense Logistics Agency (DLA) to provide J85 engine supplies for the US Air Force and Navy
April 2020– S.S. White Technologies signed an additional five-year Long-Term Agreement for supplying flexible rotary shafts to Honeywell Aerospace
April 2020– Pacific Propeller International reached agreement with Dowty Propellers as Factory authorized repair & overhaul facility. Pacific Propeller has provided repair and overhaul services to metal propellers and their control systems on Lockheed C-130 Hercules, Lockheed P-3 Orion, Lockheed L-188 Electra, Convair 580 etc
Feb 2020– Rhinestahl CTS signed an exclusive service agreement with EngineStands24 for managing and ensuring the readiness of EngineStand24's entire engine stand fleet including LEAP, CFM56, CF6 and CF34
Feb 2020-GE Aviation Launches HPT(high pressure Turbin) Durability Upgrade Program for CF34-8 Engines to be first fitted on BeauTech and Sky Regional Airlines
Jan 2020– Jazeera Airways signed a $1.3 Billion long-term Rate Per Flight Hours (RPFH) agreement with CFM International to support the LEAP-1A engines that power the airline's fleet of Airbus A320neo aircraft. The agreement covers a minimum of 20 aircraft and five spare engines
Jan 2020- Aircraft Propeller Service, LLC was awarded a five-year comprehensive propeller maintenance contract from the Lion Air Group for support of Lion Air's fleet of 80 ATR 72's
Dec 2019– Safran and MTU Aero engines after signing LOI for developing next-generation European fighter aircraft NGF, settled details on workload distribution .Safran will take the lead in engine design and integration, and MTU Aero Engines will take the lead in engine services.
Nov 2019– MTU Maintenance and Malaysia Airlines signed an exclusive 10-year contract for the airline's over 100 CFM56-7B engines. The contract included MRO for the engine fleet until phase-out and includes lease engines
GLOBAL AIRCRAFT ENGINES MARKET SIZE AND FORECAST
All major engine manufacturers had expected the Revenues in the commercial series production business to increase organically by 6-7% in 2020. But Coronavirus impact is likely to make them withdraw their earnings outlook for 2020-21.
General Aviation in US( world`s biggest market) could grow by double digits in next 2 years as  affluent population would prefer to travel in Private/charter planes as compared to commercial airlines.
COMPETITIVE LANDSCAPE
MRO segment accounts for much higher revenue for many engine suppliers as compared to OE segment. For example, MTU Aero Engines AG had a record year in revenue in 2019 at $5.1 Billion (+2% YOY) and MRO share was more than 58%.
CFM International received orders for 2,148 engines in 2019 worth $30.7 Billion U.S, including 180 CFM56 engines (commercial, military and spares) and 1,968 LEAP engines (including spares).LEAP engine by CFM has proved to be extremely popular ever since its launch in 2011, generating more than $270 Billion in Revenue through 2019 for the company.
Lycoming,  among the biggest piston engine aircraft engine manufacturer, introduced its Integrated Electronic Engine (iE2), which is the company's new Federal Aviation Administration (FAA) certified electronically controlled piston engine. Textron Aviation is  also working with Lycoming on integrating Lycoming EIS into a new Cessna aircraft. 
GE, the market leader in turbofan engines has produced more than 13,000 J85 engines till April 2020 in past 61 years. It powers military aircraft like T-38, F-5, T-2C, and A-37B.
RollsRoyce decided to axe 8,000 jobs in March 2020, after its two biggest customers, Airbus and Boeing decided to slash production by 35% and 50% respectively keeping in mind the impact of Coronavirus on aviation market.
COMPANY PROFILES
Japanese Aero Engine Corporation
RED aircraft GmbH
THIS REPORT WILL ANSWER THE FOLLOWING QUESTIONS
Annual Aircraft engine demand, segmented by Engine power, application and Engine type,2020-2025
Important opportunities in Aircraft MRO market by region
All details on new contracts awarded in past 12 months
Market share of leading vendors in Aircraft engine market
Coronavirus Impact on Aircraft engine market
| | |
| --- | --- |
| Sl no | Topic |
| 1 | Market Segmentation |
| 2 | Scope of the report |
| 3 | Abbreviations |
| 4 | Research Methodology |
| 5 | Executive Summary |
| 6 | Introduction |
| 7 | Insights from Industry stakeholders |
| 8 | Cost breakdown of Product by sub-components and average profit margin |
| 9 | Disruptive innovation in the Industry |
| 10 | Technology trends in the Industry |
| 11 | Consumer trends in the industry |
| 12 | Recent Production Milestones |
| 13 | Component Manufacturing in US, EU and China |
| 14 | COVID-19 impact on overall market |
| 15 | COVID-19 impact on Production of components |
| 16 | COVID-19 impact on Point of sale |
| 17 | Market Segmentation, Dynamics and Forecast by Geography, 2020-2025 |
| 18 | Market Segmentation, Dynamics and Forecast by Product Type, 2020-2025 |
| 19 | Market Segmentation, Dynamics and Forecast by Application, 2020-2025 |
| 20 | Market Segmentation, Dynamics and Forecast by End use, 2020-2025 |
| 21 | Product installation rate by OEM, 2020 |
| 22 | Incline/Decline in Average B-2-B selling price in past 5 years |
| 23 | Competition from substitute products |
| 24 | Gross margin and average profitability of suppliers |
| 25 | New product development in past 12 months |
| 26 | M&A in past 12 months |
| 27 | Growth strategy of leading players |
| 28 | Market share of vendors, 2020 |
| 29 | Company Profiles |
| 30 | Unmet needs and opportunity for new suppliers |
| 31 | Conclusion |
| 32 | Appendix |