GLOBAL CONTAINER SHIP INSURANCE MARKET
INTRODUCTION 
Shipping has been an uncertain avenue. The history of insurance for Ships roots back to the 17th century when ship owners, who were willing to share the cost of uncertainties wrote their names under the ship's name. Container ships are in existence for a long time now. Their use is a lifeline to the world's economy and the utilization has been growing every year. Urbanization and Industrialization are the integral factors for the progressive use of Container Ships now.  
To cater to the needs of various transportation jobs, a variety of sizes and material-specific container ships are being developed. The designs have been going through advancements, keeping in mind the best safety standards with the best pieces of machinery to be installed over the ship's surface for ease of loading-unloading business.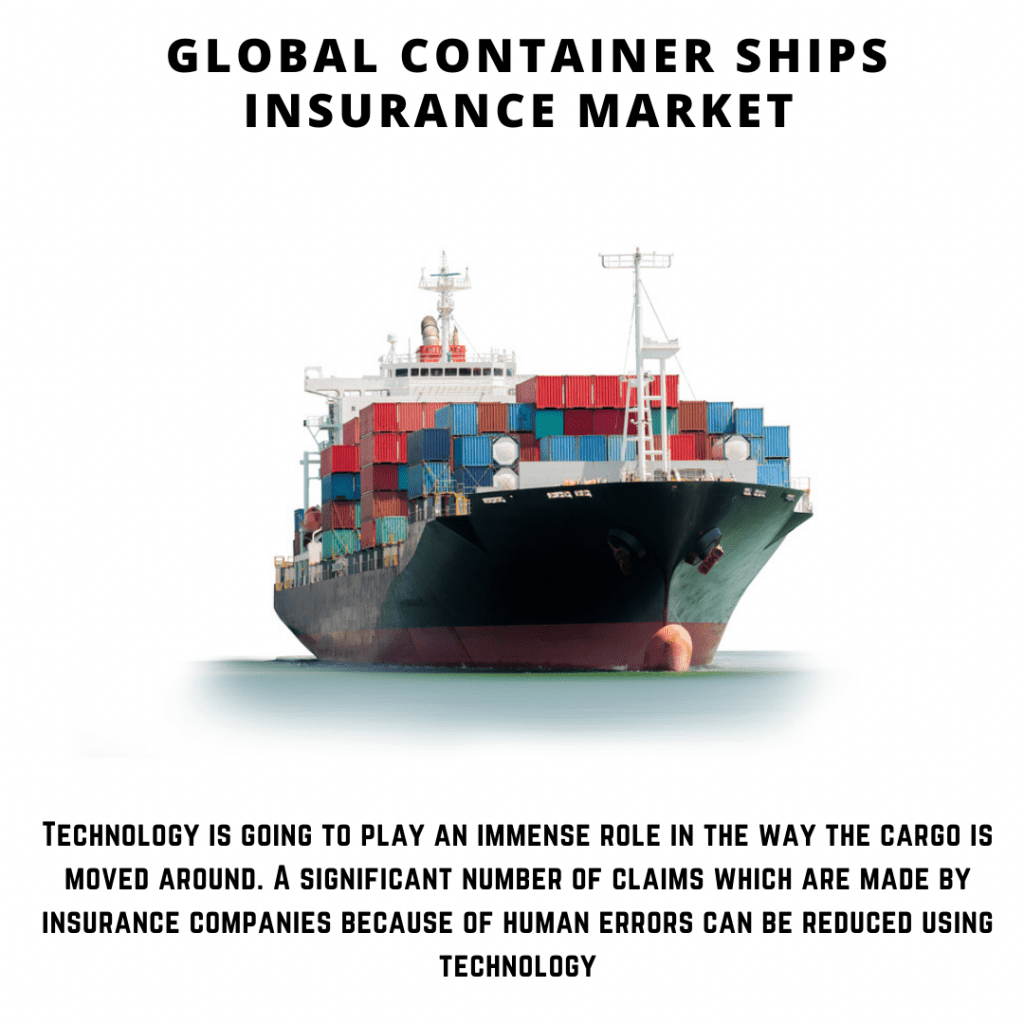 Henceforth, insurance of Container ships is important. This market covers insurance from loading/unloading, piracies, or weather extremities. In present times, this market is folded in a huge web of complexity. A past trend of the Insurance market dictates that this market has been a Buyers' market with plenty of capacity. The market observes a competitive and opportunistic landscape.. 
The article will further dwell deeper to understand the characteristics of this market. 
MARKET DYNAMICS
Cargo types that have made cargo insurance to be covered are General Cargo, Raw Materials, Engine Components, Mobile accessories, Office Supplies, Construction Materials, and Paper. The Cargo market has been through a bunch of changes in past years.  
The increasing average size of Cargo ships is a threat for some insurers who are afraid of the occurrence of major sea-disasters affecting their shipment and ship. The challenges, hazards, and importance as well of different cargo types create opportunities for policymakers to blend a variety of measures to make bold claims for specific cargo types thus, strengthening the customer beliefs of their insurance.
 Some of the major risks that are faced by container insurers today are: 
The collision of a vessel with port equipment.

Storage defects and incapability might result in instability of the ship on the waters, especially in weather extremities.

Loss of containers that might be containing some hazardous materials, a major environmental threat.

A collision of one vessel with another vessel typically can happen at ports.

Fire hazard due to improper maintenance of container containing the flammable material.

Fall of containers due to an inappropriate piece of machinery use while loading-unloading process. It can damage severely the vessel's body.

Breakdown of a full ship, making it vulnerable to a total loss in the ocean.

Skeleton crew on board.

Climate extremities, especially unpredicted storms.

The grounding of ships is a disaster for container insurance companies. The rollover of the ship and therefore, extraction of hundreds of containers is a lengthy process and the cost incurred will be enormously expensive.

Incompatible and worn-out stowage equipment.
MARKET SIZE AND FORECAST
The regional division of this market is as follows: North America, comprising mainly the United States and Canada, Europe with major countries namely the UK, France, and Germany, the Asia Pacific region with the major marketplaces being China, Japan, and India, the Latin America Region and finally the Middle East African Region. 
Singapore has seen prospective growth in the past years and is an opportunistic market for the same. Also, Latin America is accounted for a significant share of this market because of the growing awareness of insurance in the region. Mergers and acquisitions in North America encourage the growth of demand for insurance in this region. The solutions provided by companies like Chubb and many others are enabling them to make claims efficiently, thus positively impacting this marketplace. 
The Covid-19 pandemic has created uncertainties in every market and therefore, there has been a direct and huge as well impact on exposures including volume, accumulations in port and aboard vessels. There are plenty of challenges out there like making changes to the portfolios, addressing the skill gaps, and many more. The environment is expected to get more difficult in this scenario with the prediction of lower interest rates and investment losses.  
The upliftment of lockdowns and global economy making recovery with the result of reestablishment of the trade and subsequent progress, therefore, provides a positive perception of the market in the forecast period. The challenges and uncertainties of modern times may represent a going-backward trend; however, this is seen as a healthy moment by insurance makers to provide much better and efficient solutions to their clients.
COMPETITIVE LANDSCAPE
Technology is going to play an immense role in the way the cargo is moved around. A significant number of claims which are made by insurance companies because of human errors can be reduced using technology, while at the same time, unprecedented and unexpected risks arise because of Unmanned ships driven by technology. There might be reduced crew risk because of more employability of technology while on the other hand, such pieces of machinery are vulnerable to malicious cyber-attacks. 
Online platforms and gateways are responsible for attracting and enhancing the customer experience. This enhanced experience is further amplified with the introduction of online technologies of analysis and digitization. 
An increasing number of mergers and acquisitions in the European market is expected to encourage the marketplace in their region. With so much uncertainty in the seas for the vessels containing precious material for trade, this market is a supportive place for container ships and is truly expected to flourish in the forecast period.
COMPANIES PROFILED
Brown & Brown

Gard

American International

Allianz

Aries Marine Insurance Brokers

General Insurance