Global Health Insurance Market 2020-2025
August 10, 2020

Request Sample
Coming Soon
Multi User License - $2,500
GLOBAL HEALTH INSURANCE MARKET
KEY FINDINGS
The Covid-19 has induced uncertainty into the healthcare industry that it has become so much difficult to predict that whether the medical cost trends would be higher or lower in 2021.In case of employers providing health insurance to their employees have reported about 3%-4.5% increase in insurance premiums for the year 2021 from major insurers but they also worry that delayed care would lead to acute medical claims next year.
The market is expected to witness an exponential growth in the Asia-Pacific region due to factors such as increasing population especially middle-class, inclination towards better health care facilities and increase in the per-capita income of people in this region.
Advancement in technologies such as Artificial Intelligence, Data science and connected devices has accelerated a shift in the industry and is enabling insures to provide better services to their customers.
 BACKGROUND
The landscape of the global health insurance industry is consistently changing owing to several factors such as increased competition, entry of new players and instances of collaborations and consolidation. Over a decade, there has been a consistent growth in insurance premiums due to increasing life expectancy, medical inflation, increasing aging population, more employment opportunities encouraging people to go for an insurance policy and an administrative push for compulsory coverage.
Health insurance is a form of insurance coverage that pays for the cost of the insured individual's medical expenses. Based on the type of health insurance coverage an individual has, he or she may pay for healthcare-related costs out of pocket and then be reimbursed by the insurance provider, or the insured individual makes payments to the insurance provider.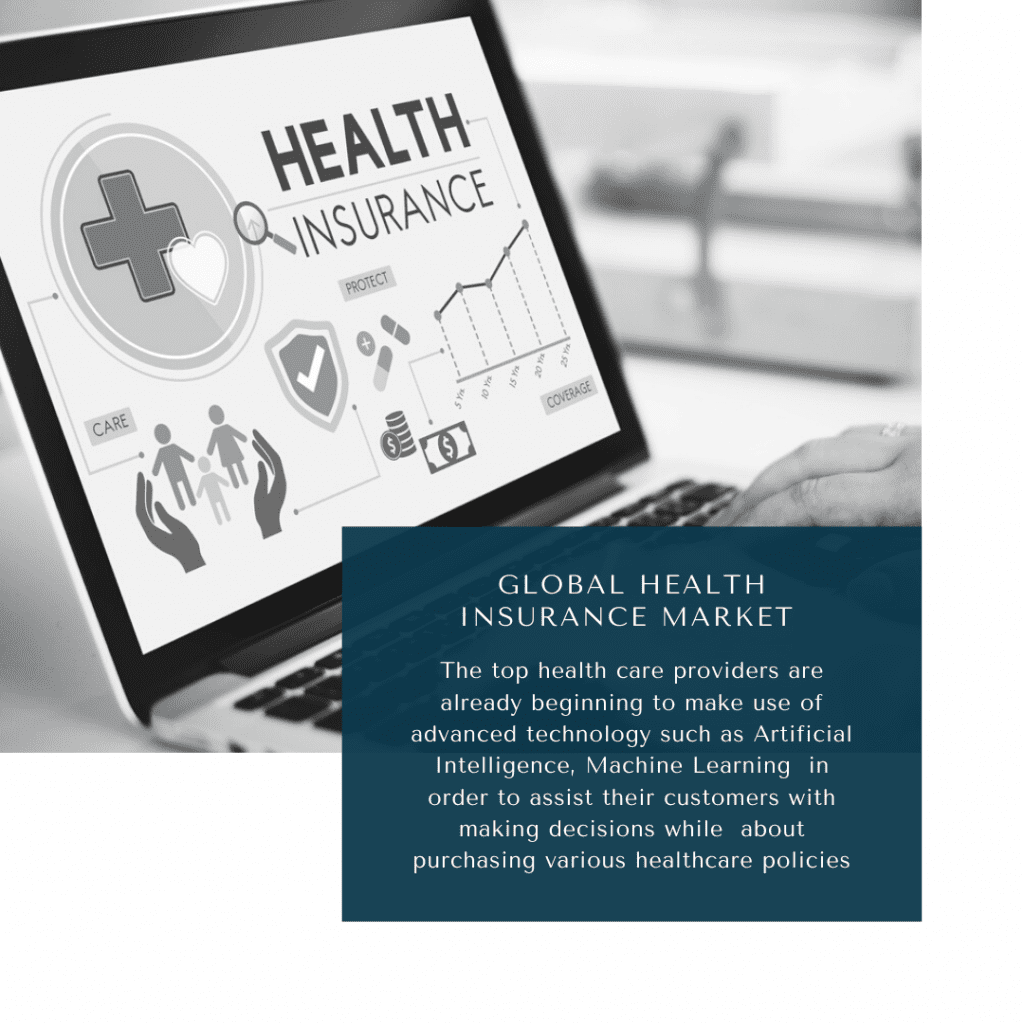 According to WHO estimates, life expectancy at birth rate was 72 years in 2016, 5.5  years increase as compared to 2000.Life expectancy have also increased due to the availability of better health-care facilities across the world. However, along with life expectancy, chronic and complex diseases and lifestyle induced health concerns have also increased. All such factors are shifting the current risk landscape in the industry and putting more pressure on the current healthcare system. As the risk faced by insurers changes, it is necessary for them to improve their operating efficiencies, satisfying the evolving customer needs and align better with the dynamic business environment.
Policy holders are also becoming tech-savvy and requires products and services that are highly personalized to their requirements. They demand similar holistic experience which is offered by other industries like online retail forcing insurers to reassess their product and service strategy.
COMPETITIVE LANDSCAPE
The global health insurance market is highly competitive due to the emergence of new players in the industry. The majority of health care providers are consistently making developments and applying techniques that aim to boost the infrastructure of the health care market. These factors will lead to more innovative products that are related to the health insurance products which would drive the growth of the industry in the near future.
The top health care providers are already beginning to make use of advanced technology such as Artificial Intelligence, Machine Learning  in order to assist their customers with making decisions while  about purchasing various healthcare policies. Moreover, the government also public healthcare for its citizens in multiple developing countries. This will likely cause several private medical insurance providers to make their way into the market with greater funding mechanisms.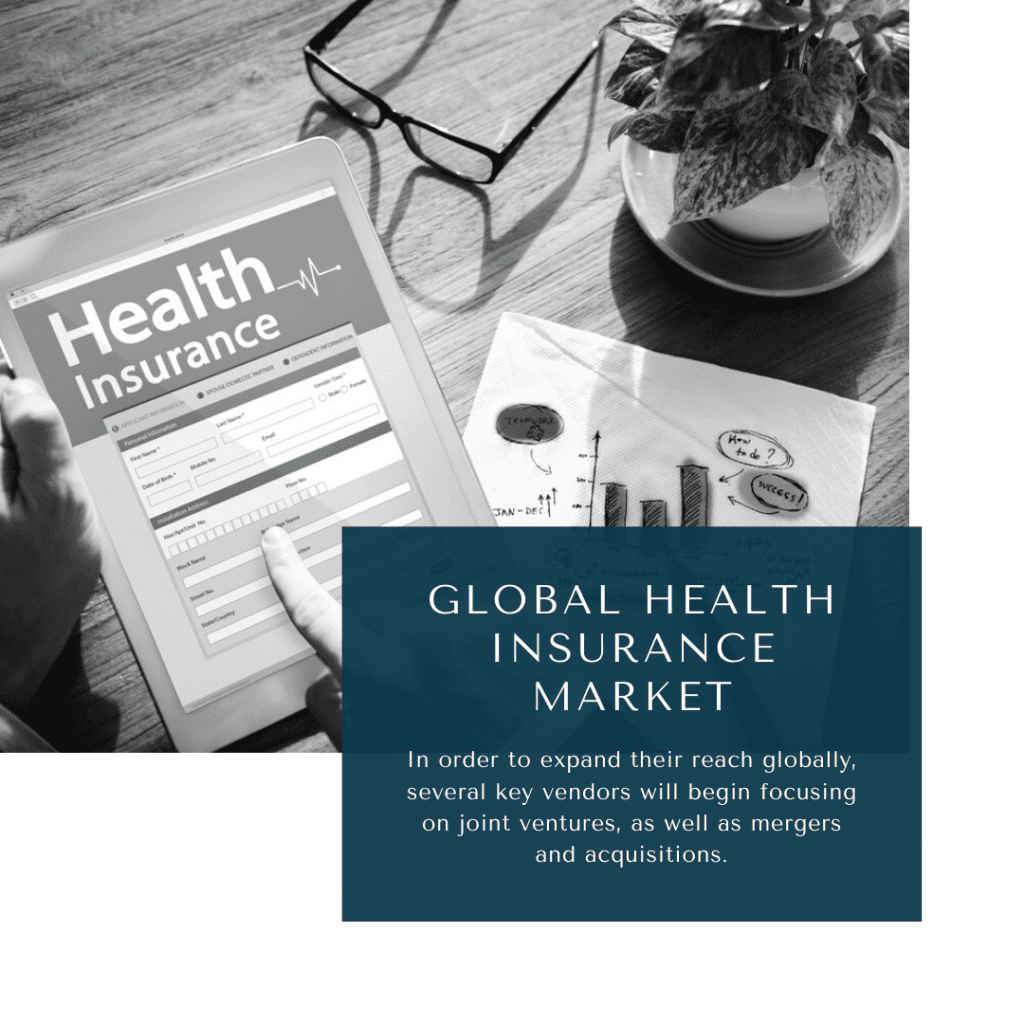 Between 2016 and 2020, the stringent norms related to the regulation of health insurance are expected to boost the size of the market. In order to expand their reach globally, several key vendors will begin focusing on joint ventures, as well as mergers and acquisitions.
There are several companies that are expected to be top vendors in the coming decade. These companies include AXA, Allianz, Aviva, United Healthcare and Zurich Insurance Group, AIA Insurance, the Aetna Foundation and Blue Cross Blue Shield . In addition, the entry of Walmart  further makes the industry more competitive.
TRENDS THAT WOULD DRIVE THE INDUSTRY
The insurance industry in general involves players whose products are similar to one another and price is the pivot around which the entire competition takes place. However ,increasing customer expectations and greater compliance are forcing such companies to rethink about their product offerings to earn better margins and ensure their survival.
One of the major limitation that the health insurance industry suffers from is lack of transparency which is critical for building customer trust. However, in most of  scenarios, customers are unable to obtain a detailed plan about their insurance policy and whether a particular test is covered or not leading to weak brand loyalty. In addition, regulations in the United States to improve price and quality transparency is also putting pressure on the companies forcing them to revisit their strategy of building better customer relations.
Another way through which the insurers can proliferate their growth is through AI powered chatbots which can help them to interact with customers in a more efficient way as there has been an increase in an app-based ecosystem and usage of messaging apps.
Adoption of automation technologies would help them boost claim processing efficiency and can enable real time processing. This would also help them to eliminate human errors and poster a customer relationship that is transparent and reliable.
The health insurance industry needs to adopt an efficient and digitally integrated ecosystem that would enable them to provide a seamless and simplified customer experience enabling them to survive in the short term and thrive in the long run.
| | |
| --- | --- |
| Sl no | Topic |
| 1 | Market Segmentation |
| 2 | Scope of the report |
| 3 | Abbreviations |
| 4 | Research Methodology |
| 5 | Executive Summary |
| 6 | Introduction |
| 7 | Insights from Industry stakeholders |
| 8 | Cost breakdown of Product by sub-components and average profit margin |
| 9 | Disruptive innovation in the Industry |
| 10 | Technology trends in the Industry |
| 11 | Consumer trends in the industry |
| 12 | Recent Production Milestones |
| 13 | Component Manufacturing in US, EU and China |
| 14 | COVID-19 impact on overall market |
| 15 | COVID-19 impact on Production of components |
| 16 | COVID-19 impact on Point of sale |
| 17 | Market Segmentation, Dynamics and Forecast by Geography, 2020-2025 |
| 18 | Market Segmentation, Dynamics and Forecast by Product Type, 2020-2025 |
| 19 | Market Segmentation, Dynamics and Forecast by Application, 2020-2025 |
| 20 | Market Segmentation, Dynamics and Forecast by End use, 2020-2025 |
| 21 | Product installation rate by OEM, 2020 |
| 22 | Incline/Decline in Average B-2-B selling price in past 5 years |
| 23 | Competition from substitute products |
| 24 | Gross margin and average profitability of suppliers |
| 25 | New product development in past 12 months |
| 26 | M&A in past 12 months |
| 27 | Growth strategy of leading players |
| 28 | Market share of vendors, 2020 |
| 29 | Company Profiles |
| 30 | Unmet needs and opportunity for new suppliers |
| 31 | Conclusion |
| 32 | Appendix |