Hotel Industry in India 2019-2025
October 1, 2020

Request Sample
Number of pages – 96
COVID updated report
Multi User License - $1,800
KEY FINDINGS
The organized hotel industry in India market size grew at ~4% CAGR between 2015-2019.The demand from domestic travellers remains a bright spot and thus the mid-scale hotel segment ($45-$65 ADR) holds higher growth potential
COVID will directly impact business travellers, both domestic and International and revival will only begin by Q2-2021
Post COVID, due to growing promotion of Hindu mythology related destinations by central and various state governments, the industry can expect a boost in spiritual tourism in under penetrated markets of North and East India
The branded hotel room inventory in India has grown at 7.4% CAGR in 2014-2019. Total inventory in Sep 2020 was ~135,000-140,000 units
Majority of the new hotels are now being built in tier-2 cities, outskirts of tier-1 cities and less explored leisure destinations. Going by Pre- COVID announcements in June 2019-March 2020, Radisson India has one of the biggest pipelines in the Industry of ~1,900 rooms
IHCL remains the market leader by a significant margin accounting for more than 38% market share in 2019 but its revenues have grown at just 1.4% CAGR in past 5 years
Lemon tree and Chalet Hotels have grown their revenue at ~18% and 17% CAGR respectively in past 5 years
HOTEL INDUSTRY IN INDIA-INTRODUCTION
The hotel industry in India, partially organized and majorly unorganized caters to ~1.8 Billion domestic travelers and 9-9.5 Million foreign travelers. About 55% of organized hotels in India belong to 3-star or higher categories.
Tamil Nadu and Uttar Pradesh account for more than 35% of all domestic tourist visits in India.
Air traffic reform in India, initiated in 2005 with the rise of low cost carriers had a major role in driving the hotel industry growth in India. As a result the tourism industry in India has been growing and has vast potential for generating employment and earning foreign exchange.
COVID-19 IMPACT UPDATE ON HOTEL INDUSTRY IN INDIA
The occupancy rates in India have been steadily recovering after a historic low in March-May 2020 due to national lockdown
Between 20th March till 20th May the occupancy rates pan-India across all hotel segments were unprecedented i.e. under 5% and mostly occupied by health professionals for COVID treatment/quarantine facility
It was only after 20th May 2020 that things started turning around. But that did not happen before the hotel industry in India lost out on two most important months of the year i.e. April and May
Looking at the available total inventory, 50% of all hotel rooms were shutdown till end of April 2020. In the early part of May many organized hotel rooms saw a single–digit occupancy percentage
The impact will be rather higher on the unorganized hotels in India which outnumber the branded hotels by a very big margin. We believe at least 5-8% unorganized hotels could be shutdown permanently.
The hospitality sector got Industry status in 2012 now needs a significant package from the government which is yet to announce the same.
MARKET SEGMENTATION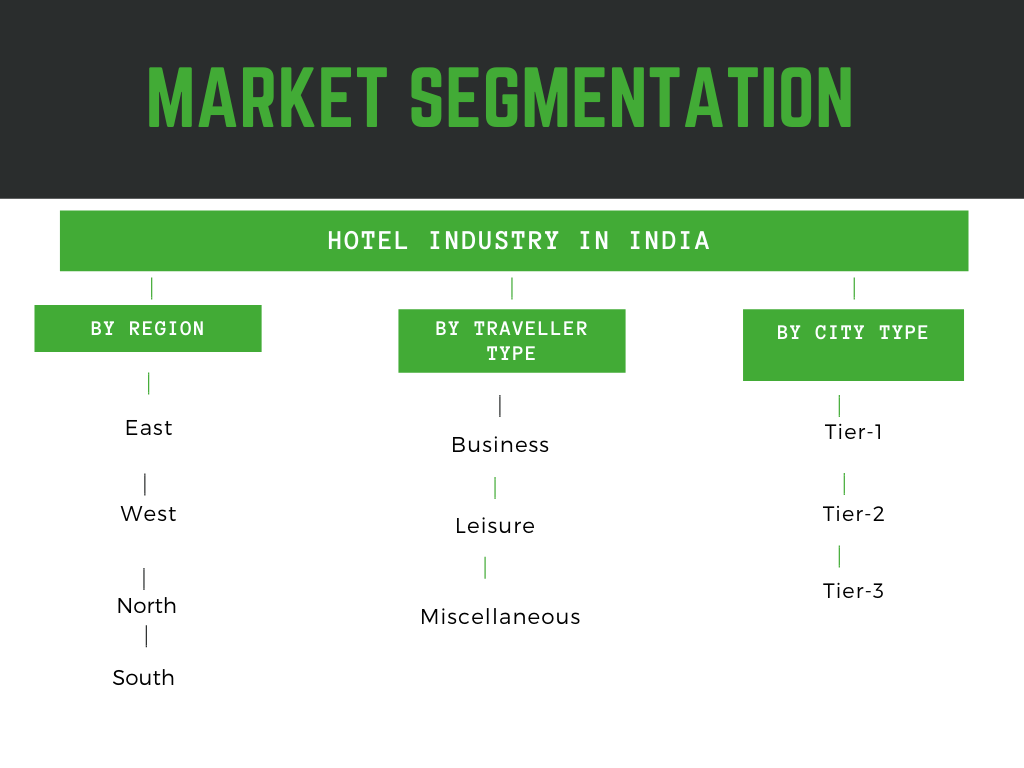 MARKET DYNAMICS
Among five most important hotel ownership models globally, Franchise and lease and license models are now getting increasingly popular in India as compared to owned hotels category.
Over the past five years the 2-3-star hotel occupancy has grown at the highest (~7%) rate YOY. A large chunk of that can be attributed to the growth in organized hotel industry in India.
In the organized hotel industry in India, the Indian consumer internet market is largely concentrated in urban and affluent cities. As a result of that, most of the online bookings for hotels are done by residents of tier-1 and tier-2 cities.
The operating margin for budget and mid-category hotels is between 18-25% in India, which can be even lower considering heavy discounting by online hotel aggregators and thus the market will always need high inventory and >60% occupancy rates.
In the organized sector, more than 60% of bookings are done online, just 2 days in advance.
The GST council`s rate cut on from 28% to 18% for upscale hotels, and from 18% to 12% for mid-scale is expected to be a major growth driver for hotel industry in India in coming years. 
DEPENDENCE ON FOREIGN TOURIST ARRIVALS AND OUTBOUND TOURISTS
Foreign tourist arrival led to FOREX earnings of ~$30 Billion in 2019.Bangladesh, US and UK accounted for ~21%, 14% and 10% of all arrivals respectively in 2019
Expanding compulsory quarantine for a minimum of 14 days by passengers coming from International countries coupled with travel bans issued for many countries as a measure to prevent the spread of Covid-19 resulted negatively for the tourism industry of India this year. 
India has a robust domestic market which could soften the impact as compared with nations that rely largely on international tourists. India receives 11 million foreign tourists, which is small compared to its size and relative potential. 
At least 24 million Indian tourists travel abroad each year and spend an estimated $25 Billion.
THE METEORIC RISE OF OYO
Most of the below 3-star hotel industry in India is catered by economical range of hotels i.e. which offer rooms at $20(1,400 INR) / night or less. The premium segment i.e. >$100(7,000 INR) per night makes up for less than 5% of total market. This is the reason OYO has been able to scale up its operations so rapidly in just 6 years of its existence. But the story just doesn`t end there.
Oyo majorly caters to urban domestic travellers. For domestic travellers, traditional and emerging themes of tourism including nature, heritage and cultural, religious, adventure, medical and wellness, MICE and wedding have been a key attraction.
Systematic growth, maintenance and sustainable development of tourism destinations and focus on promoting emerging avenues of tourism will be essential towards unlocking its true potential.
In October 2019, OYO announced that it was planning to raise $1.5 Billion in its upcoming funding round, to expand its position in the US and Europe.
MOUNTING LOSSES
In FY 2019, OYO had a net loss of $332 Million on revenue of $900 Million.China operations accounted for ~40% of overall losses.The annual filing also stated that Oyo will post a profit in its India and China operations starting 2022. As per OYO, in the final six months of 2019,  its China operation could generate a loss of  ~$175 Million in EBIDTA.
MARKET SIZE OF HOTEL INDUSTRY IN INDIA
The Indian organized hotel industry market size was estimated at ~11,920 Crore INR ($1.7 Billion) in 2019 and average annual revenue/room was ~$12,400 per annum
Post COVID, revenues will decline by ~48% in 2020 YOY but the market will also see a sharp recovery in 2021 and 2022 led by domestic leisure tourism
The share of organized sector is expected to increase from ~5% in 2019 to ~8% in 2025 on account of growing pipeline from bigger brands and inventory reduction in unbranded hotels due to COVID
THE RISE OF STAYCATION, BIZCATION AND WORKATION-POST COVID
Operationally, resorts that are located within five to six hours driving distance from cities will be the first ones to recover as demand will be driven by domestic leisure travellers, who might still be hesitant to take flights and rather drive for short breaks over weekends.
The tourism industry, which has suffered a sudden yet savage blow, is counting on this surge in staycations to recover. More and more luxury hotels, resorts, homestays and other players are designing staycation packages to lure potential customers.
PROLIFERATION OF AI IN THE HOTEL INDUSTRY IN INDIA
Data and AI technology are also bringing revolutionary changes on the supplier side of the hotel industry globally. In India, personalized hotel recommendations and better promotions are now possible via hotel's online reviews and is happening on a much bigger scale now as compared to few years ago.
AI is also finding application in improving sustainability. For example, in Sep 2019 JW Mariott took the initiative of going 'plastic-free' with its Artificial-Intelligence technology-based water treatment and purification plant.
COMPETITIVE LANDSCAPE
In the branded hotel category, Marriott International with the merger of Starwood Hotels and Resorts, has outpaced Taj Hotels Palaces Resorts Safaris (including Ginger) to hold the largest hotel inventory in India.
IHCL and ITC Hotels are the most popular operators with a very wide presence. Chalet Hotels and Lemon Tre hotels are scaling up rapidly post COVID-19.
In 2019, Chalet Hotels Ltd (CHL) launched a successful IPO in early 2019. It also decided to scale up partnership with Marriott Intl by signing 5 new contracts in Dec 2019.
Choice Hotels India, a wholly-owned subsidiary of the US-based Choice Hotels International, is looking to open 11 new hotels in India, mainly in Tier-II and -III cities, in 2020. At present, it has 32 operational hotels in India.
Radisson South Asia Pvt Limited is aggressively expanding its presence and as per annual filings generated a Revenue of 75 Crore (~$11 Million) in FY 2019.
Chicago headquartered Hyatt Hotels Corporation currently has 32 hotels across 20 cities under its eight brands in India. In 2019, it had announced that it will open 11 new hotels in India by the end of 2020. It is also looking at expanding in tier II and tier III cities in coming years.
Tamara hotels will be investing INR 350 crore (~$50 Million) in Tamil Nadu and Kerala by 2022 and plans to take its room count to 1,000 by 2025 from ~300 at present.
COMPANY PROFILES
The major players in hotel industry in India are
IHCL
Chalet Hotels
ITC Ltd
Radisson Hotels (South Asia) Pvt Limited
Intercontinental hotels group (india) private Limited
Wyndham
Lemon tree Hotels Limited
EIH Associated Hotels Ltd.
Bharat Hotels Limited
THIS REPORT WILL ANSWER FOLLOWING QUESTIONS
Opportunity for new vendors in the organized hotel industry in India
Market revenue at present and 2025 forecast. Average operating margin by segment
Which market segment offers maximum revenue and profitability opportunity
Occupancy rate and average room rent of hotels, by market segment
Market share of major vendors and their growth strategies
New entrants in hotel industry in India in 2020-22 and target cities
| | |
| --- | --- |
| 1 | Market Segmentation |
| 2 | Executive Summary |
| 3 | Introduction |
| 4 | Monthly active hotel user base in India |
| 5 | Growth in number of travelers in India |
| 6 | Increase in advertising and influencer marketing 2015-2019 |
| 7 | Most popular hotel category by city type |
| 8 | New hotel launches in 2019 and planned launches in 2020-2022 |
| 9 | Popular price point of budget travellers in tier-1, tier-2 cities |
| 10 | All about unorganized hotel market in India |
| 11 | Oyo- Average room inventory, average occupancy, pushback from hotel owners  etc |
| 12 | Top 10 high ADR, OCC and Revpar cities in India-2019 |
| 13 | Market Size ,Dynamics and Forecast By Hotel type |
| 14 | Market Size ,Dynamics and Forecast By City type |
| 15 | Market Size ,Dynamics and Forecast By Traveller type |
| 16 | Market Size ,Dynamics and Forecast By Price |
| 17 | Competitive Landscape |
| 18 | Market share of major vendors |
| 19 | Growth and expansion strategies of major organized hotel companies in India |
| 20 | Company Profiles |
| 21 | Expansion by major hospitality companies in tier-2 cities in past 5 years |
| 22 | Unmet needs and Market Opportunity for new vendors |
| 23 | Conclusion |
| 24 | Appendix |