Hotel Industry in India 2019-2025
January 3, 2020

Request Sample
COMING SOON
Multi User License - $1,800
HOTEL INDUSTRY IN INDIA-INTRODUCTION
The hotel industry in India, partially organized and majorly unorganized caters to ~1.8 Billion domestic travelers and 9-9.5 Million foreign travelers. About 55% of organized hotels in India belong to 3-star or higher categories.
Tamil Nadu and Uttar Pradesh account for more than 35% of all domestic tourist visits in India.
Air traffic reform in India, initiated in 2005 with the rise of low cost carriers had a major role in driving the hotel industry growth in India. As a result the tourism industry in India has been growing and has vast potential for generating employment and earning foreign exchange.
COVID-19 IMPACT UPDATE ON HOTEL INDUSTRY IN INDIA
10th May 2020– As we write this today, India has been under a prolonged lock-down for more than 7 weeks now. The trajectory of positive COVID-19 cases continues to grow along with recovery rate. And now more than ever, there is a growing consensus that Economic activities will have to co-exist with the virus and any further lock down will cause irreparable damage to all industries.
The biggest collateral damage of worldwide lock downs can now be clearly seen on travel and hospitality industry and India is no exception to that.Hotel demand has rapidly dropped to virtually zero in a matter of just weeks beginning Mid- March with no end in sight.
Even when the hotels do open for business the overall experience will be marred by strict social distancing guidelines, frequent sanitization and constant paranoia in the mind of patrons.Leisure travel-a booming segment is expected to take the biggest hit followed by business travel. Many events expected to be held later in 2020 have either been postponed or canceled,heavily impacting the MICE segment.
The impact will be rather higher on the unorganized hotels in India which outnumber the branded hotels by a very big margin. We believe atleast 10-15% unorganized hotels could be shutdown permanently and will not reopen when national lock down ends. 
The hospitality sector got Industry status in 2012 now needs a significant package from the government which is yet to announce the same for any industry. 
MARKET SEGMENTATION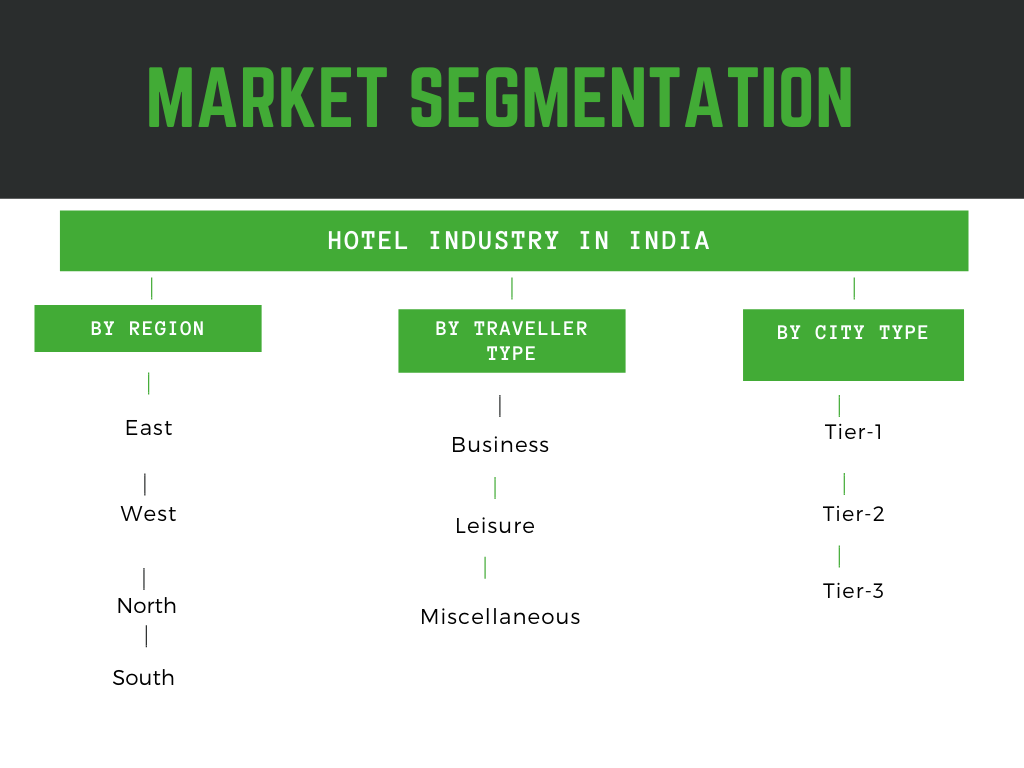 MARKET DYNAMICS
Among five most important hotel ownership  models globally, Franchise and lease and license models are now getting increasingly popular in India as compared to owned hotels category. Over the past five years the 2-3 star hotel occupancy has grown at the highest(~7%) rate YOY. A large chunk of that cann be attributed to the growth in organized hotel industry in India.
In the organized hotel industry in India, the Indian consumer internet market is largely concentrated in urban and affluent cities. As a result of that, most of the online bookings for hotels are done by residents of tier-1 and tier-2 cities.
The operating margin for budget and mid-category hotels is between 18-25% in India, which can be even lower considering heavy discounting by online hotel aggregators and thus the market will always need high inventory and >60% occupancy rates.
In the organized sector, more than 60% of bookings are done online, just 2 days in advance.
The GST council`s rate cut on from 28% to 18% for upscale hotels, and from 18% to 12% for mid-scale is expected to be a major growth driver for hotel industry in India in coming years. The GST revision had a positive effect so far and in Jan-Nov 2019 period   foreign tourist arrival in India grew by  3.2% amounting to 9.7 Million travellers.
THE METEORIC RISE OF OYO
Most of the below 3-star hotel industry in India is catered by economical range of hotels i.e. which offer rooms at $20(1,400 INR) / night or less. The premium segment i.e. >$100(7,000 INR) per night makes up for less than 5% of total market. This is the reason OYO has been able to scale up its operations so rapidly in just 6 years of its existence. But the story just doesn`t end there.
Oyo is reportedly planning to enter 4-star hospitality segment by acquiring ITC Hotels-managed Fortune Select Metropolitan Jaipur from UAE based Emaar properties.
In October 2019, OYO  announced that it was planning to raise $1.5 Billion in its upcoming funding round, to expand its position in the US and  Europe.
As per a press release from Oyo in July 2019
It is now South Asia's largest, China's second largest, the world's third largest and fastest-growing chain of leased and franchised hotels
More than 75% of hotel owners associated with OYO have seen an increase of almost 3X+ in occupancy within three months, and a significant jump in profit
Over 90% of business at OYO hotels in India is now being generated by the repeat, direct or word of mouth customers
OYO is now present in in more than 800 cities in 80 countries with more than 23,000 hotels and 46,000 vacation homes
Airbnb made a strategic $200 Million investment in Oyo in April 2019
In India, Uttar Pradesh, Maharasthra and Karnataka were its top 3 markets in 2019.
MOUNTING LOSSES
In FY 2019, OYO had a net loss of $332 Million on revenue of $900 Million.China operations accounted for ~40% of overall losses.The annual filing also stated that Oyo will post a profit in its India and China operations starting 2022. As per OYO, in the final six months of 2019,  its China operation could generate a loss of  ~$175 Million in EBIDTA.
MARKET SIZE OF HOTEL INDUSTRY IN INDIA
The market size of hotel industry in India(including unorganized market) is estimated at $22 Billion in 2019, growing at 8.6% till 2025. The share of organized sector is expected to increase from 32% in 2019 to 37% in 2025.The demand is expected to outpace supply in coming years and therefore revenue growth will be much higher than volume(bookings) growth.
PROLIFERATION OF AI IN THE HOTEL INDUSTRY IN INDIA
Data and AI technology are also bringing revolutionary changes on the supplier side of the hotel industry globally. In India, personalized hotel recommendations and better promotions are now possible via hotel's online reviews and is happening on a much bigger scale now as compared to few years ago.
AI is also finding application in improving sustainability. For example, in Sep 2019 JW Mariott took the initiative of going 'plastic-free' with its Artificial-Intelligence technology-based water treatment and purification plant.
COMPETITIVE LANDSCAPE
In the branded hotel category, Marriott International with the merger of Starwood Hotels and Resorts, has outpaced Taj Hotels Palaces Resorts Safaris (including Ginger) to hold the largest hotel inventory in India.
Oyo rooms, among the unicorn start-ups in India is at the forefront of growing organized hotel industry in India. It has successfully expanded to multiple countries and continents now.
In 2019, Chalet Hotels Ltd (CHL) launched a successful IPO in early 2019. It also decided to scale up partnership with Marriott Intl by signing 5 new contracts in Dec 2019.
Choice Hotels India, a wholly-owned subsidiary of the US-based Choice Hotels International, is looking to open 11 new hotels in India,mainly in Tier-II and -III cities, in 2020. At present, it has 32 operational hotels in India.
Chicago headquartered  Hyatt Hotels Corporation currently has 32 hotels across 20 cities under its eight brands in India. It is planning to open 11 new hotels  in India by the end of 2020. It is also looking at expanding in tier II and tier III cities in coming years.
Tamara hotels will be investing INR 350 crore(~$50 Million) in Tamil Nadu and Kerala by 2022 and plans to take its room count to 1,000 by 2025 from ~300 at present.
COMPANY PROFILES
The major players in hotel industry in India are
OYO
Marriott International
InterContinental
Wyndham
Radisson
Accor Hotels
Lemon tree
IntelliStay
Brigade Hospitality Services Limited
Pride Hotels
Four Seasons Hotels Inc
Taj Hotels Palaces Resorts Safaris
EIH Ltd
THIS REPORT WILL ANSWER FOLLOWING QUESTIONS
Opportunity for new vendors in the organized hotel industry in India
Market revenue at present and 2025 forecast. Average operating margin by segment
Which market segment offers maximum revenue and profitability opportunity
Occupancy rate and average room rent of hotels, by market segment
Market share of major vendors and their growth strategies
New entrants in hotel industry in India in 2020-22 and target cities
| | |
| --- | --- |
| 1 | Market Segmentation |
| 2 | Executive Summary |
| 3 | Introduction |
| 4 | Monthly active hotel user base in India |
| 5 | Growth in number of travelers in India |
| 6 | Increase in advertising and influencer marketing 2015-2019 |
| 7 | Most popular hotel category by city type |
| 8 | New hotel launches in 2019 and planned launches in 2020-2022 |
| 9 | Popular price point of budget travellers in tier-1, tier-2 cities |
| 10 | All about unorganized hotel market in India |
| 11 | Oyo- Average room inventory, average occupancy, pushback from hotel owners  etc |
| 12 | Top 10 high ADR, OCC and Revpar cities in India-2019 |
| 13 | Market Size ,Dynamics and Forecast By Hotel type |
| 14 | Market Size ,Dynamics and Forecast By City type |
| 15 | Market Size ,Dynamics and Forecast By Traveller type |
| 16 | Market Size ,Dynamics and Forecast By Price |
| 17 | Competitive Landscape |
| 18 | Market share of major vendors |
| 19 | Growth and expansion strategies of major organized hotel companies in India |
| 20 | Company Profiles |
| 21 | Expansion by major hospitality companies in tier-2 cities in past 5 years |
| 22 | Unmet needs and Market Opportunity for new vendors |
| 23 | Conclusion |
| 24 | Appendix |