Global Housing Finance Market 2020-2025
August 26, 2020

Request Sample
Coming Soon
Multi User License - $3,500
GLOBAL HOUSING FINANCE MARKET
KEY FINDINGS
The U.S Mortgage Industry is expected to collapse again due to the COVID-19 pandemic. The stimulus package of USD 2.2 trillion announced by the US government which provides a mortarium period of up to 1 year on housing loans saw an increase in the forbearance request by 1,896% between March 15-March 30 indicating of possible increase in the number of defaults.
The Asian Mortgage Industry is also under severe pressure as two major economies ,India and China struggle to revive growth in the sector. While China reported a fall in real estate investments and lending by around 5 %, in India ,the IL&FS crisis and the pandemic has impacted the sector .Stress in affordable housing sector is expected and property developers are expected to cut rates by 10-15 % to revive demand.
INTRODUCTION
A mortgage is a debt instrument that borrowers can use to secure collateral for any specific real estate property. By taking a loan, the borrower and business firm can execute real estate deal in a single payment. While the lender releases the entire value of the real estate purchase, the borrower repays the loan amount in fixed sets of payment within fixed tenure. If the borrowers default then, the bank or lenders can evict the tenants and sell the house to clear the mortgage debt.
Housing is an important component of investment and in many countries, housing makes up the largest component of wealth. Housing booms and busts often have been detrimental to the financial stability of the economies. After sharp decline during financial crises of 2007-08, the IMF Global Real House Price Index indicates that global housing markets have been steadily climbing up.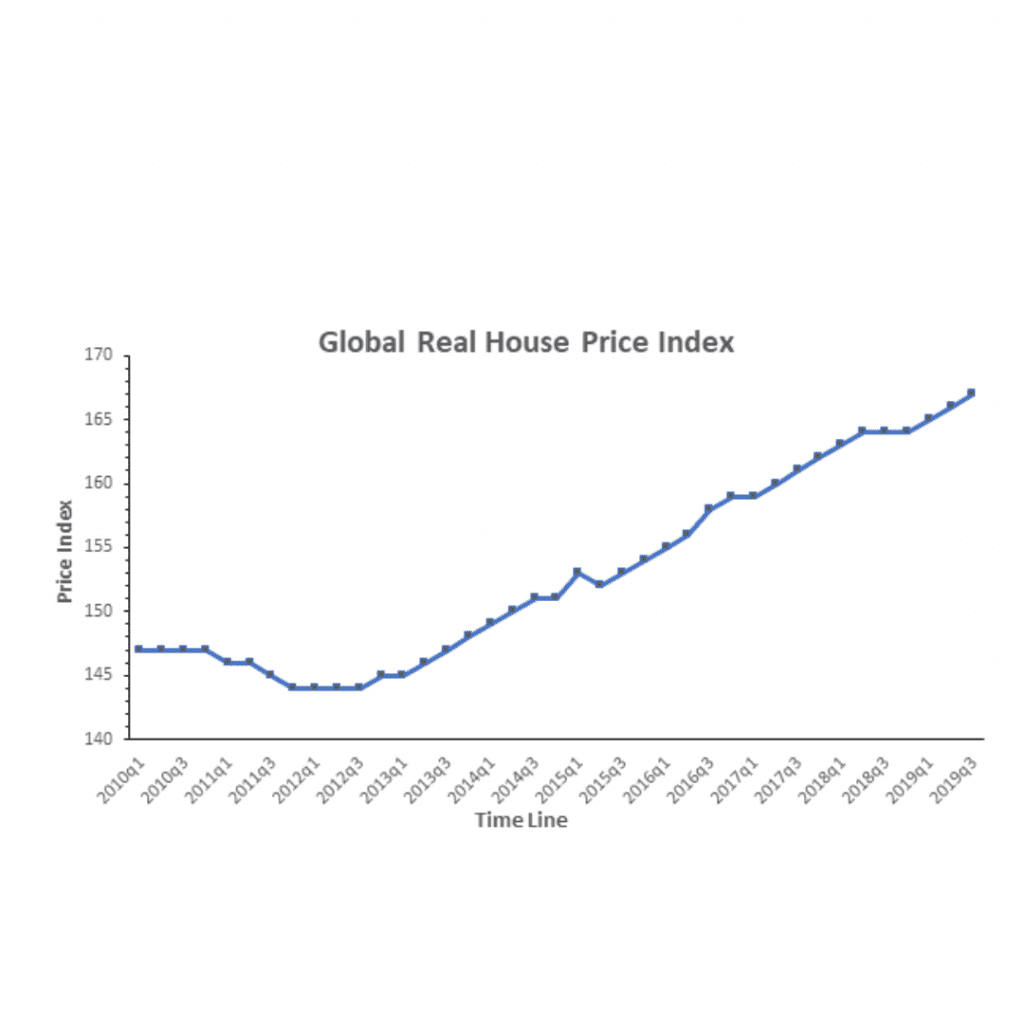 For a long time, real estate has been considered one of the best long-term investments to protect against inflation. Unlike many other traditional investment products, real estate is not tied to the stock market, making it an efficient instrument to reduce risk and increase long-term returns.
Nevertheless, no asset class comes with a guarantee, and losses can be expected even for fixed-income investments. The negative impact of the Covid-19 outbreak on the labour market, the retail sector, and consumer demand is hurting the property market which in turn is affecting the financiers of such property.
COVID IMPACT ON GLOBAL HOUSING FINANCE MARKET
The negative effects of the COVID-19 are extreme to such an extent that it has challenged the survival and growth of U.S Mortgage Industry that has an outstanding debt balance of around USD 15.6 trillion. Estimates indicate that the U.S. mortgage industry could face a collapse once again, this time due to the economic consequences following the coronavirus outbreak and massive job losses. It is expected that up to 50% of borrowers could default on their mortgage payments as forbearance request grew by 1896 % between March 16-March 30.
 In Italy, the federal government decreed that Italian banks must provide borrowers with the option to suspend payments on mortgages and other eligible outstanding loans. At the same time, banks are also being challenged to prevent small- and medium-sized enterprise (SME) customers from defaulting on their debts, given their relative importance in the Italian economy.
UniCredit, Italy's largest bank in terms of assets, stated that it has received more than 100,000 requests for moratoriums on outstanding loans worth USD 11 billion.
Mortgage lenders have had to shift focus from their past priorities and projects to deliver an organization-wide response to COVID-19 and its implications. For example, National Australia Bank (NAB), Australia's third-largest mortgage lender, announced that it will stop work on about 100 projects almost immediately as it focuses its efforts on addressing a significant increase in customer inquiries. The bank has reported it is continuing only those projects that are essential to its survival.
In addition, following the impacts that the pandemic would have on the industry as a whole (World Bank Report)
Household Impact
Wave of defaults on loans from households is expected due to falling income and unemployment.
Default on the part of tenants ,thereby making it difficult for the property owners to repay their loans.
Financial Sector Impact (Lenders)
Increased amount of pressure on capital of lenders owning to the increase in the amount of defaults.
Mortgage markets becomes less liquid and more expensive due to increasing risk thereby making it difficult for the lenders to raise long term funding.
Housing Sector Impact
Illiquid housing market with little to no activity – making it difficult to value property – depressing real estate markets impact developers and contractors
Housing developers facing liquidity crisis as cash-flows dry up due to reduced demand and financing for end borrowers.
GLOBAL HOUSING FINANCE MARKET
The global housing finance market size is estimated at $XX Billion in 2020 growing at –% CAGR till 2025
GLOBAL HOUSING FINANCE MARKET DYNAMICS
Rising demand of home loan due to uncertainty of life is a major factor boosting the growth of the home finance market. Launch of new home loan plans is another major factor that is greatly contributing in the growth of the market. Furthermore, presence of global market players in the home loan sector, and increase in number of new market entrants is anticipated to contribute greatly in driving the growth of the home loan market.
Rising global awareness towards the benefits of opting for home finance due to high financial security offered by it is propelling the growth of the market. However, less awareness of home loan among some lower economy countries can deter the growth of the market.
GLOBAL HOUSING FINANCE MARKET SEGMENTATION (BY GEOGRAPHY)
U.S Mortgage Market 
The U.S Mortgage industry is an important part of the financial market of the U.S economy and is considered as the most complex housing financing market in the world. The industry that was severely impacted during the 2008 Financial Crisis in under stress again due to lack of liquidity support from the government on account of mortarium announced by it on loan repayments. Estimates indicate that if appropriate steps are not taken, there would a huge number of loan defaults that would put pressure on the current capital levels of the lenders, serving a red signal for another major collapse.
European Mortgage Market
The European Mortgage Market has grown massively in the last ten years fuelled by rising house prices, low interest rates, increased availability of credit and increase in the availability of new products and services. The growth has attracted a number of new players in the industry who are operating with newer business models in order to maximise their returns.
Some of the major business models include
Particulars
Description
Branch Focussed Lender (HSBC UK,

Société Générale)

Operate through their wide network of branches to establish customer relationships and provide credit
Direct Lender (SBAB, Bankinter etc.)
Make use of remote channels of distribution to provide credit to the customers and thereby minimises its cost.
Branded Distributors (Interhyp, De Hypotheker)
Provides advise to the customers on best products in order to sell them.
Asian Mortgage Market
The Asian Mortgage Market are heterogeneous and small in comparison to their counterparts.
The smaller market size in some Asian countries can be attributed to the lower stage of development of the economy as a whole. There are several countries in Asia where per capita GDP exceeds USD 30,000 Japan, Singapore, and Brunei Darussalam. However, per capita GDP for the vast majority of Asian countries is far less than USD 10,000.
The two major countries that dominate the space include India and China.
In case of India which is expected to overtake China to become the most populous country, the demand for housing finance is expected to gain momentum due to growth in population and migration to large cities.
 The volume of transactions of existing housing stock is very low due to the complicated registration system. The mortgage market is still at an embryonic stage partly due to the small proportion of the middle-class employed by the formal sector. Extending mortgages to the informal sector entails significant concerns regarding credit risk management.
The sector is under deep stress at present due to two major reasons. Firstly, the crisis of IL&FS crisis caused a liquidity crunch which severely impacted construction activities and secondly, the pandemic has put a stress on such companies owing to economic losses and increasing unemployment which is impacting the capability of the borrowers to repay their loans.
While in China, the mortgage lending is slowly decreasing which indicates a warning signal for the economy as real estate growth is an indicator of economic growth in the economy. Mortgage Lending increased by around 17.8% to $ 3.73 trillion in 2018 which was below the growth rate registered in 2017 that was around 22 %.
COMPETITIVE LANDSCAPE
The major players in the market includes U.S Bank Corporation , Bank of America ,J.P Morgan and Chase ,Wells Fargo ,HSBC, Lloyds Banking Group ,Barclays, LIC Housing Finance ,Dewan Housing Finance ,Royal Bank of Scotland etc. Average PAT margins of the industry are around 3% with the highest PAT margins at 16.23 % reported by Housing Development Finance Company.
The industry is also dominated by private players such as Quicken Loans, Reali loans , SoFi etc that also constitute a major market share of the industry.
UPCOMING CHALLENGES IN HOUSING FINANCE MARKET
Climate change will permanently affect housing demand in areas that are already or could become more exposed to natural disasters, if they fail to attract new buyers. Population migration to cities will continue, which increase the demand but ageing populations and developments in remote working and autonomous vehicles are likely to also drive regional prices. If political issues such as BREXIT, US -China trade war continues   while the push towards ESG investments may change housing investment and mortgage funding.
COMPANIES PROFILED
| | |
| --- | --- |
| Sl no | Topic |
| 1 | Market Segmentation |
| 2 | Scope of the report |
| 3 | Abbreviations |
| 4 | Research Methodology |
| 5 | Executive Summary |
| 6 | Introduction |
| 7 | Insights from Industry stakeholders |
| 8 | Cost breakdown of Product by sub-components and average profit margin |
| 9 | Disruptive innovation in the Industry |
| 10 | Technology trends in the Industry |
| 11 | Consumer trends in the industry |
| 12 | Recent Production Milestones |
| 13 | Component Manufacturing in US, EU and China |
| 14 | COVID-19 impact on overall market |
| 15 | COVID-19 impact on Production of components |
| 16 | COVID-19 impact on Point of sale |
| 17 | Market Segmentation, Dynamics and Forecast by Geography, 2020-2025 |
| 18 | Market Segmentation, Dynamics and Forecast by Product Type, 2020-2025 |
| 19 | Market Segmentation, Dynamics and Forecast by Application, 2020-2025 |
| 20 | Market Segmentation, Dynamics and Forecast by End use, 2020-2025 |
| 21 | Product installation rate by OEM, 2020 |
| 22 | Incline/Decline in Average B-2-B selling price in past 5 years |
| 23 | Competition from substitute products |
| 24 | Gross margin and average profitability of suppliers |
| 25 | New product development in past 12 months |
| 26 | M&A in past 12 months |
| 27 | Growth strategy of leading players |
| 28 | Market share of vendors, 2020 |
| 29 | Company Profiles |
| 30 | Unmet needs and opportunity for new suppliers |
| 31 | Conclusion |
| 32 | Appendix |