India Airport Infrastructure Market 2020-2025
November 11, 2020

Request Sample
Coming Soon
Multi User License - $1,800
INDIAN AIRPORT INFRASTRUCTURE MARKET 
INTRODUCTION
Air was once considered a mode of transportation for the elite in India but with the rise in per capita income and increasing affordability of air fares the expenditure by Indian travelers is expected to reach Rs. 9.5 lakh crores by 2021. From just 50 operational airports in 2000, India has come a long way as the figure has increased by 150% (as reported in September 2020).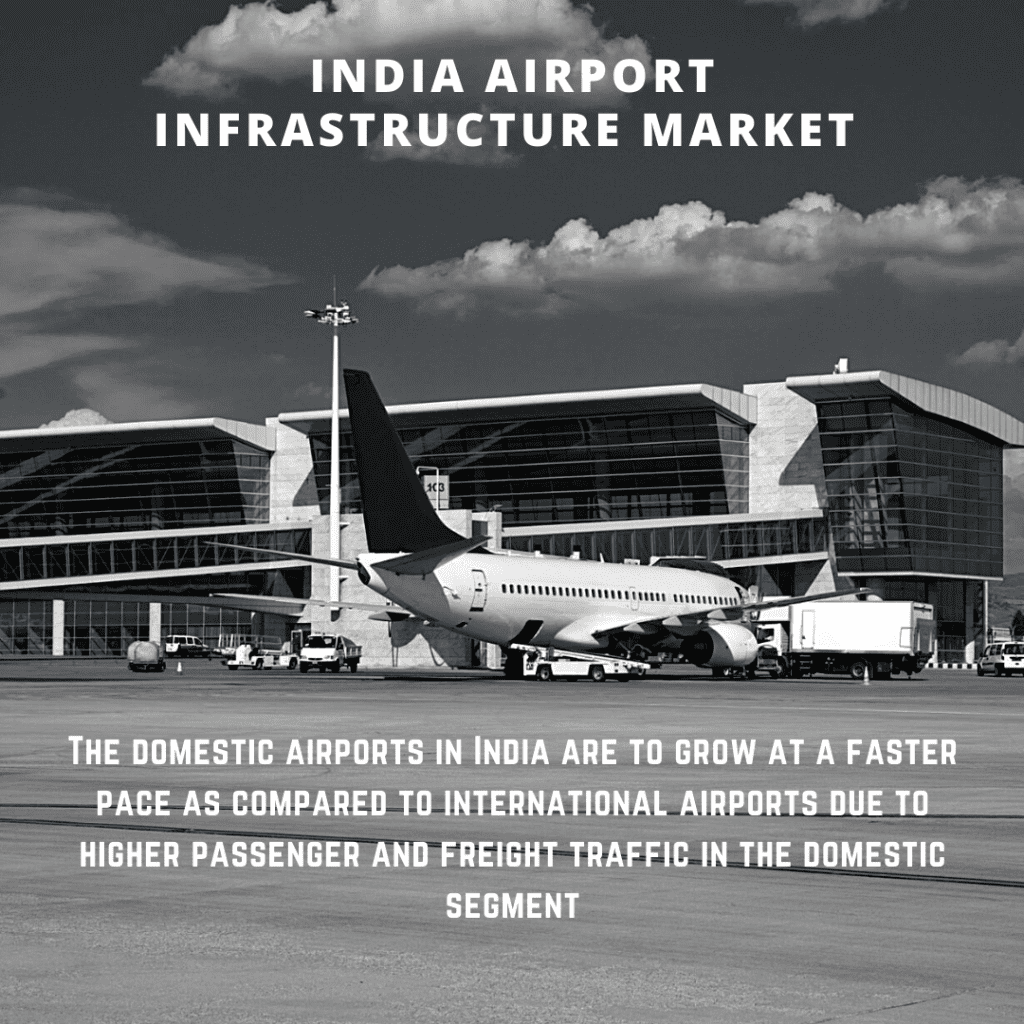 Due to the nation wide lockdown during the coronavirus pandemic, there was a negative impact on the aviation sector due to low passenger traffic. However, it is still believed that by 2024, India will reach the 3rd rank from its current 7th rank globally with a plan to inaugurate 100 more airports by then.
AIRPORT RANKINGS
The number of airport pairs operations has increased by more than 50% since 2015. Ten out of 100 largest city pair routes of the world in 2017 were from India.
Delhi and Bangalore were two of the top 10 growth airports in terms of passengers handled in 2017.
Mumbai and Chennai recorded a growth rate of 18.1% and 17.2% in 2017 and emerged as two of the fastest growing airports globally in 2017.
In terms of freight handled, Delhi and Mumbai are on the top 50 list.
In terms of infrastructure, India ranks 133rd in airport density and 108th for the number of departures per 1000 population which indicates a great scope for improvement.
MARKET SEGMENTATION
The airports infrastructure market can be segmented in the following ways:
Airport type – This is sub categorized into Brownfield and Greenfield airports. The Greenfield airports are to be seen on a rise in the upcoming years to meet international standards. Raj Gandhi International Airport was the first greenfield airport in India. The Government proposes to increase greenfield airports under the Private Public Ownership Model due to the previous success.
Regional and vertical segmentation – The Northern and Western region have greater demand and pressure. The domestic airports in India are to grow at a faster pace as compared to international airports due to higher passenger and freight traffic in the domestic segment.
Capacity utilization for the 6 key airports in India ranged between 84%-100% which shows that further development of infrastructure is required. To meet these demands new runways and terminals have been planned to add and increase the passenger capacity of airports to 110 million in Delhi by 2023. Jewar and Navi Mumbai airports will help in reducing pressure on Delhi and Mumbai airports.
The other ways in which the market can be segmented is application, component and ownership.
NEW INVESTMENT
In order to build airport assets, it has been estimated that in the next 5 years, $50 billion is required to meet the rising demand in the next 20 years.
Airport Authority of India (AAI) intends to put in Rs.25,000 crore for improving airport infrastructure and facilities. $3 billion has been allocated to the improvement of airports in the cities other than metropolitan ones. 23 Metro airports have already been upgraded by AAI.
The private sector is expected to play an important role in these investments as well as developing infrastructure of a quality matching global standards. The 6 projects in which the private players are involved will also give a push to investment. To support this further, 100% exemption from taxes has been declared for airport projects.
The Government plans to invest in regional airport infrastructure with its mission to improve regional connectivity and support traffic growth at hub airports. The amount that they plan to invest by 2026 is $1.83 billion.
Investment in technology has been increased to match the social distancing standards and make contactless travel possible.
Foreign direct investment has been encouraged by the Government policies. As a result of which $2.75 billion funding has been received in the past 20 years. 100% FDI under automatic route in greenfield projects and 74% under automatic route for brownfield projects has been allowed. Open sky policy is also expected to boost FDI.
CHALLENGES
The MRO industry did not perform well since high taxes are being charged in this sector and imbalanced regulations. This makes servicing abroad more attractive. However, it is expected that by 2028 the industry will reach $ 2.4 billion from $800 million in 2018.
There has been a delay in implementation of various projects such as Navi Mumbai, Goa, Bhogapuram.
The high cost structure of the industry may act as an hindrance for private players during the Covid era.
GOVERNMENT POLICY
UDAN (Ude Desh ka Aam Nagrik) Scheme : This will boost regional connectivity and improve and develop infrastructure in underserved and unserved airports. The development of 100 new airports have been proposed. 49 projects existed earlier.
Digi Yatra Platform :This will give a boost to the technological developments at the airports since it aims to enable biometrics based processing of passengers at the airport.
COMPETITIVE LANDSCAPE
AAI – Air Authority of India was established under the Airport Authority Act, 1994.137 airports in India are under the management of AAI. It focuses on building infrastructure important for safety through the Air Traffic Management System. Other key developments are Radar installations at 11 locations, VOR coverage, night landing facilities at 52 runways, Automatic Dependence Surveillance System (ADSS), Performance based navigation at Mumbai.Currently, it is working on the 'Gagan' project with ISRO for a satellite based navigation system.This was the only major player till 2013.
Private players – 7 airports in India will be improved under Public Private Partnership. The following are the names of the key private players with the names of the airports they are supposed to develop/ maintain/modernise:
GMR- Delhi and Hyderabad Airport
GVK- Mumbai International Airport
Siemens- Bengaluru International Airport
L &T – Navi International Airport
Maytas– Shivamogga and Kalaburagi airports
The public private partnership model has been adopted and implemented successfully in India. One of the finest airports in the world has been developed  under this scheme such as Chhatrapati Shivaji International Airport, Indira Gandhi International Airport, Rajiv Gandhi International Airport, Bengaluru International Airport  and Cochin International Airport.
COMPANIES PROFILED
| | |
| --- | --- |
| Sl no | Topic |
| 1 | Market Segmentation |
| 2 | Scope of the report |
| 3 | Abbreviations |
| 4 | Research Methodology |
| 5 | Executive Summary |
| 6 | Introduction |
| 7 | Insights from Industry stakeholders |
| 8 | Cost breakdown of Product by sub-components and average profit margin |
| 9 | Disruptive innovation in the Industry |
| 10 | Technology trends in the Industry |
| 11 | Consumer trends in the industry |
| 12 | Recent Production Milestones |
| 13 | Component Manufacturing in US, EU and China |
| 14 | COVID-19 impact on overall market |
| 15 | COVID-19 impact on Production of components |
| 16 | COVID-19 impact on Point of sale |
| 17 | Market Segmentation, Dynamics and Forecast by Geography, 2020-2025 |
| 18 | Market Segmentation, Dynamics and Forecast by Product Type, 2020-2025 |
| 19 | Market Segmentation, Dynamics and Forecast by Application, 2020-2025 |
| 20 | Market Segmentation, Dynamics and Forecast by End use, 2020-2025 |
| 21 | Product installation rate by OEM, 2020 |
| 22 | Incline/Decline in Average B-2-B selling price in past 5 years |
| 23 | Competition from substitute products |
| 24 | Gross margin and average profitability of suppliers |
| 25 | New product development in past 12 months |
| 26 | M&A in past 12 months |
| 27 | Growth strategy of leading players |
| 28 | Market share of vendors, 2020 |
| 29 | Company Profiles |
| 30 | Unmet needs and opportunity for new suppliers |
| 31 | Conclusion |
| 32 | Appendix |