India Construction Equipment Market 2020-2025
October 22, 2020

Request Sample
Coming Soon
Multi User License - $1,800
INDIA CONSTRUCTION EQUIPMENT MARKET
KEY FINDINGS
The construction equipment market in India had a fluctuating experience in terms of revenues but saw a constant growth in terms of units sold from FY 2012 to FY 2015.
Earth-moving equipment was the largest segment to generate revenues.
Continuous growth in demand for construction equipment is expected owing to specific initiatives by the Government and massive investments by private companies.
INTRODUCTION
Any equipment used in the process of construction qualifies as a construction equipment. The construction equipment, based on usage, can be broadly classified into 4 major segments. They are:
Earth-moving equipment
Material handling and cranes
Concrete equipment
Road building equipment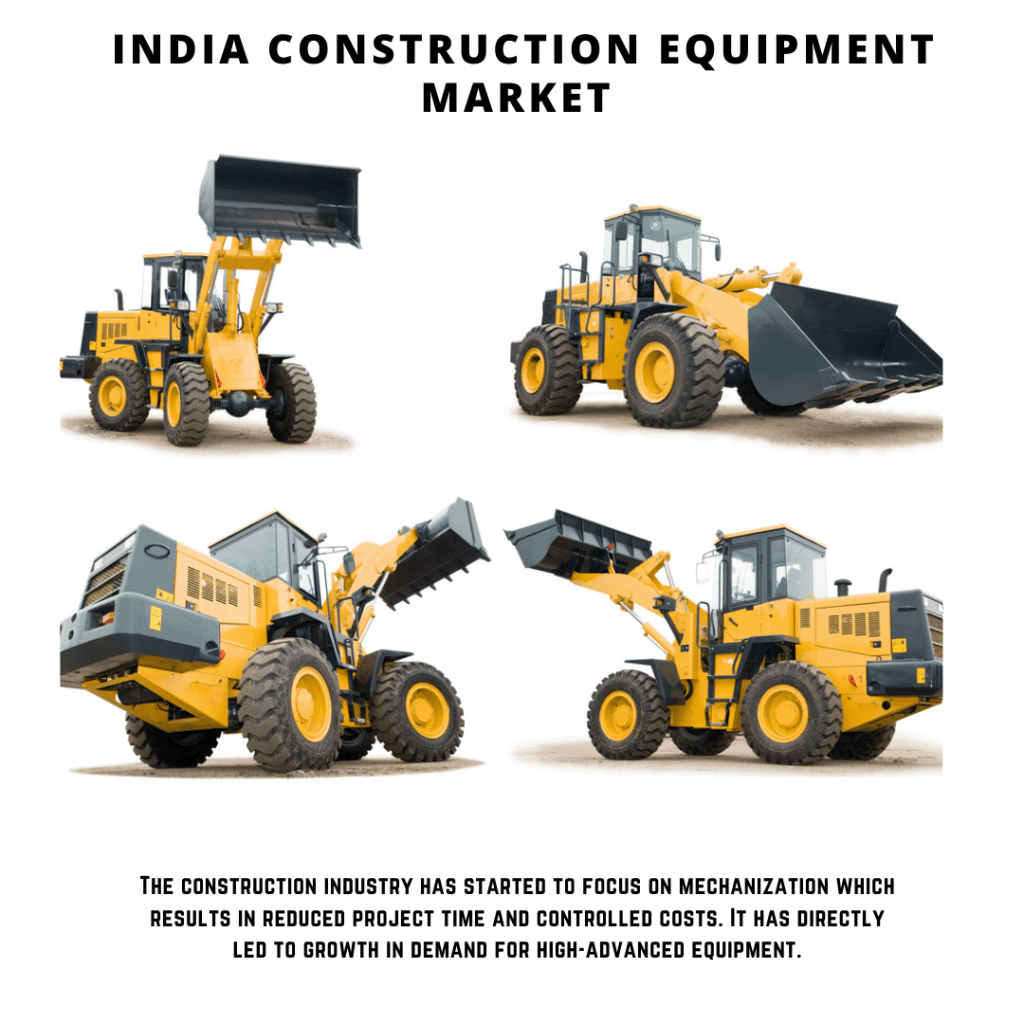 DESCRIPTIONS
Earth-moving equipment: The construction equipment used in mining and dumping of material is known as earth-moving equipment. For example, backhoe loaders, excavators etc.
Material handling and cranes: The equipment used to handle the material extracted using the earth-moving equipment falls under this segment. Various types of cranes and forklifts are some examples.
Concrete equipment: The equipment used to perform a certain process on concrete is known as concrete equipment. Asphalt pavers, concrete pumps and transit mixers are some of them.
Road building equipment: The equipment used in different stages of road construction such as bulldozers, excavators, diggers, and many more are called road-building equipment.
MAJOR PLAYERS (Based On Revenue, Fiscal Year 2016)
JCB India Ltd.: Famous for its backhoe loaders, JCB India also produces excavators, compactors and other types of loaders. It generated a revenue of over US $845 million.
L&T: By far the biggest construction equipment company in India, L&T had a whopping revenue of US $15.67 billion. It was over 14 times the revenue of the next big company. L&T sells hydraulic excavators and systems.
BEML Ltd.: A PSU, BEML Ltd. witnessed revenue of US $468 million. They manufacture dozers, loaders, excavators, shovels, sprinklers and many more.
HISTORY
Before 1960: India imported all construction equipment requirements.
1964: A public sector company named Bharat Earthmovers Ltd. started manufacturing construction equipment in India.
1969: Private players started production of such equipment.
Since 2000: Various foreign companies set up manufacturing plants in India. The industry saw a tremendous growth.
RECENT SCENARIO
Based on Revenue
From Fiscal Year (FY) 2007 to FY 2012, there has been a slow, yet steady growth in revenues from construction equipment. It grew from US $3.7 billion in FY 2007 to US $5.1 billion in FY 2012, having fallen only once in FY 2011.
Since FY 2012, there has been a fluctuating trend. Revenues dropped in FY 2013, demonstrated huge growth in FY 2014 but had a humongous drop in FY 2015. It has been growing slowly ever since.
The Compounded Annual Growth Rate (CAGR) from FY 2007 to FY 2016 is 2.34%.
Based On Units Sold
Contrary to the continuous growth in revenues from FY 2007 to FY 2012, the total number of units sold displayed a steady drop from FY 2007 (50,000) to FY 2009 (40,500) but managed to grow rapidly in the next two years (72,200 in FY 2011).
Since FY 2013, there has been a continuous, steady growth in the units sold.
CAGR growth of 4.76% was witnessed in the period of FY 2007 to FY 2016.
Based On Segments
Earth-moving equipment was the most sought after segment contributing to over 65% of total construction equipment units sold in both, 2014 and 2015. Backhoe loaders and crawler excavators were sold majorly from this segment.
Material handling and cranes ranked second in both the years, 2014 and 2015.
GROWTH DRIVERS
Investments
Known to be the main growth driver of this industry, infrastructure spending has increased over three-folds from US $75.7 billion in FY 2008 to US $260.2 billion in FY 2017.
China and Japan have shown tremendous interest to finance the Government of India's US $1 trillion investment target, of which Japan has already promised US $35 billion.
Growing Public-Private-Partnerships
Various Government initiatives like the Golden Quadrilateral and plans of development of over 100 cities under the Smart City scheme has led India to second in the world in the number of PPPs.
The 10th five-year plan had 75% of public investments for infrastructure development, while it reduced to 53% in the 12th five-year plan, indicating a growing private investment.
Mining Activity
Coal-production has seen constant growth every year from 425.11 million tonnes in FY 2007 to 639.24 million tonnes in FY 2016.
In contrast to coal-production, iron-ore production saw a continuous drop from FY 2010 to FY 2015. However, recently there has been a surge in demand in steel production which has directly led to huge growth in iron-ore production.
Both these mining activities have led to increase in demands of construction equipment.
Real Estate
The real-estate industry is driven by the ever-growing population and continuous urbanisation of India. The rise in disposable income has led to growth in luxury projects and migration has broadened the scope for affordable housing.
The construction industry has started to focus on mechanization which results in reduced project time and controlled costs. It has directly led to growth in demand for high-advanced equipment.
COMPANIES PROFILED
| | |
| --- | --- |
| Sl no | Topic |
| 1 | Market Segmentation |
| 2 | Scope of the report |
| 3 | Abbreviations |
| 4 | Research Methodology |
| 5 | Executive Summary |
| 6 | Introduction |
| 7 | Insights from Industry stakeholders |
| 8 | Cost breakdown of Product by sub-components and average profit margin |
| 9 | Disruptive innovation in the Industry |
| 10 | Technology trends in the Industry |
| 11 | Consumer trends in the industry |
| 12 | Recent Production Milestones |
| 13 | Component Manufacturing in US, EU and China |
| 14 | COVID-19 impact on overall market |
| 15 | COVID-19 impact on Production of components |
| 16 | COVID-19 impact on Point of sale |
| 17 | Market Segmentation, Dynamics and Forecast by Geography, 2020-2025 |
| 18 | Market Segmentation, Dynamics and Forecast by Product Type, 2020-2025 |
| 19 | Market Segmentation, Dynamics and Forecast by Application, 2020-2025 |
| 20 | Market Segmentation, Dynamics and Forecast by End use, 2020-2025 |
| 21 | Product installation rate by OEM, 2020 |
| 22 | Incline/Decline in Average B-2-B selling price in past 5 years |
| 23 | Competition from substitute products |
| 24 | Gross margin and average profitability of suppliers |
| 25 | New product development in past 12 months |
| 26 | M&A in past 12 months |
| 27 | Growth strategy of leading players |
| 28 | Market share of vendors, 2020 |
| 29 | Company Profiles |
| 30 | Unmet needs and opportunity for new suppliers |
| 31 | Conclusion |
| 32 | Appendix |